Weaver's Newsletter June 1016
Weaver's Newsletter          
An Online newsletter of
"The Andy Griffith Show" Rerun Watchers Club (TAGSRWC)
June 2016
Welcome to our third issue for 2016!   With summertime officially here this week, short-sleeve weather is in full swing. Nevermind Ben's cranky attitude.  We say what better time to shop for a new Mayberry T-shirt! We have 36 different designs to choose from.
Here are two new designs in cool cream colored shirts we're offering, along with two other favorites in gray:
 
 
Suit yourself to a Summertime Tee!
**** Merchandise Update ****
Here are some more highlights from what's in store for you online Weaver's Department Store this month.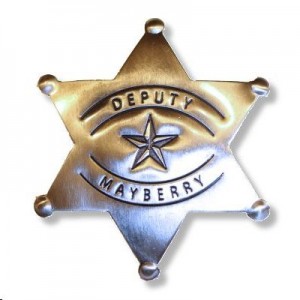 $10.00
Most of us may not feel like we can step into Andy's shoes but, what about Barney's?
This latest interpretation is a sturdy, but simplified representation of Barney's Mayberry Deputy's badge.  In other words, it's not an exact replica, but for the price, you can't beat it.
The color is "nickel" and you'll be able to pin it to the khaki shirt of your choice to have that official deputy look.  Get a Mayberry Deputy Patch to accessorize even more like a true Mayberry Deputy!
Two of our most popular T-shirts are available in Toddler sizes, so that even the youngest fans can show their Mayberry spirit.  We have both our "Aw, Pa" and Newest Nip It designs in Toddler 2, 3 and 4 sizes.  And what makes them irresistible (besides a cute kid wearing them, of course!) is the smaller price, just $16, compared to $20 for adult sizes (also a great deal!).  No doubt about it…these sizes are "darn cute."
Most of our adult-sized T-shirts are just $20.  (A few designs are $18, and the Lawmen all-over design is $25.)  We also have caps, Goober beanies and deputy patches.
Miss Crump's Summer Reading
We have all kinds of great books about Mayberry that are perfect for relaxed reading during the summer.  Just get a nice cool glass of lemonade or sweet tea, sit in your rocker or porch swing or under a shady tree (or indoors with air conditioning!), and sit back and read interesting things about Mayberry.
.
If you nod off for a snooze now and then while you're at it, that's O.K.  Floyd even recommends it.  And if you work up an appetite after all that heavy reading, we've got a wide variety of Mayberry and pop culture cookbooks, too.
.
You'll find these items and much more, including  CDs, DVDs, Blu-rays, collectibles, tin signs, artwork, rare board games, blankets,  and items for vehicles online at weaversdepartmentstore.com. (Or just go to www.imayberry.com and click on one of the orange and blue Weaver's buttons at the top.)
***
.
.
Floyd's

 

Barbershop

 
Bulletin

 

Board

 

&

 

Event

 

Calendar
Russell Hiatt
(1924-2016)
Farewell, great friend!
(Please see story about Russell below.)
The Andy Griffith Museum, featuring the late Emmett Forrest's amazing collection of Andy Griffith memorabilia, is open daily in Mount Airy, N.C. For info, visit the website at www.andygriffithmuseum.org or call (336) 786-1604.

The following information is from
"The eBullet": Official E-mail Newsletter of "The Andy Griffith Show" Rerun Watchers Club (TAGSRWC).
* June 26-July 3: Ronnie Schell performs at Harvey's Hotel & Casino in Lake Tahoe.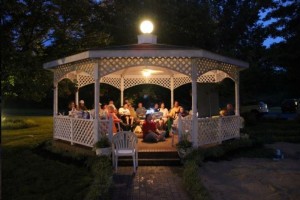 * July 8 and 9: Mayberry Meet-Up in Mount Airy, N.C.  Timed in part to coincide with Neal Brower's Lecture on Saturday at the Andy Griffith Museum (see the July 9 listing below), this informal gathering is being coordinated by Allan "Floyd" Newsome as a chance for fans to gather and enjoy Mount Airy during a quieter time of year than with the wall-to-wall activities  and crowds of Mayberry Days (also not to be missed!) in September.
There's a light schedule of planned activities that folks can pick and choose from.  (Click the highlighted link above for details on the event's Facebook page.) It's mostly just a chance to hang out and relax in Mount Airy with fellow visitors and local friends.  Click this link for the Mayberry Motor Inn website for room reservation info.  The motel and its gazebo serve as the home base for weekend.
* July 9: Dean Webb and Missouri Boatride perform a free concert at 7 p.m. at the Kimberling City Mall in Kimberling City, Mo.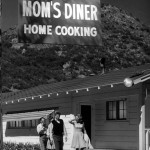 * July 9: Neal Brower presents a lecture on the "Andy's Rich Girlfriend" episode of TAGS, starting at 2 p.m., in the Andy Griffith Museum Theatre in Mount Airy, N.C.  Admission is included with an Andy Griffith Museum admission ($6).  For info, visit the website at www.andygriffithmuseum.org or call (336) 786-1604.
* July 10: The Roland White Band performs at the Bluegrass on the Green Festival in Frankfort, Ill.
* July 15: Betty Lynn greets fans at the Andy Griffith Museum 12:30-3:30 p.m. She will have autographed 8 x 10 photos available ($10). For info, visit the website at www.andygriffithmuseum.org or call (336) 786-1604.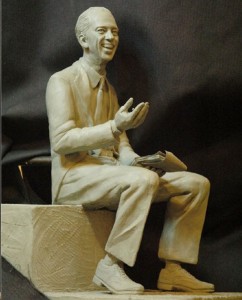 * July 21: Don Knotts statue dedication in Morgantown, W.V.  Details TBA.
* July 23: Karen Knotts performs "Tied Up in Knotts" at 2 p.m. at the Metropolitan Theatre in Morgantown, W.V., as part of this week's festivities surrounding the Don Knotts statue dedicating activities during the week.
* July 24: The Dillards (featuring Rodney Dillard) perform at First United Methodist Church in Starkville, Miss.  Details TBA.
* Aug. 2 -4: David "Mayberry Deputy" Browning patrols the Tazewell (Va.) County Fair.
* Aug. 6: Roland White and his band perform at 9 p.m. at the Station Inn in Nashville, Tenn.
* Aug. 8: A night at the Elizabethton (Tenn.) Twins baseball game is twice as good when David "Mayberry Deputy" Browning is on hand for the game.
* Aug. 13: Mayberry 101 author Neal Brower presents a lecture on the "Goober and the Art of Love" episode of TAGS, starting at 2 p.m., in the Andy Griffith Museum Theatre in Mount Airy, N.C.  Admission is included with an Andy Griffith Museum admission ($6).  Visit the website at www.andygriffithmuseum.org or call (336) 786-1604.
* Aug. 20: Mayberry Night in Troy, N.C. , starring Maggie Peterson, the VW Boys and most of the Mayberry tribute artists in a fundraiser show for the local DARE program.  Details TBA.
* Aug. 20 and 21: Hal J. Smith (aka Otis Campbell) 100th Birthday Celebration in Massena, N.Y.  Hal was born in Petoskey, Mich., on Aug. 24, 1916, but called Massena home for many years. Details of the celebration are TBA.  Follow updates on plans at the event's Facebook page, or contact organizer John Michaud III by phone at (315) 769-2102 or by e-mail at massenaguy2003@yahoo.com.
* Aug. 26-31: As part of the celebration of Betty Lynn's 90th Birthday (Aug. 29), the historic Earle Theatre in Mount Airy, N.C., will screen June Bride, the 1948 film starring Betty in the title role. Also starring Bette Davis and Robert Montgomery.  And look for Debbie Reynolds and Mayberry's Amzie Strickland (Miss Rosemary) and Tom Tully (Walt Simpson) in smaller roles.
* Aug. 27 and 28: Oh boy, David "Mayberry Deputy" Browning is in action for the 26th Annual Amboy (Ill.) Depot Days.  All aboard!
* Sept. 10: Roland White and his band perform at 9 p.m. at the Station Inn in Nashville, Tenn.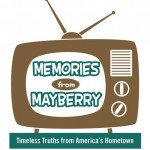 * Sept. 19-22: Memories From Mayberry: Timeless Truths from America's Hometown is a Bible study event drawing on the biblical truths and life applications found in "The Andy Griffith Show." Hosted by the Georgia Baptist Conference Center in Toccoa, GA (90 miles NE of Atlanta). Early Bird price (until Mar. 15) is $300 per person (based on double occupancy). After that, the price is $325 per person.
The all-inclusive price includes three nights of on-campus lodging, eight meals, Bible study sessions based on favorite TAGS episodes, dynamic preaching, worship, and special guest star LeRoy McNees ("Mayberry on Record" and "Quiet Sam") in concert. To register, call (706) 886-3133 or visit www.mytoccoa.com/mayberry.
* Sept. 21-25: 27th Annual Mayberry Days in Mount Airy, N.C. Stars confirmed so far include Mount Airy's own Betty Lynn (Thelma Lou), The Dillards (featuring Rodney Dillard), and Karen Knotts (daughter of Don Knotts), who will present two one-woman shows this year: her popular "Tied Up in Knotts" and her brand new one, "A Deputy's Daughter." Dorothy Best  (with David Browning) will also present "Remember Me with Laughter: A Tribute to James Best."
.
Other performances include the comedy of James Gregory ("the funniest man in America"), The VW Boys, Michael Hoover's Elvis, The Embers (featuring Craig Woolard), The Tams, and the Malpass Brothers. Tickets are also available for The Emmett Golf Tournament, the Golf Banquet & Entertainment, Professor Brower's Lecture/TAGSRWC Annual Meeting, and Colonel Tim's Talent Time.
More details and stars TBA. Much of the festival is free, but tickets for many of the activities/performances listed above that have a paid admission are now available online at www.mayberrydays.org.
* Oct. 1: LeRoy McNees and Gloryland perform at the Kern County Fair in Bakersfield, Calif.
* Oct. 21: Roland White and his band perform at 9 p.m. at the Station Inn in Nashville, Tenn.
* Oct. 21: Karen Knotts performs "Tied Up in Knotts" in Milton, Del.  Details TBA.
* Oct. 22: Karen Knotts brings "Tied Up in Knotts" to the Sellersville Theater in Sellersville, Penn.  Show time is 7:30 p.m. For more info, visit www.st94.com.
* Oct. 23: Next stop for Karen Knotts and her "Tied Up in Knotts" tour is the Bickford Theatre in the Morris Museum in Morristown, N.J. Show time is 2:00 p.m. For info, visitwww.morrismuseum.org.
* Oct. 29 -Nov. 3: Cruise to Mayberry 11 with special guest star Jackie Joseph (aka to Ernest T. Bass's Sweet Romeena)! Join the fun (including Halloween) in the western Caribbean aboard Carnival's Paradise cruise ship as it departs Tampa with stops in Grand Cayman (a favorite of Asa's and Mr. Meldrim's) and Cozumel (a fave of Daphne and Skippy and Mavis Neff).
A bunch of popular Mayberry tribute artists (and also an Elvis) will join Jackie in providing entertainment and hosting contests, along with all the hearty eatin' and usual cruise highlights.  For more info, visit www.allaboutcruisesnc.net or call 1-800-832-7993.
* Nov. 25: Roland White and his band perform at 9 p.m. at the Station Inn in Nashville, Tenn.
* Dec. 3: Roland White hosts and the Roland White Band performs for the 20th Annual Bill Monroe Appreciation Night at the Station Inn in Nashville, Tenn.
* Dec. 3: Get "Tied Up in Knotts" for the holidays when Karen Knotts brings her one-woman show to the Monroe Arts Center in Monroe, Wis. Show time is 7:30 p.m.  For further info, go to www.morrismuseum.org.
***
**** News of Cast & Crew ****
Andy Griffith and seven fellow legends of the Carolinas had their images on giant columns unveiled last month in the lobby of the Knight Theater in Charlotte's Spirit Square. Here's a link to a story about Andy and his fellow cylindrical murals.
Ron Howard continues with post-production work on Inferno, which is currently scheduled to be in theaters on October 28 and is a solid bet for big box-office success.
And Imagine is producing and Ron is directing The Beatles:Eight Days a Week–The Touring years, a documentary that is being made in cooperation with the Beatles and their families and is scheduled to premiere in theaters on Sept. 16 and then on Hulu the next day.
Ron and the Imagine team are also producing a six-part sci-fi docu-miniseries called "Mars" about the colonization of Mars that's scheduled for National Geographic Channel's 2016-17 season.
And Imagine is producing and Ron has also signed to direct the first episode of "Genius," the first scripted series for Nat Geo.  The series is about great innovators, with the first episode set to feature Albert Einstein.
In a statement about the project, Ron said, "Having already worked with National Geographic on 'Breakthrough' and currently in production on 'Mars' — our exciting unscripted and scripted hybrid series that tells of our journey to colonize Mars — I look forward to their support as we tell this ambitious but intimate and revealing human story behind Einstein's scientific brilliance. I hope that his story, as well as those of other geniuses, will both entertain and inspire the next generation of Einsteins."
The series is expected to premiere next spring in 171 countries and 45 languages.
And it has been announced that Ron will direct and Brian Grazer will produce a film adaptation of the Neal Stephenson novel Seveneves.  A firm schedule for production and release hasn't been set yet.  Apollo 13 screenwriter William Broyles Jr. is working on the script.
Clint Howard was recently back in Nashville filming more episodes of "Still the King" series about an Elvis impersonator (Billy Ray Cyrus). Clint plays a roadie named Crazy Dave. The series premiered on June 12 on CMT with new episodes on Sundays.
Jackie Joseph (Mayberry's Sweet Romeena) was involved in several recognitions of her good friend Doris Day's birthday in April. And she continues to be involved in a variety of social, charitable, and acting industry endeavors, as well as writing her "Talk with Jackie" column for The Tolcuan Times, which runs every few weeks or as inspiration or an occasion arises.
And check out Jackie at the checkout counter this month in a nice, photo-filled interview feature in Closer magazine (the issue with Burt Reynolds and Sally Field on the cover).
Rodney Dillard and his band (now officially billed again as The Dillards) have wrapped up work on their new album, which is expected to be released soon. In April, Rodney and the band taped an episode of the RFD-TV's "Larry's Country Diner" in Nashville.  The episode premiered in May.
Rodney and the band also recently returned from multiple performances of their successful Mayberry Moments show with Maggie Peterson in Cumming, Ga.
And Maggie was a big hit both at the Missouri Cherry Blossom festival in Marshfield, where she appeared with fellow TAGS alums Morgan Brittany and Margaret Kerry in April, and at May's Mayberry in the Midwest event in Danville, Ind.
Speaking of Margaret Kerry, she's putting the finishing touches on her much anticipated autobiography, Tinker Bell Talks–Tales of a Pixie Dusted Life, which she expects to turn into the publisher this summer.  Meanwhile, Margaret continues to appear regularly at Disneyana events, including a recent one in California and one in Dayton, Ohio, this month. Keep up with Margaret at www.tinkerbelltalks.com.
Margaret Kerry's son, Eric Norquist, and George Lindsey Jr. are developing their  comedy act, "Eric & George: A One-Man Show."  They've got a tour booked out west in September and October, which unfortunately will mean that George will have to miss Mayberry Days in Mount Airy this year.
Ronnie Schell visited Australia in April with friends and son Greg. Maybe there will eventually be some photos that let us see Schells seeing sea shells by the seashore. He's back home and back doing his comedy show, beginning next Sunday with  a week in Lake Tahoe.
***
We're sad to report the passing of three actors who worked on "The Andy Griffith Show" and one person who was a prominent player behind the scenes.
William Schallert, who played expectant father Sam Becker in "Quiet Sam" (Episode 29), died May 8 at his home in Pacific Palisades, Calif. He was 93.
The beloved actor was seen (or heard) in countless roles, especially on TV and on stage. Beyond Mayberry, he is perhaps best known to the TV generation as Mr. Pomfritt, one of Dobie's teachers in "The Many Loves of Dobie Gillis" and as Martin Lane, father (and uncle) of Patty Duke's characters in "The Patty Duke Show."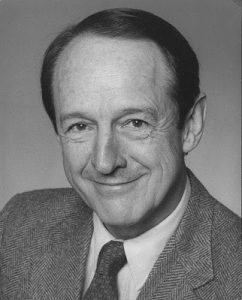 William Joseph "Bill" Schallert was born in Los Angeles on July 6, 1922. His father, Edwin Schallert, was a Los Angeles Times drama editor for four decades.
Bill attended UCLA and then studied theater at the University of Oxford while on a Fulbright scholarship.  He was a founding member of Hollywood's Circle Theater, where he was directed by Charlie Chaplin in the 1940s.  He was an active member of the Screen Actors Guild, and was elected to a two-year term as its president in 1979, a stint that included a 13-week strike for better pay for actors as cable TV was emerging as a force.
His legendary film career spanned from uncredited roles, such as a banker in The Foxes of Harrow (1947) and a gas station attendant in Mighty Joe Young (1949) to Justice Paul Stevens in the Emmy Award-winning Recount for HBO in 2008 and an elevator operator in "2 Broke Girls" in 2014.  He performed in a Who's Who of TV shows all along the way. Bill never retired.
Bill's wife, actress Leah Waggner, died in 2015. He is survived by four  sons and seven grandchildren.  Not to mention his Mayberry son, Andy Becker.
***
Janet Waldo, who played Amanda, lead prospect on Barney's roster of possible women for Andy to date (and ultimately of possible players on a proposed Mayberry softball team) in "A Wife for Andy," Episode 92), died from an inoperable brain tumor at home in Encino, Calif., on June 12.  She was 96.
Janet was widely regarded as one of the top voice-over actors of all time.  She was probably best known for providing the voice of spacey teen Judy Jetson on the "The Jetsons." But she provided voices to an incredible array of characters in a voice-over career that spanned four decades.
  .
.
Janet Marie Waldo was born on February 2, 1920, in Yakima, Wash. She grew up on her family's ranch, which was adjacent to the Yakima Indian Reservation.  She attended the University of Washington, where she acted in plays and was discovered by Bing Crosby and his talent scouts.  At Crosby's encouragement, she moved to California to pursue a film career.  When she found herself continually playing bit parts, she turned to radio and became a star as the title character in "Meet Corliss Archer" from the mid-1940s to mid-1950s.
Janet found that she loved doing radio, and then made the natural segue to voice-overs for animated shows.  She was a go-to person for many classic Hanna-Barbera cartoons, starting with "The Jetsons."
  .
Along the way, she worked with many of Mayberry's giants of the voice-over profession, including Hal Smith (with whom she also worked on "Adventures in Odyssey," the beloved Focus on the Family radio show), Margaret Kerry, fellow "Jetsons" actor Howard Morris (she was Granny Sweet to his Atom Ant) and Jackie Joseph (Janet was Josie McCoy and Jackie was Melody Valentine in "Josie and the Pussycats"). Among her other well-know cartoon characters are Penelope Pitstop ("Wacky Races" and "The Perils of Penelope Pitstop"), Morticia Addams ("The Addams Family") and Princess and Susan in 85 episodes of  "Battle of the Planets" from 1978 to 1980.
Not as well known outside of Mayberry is the fact that Janet is one of two actors to give voice to Aunt Bee in an official Mayberry film production with original TAGS actors. When Frances Bavier was not available, Janet stepped in as the uncredited voice of Aunt Bee in Return to Mayberry in 1986.
Janet married playwright Robert E. Lee (Inherit the Wind and Mame) in 1948. He died in 1994. She is survived by son Jonathan, daughter Lucy Lee, two grandchildren and her sister, renowned violinist and composer Elisabeth Waldo.
***
Ann Morgan Guilbert, who played society columnist Ella in "Aunt Bee's Cousin" (Episode 232), died of cancer in Los Angeles on June 14.  She was 87.
Ann first made a name for herself as a versatile actor and singer in the late 1950s and early 1960s with the Billy Barnes Revue, which also starred Ken Berry and Jackie Joseph. (Barnes was the husband of Joyce Jameson, Mayberry's "fun girl" Skippy).
Ann is perhaps most remembered by TV audiences as Millie Helper, Rob and Laura Petrie's neighbor on "The Dick Van Dyke Show," and as Grandma Yetta on "The Nanny." Ann had extensive credits on both stage and screen, with her most recent film work in two episodes this past season on the hit sitcom "Life in Pieces."  She also had a memorable role as Evelyn, the nosy neighbor to Jerry Seinfeld's parents in two episodes of "Seinfeld" and a grandmotherly role on "Modern Family."
Ann also played Nora, Andy Griffith's sister-in-law (Lee Meriwether's sister) in all 10 episodes of "The New Andy Griffith Show" in 1971. Other memorable roles included appearances on "Grey's Anatomy," "Law & Order: SVU," "Home Improvement," a recurring role as Myriam Wambaugh on "Picket Fences," 19 episodes of "The Fanelli Boys" in the early 1990s, and more recently 15 episodes of "Getting On."
Ann was born to Cornelia and physician Gerald Guilbert in Minneapolis on October 16, 1928.  She graduated from Solomon Juneau High School (where she was a classmate of future Apollo 13 Commander Jim Lovell), and she then graduated with a degree in theater from Stanford University, where she met her first husband, actor-producer George Eckstein.  They had two daughters, acting coach Nora Eckstein and actor Hallie Todd, who survive.  Ann was also married to memorable character actor Guy Raymond from 1969 until his death in 1997.
As Ella the society columnist for the Mayberry Gazette would surely have appreciated, Ann Morgan Guilbert always brought just the right amount of quirky grace to performances that always left audiences smiling. And fortunately for fans, her many film performances will continue to do so for many years to come.
***
Richard O. "Dick" Linke, "Andy Griffith Show" associate producer and longtime manager of Andy Griffith, Jim Nabors, Ken Berry, Maggie Peterson, Ronnie Schell, Jerry Van Dyke and other stars, died on June 15 at his home in Holualoa, Hawaii.  He was 98.
Dick's wife, Bettina, posted this announcement from the family:
"He died peacefully with family at his bedside at home. His wish was to spend his last days at home, and he did. With the help of the most accomplished and loving Hospice caregivers and his family and friends, he passed from one Heaven to the other Heaven. He left this place in his Ohio University T-shirt surrounded by special hearts created by granddaughter Elle. After 48 years with him, I know he will be with us always in our hearts and heads. He left his mark on so many. He was loved, admired and cherished. Thank all of you who have expressed condolences. It means a lot to us."
We've prepared a lengthy, photo-filled Special Edition remembrance about Dick's life and career that touched our Mayberry world in many ways.  Here's that Linke Link.
In addition to wife Bettina, Dick is survived by five children: Paul Linke, Nanci Linke-Ellis (both from a previous marriage), Katharine Elizabeth Linke, Richard Oscar Linke Jr. and Bettina Marie McCullough, and 10 grandchildren.
A private funeral service was held in Hawaii.  A public memorial service at Ohio University in Athens, Ohio, is also planned.
***
Remembering

Russell Hiatt
BEEP-BEEP! OUTTA THE WAY, SUNDAY DRIVER!–
Russell is ready to fly on a Gold Wing on the street
outside his shop in 2014. Photo by Bill Hiatt.
Our Mayberry world lost one of its all-time great friends when Russell Hiatt passed away on May 3.  He was 92.
A member of the National Barber Hall of Fame and dubbed "America's Barber, Russell cut hair in Mount Airy, N.C., for a remarkable seven decades. (At the end of his barbering days, Russell was thought to be the second oldest active barber in the country.)
But Russell did far more than give great haircuts.  He was a man of devout faith who truly followed the Golden Rule. He spread joy and demonstrated integrity and compassion to all who entered his City Barber Shop or encountered him anywhere else.
And when in 1990, Tanya Jones of the Surry Arts Council suggested he put up a little sign saying "Floyd's Barbershop" in his shop window to add some Mayberry flare to the first Mayberry Day (which was just one day that first year), civic-minded Russell agreed and played along.  Little did he or anyone else realize what adventures that simple gesture would lead to during the next quarter century.
Russell, who had a notable resemblance to Howard McNear's Floyd the Barber, soon became an icon for Mayberry fans who came to Mount Airy looking to experience a glimpse of Mayberry.  Russell enthusiastically embraced the role.  Before long, he was spending far more of most days greeting fans rather than giving haircuts.
Russell and his pal Charles Dowell, next door at the Snappy Lunch, became Main Street's co-ambassadors for Mayberry fans, who could enjoy the delightful one-two punch of a delicious pork chop sandwich at Snappy, followed by a visit with Russell next door, or vice versa. Either way, it was combination that was hard to beat.
Through the years, tens of thousands of fans visited Russell.  The thousands of photos that still cover his shop walls (and the thousands more in storage) provide a time capsule of decades of visitors.  Russell was uncanny at remembering faces and people's stories, and he was almost as good at remembering their names–by the thousands.
And it wasn't just us everyday fans who visited. In addition to all the Mayberry stars who came to town, celebrities from all realms dropped by his shop. From the Incredible Hulk (Lou Ferrigno) to Oprah to governors, they all came calling, along with news media from all over the country.
While our first visit to Russell's shop might've been to see Floyd the Barber, all of our subsequent visits were to see Russell, our steadfast friend.
On the afternoon of May 6, Russell's funeral procession, on its way to the service at Russell's church, drove down Main Street, past the barbershop one last time.  Main Street was lined on both sides by a hundreds of people who came to pay their respects to a man who had contributed so much to individual lives and to his community.
At the church, Russell was eulogized as a man whose legacy was largely defined simply by the way he had lived his life, with dignity, passion, kindness and humility. The actions of his life still speak more than any words ever could.  Even more than being a great man, which he was, Russell Hiatt was a good man.
There was outstanding coverage about Russell in the Mount Airy News and by local TV media.  Here are links to some of those stories:
Mount Airy News Front Page News Story
Mount Airy News Editorial
Winston-Salem Journal Story
Coverage by WFMY-TV (Greensboro)
Mount Airy News Funeral Coverage
Funeral Coverage by WXII-TV (Winston-Salem)
And we think it's fitting that we conclude our own tribute to Russell in a way that he would surely appreciate–with photos.  Here are a few of our favorites:
See more photos and memories (including hundreds from fellow fans in the Comments areas) posted on TAGSRWC's Facebook page between May 3 and 5.
***
**** Mayberry on the Web ****
This TAGSRWC online group is organized and overseen by webmaster Allan "Floyd" Newsome with able assistance from Keith "Col. Harvey" Brown. You can check it out and sign up for free at: http://imayberrycommunity.com.
The iMayberry Community complements our other online activities, including our main www.imayberry.com page, podcasts, Facebook page, online newsletters (such as The eBullet), weaversdepartmentstore.com and chat rooms.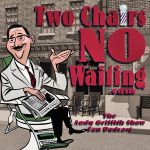 Two Chairs, No Waiting is our weekly podcast of TAGS news, interviews and pretty much whatever happens to be going on in and around Mayberry. It's hosted by Allan Newsome. There's a new episode every Tuesday (and you can watch and listen live during tapings on Monday evenings). Past episodes are in an online Archives in case you want to listen to or view episodes you've missed.
Allan started the podcast in 2008. This week's episode was #382. That's a bunch of great barbershop talk about Mayberry! There's a lot of info and discussions that you simply won't find anywhere else, including rare interviews (vintage and new) with cast and crew members of TAGS. And you'll also find links there to a couple of other outstanding Mayberry-related podcasts.

TAGSRWC's official page on Facebook now has more than 234,000 friends! You can find us at www.facebook.com/tagsrwc. If you haven't already dropped by the page, we hope you'll check it out sometime when you have the chance. We invite you to become a TAGSRWC Facebook Friend!
And even Ol' Ben Weaver now has his own Facebook page at www.facebook.com/weaversdepartmentstore. Check it out for the latest Mayberry items and merchandise news.
***
   **** Post Note ****
Between issues of Weaver's Newsletter, keep up with the happenings in Mayberry with the daily "Who's Been Messin' Up the Bulletin Board?" Digest. It's a free subscriber list that consists entirely of comments, news flashes, and questions and answers from subscribers. You can sign up for that list by going to the "Mailing Lists" link at www.tagsrwc.com.
TAGSRWC also publishes The eBullet in alternate months to Weaver's Newsletter. The eBullet is the online successor to our longtime printed newsletter, The Bullet. Like Weaver's Newsletter, The eBullet is free. It includes some of the same news as Weaver's Newsletter, but generally with more features and depth and a little less emphasis on merchandise news. To sign up, go to: www.tagsrwc.com/ebullet.
TAGSRWC's other main vehicle for Mayberry information is simply our website at www.tagsrwc.com (and its sister site www.iMayberry.com). Both sites have extensive content and links for just about everything a Mayberry fan might be looking for.
The next issue of Weaver's Newsletter is scheduled for August, and the next eBullet will be in July.
***
***
Printer Friendly Version