Weaver's Newsletter, April 2016
Weaver's Newsletter          
An Online newsletter of
"The Andy Griffith Show" Rerun Watchers Club (TAGSRWC)
April 2016
Welcome to our second issue for 2016!   Springtime is almost making ol' Ben not grumpy.  Almost. We've got one new item (a new take on an old favorite). And with short-sleeve weather now upon us, what better time to shop for a new Mayberry T-shirt.  We have 36 different designs to choose from!
Suit yourself to a Summertime Tee!
 **** Merchandise Update ****
Here are highlights from what's in store for you online Weaver's Department Store this month.
NEW!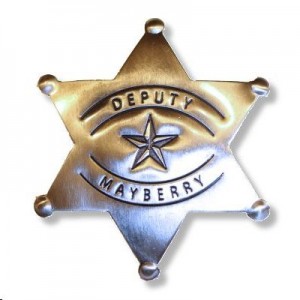 $10.00
Most of us may not feel like we can step into Andy's shoes but, what about Barney's?
This latest interpretation is a sturdy, but simplified representation of Barney's Mayberry Deputy's badge.  In other words, it's not an exact replica, but for the price, you can't beat it.
The color is "nickel" and you'll be able to pin it to the khaki shirt of your choice to have that official deputy look.  Get a Mayberry Deputy Patch to accessorize even more like a true Mayberry Deputy!
Two of our most popular T-shirts are now available in Toddler sizes, so that even the youngest fans can show their Mayberry spirit.  We have both our "Aw, Pa" and Newest Nip It designs in Toddler 2, 3 and 4 sizes.  And what makes them irresistible (besides a cute kid wearing them, of course!) is the smaller price, just $16, compared to $20 for adult sizes (also a great deal!).  No doubt about it…these new sizes are "darn cute."
***
Most of our T-shirts are just $20.  (A few designs are $18, and the Lawmen all-over design is $25.)  We also have caps, Goober beanies and deputy patches.
You'll find these items and much more, including books, CDs, DVDs, Blu-rays, rare collectibles, tin signs, artwork, rare board games, blankets, items for vehicles and who knows what all–all online at www.weaversdepartmentstore.com.  (Or just go to www.imayberry.com and click on one of the orange and blue Weaver's buttons at the top.)
  ***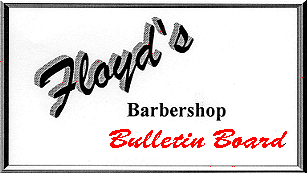 Floyd's

 

Barbershop

 
Bulletin

 

Board


&

 




Event

 

Calendar
The Andy Griffith Museum, featuring the late Emmett Forrest's amazing collection of Andy Griffith memorabilia, is open daily in Mount Airy, N.C. For info, visit the website at www.andygriffithmuseum.org or call (336) 786-1604.
The following information is from "The eBullet": Official E-mail Newsletter of "The Andy Griffith Show" Rerun Watchers Club (TAGSRWC).
* Apr. 25 and 26: Karen Knotts performs "Tied Up in Knotts" at 8 p.m. both days at Barleen's Arizona Opry in Apache Junction, Ariz.  Details TBA.  For more info, visit www.azopry.com.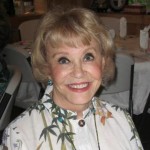 * Apr. 28-30: Maggie Peterson and Margaret Kerry are among the special guests for the Missouri Cherry Blossom Festival in Marshfield, Mo.  For more info, visit www.cherryblossomfest.com.
* May 6 and 7: 6th Annual Mayberry Comes Westminster (S.C.) festival. Karen Knotts is the special guest.  She'll be performing two shows of her new one-woman act "Knott Knotts, Who's There: Getting to Know the Man Behind Barney Fife." She'll also be the grand marshal for two parades on Saturday.  Other performers include bluegrass gospel group Trinity River Band.  David Browning and a troupe of Mayberry tribute artists will also be performing throughout the weekend.
In conjunction with the festival, the 3rd Annual Crime Stoppers Mayberry Open Golf Tourney at noon on Thursday the 5th at Oconee Country Club. For info about how to register your team and/or become a hole sponsor, contact Jimmy Watt, Information Officer with the Oconee County Sheriff's Office, at (864) 638-419 or e-mail him at jwatt@oconeelaw.com.

There will also be a "Salute to Elvis" dinner show starring Wayne Euliss on Wednesday the 4th and Mayberry Bible Study on Thursday. A cruise-in, pageants, contests, crafts, and assorted vendors are also part of the popular festival.  For more info, visit www.mayberrywestminster.com.
* May 7: 29th Annual Uncle Jesse Big Bass Classic (founded by Denver Pyle) in Paris, Tex.  For more info, visit: www.unclejessefishing.com.
* May 14: Dean Webb and Missouri Boatride perform a free concert at 7 p.m. at the Kimberling City Mall in Kimberling City, Mo.
* May 20: Betty Lynn greets fans at the Andy Griffith Museum 12:30-3:30 p.m. She will have autographed 8 x 10 photos available ($10). For info, visit the website at www.andygriffithmuseum.org or call (336) 786-1604.
* May 21 and 22: Mayberry in the Midwest festival in Danville, Ind.  Maggie Peterson (Charlene Darling) is special guest star this year, along with Dixie Griffith (Andy's daughter). Also on hand will be the Mayberry tribute artists, who will perform a free show on both Sat. and Sun., as will the always popular VW Boys.
There will also be a Meet & Greet Dinner on Fri. evening, a parade Sat. morning, a basketball game on Sat. evening featuring Mayberry tribute artists vs. local celebrities, Mayberry After Dark (pub crawl and ghost walk) and the Phil Fox Comedy Show (both on Sat. night), and the Mayberry Squad Car Nationals on Sun. afternoon. More details TBA. For updates, visit the Mayberry in the Midwest page on Facebook  or write organizer Christa Salyers at clsalyers4@gmail.com.
* June 2-4: The Dillards (featuring Rodney Dillard) perform at the John Hartford Memorial Festival in Bean Blossom, Ind.  Details TBA. For more info, visit www.johnhartfordmemfest.com.
* June 11: Dean Webb and Missouri Boatride perform a free concert at 7 p.m. at the Kimberling City Mall in Kimberling City, Mo.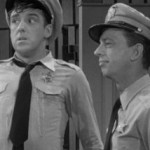 * June 11: Neal Brower, author of Mayberry 101, presents a lecture on "The Big House" episode of TAGS, starting at 2 p.m., in the Andy Griffith Museum Theatre in Mount Airy, N.C.  Admission is included with an Andy Griffith Museum admission ($6).  For info, visit the website at www.andygriffithmuseum.org or call (336) 786-1604.
* June 17: Betty Lynn greets fans at the Andy Griffith Museum 12:30-3:30 p.m. She will have autographed 8 x 10 photos available ($10). For info, visit the website at www.andygriffithmuseum.org or call (336) 786-1604.
* June 17: Karen Knotts performs "Tied Up in Knotts" at the Sondheim Center for the Performing Arts in Fairfield, Iowa.  Show time is 7 p.m. For info, call (641) 472-2000 or visit www.fairfieldacc.com.
* June 18: Karen Knotts brings "Tied Up in Knotts" to Madison, Wis. Details TBA.
* June 26-July 3: Ronnie Schell performs at Harvey's Hotel & Casino in Lake Tahoe.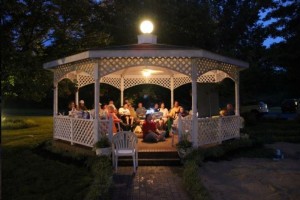 * July 8 and 9: Mayberry Meet-Up in Mount Airy, N.C.  Timed in part to coincide with Neal Brower's Lecture on Saturday at the Andy Griffith Museum (see the July 9 listing below), this informal gathering is being coordinated by Allan "Floyd" Newsome as a chance for fans to gather and enjoy Mount Airy during a quieter time of year than with the wall-to-wall activities  and crowds of Mayberry Days (also not to be missed!) in September.
There's a light schedule of planned activities that folks can pick and choose from.  (Click the highlighted link above for details on the event's Facebook page.) It's mostly just a chance to hang out and relax in Mount Airy with fellow visitors and local friends.  Click this link for the Mayberry Motor Inn website for room reservation info.  The motel and its gazebo serve as the home base for weekend.
* July 9: Dean Webb and Missouri Boatride perform a free concert at 7 p.m. at the Kimberling City Mall in Kimberling City, Mo.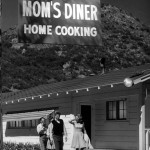 * July 9: Neal Brower presents a lecture on the "Andy's Rich Girlfriend" episode of TAGS, starting at 2 p.m., in the Andy Griffith Museum Theatre in Mount Airy, N.C.  Admission is included with an Andy Griffith Museum admission ($6).  For info, visit the website at www.andygriffithmuseum.org or call (336) 786-1604.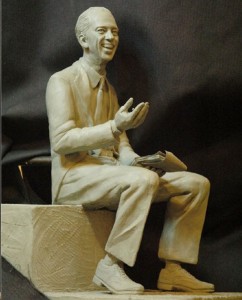 * July 21: Don Knotts statue dedication in Morgantown, W.V.  Details TBA.
* July 24: The Dillards (featuring Rodney Dillard) perform at First United Methodist Church in Starkville, Miss.  Details TBA.
* Aug 13: Mayberry 101 author Neal Brower presents a lecture on the "Goober and the Art of Love" episode of TAGS, starting at 2 p.m., in the Andy Griffith Museum Theatre in Mount Airy, N.C.  Admission is included with an Andy Griffith Museum admission ($6).  Visit the website at www.andygriffithmuseum.org or call (336) 786-1604.
* Aug. 20: Mayberry Night in Troy, N.C. , starring Maggie Peterson, the VW Boys and most of the Mayberry tribute artists in a fundraiser show for the local DARE program.  Details TBA.
* Aug. 20 and 21: Hal J. Smith (aka Otis Campbell) 100th Birthday Celebration in Massena, N.Y.  Hal was born in Petoskey, Mich., on Aug. 24, 1916, but called Massena home for many years. Details of the celebration are TBA.  Follow updates on plans at the event's Facebook page, or contact organizer John Michaud III by phone at (315) 769-2102 or by e-mail at massenaguy2003@yahoo.com.
* Aug. 26-31: As part of the celebration of Betty Lynn's 90th Birthday (Aug. 29), the historic Earle Theatre in Mount Airy, N.C., will screen June Bride, the 1948 film starring Betty in the title role. Also starring Bette Davis and Robert Montgomery.  And look for Debbie Reynolds and Mayberry's Amzie Strickland (Miss Rosemary) and Tom Tully (Walt Simpson) in smaller roles.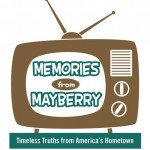 * Sept. 19-22: Memories From Mayberry: Timeless Truths from America's Hometown is a Bible study event drawing on the biblical truths and life applications found in "The Andy Griffith Show." Hosted by the Georgia Baptist Conference Center in Toccoa, GA (90 miles NE of Atlanta). Early Bird price (until Mar. 15) is $300 per person (based on double occupancy). After that, the price is $325 per person.
The all-inclusive price includes three nights of on-campus lodging, eight meals, Bible study sessions based on favorite TAGS episodes, dynamic preaching, worship, and special guest star LeRoy McNees ("Mayberry on Record" and "Quiet Sam") in concert. To register, call (706) 886-3133 or visit www.mytoccoa.com/mayberry.
* Sept. 21-25: 27th Annual Mayberry Days in Mount Airy, N.C. Stars confirmed so far include Mount Airy's own Betty Lynn (Thelma Lou), The Dillards (featuring Rodney Dillard), and Karen Knotts (daughter of Don Knotts), who will present two one-woman shows this year: her popular "Tied Up in Knotts" and her brand new one, "A Deputy's Daughter." Dorothy Best  (with David Browning) will also present "Remember Me with Laughter: A Tribute to James Best."
Other performances include the comedy of James Gregory ("the funniest man in America"), The VW Boys, Michael Hoover's Elvis, The Embers (featuring Craig Woolard), The Tams, and the Malpass Brothers. Tickets are also available for The Emmett Golf Tournament, the Golf Banquet & Entertainment, Professor Brower's Lecture/TAGSRWC Annual Meeting, and Colonel Tim's Talent Time.
More details and stars TBA. Much of the festival is free, but tickets for many of the activities/performances listed above that have a paid admission are now available online at www.mayberrydays.org.
* Oct. 29 -Nov. 3: Cruise to Mayberry 11 with special guest star Jackie Joseph (aka to Ernest T. Bass's Sweet Romeena)! Join the fun (including Halloween) in the western Caribbean aboard Carnival's Paradise cruise ship as it departs Tampa with stops in Grand Cayman (a favorite of Asa's and Mr. Meldrim's) and Cozumel (a fave of Daphne and Skippy and Mavis Neff).
A bunch of popular Mayberry tribute artists (and also an Elvis) will join Jackie in providing entertainment and hosting contests, along with all the hearty eatin' and usual cruise highlights.  For more info, visit www.allaboutcruisesnc.net or call 1-800-832-7993.
***
**** News of Cast & Crew ****
Andy Griffith is officially and literally becoming a pillar of the community as he and seven fellow legends of the Carolinas are having their images placed on giant columns in the lobby of the Knight Theater in Charlotte's Spirit Square this month. Look for a photo of Andy's completed column in our next issue.  Andy will be joined by Earl Scruggs, Nina Simone, James Taylor, Maya Angelou, James Brown, Dizzie Gillespie and artist Romare Bearden.
Ron Howard continues with post-production work on Inferno, which is currently scheduled to be in theaters on October 28 and is a solid bet for box-office success.
Ron and is also set to produce (with Imagine Entertainment partner Brian Grazer, whose wedding to Veronica Smiley was attended by Ron and wife Cheryl in February) and direct The Girl Before for Universal Studios. The movie, based on a novel by J.P. Delaney (aka Tony Strong), is such a hot property that the movie deal was made even before the novel's planned release next fall.
And Imagine is producing and Ron is directing The Beatles Live, a documentary scheduled for release later this year.
Ron and the Imagine team have also announced plans to produce a six-part sci-fi docu-miniseries with the working title of "MARS" (with a previous working title of "Red Planet") about the colonization of Mars that's scheduled for Nat Geo Channel's 2016-17 season.
And Imagine is among the producers for Stephen King's Dark Tower across several media platforms, including a feature film expected in 2017 and a TV series that might tie episodes into the movie's storyline both before and after the movie's release.
Also look for Ron online playing himself in Funny or Die's Donald's Trump's Art of the Deal: The Movie, starring Johnny Depp.
Clint Howard was recently back in Nashville filming "Still the King," an upcoming series (premiering on June 12 on CMT) about an Elvis impersonator (Billy Ray Cyrus).  Clint plays a roadie named Crazy Dave.
Clint has also been active and vocal in the presidential primary campaign, but in order not to ruffle any feathers one way or the other and to keep this space as politically neutral as possible, we can be trusted to refrain from discussing anybody's political allegiances here.
That said, there is one political campaign that's probably appropriate for us to mention:
Rodney Dillard and his band (now officially billed again as The Dillards) have put the finishing touches on their new album, which is expected to be released soon.  Earlier this month, the Rodney and the band filmed an episode of the RFD-TV's "Larry's Country Diner" in Nashville.  It's expected to air in May.
Meanwhile, Rodney and the band recently returned from multiple performances of  their successful Mayberry Moments show with Maggie Peterson in Cumming, Ga.

Maggie also says that she and husband Gus are doing well and are enjoying their new dog, a Maltese Yorkie named Phoebe.  (Their cats are maybe not quite as keen about Phoebe joining the family, but after all…they're the cats.)
We checked in with George Spence (Frank the Boyfriend in "Guest in the House") on his 88th birthday (April 18).  He's recovering from recent hip surgery, but other than that is doing well.  He and wife Stephanie hope to return to Mayberry Days in September.
Jackie Joseph (Mayberry's Sweet Romeena) was involved in several recognitions of her good friend Doris Day's birthday earlier this month.
Ronnie Schell has been visiting Australia this month with friends and son Greg. Maybe there will be some photos that let us see Schells seeing sea shells by the seashore.
Julie Adams (Nurse Mary in "The County Nurse") thrilled fans with her appearance at the Space Coast Nerd Fest in Melbourne, Fla., earlier this month and again at Monsterpalooza in Pasadena, Calif., last weekend. Stay up on happenings with Julie at www.julieadams.biz and on her Official Julie Adams page on Facebook.
***
We're sad to report the passing of two people with Mayberry connections.
Mary Weaver Dodson, widow of Jack Dodson (Howard Sprague), died February 15 of complications of Parkinson's disease in Woodland Hills, Calif.  She was 83.
Born in Pittsburgh, Penn., on September 24, 1932, Mary graduated from Carnegie Tech University, where she also met future husband Jack, also a Pittsburgh native.
Mary was a set designer and art director for numerous TV shows, including "The Tonight Show Starring Johnny Carson," "Days of Our Lives," "The Jack Benny Show," "Battlestar Gallactica," "Falcon Crest," "Taxi," "Columbo" and more than 100 episodes of "Murder She Wrote." Mary was the first woman member of the Art Directors Guild, and she earned four Emmy nominations for her work.
Survivors include daughters Amy and Cristina and brothers Fritz Weaver (the Tony Award-winning actor and History Channel narrator) and Daniel Weaver.
***
George Kennedy, State Police Detective in "The Big House" (Episode 95) and an MP in "And Baby Makes Three" (a 1968 episode of "Gomer Pyle, U.S.M.C.") died in Middleton, Idaho, on February 28.  He was 91.
Born in New York City on February 18, 1925, George was a highly decorated soldier who served under Gen. George Patton in World War II during his 16-year Army career, before he decided to pursue acting.
His prolific and distinguished career found him playing heavies and tough guys in his early roles and then authority figures in mid-career (including all four films in the popular Airport series) and beyond.  He showed his comedic abilities in films such as the Naked Gun series. He earned an Academy Award for  Best Supporting Actor for his performance in 1967's Cool Hand Luke, opposite Paul Newman. (He was the oldest living Oscar winner in that category at the time of his death.)
George was preceded in death by his wife, Joan, and by a son and daughter.  Survivors include a daughter, granddaughter and grandson.
***
**** Mayberry on the Web ****
This TAGSRWC online group is organized and overseen by webmaster Allan "Floyd" Newsome with able assistance from Keith "Col. Harvey" Brown. You can check it out and sign up for free at: http://imayberrycommunity.com.
The iMayberry Community complements our other online activities, including our main www.imayberry.com page, podcasts, Facebook page, online newsletters (such as The eBullet), weaversdepartmentstore.com and chat rooms.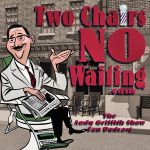 Two Chairs, No Waiting is our weekly podcast of TAGS news, interviews and pretty much whatever happens to be going on in and around Mayberry. It's hosted by Allan Newsome. There's a new episode every Tuesday (and you can watch and listen live during tapings on Monday evenings). Past episodes are in an online Archives in case you want to listen to or view episodes you've missed.
Allan started the podcast in 2008. This week's episode was #374. That's a bunch of great barbershop talk about Mayberry! There's a lot of info and discussions that you simply won't find anywhere else, including rare interviews (vintage and new) with cast and crew members of TAGS. And you'll also find links there to a couple of other outstanding Mayberry-related podcasts.

TAGSRWC's official page on Facebook now has more than 220,000 friends! You can find us at www.facebook.com/tagsrwc. If you haven't already dropped by the page, we hope you'll check it out sometime when you have the chance. We invite you to become a TAGSRWC Facebook Friend!
And even Ol' Ben Weaver now has his own Facebook page at www.facebook.com/weaversdepartmentstore. Check it out for the latest Mayberry items and merchandise news.
***
   **** Post Note ****
Between issues of Weaver's Newsletter, keep up with the happenings in Mayberry with the daily "Who's Been Messin' Up the Bulletin Board?" Digest. It's a free subscriber list that consists entirely of comments, news flashes, and questions and answers from subscribers. You can sign up for that list by going to the "Mailing Lists" link at www.tagsrwc.com.
TAGSRWC also publishes The eBullet in alternate months to Weaver's Newsletter. The eBullet is the online successor to our longtime printed newsletter, The Bullet. Like Weaver's Newsletter, The eBullet is free. It includes some of the same news as Weaver's Newsletter, but generally with more features and depth and a little less emphasis on merchandise news. To sign up, go to: www.tagsrwc.com/ebullet.
TAGSRWC's other main vehicle for Mayberry information is simply our website at www.tagsrwc.com (and its sister site www.iMayberry.com). Both sites have extensive content and links for just about everything a Mayberry fan might be looking for.
The next issue of Weaver's Newsletter is scheduled for June, and the next eBullet will be in May.
***
***
Printer Friendly Version