Weaver's Newsletter October 2015
Weaver's Newsletter  
       
An Online newsletter of
"The Andy Griffith Show" Rerun Watchers Club (TAGSRWC)
October 2015
Welcome to our October issue!  Ben Weaver says…Boo!  We have several new Mayberry items since our last issue, plus lots of Mayberry news, so we'll get right on with the proceedings.
**** Merchandise Update ****
Ben Weaver is eager to remind everyone that it's now less than two months till Christmas!  That's even scarier to think about than having to go into the Remshaw House! But don't fret, because Weaver's Department Store is here to ease your holiday shopping worries. Here are some  highlights from Weaver's shelves this season:
2016 "Andy Griffith Show" Wall Calendar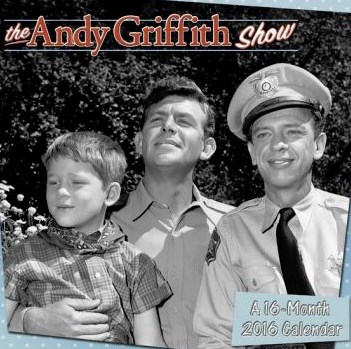 $15.00
Now in stock!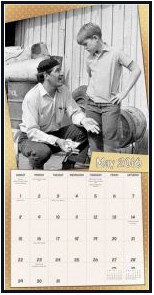 All the photos contained in this 2016 edition are in black and white, but some of them are from color seasons or publicity photos.  The calendar is 12 in. wide x 12 in. tall when closed and 12 in. wide x 24 in. tall when open.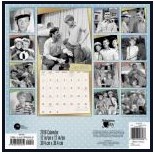 Characters featured in this edition are Andy, Barney, Opie, Aunt Bee, Goober and Gomer (who was missing from last year's calendar).
Order early and take advantage of this 16-mother calendar. September though December 2015 are featured together with Andy and Opie on display. All other months are in separate openings featuring one new image per month.
***
Mike Johnson is an honorary native of North Carolina (and full-fledged member of TAGSRWC's Barney chapter in Greensboro, N.C.). His  artwork is a reflection of his love and reverence for small-town life and The Andy Griffith Show.
With his Mayberry Postmarks notecard set he has used scenes that are inspired by the show, but not actually of the show itself.
Each set contains 10 notecards (and 10 envelopes) with each having a different pen & ink drawing that will spread the Mayberry spirit to those who receive them. Write your own note inside the card to complete that personal connection with family and friends.
***
Just in time for fall and winter, two of our most popular T-shirt designs are now available in sweatshirts!
Floyd's Barbershop Sweatshirt
$32.00
As Floyd might say, "Every sweatshirt is a walking testimonial."
And our other new sweatshirt (below) will allow you to show your Mayberry Union High spirit and pride right on through the cool weather.  Let others know that you were featured in Barney "Scoop" Fife's "Pickups and Splashes from Floor and Pool" sports column in the school paper.
Property of Mayberry Union High Sweatshirt
$32.00
And we have  sweatshirts and hoodies in two other popular designs: Mayberry Choppers and Mayberry Union High.
New T-Shirt!
You may think you've seen this shirt before, but, while it's very similar, this tee is without the 50th Anniversary logo of the previous T-shirt.
This T-shirt has a classic image of four of Mayberry's favorites on a heavyweight 100% preshrunk cotton shirt.  The color?  Why, that's Courthouse Coffee, of course!

You'll find these items and much more, including books, CDs, DVDs, Blu-rays, rare collectibles, tin signs, artwork, rare board games, blankets, items for vehicles and who knows what all–all online at www.weaversdepartmentstore.com.  (Or just go to www.imayberry.com and click on one of the orange and blue Weaver's buttons at the top.)
And while any of our items can make excelle
nt gifts for any occasion, we have one section at Weaver's devoted just to Christmas-related items. Be sure to check them out in time to enjoy them throughout the holiday season!
  ***
Floyd's

Barbershop

Bulletin

Board


&


Event

Calendar
The Andy Griffith Museum, featuring the late Emmett Forrest's amazing collection of Andy Griffith memorabilia, is open daily in Mount Airy, N.C. For info, visit the website at www.andygriffithmuseum.org or call (336) 786-1604.
The following information is from "The eBullet": Official E-mail Newsletter of "The Andy Griffith Show" Rerun Watchers Club (TAGSRWC).
* Oct. 30-Nov. 1: Margaret Kerry (Bess Muggins and Helen Scobey) greets fans in the Gifts By Small Fry Booth at the Comikaze Expo at the Los Angeles Convention Center in Los Angeles, Calif.
* Nov. 20: Betty Lynn (Thelma Lou) greets fans at the Andy Griffith Museum 12:30-3:30 p.m. She will have autographed 8 x 10 photos available ($10). For info, visit the website at www.andygriffithmuseum.org or call (336) 786-1604.
* Nov. 27: The Roland White Band performs at the Station Inn in Nashville, Tenn. at 9 p.m.
* Dec. 5: Roland White presents Bill Monroe Appreciation Night at the Station Inn in Nashville, Tenn.
* Dec. 11: Ron Howard's In the Heart of the Sea opens in theaters nationwide.  It's a whale of a movie. Think of it as sort of a 19th Century Star Wars prequel…a must-see before viewing Episode VII, which opens the next week.
* Dec. 18: Betty Lynn (Thelma Lou) greets fans at the Andy Griffith Museum 12:30-3:30 p.m. She will have autographed 8 x 10 photos available ($10). For info, visit the website at www.andygriffithmuseum.org or call (336) 786-1604.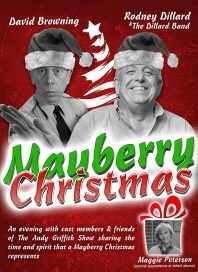 * Dec. 18: Maggie Peterson and Rodney Dillard and the Dillard Band are joined by David "Mayberry Deputy" Browning for a presentation of their Mayberry Christmas show at 7 p.m. ET at the historic State Theater in Elizabethtown, Ky. Tickets range from $34 for reserved seats to $24 for general admission balcony seats.  For tickets and info, visit http://historicstatetheater.org.
* Dec. 19: Maggie Peterson and Rodney Dillard and the "Mayberry Christmas" show featuring David Browning come back to Middle Tennessee with a return engagement in Mt. Juliet at Victory Baptist Church 1777 Tate Rd. 37122.  Doors open at 5 p.m., and the show starts at 6 p.m.  Tickets are $20 in advance by calling 1-800-965-9324, ordering online at the following website www.itickets.com/events/349787/Mt.Juliet TN/Mayberry Christmas.html, or in person at the church offices listed on that site, or are $25 at the door. Child care will also be provided.  The event is jointly presented by Abundant Life Church and Victory Baptist Church.
* Dec. 28-30: Karen Knotts has three performances of "Tied Up in Knotts" in Sedona, Ariz.  Details TBA.
2016

* Mar. 3-5: 19th Annual George Lindsey UNA Film Festival in Florence, Ala.  For more info, visit www.lindseyfilmfest.com.
* Apr. 3 and 4: Karen Knotts performs "Tied Up in Knotts" at 8 p.m. both nights at Barleen's Arizona Opry in Apache Junction, Ariz.  Details TBA.  For more info, visit www.azopry.com.
* Apr. 22: Karen Knotts brings "Tied Up in Knotts" to Lyman, Wyo.  Show time is 8 p.m. Further details TBA.
* Apr. 25 and 26: Karen Knotts performs "Tied Up in Knotts" at 8 p.m. both days at Barleen's Arizona Opry in Apache Junction, Ariz.  Details TBA.  For more info, visit www.azopry.com
* Sept. 21-25: 27th Annual Mayberry Days in Mount Airy, N.C. Much of the festival is free. Tickets for some of the activities that have a paid admission are now available online at www.mayberrydays.org.
* Oct. 29 -Nov. 2: Cruise to Mayberry 11.  Details TBA soon.
***
**** News of Cast & Crew ****
Ron Howard  was one of five recipients of a 2015 DGA Honors award presented by the Directors Guild of America  at a star-filled ceremony at the Guild's  theater in Manhattan on October 15. 
Ron and Imagine Entertainment partner Brian Grazer are serving as executive producers of the "Breathrough" documentary TV series for "National Geographic."  The series begins airing on the National Geographic Channel on November 1 and continues on five Sundays (skipping the Sunday before Thanksgiving).
Ron also directed one episode, "The Age of Aging," which premieres on November 29. Here's a link to Ron talking about the series.
Betty Lynn has two meet & greet sessions left this year (one in November and one in December) at the Andy Griffith Museum.  She made multiple appearances during September (including Mayberry Days) and two this month, including a special lecture with Neal Brower last weekend, when they discussed the "Barney and Thelma Lou, Phfftt" episode.
Elinor Donahue was not at Mayberry Days this year, but she was in North Carolina that same week.  She was superb in the role of Betty Chumley in a production of Harvey at Sandhills Community College in Pinehurst.  The play ran the exact days of Mayberry Days, but some fans managed to attend both events.
Rodney Dillard and the Dillard Band were back in the recording studio in Nashville in August. They're working on a new album that's scheduled for release in February. After Nashville, Rodney and the band traveled to Troy, N.C., for the annual DARE fundraiser with Maggie Peterson and the troupe of Mayberry tribute artists before heading on to Mayberry Days in Mount Airy.
Fresh from Mayberry Days, Ronnie Schell was joined by son Greg for the 10th Annual Mayberry Cruise to the Caribbean earlier this month.
Dozens of fans, several Mayberry tribute artists (and an Elvis) and Tim White of the VW Boys were on board for what was by all accounts another fantastic time at sea aboard Carnival's Conquest.
Karen Knotts has just completed another mini-tour of her popular "Tied Up in Knotts" stage show with full houses for two shows in Texas this month. And she has several dates (primarily in Arizona so far) lined up for this winter and next spring.
Jackie Joseph has been back to her globetrotting ways this year with a happy trip to France with husband David in the spring.
And in September, she and David vacationed in Hawaii, where they  got in visits with old friends Richard O. (Dick) Linke and wife Bettina.
Dick, who celebrated his 98th birthday with friends and family on October 23, says he's feeling his age a bit these days, but continues to be in good spirits.
Joy Ellison (Opie's pal Mary Wiggins and others) had to miss Mayberry Days this year because she's working as dialogue coach for Emma Watson in the sci-fi thriller The Circle (also starring Tom Hanks), which is in production in L.A. and is scheduled for release next year.
Margaret Kerry had a busy week in North Carolina in September.  She was the special guest for the final "Life Lessons from Mayberry" to be held at Ridgecrest, N.C., September 20 to 23.  And then she was at Mayberry Days from September 24 to 27.  And she continues to make regular public appearances celebrating her work as the original live model for Tinkerbell at Disney events.
***
Mayberry Days Recap and Gallery
This year's 26th Annual Mayberry Days in Mount Airy, N.C., was another huge success. Among the many performers and presenters were 10 from the TAGS cast and crew.
For the record, the cast and crew at the festival were Betty Lynn, Maggie Peterson, Rodney Dillard, assistant director Bruce Bilson, Morgan Brittany, Margaret Kerry, Ronnie Schell, and first-timers Barbara Eden, Clint Howard and Ronnie Dapo.  All three of the stars making their debut received a Key to the City of Mount Airy.
Also performing were three family members of TAGS stars: Karen Knotts performed her always popular "Tied Up in Knotts" show, George Lindsey Jr. did some stand-up comedy and sang crowd-pleasing "silly songs," and Dorothy Best, wife of the late James Best, presented "Remember Me with Laughter," a tribute that was moving and filled with fun memories. Andy Griffith's daughter, Dixie, and Morgan Brittany's daughter, Katie, also rode in the Mayberry Days parade.
Two scheduled stars unfortunately were unable to attend at the last minute.  George Spence was recovering from a recent fall, and Elizabeth MacRae was in the process of moving to a new home.
We'll have more detailed coverage of Mayberry Days in our November eBullet newsletter, but for now, we'll leave you with a few more photos.
And we encourage you to check out the extensive selection of outstanding photos by Hobart Jones and Kenny Hooker in the photo gallery at the official Mayberry Days website. (By the way, tickets to some of the events at the 2016 Mayberry Days are already available online HERE.)
***
**** Mayberry on the Web ****
This TAGSRWC online group is organized and overseen by webmaster Allan "Floyd" Newsome with able assistance from Keith "Col. Harvey" Brown. You can check it out and sign up for free at: http://imayberrycommunity.com.
The iMayberry Community complements our other online activities, including our main www.imayberry.com page, podcasts, Facebook page, online newsletters (such as The eBullet), weaversdepartmentstore.com and chat rooms.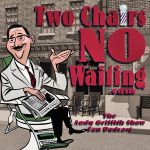 Two Chairs, No Waiting is our weekly podcast of TAGS news, interviews and pretty much whatever happens to be going on in and around Mayberry. It's hosted by Allan Newsome. There's a new episode every Tuesday (and you can watch and listen live during tapings on Monday evenings). Past episodes are in an online Archives in case you want to listen to or view episodes you've missed.
Allan started the podcast in 2008. This week's episode is #349. That's a bunch of great barbershop talk about Mayberry! There's a lot of info and discussions that you simply won't find anywhere else, including rare interviews (vintage and new) with cast and crew members of TAGS. And you'll also find links there to a couple of other outstanding Mayberry-related podcasts.

TAGSRWC's official page on Facebook now has more than 175,000 friends! You can find us at www.facebook.com/tagsrwc. If you haven't already dropped by the page, we hope you'll check it out sometime when you have the chance. We invite you to become a TAGSRWC Facebook Friend!
And even Ol' Ben Weaver now has his own Facebook page at www.facebook.com/weaversdepartmentstore. Check it out for the latest Mayberry items and merchandise news.
***
   **** Post Note ****
Between issues of Weaver's Newsletter, keep up with the happenings in Mayberry with the daily "Who's Been Messin' Up the Bulletin Board?" Digest. It's a free subscriber list that consists entirely of comments, news flashes, and questions and answers from subscribers. You can sign up for that list by going to the "Mailing Lists" link at www.tagsrwc.com.
TAGSRWC also publishes The eBullet in alternate months to Weaver's Newsletter. The eBullet is the online successor to our longtime printed newsletter, The Bullet. Like Weaver's Newsletter, The eBullet is free. It includes some of the same news as Weaver's Newsletter, but generally with more features and depth and a little less emphasis on merchandise news. To sign up, go to: www.tagsrwc.com/ebullet.
TAGSRWC's other main vehicle for Mayberry information is simply our website at www.tagsrwc.com (and its sister site www.iMayberry.com). Both sites have extensive content and links for just about everything a Mayberry fan might be looking for.
The final issue of Weaver's Newsletter for 2015 is scheduled for December, with this year's last eBullet coming out in November.
***
.
***
Printer Friendly Version