**** Merchandise Update ****
It has been a busy time at Weaver's.  We've added seven brand new officially licensed TAGS items and also a new book to our virtual shelves in just the last few weeks!  And that's on top of three new items during the summer.
As we get ready for the holiday shopping season, we've stocked up with a full selection of books, apparel, DVDs, music, artwork, collectibles, items for your vehicle and much more at our online Weaver's Department Store.  Browse the highlights below and then shop online anytime you want day or night at www.weaversdepartmentstore.com (just don't wake Asa!).
New This Season: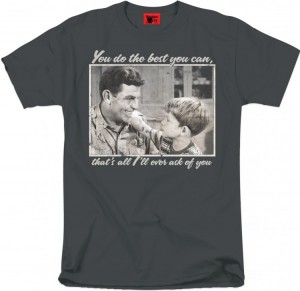 $20.00
This design just arrived in September! It captures a special sentiment between Andy and Opie. Kind and wise words from a father to his son.
The image on the shirt is deliberately distressed and splattered to give it an old, family scrapbooky feel. (Or maybe more like Newton Monroe spilled some paint on it.) Anyway, that's a cool look these days, so if you want to be hip, you gotta have a shirt with some roughness, even if the photo itself is charming. All on a charcoal- colored shirt. It's the color of choice of the Ankrums and other families around Mayberry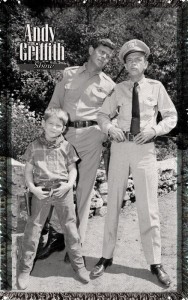 Lawmen design available in assorted items (woven Throw shown)
Everybody is so keen on the Lawmen design that one of the licensed manufacturers just went wild coming up with things to put it on.  With Aunt Bee and Clara's help, of course.  You'll find a cool (and warm!) assortment of items for fun decor, whether in your home or at the duck pond.  Mix and match.  Actually, at this point, it's more like match and match.  But that just makes decorating all the easier!  Everything goes together when it's all the same!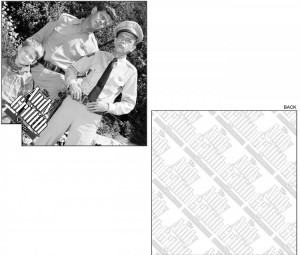 $16.00
This is a brand new item for this fall.  Made of 100% polyester for a soft feel and easy care.  It measures a generous 22 in. x 22 in.
Lawmen on the front and TAGS logos covering the back.  Definitely nothing to sneeze at…unless you need to.  For example, if you're wearing the ol' salt and pepper (ha-ha), then you'll be extra glad that you have the coolest handy kerchief around!
***
Featured Item:
We think this 2015 edition of the TAGS wall calendar is a particularly good one. It features 11 different characters (a new record for 21st century Mayberry calendars).  All photos are black and white, but there's a lot of nice color in the design around the photos.
Because of a smaller allotment this year, this edition may end up being somewhat harder to find later on than some previous editions have been, but we'll do our best to keep it in stock for as long as we can. There just may not be the discounts available to later shoppers that some earlier editions have had. (For example, we don't expect to be able to offer our Buy 2, Get 1 Free deal this year, as we've done a couple of times with previous editions. They're just aren't enough calendars available for that this year.) So get 'em while the gettin' is good.
As 2015 will be the 55th Anniversary of TAGS, what better way to keep Mayberry on your mind every day than with this cool calendar!
***
Direct from the Remshaw House, we've got a special deal on a couple of creepily fun items that are indirectly related to Mayberry.  Check them out...if you dare!
***
Weaver's always has individual Season sets of "The Andy Griffith Show," The Entire Series  (now only $109.00!) and a 50th Anniversary Collection of TAGS on DVD, Season 1 of TAGS on Blu-ray as well as DVD sets of  "Gomer Pyle, U.S.M.C." and favorite movies and other features starring Andy Griffith, Don Knotts and the Dillards.
***
.
In time for cooler weather, we now have two of our most popular T-shirt designs available as both sweatshirts and hoodies, in sizes Small to 3X.
 Mayberry Choppers and Mayberry Union High designs--each available as a T-shirt, Sweatshirt and Hoodie.
***
Miss Crump's Book Nook:

We're really excited about this brand new and outstanding book about TAGS, the first book directly about the show itself in about a dozen years. It's titled A Cuban in Mayberry--Looking Back at America's Hometown, by Gustavo Pérez Firmat, a native of Cuba who is a professor of humanities at Columbia University. (He also has lived and taught for decades in North Carolina.)
Don't let the title fool you.  This is neither a book about a lost episode nor some sort of fan fiction about Ricky Ricardo visiting Mayberry.  It's much more than that. This well-written 194-page book from the University of Texas Press is a very scholarly discussion about TAGS.  It's basically written from the perspective of somebody like "Stranger in Town" Ed Sawyer, someone who's not native to Mayberry, but eagerly sees the joys and wants to understand and be a part of the friendly town. Gustavo Pérez Firmat (in Mayberry, he surely would be simply Gus) identifies with the Ed Sawyer experience.  And he's also a lot like Howard Sprague, who makes his own relatively late appearance in our view of Mayberry, but is welcomed as one of the gang.
Now, it is true that this book is one that's more likely to be found on a bookshelf at Howard's house or maybe at Helen Crump's place rather than either up in Barney's room, where the reading tends to be breezy detective chronicles and fast-lens photography, or in Goober's collection of thinner books, such as Crab Monster (sorry, Goob--only 17 pictures in this book).  But don't we all need to have a good Mayberry think from time to time? (Goober: Say it again.)
Professor Pérez Firmat makes keen observations about TAGS, its production, and its relevance in culture and social history. Fans may chuckle (or wince) at some of the "trivial trivialities" that trip up the professor.  For example, he writes that Andy's favorite dish is lamb stew, a slight miscue likely caused by his sometimes relying on Andy Griffith's donated scripts in the library at UNC-Chapel Hill for reference rather than the filmed episodes.
MAN IN THE MIDDLE--Author Gustavo Pérez Firmat at the TV Land Landmark statue for TAGS in Raleigh, N.C. Maybe he'll soon also get to pose with the revered version of the statue in Mount Airy.
Those slips are easily forgivable, because the thrust of this book is not episodic trivia, but rather a broader examination and analysis of themes, such as the role of things like place and home and relationships, both in Mayberry and in American society.  (It's also worth noting that there probably hasn't been a Mayberry book yet without its share of trivial and non-trivial errors.  There's just such a huge number of interesting facts to catalog. All Mayberry writers could benefit from access to that complete set of TAGS scripts for checking the spellings of names, etc.!)
While there might be a tendency among many in academia to too easily dismiss TAGS as just more TV fluff that's not worthy of their intellectual attention, Professor Pérez Firmat is not of that school.  He has an obvious affection for TAGS and strives to enhance that affinity with a deeper understanding.  He has definitely been wearing a bucket on his head and taking a think under there.
That said, sometimes the Professor might be guilty of over-thinking some observations about the show when he's trying to make a larger and valid point. An example of this would be his attaching significance to the headlines of the prop newspapers used on the show--suggesting that they were chosen to illustrate how provincial Mayberry is.  Legions of modern-day "trained noticers" among us have also enjoyed spotting these headlines and similar little things visible on the show. But as proof that Professor Pérez Firmat is as much fan as scholar, he possibly gives them too much emphasis in supporting his themes.
Like all of us who enjoy TAGS and gladly sometimes slide down the wonderfully enjoyable slippery slope of believing (or at least wanting to believe) that everything in Mayberry is really real, even Professor Pérez Firmat's rigorous scholarship occasionally succumbs to the lures of both Mayberry's fantastic realism and the pure fun of Mayberry minutia (including bloopers).  That's a good thing.
And the helplessness that we all have (if we're lucky) in being drawn into the satisfying world of Mayberry is also where the incredible attention given to the fine details of the show by Andy Griffith, Aaron Ruben, Bob Ross, the writers and others--but most especially Andy Griffith--really works its magic.  Unlike almost any other TV show, TAGS creates a believable fictional world that's so rich with interesting people, stories, and generally authentic details that we never tire of exploring, learning and experiencing as much about that world as we can. And most of all, we just enjoy watching (visiting!) Mayberry and being entertained.  All that, plus Barney's hilarious. Professor Pérez Firmat gets all these things.
So, for anyone who enjoys thinking about and understanding more about Mayberry, a description that likely fits most readers of this newsletter as much as any other community in the world, A Cuban in Mayberry is fascinating reading, maybe even essential.  You probably won't agree with all of Professor Pérez Firmat's observations and conclusions about TAGS, but you're sure to enjoy the journey.
Professor Gustavo Pérez Firmat, you have no worries.  You should know that you are heartily welcomed as a fellow citizen of Mayberry.  In other words, "Attaboy, Gus!"
***
In addition to our wide variety of Mayberry items that make great gifts year-round, we have several geared especially for Christmas. You'll find them in the Christmas Items section.
Shop for all of these items and much more at weaversdepartmentstore.com, or just click on the Weaver's button at the top left or top right of the page whenever you're visiting www.imayberry.com.
***
.
Floyd's

Barbershop

Bulletin

Board




&




Event

Calendar
The Andy Griffith Museum, featuring the late Emmett Forrest's wonderful collection of Andy Griffith memorabilia, is open daily in Mount Airy, N.C. For info, visit the website at www.andygriffithmuseum.org or call (336) 786-1604.
The following information is from "The eBullet": Official E-mail Newsletter of "The Andy Griffith Show"Rerun Watchers Club (TAGSRWC).
* Ready to take the plunge? The building at 244 North Main Street in Mount Airy, N.C., until recently the location of the Bluebird Diner, is available for lease or purchase.  For info, e-mail Burke Robertson at BRobertson@burkerobertsonassociates.com.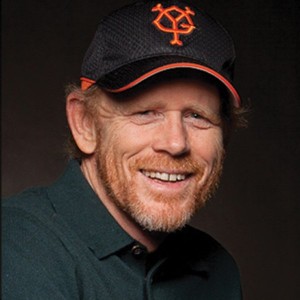 * Oct. 23: "An Evening with Ron Howard" as part of the Bryan Series, hosted by Guilford College in Greensboro, N.C. In a conversation moderated by legendary film critic Leonard Maltin, Ron Howard will share reflections on his 50 years in the motion picture and television industry. He will discuss his journey from his role as Opie to his achievements as one of the most accomplished filmmakers of our time. Expect him to talk about the creative process and the significance of his films including Apollo 13, A Beautiful Mind, Frost/Nixon and others. The presentation starts at 7:30 at the Greensboro Coliseum.
Tickets are on sale now through Ticketmaster for about $59 (including fees & taxes), plus $7 per vehicle ("everybody on the truck!") for parking.  For more info, visit www.guilford.edu/bryan-series.
* Oct. 31- Nov. 2: Back to Mayberry Retreat at the Eagle Ridge Conference Center in Raymond, Miss.  A fundraiser weekend of Christian fellowship and Mayberry fun and games in the heart of Mississippi.  For more info visit www.backtomayberryretreat.webs.com.
* Nov. 1: "Mayberry Moments" show starring Rodney Dillard and the Dillard Band and featuring David "Mayberry Deputy" Browning in Morristown, Tenn.  A fundraiser for the FOP's Toys for Kids. Showtime and ticket prices TBA.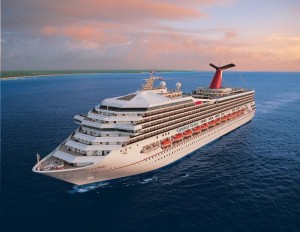 * Nov. 1-6: Cruise to Mayberry 9 stars LeRoy "Mack" McNees, George Lindsey, Jr. , and a passel of Mayberry tribute artists for music, sights, sun, fun and games…and hearty eatin' aboard Carnival's Victory cruise ship, departing Miami for Ocho Rios, Jamaica, and Grand Cayman.  For more info, contact Sharon at All About Cruises (336) 538-4926 or by e-mail at pwesje@aol.com or visit the website at www.allaboutcruisesnc.net.
* Nov. 5-10: David "Mayberry Deputy" Browning joins the VW Boys and a boatload of down-home comedy, bluegrass and country music performers on the Acoustic Cruise sailing from Charleston, S.C., to the Caribbean. Info is at www.ExclusiveCruiseTravel.com, or call Kathy Kennedy at (877)288-7711.
* Dec. 5-7: A Life Lessons From Mayberry Christmas

 

in Ridgecrest, N.C. (outside Asheville) features special guest

 

Margaret Kerry

 

("Bess" from "Christmas Story" and "Helen" from "Andy Forecloses"). This fun and inspirational weekend draws on the biblical truths and life applications found in TAGS. Guests are invited to bring 1960s attire or dress as a character for the Saturday night Christmas banquet. Adults: $195 per person (based on double occupancy), which includes two nights of on-campus lodging, six meals, Bible study sessions based on four favorite episodes, and preaching and worship. Kids 12 and up: $96 (when staying in parents' room); kids under 12: $66 (when staying in parents' room). To register, call Ridgecrest Conference Center at 800-588-7222 or visit
www.ridgecrestconferencecenter.org/event/mayberrychristmas
. Questions? E-mail:
llfmevents@gmail.com
.
* Dec. 13: Neal Brower, author of Mayberry 101, presents a lecture on the "Christmas Story" episode of TAGS, the first one directed by Bob Sweeney, starting at 2 p.m., in the Andy Griffith Museum Theatre in Mount Airy, N.C.  Admission is included with an Andy Griffith Museum admission.  For info, visit the website at www.andygriffithmuseum.org or call (336) 786-1604.
* Dec. 19: Betty Lynn (Thelma Lou) greets fans at the Andy Griffith Museum 12:30-3:30 p.m. She will have autographed 8×10 photos available ($10). For info, visit the website at www.andygriffithmuseum.org or call (336) 786-1604.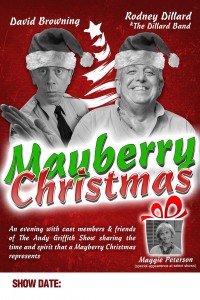 * Dec. 21: "Mayberry Christmas" show starring Rodney Dillard and the Dillard Band, Maggie Peterson and David "Mayberry Deputy" Browning.  This performance is FREE!  Presented by the Fountain of Life Bible Church at the Freedom Hall in Johnson City, Tenn. Doors open at 6 p.m. for Deputy patrolling.  Show time is 7 p.m.
2015
* Jan 9: Karen Knotts performs "Tied Up in Knotts" at the Norris Center in Naples, Fla.  Show time is 7:30. For more info, call 239-213-3058 or visit www.naplesgov.com.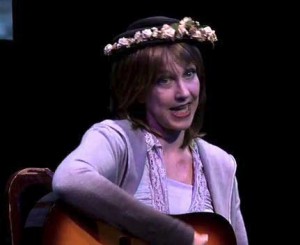 * Jan. 11: Karen Knotts performs "Tied Up in Knotts" at the Florissant Civic Center in Florissant, Mo., at 2:00 p.m. Admission is $28.00.  For more info or tickets, call (314) 921-5678 or visit www.florissantmo.com.
* Jan 16: Betty Lynn (Thelma Lou) greets fans at the Andy Griffith Museum 12:30-3:30 p.m. She will have autographed 8×10 photos available ($10). For info, visit the website at www.andygriffithmuseum.org or call (336) 786-1604.
* Feb. 15: Karen Knotts performs "Tied Up in Knotts" at the Howard Performing Arts Center on the campus of Andrews University in Berrien Springs, Mich. Show time is 7:30. For more info, call 888 467-6442 or visit www.howard.andrews.edu.
* Feb. 20: Betty Lynn (Thelma Lou) greets fans at the Andy Griffith Museum 12:30-3:30 p.m. She will have autographed 8×10 photos available ($10). For info, visit the website at www.andygriffithmuseum.org or call (336) 786-1604. (Photo by Hobart Jones.)

* Mar. 5-7: The 18th Annual George Lindsey UNA Film Festival in Florence, Ala. Details TBA.  For updates go to www.lindseyfilmfest.com.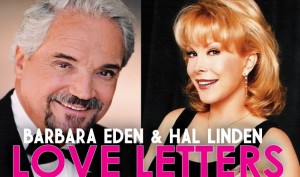 * Mar. 8: Barbara Eden (Mayberry manicurist Ellen Brown) and Hal Linden (Barney Miller) perform Love Letters at the Niswonger Performing Arts Center of Northwest Ohio, located in Wert.  Show time is 3 p.m.. Tickets go on sale Dec. 10, and prices range from $20 to $40.  For more info or tickets, visit npacvw.ticketforce.com, or call (419) 238-6722.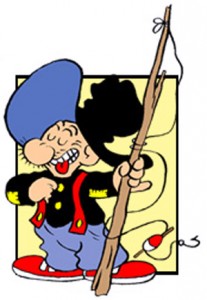 * Mar. 14: Barney Google and Snuffy Smith cartoonist John Rose will be doing a "Snuffy Smith" Chalk Talk and book signing at 1:00 p.m.  at the Public Library in Mount Airy, N.C.  John is also an editorial cartoonist and will show examples of his editorial cartoons, including his touching editorial cartoon tributes to George Lindsey and Andy Griffith that he drew upon their deaths.
In his chalk talk, John will talk about his career as the Barney Google and Snuffy Smith cartoonist, show samples of his cartoon work and draw some of the comic strip's most popular characters for the audience.
* Mar. 20: Betty Lynn (Thelma Lou) greets fans at the Andy Griffith Museum 12:30-3:30 p.m. She will have autographed 8×10 photos available ($10). For info, visit the website at www.andygriffithmuseum.org or call (336) 786-1604.
* Apr. 17: Betty Lynn (Thelma Lou) greets fans at the Andy Griffith Museum 12:30-3:30 p.m. She will have autographed 8×10 photos available ($10). For info, visit the website at www.andygriffithmuseum.org or call (336) 786-1604. (Photo by Hobart Jones.)

* May 1 and 2: Fifth Annual Mayberry Comes to Westminster  festival in Westminster, S.C.  Details TBA. Photo highlights from 2014 at www.mayberrywestminster.com.
* May 15: Betty Lynn (Thelma Lou) greets fans at the Andy Griffith Museum 12:30-3:30 p.m. She will have autographed 8×10 photos available ($10). For info, visit the website at www.andygriffithmuseum.org or call (336) 786-1604.
* May 15-17: Mayberry in the Midwest returns to Danville, Ind. Among the festival's highlights are the parade, the Mayberry Squad Car Nationals, and performances by the Mayberry Tribute Artists. Karen Knotts will perform her "Tied Up in Knotts" show.  Other guest stars and details TBA.  For now, just mark your calendar.
* June 13: Neal Brower, author of Mayberry 101, presents a lecture on the "Bailey's Bad Boy" episode of TAGS, featuring Bill Bixby, starting at 2 p.m., in the Andy Griffith Museum Theatre in Mount Airy, N.C.  Admission is included with an Andy Griffith Museum admission.  For info, visit the website at www.andygriffithmuseum.org or call (336) 786-1604.
* June 19: Betty Lynn (Thelma Lou) greets fans at the Andy Griffith Museum 12:30-3:30 p.m. She will have autographed 8×10 photos available ($10). For info, visit the website at www.andygriffithmuseum.org or call (336) 786-1604.
* July 11: Neal Brower, author of Mayberry 101, presents a lecture on the "Briscoe Declares for Aunt Bee" episode of TAGS, starting at 2 p.m., in the Andy Griffith Museum Theatre in Mount Airy, N.C.  Admission is included with an Andy Griffith Museum admission.  For info, visit the website at www.andygriffithmuseum.org or call (336) 786-1604.
* Aug. 8: Neal Brower, author of Mayberry 101, presents a lecture on the "Andy and Opie, Housekeepers" episode of TAGS, starting at 2 p.m., in the Andy Griffith Museum Theatre in Mount Airy, N.C.  Admission is included with an Andy Griffith Museum admission.  For info, visit the website at www.andygriffithmuseum.org or call (336) 786-1604.
* Aug. 21: Betty Lynn (Thelma Lou) greets fans at the Andy Griffith Museum 12:30-3:30 p.m. She will have autographed 8×10 photos available ($10). For info, visit the website at www.andygriffithmuseum.org or call (336) 786-1604.
* Sept. 23-27: 26th Annual Mayberry Days in Mount Airy, N.C. Mayberry Days started in 1990, so this 26th annual festival marks its 25th Anniversary, and also the 55th Anniversary of "The Andy Griffith Show" itself.  The festival already shows signs of being more chock-full of fun than ever before.  If that's even possible!
Tickets are already available online for key parts of the weekend, including the Mayberry Days Golf Tournament (aka The Emmett) and banquet show; a concert by Rodney Dillard and the Dillard Band, with special guest Maggie Peterson; the comedy show of James Gregory ("the funniest man in America"; the VW Boys Tribute to Mayberry; Neal Brower's Lecture; Colonel Tim's Talent Time, and more.  For info, updates and tickets, visit www.surryarts.org .
* Oct. 8: Karen Knotts performs "Tied Up in Knotts" at 2 p.m. in Columbus, Ohio.  Venue and other details TBA.
 **** News of Cast & Crew ****
Ron Howard will be in Greensboro, N.C., this week to present a lecture (moderated by Leonard Maltin) at the Greensboro Coliseum.  See Floyd's bulletin board above for details.
Ron and his Imagine Entertainment partner Brian Grazer recently announced a deal for their company to produce (along with Scott Pascucci and Grammy winner Nigel Sinclair) and for Ron to direct a documentary about the touring years of The Beatles. "Imagine" that!  Fab for Ron…and for Beatles fans everywhere!  "What's so compelling to me," Ron told Rolling Stone, "is the perspective that we have now, the chance to really understand the impact that they had on the world." Keep up with the project's progress at www.thebeatlesliveproject.com.
Ron's also still very involved in post-production for his next feature film release, In the Heart of the Sea, which will be in theaters next March.  Here's a link to the first trailer for the film.
And Ron begins directing Inferno, the latest movie adaptation in author Dan Brown's Da Vinci Code series) in April. The movie will again star Tom Hanks as lead character Robert Langdon and is slated for release in theaters during the 2015 holiday season.
Also, Imagine Entertainment has signed to make a TV pilot based on Digital Fortress, the Dan Brown novel from 2003, for ABC-TV. There's no word on whether Ron might be directing the pilot or any future episodes if a full series develops.
The Imagine duo of Howard and Glazer is also set to produce a new adaptation of East of Eden for the big screen. Jennifer Lawrence has been announced as one of the stars. Meanwhile, Imagine co-produced The Good Lie, a feature film about the Lost Boys of the Sudan starring Reese Witherspoon and in selected U.S. theaters this month.
Ron is also hoping to direct a film version of Neil Graiman's best-selling The Graveyard Book. And he might direct or at least produce the film version of another best-selling book, The Truth About the Harry Quebert Affair for Warner Bros.
And that's not all.  Ron has signed on as executive producer for a mini-series based on the Clan of the Cave Bear book series.  The series is expected to air on Lifetime next year.
And in August, Ron took the ALS Ice Bucket Challenge on Abbey Road in London.  Here's the short video of Ron's charitable dowsing.
Also in August, Clint Howard was on Adam Carolla's national talk radio/Internet show and talked about a wide range of topics, including brother Ron. Here's a link to a video the interview.
And not one to let his sons be busier than he is, Rance Howard had a good role in the hit series "Bones" that aired on October 2.
Jim Nabors' Maui home and the "Big Island" home of TAGS associate producer Richard O. (Dick) Linke both were fine after the rare hurricanes-turned-tropical storms that skirted Hawaii in early August, followed by another big storm last week. Dick, who will be 97 years old this Thursday  (October 23) reports that, though he has slowed down a bit, he's still enjoying life in his tropical paradise.
Betty Lynn has been drawing large crowds of fans to her meet-and-greet afternoons once a month at the Andy Griffith Museum. Though a bit under the weather for a spell in late August, she was back greeting fans at Mayberry Days and again last week for her monthly session at the Andy Griffith Museum (usually the third Friday each month, except not Thanksgiving week).  And Betty plans to join legions for fans for Ron Howard's Bryan Series lecture this week just down the road in Greensboro, N.C.
Ronnie Schell did some selections from his stand-up comedy act and performed Love Letters with Maggie Peterson (who also did a set of favorite songs) at the Touch of Mayberry festival in Hiram, Ga., in August.  The pair are in the process of being booked for more performances of the popular play around Valentine's Day at venues in Colorado and California.
Maggie and TV brother Rodney Dillard headlined another successful DARE concert and fundraiser with a full roster of the Mayberry tribute artists in Oakboro and Troy, N.C., in August.  And they're teaming up with David "Mayberry Deputy" Browning in December for a mini-tour of their "Mayberry Christmas" stage show.  Rodney's also booking dates for his "Mayberry Moments" show with wife Beverly at churches.
James Best has had an active year with performing and making personal appearances. And also painting (you can view–and buy!– his work at www.jamesbestart.com). He's preparing for his next movie role as Joe McBee in Old Soldiers with Hugh O'Brian and Clifton James. It's a film about three WWII veterans taking a trip together to visit the WWII Memorial in Washington, D.C.  It's expected to be released next year.
Peggy McCay (Sharon DeSpain) took a tumble on the set of "Days of Our Lives" in June. But ever spunky, she quickly bounced back and was looking forward to being at Mayberry Days in September, when she took yet another tumble that unfortunately forced her to miss the festival.  But she's doing fine now and back on duty with "Days of Our Lives."
Fan-fave George Spence (Frank the boyfriend in "Guest in the House") also had to miss Mayberry Days this year as he was healing from surgery a short time before the festival.  He's doing O.K. and is eager to get back to Mayberry Days.
Jackie Joseph introduced Ken Berry, who then introduced mutual pal Larry Storch, for Larry's official final stand-up comedy performance, which he did at the Comedy Store in L.A. in September.
Jackie also participated in a Hollywood celebrity memorabilia show in Los Angeles last weekend to raise money for one of her pet causes, Actors & Others for Animals.  And she's active in promoting the 8th Annual Los Angeles VisionWalk, which will be held in Van Nuys on November 1.
Joy Ellison (Mary Wiggins and others) made her debut at Mayberry Days during a break in filming on location in New Orleans, where she has been working as dialect coach for the often nominated and award-winning "American Horror Story" anthology TV series. Joy also worked as Brad Pitt's dialect coach for Fury, in theaters now and the top box-office draw this past weekend.
Morgan Brittany (Mary Alice Carter) is touring and doing media appearances to promote her new book, titled What Women Really Want, which was released the week of Mayberry Days, which she attended...with plenty of books for fans to enjoy!
Margaret Kerry is looking forward to sharing Mayberry memories and fellowship with fans at the Life's Lessons From Mayberry Christmas retreat in Ridgecrest, N.C. in December (details on Floyd's calendar above).
Karen Knotts has had a boffo year of performances of her "Tied Up in Knotts" stage show (including at Mayberry Days).  And she has more shows coming up in early 2015 and at the Mayberry in the Midwest festival in May (see Floyd's calendar above).
***
We're sad to report the passing of two talented men with connections to the production of TAGS.
Ted (Theodore J.) Flicker, who directed three classic episodes of TAGS, died September 12 at his home in Sante Fe, N.M. He was 84.
Ted directed "The Lucky Letter" (Episode 146), "Aunt Bee's Invisible Beau" (Episode 154) and "The Arrest of the Fun Girls" (Episode 155).  He is probably best known as co-creator (with Danny Arnold) of the "Barney Miller" TV series, which won an Emmy for Outstanding Comedy Series in 1982, as well as a Peabody Award, Golden Globes and many other industry honors.
Ted also directed episodes of "The Dick Van Dyke Show," "I Dream of Jeannie," "The Man from U.N.C.L.E.," "Night Gallery," "The Streets of San Francisco," "Banacek," "Nichols" and others top shows.  He also occasionally acted and also wrote scripts for TV shows, including "The Mod Squad."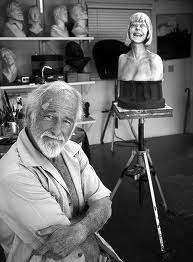 Born in Freehold Borough, N.J., on June 6, 1930, Ted studied at the Royal Academy of Dramatic Art in London before joining the improvisational Compass Theater in Chicago in 1954. He wrote and directed the 1959 Broadway Musical The Nervous Set. For the big screen, he co-wrote and directed 1964's The Troublemaker, and he directed The President's Analyst (1967), among others.
Ted was also an accomplished sculptor and had a large sculpture garden next to his home in Santa Fe, where he had lived for 28 years.
Ted Flicker is survived by Barbara, his wife of 48 years.
***
Don Keefer, who appeared in two episodes of TAGS, died of natural causes on September 7 in Sherman Oaks, Calif.  He was 98.
Don, a character-actor chameleon who could transform himself to perform an incredibly wide range of roles, from sophisticated businessman to beach bum, displayed that full range in his two TAGS episodes, which were filmed just a couple weeks apart.  He played Grover, the Detroit lawyer-turned beach bum in "Howard's New Life" (Episode 234) and then Carl Phillips, the Siler City TV station owner who hires Aunt Bee in "The Mayberry Chef" (Episode 236).  He also played Mr. McComb, the city attorney in "Sam Gets a Ticket" (Episode 5 of "Mayberry R.F.D.")
Born Donald Hood Keefer on Aug. 18, 1916, in Highspire, Penn., he graduated from the American Academy of Dramatic Arts in 1939.  In the role of Bernard, he was directed by Elia Kazan in the landmark 1949 Broadway production of Death of a Salesman. He reprised the role in the 1951 film version. Following study at the Actors Studio, he had early roles on Broadway in Junior Miss and Othello, and also a later role in Flight into Egypt in 1952.
Other feature film highlights included The Caine Mutiny (1954) with Humphrey Bogart (and a fellow uncredited actor with Mayberry ties, James Best), Hellcats of the Navy (1957) with Ronald Reagan and Nancy Davis (later Reagan), The Russians Are Coming the Russians Are Coming (1966) with Carl Reiner and Mayberry's Sheldon Golomb and Michael J. Pollard, Butch Cassidy and the Sundance Kid (1969), as Dr. Tryon in Woody Allen's Sleeper (1973), and as Beggar in Imagine Entertainment's Liar Liar (1997) starring Jim Carrey.
Don also had roles in an enormous number of other television series and TV movies, including as Dan Hollis in an especially acclaimed episode of the "The Twilight Zone" titled "It's a Good Life," 16 episodes of "Angel," 10 episodes of  "Gunsmoke,"  "Alfred Hitchcock Presents," "Star Trek," "Bewitched," "Bonanza," "Mission: Impossible," "Nichols," four episodes of "Barnaby Jones," "Roots: The Next Generations," "Kung Fu," "The Waltons" and "Picket Fences," just for starters.
Don is survived by sons Donald, John and Thomas, and two grandchildren. His wife of 47 years, actress Catherine McLeod, died in 1997.
Editor's Note: Thanks to eagle-eye Brent Seguine for alerting us to the passing of both Ted Flicker and Don Keefer.
**** Mayberry Days Recap ****
September's 25th Annual Mayberry Days in Mount Airy, N.C., was another huge success.  Perfect weather all week set the stage for a truly glorious four days of fun with large and enthusiastic crowds and the gracious Mayberry stars all shining brilliantly.
For the record, the 12 Mayberry guest stars attending this year were Betty Lynn, Maggie Peterson, Rodney Dillard, James Best, Elizabeth MacRae, Jackie Joseph, LeRoy McNees, Margaret Kerry, Morgan Brittany, Joy Ellison, Karen Knotts and George Lindsey Jr.
Some photos from the festival are scattered throughout this issue. And we'll have even more in November's eBullet newsletter.  There's also a superb and large online gallery of photos by Surry Arts Council photographers Hobart Jones and Kenny Hooker that we highly recommend.
Among the key presentations of the festival were first-timer Joy Ellison receiving the Key to the City of Mount Airy and also Allan "Floyd" Newsome serenading Joy with Floyd's "Hail to Thee, Miss Mayberry" song as she was crowned Miss Mayberry Jr., complete with robe and an upside-down hat for a crown.
.
Allan Newsome also presented the inaugural "You're the Cat's" Award, sponsored by Terry and Ron Quinsey of the "We're the Cat's" chapter of TAGSRWC (Fort Erie, Ont.). This new award, which recognizes significant contributions to Mayberry Days, was presented to Surry Arts Council Executive Director Tanya Jones, founder and guiding light of Mayberry Days for its entire existence.  There never would've been a first Mayberry Days, much less 25 and counting, without Tanya's resourcefulness, tireless work and tenacity.
And as he has most years, Allan was also emcee for presentation of TAGSRWC's prestigious Jim Schwenke Memorial Award. This year's "Schwenke" was presented in absentia to Paul Mulik of "Hear that, Boys? No Yellin' at the Table" chapter (Joplin, Mo.)  With a deep and versatile knowledge of all things Mayberry, Paul, a former Mayberry Days Trivia champion, is a key Mayberry maven in our online community.  And there are even rumblings that he may be able to return to Mayberry Days in 2015.  (Folks expect it now, Paul.)
Kenneth "Otis" Junkin presented TAGSRWC's other major award, the Mayberry Friendship Award, which had multiple recipients this year.  Joyce and Don Kernan of Foley's Market chapter (Farmington, Mo.) and Jill and Robert Shelby of  Goober's Auto Dismantling (West Frankfort, Ill.) were joint recipients.  Both couples are longtime enthusiastic participants and supporters of a wide range of Mayberry events and activities.  Each couple owns its own Mayberry squad car replica, which they bring to most Mayberry events, including Mayberry Days and most notably the Mayberry Squad Car Nationals, which is currently part of the Mayberry in the Midwest festival.  They also offer behind-the-scenes support to many TAGSRWC and Mayberry efforts.
Congratulations to Tanya, Paul, Joyce and Don, and Jill and Robert for their well-deserved recognition, and with special thanks for all that each of you does to help make Mayberry activities fun for thousands of fellow fans!
***
**** Mayberry on the Web ****

The iMayberry Community
This TAGSRWC online group is organized and overseen by webmaster Allan "Floyd" Newsome.   You can check it out and sign up for free at: http://imayberrycommunity.com.
The iMayberry Community complements our other online activities, including our main www.imayberry.com page, podcasts, Facebook page, online newsletters (such as The eBullet!), weaversdepartmentstore.com and chat rooms.  Combined with TAGSRWC chapters and the various Mayberry events for all fans (from Mayberry Days to ocean cruises), not to mention enjoying the sites of Mount Airy year-round, the world of Mayberry fun keeps expanding.
And best of all, it's all rooted in watching the show itself.  Whether through DVDs and Blu-ray, streaming video, local stations, or TV Land, loving to watch the show continues to be the energy that feeds all the other Mayberry fun and activities that we enjoy.  What a wonderful thing Andy Griffith and his talented team of actors, musicians, writers and crew people created 54 years ago--for us and generations to come!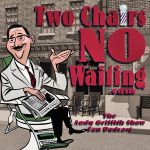 Two Chairs, No Waiting is our weekly podcast of TAGS news, interviews and pretty much whatever happens to be going on in and around Mayberry. It's hosted by Allan Newsome. There's a new episode every Tuesday (and you can watch and listen live during tapings on Monday evenings). Past episodes are in an online Archives in case you want to listen to or view episodes you've missed. (There have been 301 episodes since Allan started the podcasts six years ago this month.)
There's a lot of info and discussions that you simply won't find anywhere else, including rare interviews (vintage and new) with cast and crew members of TAGS. If you've got sound on your computer or have an iPod or similar device, you can easily tune in live or download these podcasts.
Also, check out the podcast area of our www.imayberry.com site for info about a Mayberry Bible Study Podcast, also hosted by Allan, and a "brother figure" podcast called Burke on Mayberry, hosted by Kevin Burke.
TAGSRWC's official page on Facebook now has more than 98,000 friends! You can find us at www.facebook.com/tagsrwc. There's a variety of comments about Mayberry, and a lively stream of thoughts from fans about TAGS, plus photos. And our Facebook page is also one of the first places we post announcements and breaking news about TAGS. If you haven't already dropped by the page, we hope you'll check it out sometime when you have the chance. We invite you to become a TAGSRWC Facebook Friend!
**** Post Note ****
Between issues of Weaver's Newsletter, keep up with the happenings in Mayberry with the daily "Who's Been Messin' Up the Bulletin Board?" Digest. It's a free subscriber list that consists entirely of comments, news flashes, and questions and answers from subscribers. You can sign up for that list by going to the "Mailing Lists" link at www.tagsrwc.com.
The WBMUTBB? community is also sponsor of the Mayberry Days Silent Auction, a major fundraiser for the festival.  Organized by Jeff Koontz, recognized as a 2014 Mayberry Friend by the Surry Arts Council at this year's Mayberry Days, the auction features items created and donated by WBMUTBB? members. Many also bid on the items at the auction during Mayberry Days. This year's auction raised $3,214.50.  A companion raffle for a DVD set raised an additional $225. These fundraisers are vital financial boosts to ensure the continued success of Mayberry Days.  Thank you WBMUTBB members!
TAGSRWC also publishes The eBullet in more or less alternate months to Weaver's Newsletter. The eBullet is the online successor to our longtime printed newsletter, The Bullet. Like Weaver's Newsletter,The eBullet is free. It includes some of the same news as Weaver's Newsletter, but with more features and depth and a little less emphasis on merchandise news. To sign up, go to:www.tagsrwc.com/ebullet/joinebullet.htm.
TAGSRWC's other main vehicle for Mayberry information is simply our website at www.tagsrwc.com (and its sister site www.iMayberry.com). Both sites have extensive content and links for just about everything a Mayberry fan might be looking for.
The final issue of Weaver's Newsletter for 2014 is scheduled for December, with the year's last eBullet planned for November.