Weaver's Newsletter December 2022
An Online newsletter of
"The Andy Griffith Show" Rerun Watchers Club (TAGSRWC)
.
Welcome to the December Weaver's Newsletter!

As always, see Floyd's calendar below and check for regular updates on all sorts for Mayberry activities at www.imayberry.com.
We'll begin this issue with some new, popular and seasonal Mayberry items that are available at our online Weaver's Department Store®. The way ol' Ben Weaver sees things, it's never too early (and getting darn close to too late) to get a jump on your holiday shopping for others as well as your own wish list..
***
.
****

Merchandise

Update

****
First, an important reminder from our Shipping Department:
*** 

Holiday 

Shipping

 

Schedule

 

***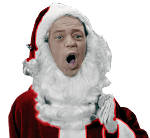 For orders received as late as 10 a.m. CT on Saturday, December 17, we'll be shipping for Christmas delivery with our standard flat-rate of $5.00 for shipping & handling.
We'll still be shipping orders for Christmas delivery for orders received as late as Wednesday, December 21, but unless you live really near our shipping HQ in Huntsville, Ala., any orders we receive after December 17 could require either Express Mail Overnight Delivery or UPS 2nd Day Air or Overnight Delivery for them to be expected to arrive before Christmas.

PLEASE NOTE: All Express Mail and UPS 2nd Day Air/Overnight charges are in addition to our standard flat rate of $5 for shipping and handling on all orders shipped to the same address. Express Mail and UPS charges will be added to your order, and you will be required to approve the additional shipping cost in advance.  
So, if you request these Express Delivery services, please check your inbox for an email from us to get your advance approval for the extra charges. Also, please be sure to provide a phone number where we can reach you if we need to. Your order could be delayed if we can't get in touch with you. We cannot ship your Express Delivery order until you approve the actual shipping cost.

But why pay extra money to use Express Mail or UPS 2nd Day Air/Overnight? Order now to avoid the rush and added cost. This is one time that it's perfectly O.K. to go ahead and hurry just a little bit in Mayberry.
***
Now, let's get back to what's in store for you at Weaver's. You'll find a very large array of stellar Mayberry-related items at your fingertips online at Weaver's. Here are some of our newest and most popular items: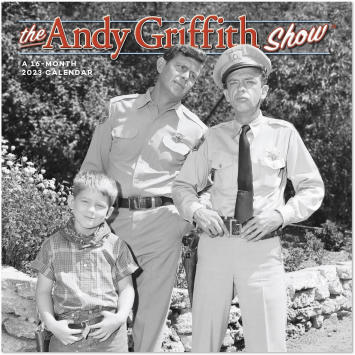 $16.00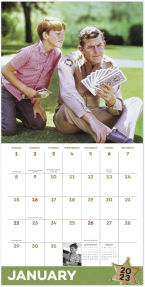 The 2023 "Andy Griffith Show" Wall Calendar features images from TAGS that will bring back that Mayberry feeling each time you glance at it to check the date. Color and black and white images from the show and behind the scenes are featured on every spread of the calendar.
Every month has a 12 in. x 12 in. image of some combination of these favorite characters: Andy, Barney, Opie, Aunt Bee, Goober, Gomer, Opie, Helen and Thelma Lou. The calendar is 12 in. wide x 24 in. tall when open.
Make your dates with Mayberry in 2023, and enjoy the smiles all year long!
P.S. The TAGS wall calendars have been selling out early the last few years. We're not trying to be pushy, but we don't want folks to wake up on January 1 and realize they "blew the scramez-vous" on getting their calendars.
***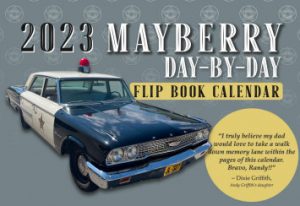 $18.00
This calendar consists of 365 days of all-new fun facts about "The Andy Griffith Show." Each fact actually occurred on the calendar date.
As with previous editions, this flip calendar stands on its own built-in easel and is designed to be used as a desk calendar throughout the year with pages that are flipped over each day instead of being removed. At the end of the year, the easel can be removed, if desired, and the calendar becomes a book that can be kept as a reference.
Start each day with a 4 in. x 5.75 in. fact related to  everybody's hometown and the TV show itself!
***
Long before becoming beloved by generations of us Mayberry fans for her portrayal of Thelma Lou, Betty Lynn lived a life filled with interesting adventures and fascinating people.
In her own words, augmented by 140 rare photos, Betty shares the sometimes bittersweet, often surprising and always inspiring story of her remarkable life. From her wartime service in India and Burma to sharing the spotlight with entertainment royalty from New York to Hollywood, Betty always remained grounded in her Midwestern values and strong faith.
Betty will forever be Thelma Lou to millions of us, but, as you will discover in the 320 pages of this posthumously published autobiography, there is also much more to learn and love about this truly extraordinary woman who was such a great friend to countless Mayberry fans and to many others. Enjoy reading about her incredible journey!
***
By SpiritWalker
$24.00
This is a book for the "trained noticer" in all of us. Even if you're not a noticer, you'll seem like one after reading all the keen observations in this book!
The Mayberry Rerun Watchers Guide: Season 1 is a detailed look at each episode, scene by scene. Even fans who have repeatedly watched the series will find themselves learning new facts about the show that they won't be able to believe they never noticed before. The 316-page softcover book includes information on filming locations and the cast and crew. It is packed with trivia related to the first season.
Author SpiritWalker is an Apache writer, comedian, musician and magician. He appears regularly in segments of the "Two Chairs, No Waiting" podcast and he has gone deep into the first season of "The Andy Griffith Show" to find "odd facts known by few" for fans to enjoy.
But just remember: No matter how much you learn about TAGS from this book, Mayberry knowledge "is a fine thing, but don't flaunt it." (Well, O.K., maybe flaunt it just a little.)
***
NEW!
$60.00
Ol' Ben has often been asked if there was a Mayberry patrol car collectible that is larger scale than the Matchbox-sized Johnny Lightning replica that Weaver's offers. Well, we finally found one.
The beautiful car has die-cast metal body and chassis with amazing detail. This new limited edition collectible is 1:43 scale (about 5.5 inches by 2.5 inches)  and comes with a nice display case. The Mayberry Squad Car design is a wonderful addition to any Mayberry collection. The car is a 1964 Ford Galaxie.
Even the price makes you think of the Sixties!
***
This great-looking and super-comfortable (100% polyester) fleece jacket with its full-length zipper on front will show your Mayberry spirit throughout the cool months. The front left of the jacket displays an American flag with the word "Mayberry" above and "USA" below.
You can keep your hands warm or store your ticket book using the two zipper pockets.  Available in Red with Navy trim (shown) and Charcoal Gray trimmed in Black. Whether you choose Red or Gray (or both!), you'll be happy you got fleeced at Weaver's. (It seems like there's something wrong with the way we worded that. Oh well, the important thing to remember is that you'll be cool as you stay warm in your new Mayberry fleece!)
***
It's Beginning to Look a Lot Like Christmas!
.
Weaver's carries a nice array of Holiday items, including ornaments, DVDs and CDs. That's not to mention lots of items that make great stocking stuffers..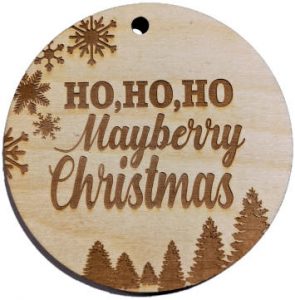 Just in time for the holidays, Opie has once again been busy with his woodburning kit. We're sure you will have festive fun with the four new wooden Mayberry Christmas ornaments that you can hang around the house or place on your tree during the holidays.
Three designs are shown here, and the fourth is shown below in the "Mayberry on the Web" section below.
T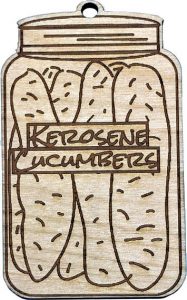 hree of the ornaments are circular (each is 2.5 in. diameter), and the Kerosene Cucumbers ornament is 2.5 in. wide by 4.5 in. tall.
The designs are on the fronts only. Why's that? Well, that way the backs are plain and smooth–perfect for adding your own personal inscriptions. And besides, Opie's just one kid with one woodburning kit, so burning the backs would've taken too long!
***
There's much more currently on the shelves at Weaver's, including more books, caps, Goober beanies, Deputy Patches, DVDs, music, posters and prints, and all kinds of must-have Mayberry doodads and accessories.
Also, remember that your purchases from Weaver's help support Mayberry events and Mayberry-related charitable causes all year long at locations all around the country. Those sales also help keep our online Mayberry newsletters and communities available to everybody free of charge.
As always, thank you for shopping at Weaver's!.
***
Floyd's 

Barbershop
Bulletin 

Board
&

 

Event

 

Calendar
.
.
The Andy Griffith Museum, featuring the late Emmett Forrest's dazzling collection of Andy Griffith artifacts, is primed for visitors this fall! For complete updates on operating hours, or other info, visit the website at www.andygriffithmuseum.org or call (336) 786-1604.
The following information is from our "brother figure" publication, The eBullet:
* Apr. 15: Mayberry & I Love Lucy Day in Historic Granville, Tenn. (aka the Mayberry of Tennessee). Special Guests and more details TBA. For now, just mark your calendar.
***
* Sept. 19-24: 34th Annual Mayberry Days® in Mount Airy, N.C. TAGS cast members confirmed so far include Rodney Dillard, who will be performing with his Dillards band, and Keith Thibodeaux (Johnny Paul Jason), who will be performing with his Christian Rock band, David and the Giants.
Other ticketed parts of the festival that are confirmed include: Concert by The Embers, Mayberry Days® Golf Tournament (aka The Emmett), Mayberry Days® Dinner & Entertainment, concert by Band of Oz, Michael Hoover's "Memories of Elvis," Tim White and Troublesome Hollow's "Tribute to Mayberry," concert by The Bellamy Brothers, Professor Brower's Lecture, and Colonel Tim's Talent Time.
For more info, visit www.mayberrydays.org. And tickets for some portions of the weekend are already available HERE.
***
* Oct. 28-Nov. 2: Cruise to Mayberry 16 sets sail for five days from Charleston, S.C., with ports of call at Half Moon Cay and Nassau, Bahamas, aboard Carnival's Sunshine. The cruise's Special Guest will be Joy Ellison (Mary Wiggins and others). "All sail with thee, Miss Mayberry!"
Also on board will be a full crew of Mayberry tribute artists, including Dixie Griffith (Andy's daughter) as Mt. Pilot Fun Girl Skippy. For more info visit the cruise's webpage at: www.allaboutcruisesnc.net.
****

News

of

Cast

&

Crew

****
Ron Howard was honored on October 23 with a Lifetime Achievement Award at the SCAD Savannah Film Festival.
Ron and Imagine producing partner Brian Grazer are key supporters for the recent public launch of Impact, a filmmaking networking service (similar to LinkedIn, but focused on filmmaking). The Atlanta area is receiving special attention in the initial phase of the launch. Impact, established in 2020, raised $15 million in the recent funding effort, which brought the total raised to $21 million.
Ron also attended the gala 36th American Cinematheque Awards at the Beverly Hilton in Beverly Hills on Nov. 17. (Ron was the recipient of the fifth American Cinematheque Award in 1990. Ryan Reynolds received this year's award.)
Two days later and a few blocks away, Ron attended the Governors Awards for the Motion Picture Academy at the Fairmont Century Plaza. Several of the Academy's important honorary awards were presented..
.
As Ron's Thirteen Lives continues to receive lots of "Oscar buzz," he's busy in post-production work for The Shrinking of Treehorn, his first animated project as director. He's also producer or executive producer of dozens of current or developing films and TV shows, including everything from "The Tiny Chef Show" to "Louis Armstrong's Black and Blues" to the new "Willow" TV series (based on the 1988 movie of the same name that Ron directed) that recently started streaming on Disney+.
Like his big brother, Clint Howard (Leon) has been making the rounds at assorted events around the country and even at sea. Here are a couple of shots from the recent Mayberry Cruise:
.
.
Clint also has a new movie being released on January 6. It' The Old Way and stars Nicolas Cage. The old-school Western features several interesting character actors. The movie also has the distinction of being the project for which Hannah Gutierrez Reed served as head armorer just prior to her work on Rust, during which cinematographer Halyna Hutchins was accidentally shot and killed by Alec Baldwin while working on a scene in October 2021.
Here's a photo of Rodney Dillard (the guitar-playing Darling boy) representing The Dillards in Nashville in October:
The creative team behind 2021's Mayberry Man movie, including Stark Howell and Cort Howell (sons of Hoke Howell, Mayberry's first Dud Wash) and Greg Schell (son of Ronnie Schell) have just wrapped up principal filming for the new "Mayberry Man" TV series, which was filmed in Danville, Ind., Mount Airy, N.C., and Southern California during the last few months.
Like the original movie (available on DVD at Weaver's), the series is being funded in large part by offering an array of incentives in exchange for relatively small donations by lots of fans. Fundraising efforts have raised about $130,000, enough to fund the filming of a season consisting of four episodes.
The series follows the continuing story of Chris Stone (aka the Mayberry Man, played by Brett Varvel) and romantic interest Kate (played by Ashley Elaine). Favorite Mayberry tribute artists and others with Mayberry connections are reprising their movie roles. They're being joined by some new, yet also familiar, faces, including Ronnie Schell and George Lindsey Jr. Because the movie has some Christmas elements, it's expected that the series will be released sometime around the 2023 holiday season.
And that's a wrap on News of Cast & Crew for this issue.
****

Mayberry

on

the

Web

****

The iMayberry Community
This TAGSRWC online group is organized and overseen by webmaster Allan "Floyd" Newsome and Keith "Col. Harvey" Brown. You can check out the fun of this online community and sign up for free at: http://imayberrycommunity.com.
The iMayberry Community complements our other online activities, including our main www.imayberry.com page, podcasts, Facebook pages, online newsletters (such as this Weaver's Newsletter), weaversdepartmentstore.com and chat rooms.
"Two Chairs, No Waiting" is our weekly podcast of TAGS news, interviews and pretty much whatever happens to be going on in and around Mayberry. It's hosted by Allan Newsome.
There's a new episode every Tuesday (and you can watch and listen live during tapings on Monday evenings). As of this week, there have been 712 episodes since Allan started doing the podcast in 2008. Past episodes are in an online Archives (and on YouTube) in case you want to listen to or view classic installments you've missed.
And scroll to the bottom of the main Mayberry Podcasts web page for assorted links, including one for another outstanding Mayberry-related podcast: "Burke on Mayberry" (hosted by TAGSRWC's Kevin Burke). There are also links for the Mayberry Devotional hosted by Brian Rose and for the Mayberry Bible Study Podcast.
TAGSRWC's official page on Facebook currently has more than a quarter-million Followers. You can find us at www.facebook.com/tagsrwc. If you haven't already dropped by the page, we hope you'll check it out sometime when you have the chance. We invite you to become a TAGSRWC Facebook Friend!
In the "Liked by this Page" section of our Facebook page, we also have links to the pages of several TAGSRWC chapters on Facebook (including the Gomer and Goober Pyle Comic Book Literary Guild), as well as to Facebook pages of Mayberry Days®, the Andy Griffith Museum, TAGS actors and others.
Even Ben Weaver has his own Facebook page at www.facebook.com/weaversdepartmentstore. It features all the latest in Mayberry items and merchandise news.
And TAGSRWC has a growing presence on www.MeWe.com. Mayberry's pioneering outpost on MeWe is "Sittin' on a Velvet Pillow" chapter, headed up by Lynn Thomas. That group was followed in close order by Allan Newsome and the "Two Chairs, No Waiting" Podcast and "The Andy Griffith Show–Big" chapter, which is administered by Myron Clark and an able crew.
In case you're not familiar with MeWe, it's similar to Facebook. It's just smaller and a bit calmer. It has no ads. If you're looking to "relax, slow down, take it easy," check out some of the TAGSRWC groups on MeWe.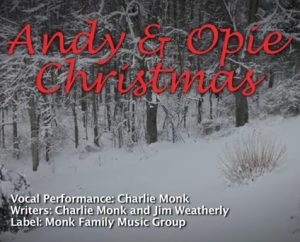 And while online this time of year, be sure to give a listen to Charlie Monk's wonderful recitation of "Andy & Opie Christmas" on YouTube. It has become a Mayberry-style holiday tradition. It's a nostalgic 4 minutes and 22 seconds that's sure to get you in the Christmas spirit.
.
***
 

 

****

Post

Note

****
Between issues of our Weaver's Newsletter, keep up with the happenings in Mayberry with the daily "Who's Been Messin' Up the Bulletin Board?" (aka "WBMUTBB?") Digest. It's a free subscriber list that consists entirely of comments, news flashes, and questions and answers from subscribers. You can sign up for that list by going to the "Mailing Lists" link at www.tagsrwc.com.
TAGSRWC's other main vehicle for Mayberry information is simply our website at www.tagsrwc.com (and its "brother figure" site www.iMayberry.com). Both sites have extensive content and links for just about everything a Mayberry fan might be looking for.
Editor's Note: From May 2001 until November 2022, TAGSRWC also published The eBullet. Ever since Weaver's Newsletter started in 2006, the two publications have alternated months (with The eBullet in odd-numbered months and Weaver's Newsletter in even-numbered months).
With the discontinuation of The eBullet after its November 2022 issue, Weaver's Newsletter will also lose its shared writer/editor of the last 16 years. Fret not. Weaver's Department Store® proprietor Jan Newsome and imayberry.com webmaster Allan Newsome will take over editorial duties for Weaver's Newsletter beginning with issues in 2023.
Much appreciation to Jan and Allan for taking the editorial reins! –Jim Clark, editor (emeritus)
.
The next issue of Weaver's Newsletter is currently scheduled for February.
Printer Friendly Version