An Online newsletter of
"The Andy Griffith Show" Rerun Watchers Club (TAGSRWC)
Note: For readers who receive this newsletter by email, the formatting can sometimes be kind of weird, almost as if Otis might've been in charge of the layout. If yours looks like it has had the dipsy-doodle treatment, check out this Web Version for a smoother read.
.
Welcome to the June Weaver's Newsletter! And an early Happy Father's Day to all the dads in and around Mayberry!

As we all continue to feel our way through the pandemic and the modern world's other minefields, there's a lot going on in Mayberry this year. (See Floyd's calendar below and check for regular updates at www.imayberry.com.)

Sadly, some of the news for this issue is especially somber. All of Mayberry is still reeling from the death of Maggie Peterson Mancuso on May 15. TAGSRWC has published a special edition of The eBullet: Remembering Maggie Peterson Mancuso. There is also updated information in the Merchandise Update section immediately below about the items that Maggie and her family provided to our Weaver's Department Store to sell on their behalf during the past couple of years.
During the last few weeks, director Gary Nelson and actor Bo Hopkins, both with one-episode TAGS connections, also passed away. Our tributes to them follow the News of Cast & Crew section below.
There's also plenty of happy Mayberry news to report in this issue, so we have lots of reasons to keep on smiling!
First up is the merchandise news. After all, we call it Weaver's Newsletter for a reason. And that reason is none other than Mayberry crusty ol' merchant himself, Ben Weaver. He likes it when we talk about stuff that's on his shelves!
***
**** Merchandise Update ****
You'll find an enormous variety of Mayberry-related items at your fingertips online at Weaver's. Here are some of our newest and most popular items:
NEW! $35.00
Weaver's is fortunate to get this great piece of artwork from illustrator Jeff Preston.
Jeff originally created this piece for the Society of Illustrators' yearly "Members Only" show. The theme that year was fear. We feel this image perfectly sums up that emotion. It's sort of a mash-up of Mayberry's Remshaw house and The Ghost and Mr. Chicken--not exactly either and not exactly not, either, but definitely Knotts. Whether it's an attic or a cellar, ol' Ben thinks it'll be a good seller.
The print measures 13 x 19 inches and is printed on 100-lb. acid-free gloss-enamel card stock.
Weaver's is pleased to offer more than five dozen designs of Mayberry T-shirts. Some designs are also available as long-sleeved T-shirts, sweatshirts and hoodies. Most designs are available in Adult sizes Small to 3X-large, but we also offer several designs in toddler sizes and some in  4X.
Find the perfect Mayberry fit for yourself and friends and family!
$12.00
This full deck of 54 playing cards (including 2 Joker cards), each featuring a unique scene/character from the Mayberry Man movie, is perfect for playing Go Fish (Andy and Opie's fave), Gin Rummy (Otis's favorite), or whatever they're playing over at the Mayberry Hotel (deuces wild). Just remember: Six can't play bridge, Goober!
The cards are very good quality and are smooth to deal.  (Just be sure to keep a close eye on Gentleman Dan when he's dealing.) You may even be able to use them to see how many wishes Count Istvan Teleky might give you. He gave Opie three wishes. He's crazy about kids.
The back of each card  features the characters Chris Stone (Brett Varvel), Kate (Ashley Elaine), Barney Rik Roberts) and Floyd (Allan Newsome) along with the Mayberry squad car. The cards are perfect for having cast members autograph or just regular ol' card-playing.
***
$24.00
The Mayberry Travel Guide, the latest book by Randy Turner, is both an actual travel guide for Andy Griffith's hometown of Mount Airy, N.C., and a book filled with facts and trivia about "The Andy Griffith Show." The guide contains info on the many influences Andy's hometown had on the beloved series with full explanations of the many references that so often made to the real town of Mount Airy–to its businesses, streets and roads, nearby towns and communities, and real people from back home. The 384-page perfect-bound softcover book contains over 350 photos and 40 sidebars that provide detailed looks at items of interest.
The book was specifically written to be of interest to Mayberry fans, even if you have no intention of ever actually visiting Mount Airy (though you definitely should whenever you have the chance).
No doubt a future edition of the book will include this brand new mural in downtown Mount Airy:
Note: Weaver's is continuing to sell the inventory of items from Maggie's collection to help her family with the expenses that they incurred during Maggie's illness, as well as now helping with funeral and estate expenses. Your purchases will continue to help Maggie's family. All of the money from the sale of these keepsakes goes to Maggie's family.
Maggie Peterson Mancuso, best known as "Charlene Darling" on TAGS, loved being part of our favorite show and getting to know so many fans at Mayberry events through the years.
Weaver's Department Store has teamed Maggie and her family to bring you photographs and other items from her career. We are hopeful that you find a treasure that brings you the same joy that Maggie received being on TAGS. Maggie wanted to share this collection rather that having the items just sitting in her closet or on her shelves not being used and fully appreciated.
Please look through the Maggie Peterson Collection of photographs, scripts and other items. The photos are 8 in. x 10 in. and most include Maggie's autograph. Many are limited editions.
There's much more at Weaver's, including more books, caps, Goober beanies, Deputy Patches, DVDs, music, posters and tin signs, and all kinds of must-have Mayberry doodads and accessories.
Also, remember that your purchases from Weaver's help support Mayberry events and Mayberry-related charitable causes all year long at locations all around the country. Those sales also help keep our online Mayberry newsletters and communities available to everybody free of charge.
As always, thank you for shopping at Weaver's!.
.
     Floyd's

Barbershop

Bulletin     

Board

&

Event

Calendar
.......    ...........
.
The Andy Griffith Museum features the late Emmett Forrest's amazing collection of Andy Griffith artifacts.

In accordance with the latest CDC recommendations and for their own safety and the safety of those around them, visitors are encouraged to wear masks when indoors and near others.
For complete updates on operating hours, pandemic safety procedures or other info, visit the website at www.andygriffithmuseum.org, or call (336) 786-1604.
The following information is from our "brother figure" publication, The eBullet:
* June 18: Mayberry 101 author Neal Brower kicks off his summer lecture series about TAGS, starting at 2 p.m., in the Andy Griffith Museum Theatre in Mount Airy, N.C. All three monthly, hour-long lectures this summer will be about an episode featuring Opie. You'll have to wait patiently to find out which ones, but, in the meantime, we advise against  throwing a tantrum or holding your breath. (Oh, O.K. We give in. This first lecture is about the episode "Andy and Opie, Housekeepers.") Admission is included with Andy Griffith Museum admission ($8 for adults, $6 for ages 12 and under). Visit www.andygriffithmuseum.org or call (336) 786-1604.
* June 25: Ronnie Schell (two TAGS episodes and Duke Slater on "Gomer Pyle, U.S.M.C.," presents "An Evening with Ronnie Schell," a fundraiser for the Media Heritage Foundation, at the Fairfield Community Arts Center in Fairfield, Ohio. Tickets are $17 (including service fees) and are available through the Arts Center box office (513-867-53478). Showtime is 6:00 p.m. The special opening act is Berachah Valley, the band featured in 2021's Mayberry Man movie.
* June 24 and 25: Keith Thibodeaux performs with David and the Giants at the June Jame for Jesus at Cross Camp Cowboy Church, located at 799 West Grand Ave (Hwy 77) in Rainbow City, Ala. The concert time both days is 7:30 p.m.
*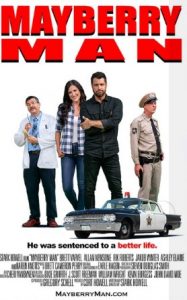 June 25: Screening of 2021's Mayberry Man movie at the Bama Theatre in Tuscaloosa, Ala., as a fundraiser for Eagles' Wings of Tuscaloosa, an organization that supports adults with special needs. The screening will include door prizes and a Q&A session with some of the cast and crew. The screening begins at 7 p.m. Tickets will be available at the theater box office on the day of the screening.
* July 15 and 16: 10th Annual Mayberry Meetup, sponsored by TAGSRWC's "Two Chairs, No Waiting" podcast, gathers in Mount Airy, N.C.  For more info, visit this link: 10th Annual Mayberry Meetup. Note: Neal Brower's monthly summer lecture will be on Saturday (see the next listing). There's also a Mayberry Bible Study on Sunday, the 17th.
* July 16:  Coinciding with the Mayberry Meetup, Mayberry 101 author Neal Brower gives his second "Summer of Opie" lecture about TAGS, starting at 2 p.m., in the Andy Griffith Museum Theatre in Mount Airy, N.C. The hour-long lecture will be about the episode "Opie and the Bully." Admission is included with Andy Griffith Museum admission ($8 for adults, $6 for ages 12 and under). Visit www.andygriffithmuseum.org or call (336) 786-1604.
* Aug. 5-7: Jamie Farr (Sylvio in "The Gypsies") is among the stars participating in the Fanboy Expo in Knoxville, Tenn. For more info, visit: www.fanboyexpo.com.
* Aug. 12: Mayberry is the theme of this week's Fridays on Prouty Concert Series at the Troy-Hayner Cultural Center in Troy, Ohio. Festivities begin at 7:30 p.m. and will include a bluegrass concert by local favorite Berachah Valley, a stage show with Mayberry tribute artists, and a screening of 2021's Mayberry Man movie (at about 8:30 p.m.) It's all free, but bring your own lawn chair. For more info, visit www.troyhayner.org.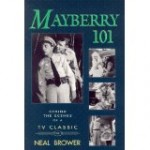 * Aug. 20: Mayberry 101 author Neal Brower gives his final "Summer of Opie" lecture about TAGS, starting at 2 p.m., in the Andy Griffith Museum Theatre in Mount Airy, N.C. The hour-long lecture will discuss an all-time classic episode, "Mr. McBeevee." Admission is included with Andy Griffith Museum admission ($8 for adults, $6 for ages 12 and under). Visit www.andygriffithmuseum.org or call (336) 786-1604.
***
* Sept. 19-25: 33rd Annual Mayberry Days® festival in Mount Airy, N.C. Tickets are already available HERE for many portions of the festival, including Thursday's The Emmett Golf Tournament, which includes Mayberry Days® Dinner & Entertainment starring country music star T. Graham Brown (who also has a full concert on Friday) that may also be purchased separately; "Andy, Don, and Jim: My Memories of Three Mayberry Legends" presented by Ronnie Schell; Doug Dillard Tribute Concert by The Dillards featuring Rodney Dillard; and "Tied Up in Knotts--A Book Talk" by Karen Knotts.
Other ticketed highlights during Mayberry Days® include "Memories of Elvis" by Michael Hoover; "A Tribute to Mayberry" by Tim White and Troublesome Hollow; and Katie Deal: Crazy for Patsy Cline; concerts by The Embers, Band of Oz and Legacy Motown; three comedy shows by John Floyd ("The Mouth of Mayberry"); Professor Brower's Lecture (saluting the life and career of Betty Lynn) with Neal Brower (immediately followed by TAGSRWC's Annual Meeting); multiple screenings of Murder in Coweta County (including Q&A with producer Dick Atkins) and Chris Hudson's The Mayberry Effect documentary; and Saturday's grand finale, "Colonel Tim's Talent Time."
More stars are TBA. And as always, the vast majority of Mayberry Days® is free, including Saturday's parade, the Mayberry Days® Trivia Contest (aka the World Championship of Mayberry Trivia), bunches of other Mayberry-inspired contests and the Mayor's Proclamation ceremony. For more info, visit www.mayberrydays.com.
***
* Sept. 24: The Dillards featuring Rodney Dillard headline the Uncle Pen Fest at the Bill Monroe Music Park & Campground (south of Indianapolis, between Morgantown and Nashville, Ind.). For more info visit: www.billmonroemusicpark.com. (Note: The group's performance here is the day after their Friday concert at Mayberry Days®.)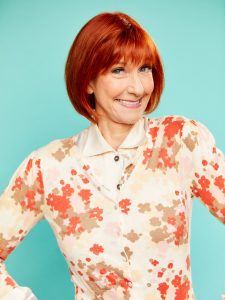 * Oct. 22: Karen Knotts brings her "Tied Up in Knotts!" show to the Brownfield Community Center in Dawson, Penn. Showtime is 8 p.m.
* Oct. 23: Karen Knotts heads a couple of hours down the road and across the state line to the Church-McKee Arts Center in Keyser, W.V., with her "Tied Up in Knotts!" show. Showtime is 3 p.m. For more info, visit the Church-McKee website.
.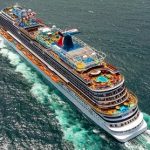 * Oct. 23-29: Clint Howard is the special guest for Mayberry Cruise 15, which was postponed with a few tweaks from its original dates in 2020 and again in 2021 because of the pandemic.
This cruise aboard Carnival's Horizon will depart from Miami and travel to the Caribbean with ports of call in Grand Cayman, Ocho Rios and Cozumel. Rates (including all taxes) start at $625 per person.
For info, contact Sharon Euliss of All About Cruises at PWESJE@aol.com or call her at (336) 538-4926.
.
* Oct. 29: Karen Knotts and comedian/actor/Barney tribute artist Rik Roberts present the world premiere of their family-friendly comedy variety show, "Knotts--So Fast," at the La Rita Performing Arts Center in Dalhart, Tex.  Showtime is 7 p.m. For more info, visit www.larita.org.
**** News of Cast & Crew ****
Ron Howard and his Imagine Television are among the executive producers for  Under the Banner of Heaven, a series based on the best-selling book and starring Andrew Garfield. The series began on FX and  Hulu on April 28.
We Feed People, the documentary Ron directed about Chef José Andrés and his World Central Kitchen food charity that was produced by Imagine Documentaries in association with National Geographic Documentaries, started streaming on Disney+ on May 27.
.
Thirteen Lives, Ron's next feature film release as director, has been moved from a November release to later this summer, probably August. The much-anticipated film had originally been scheduled for release in May, but was moved to November (closer to Academy Awards season) because of the outstanding response from test audiences. Amazon recently bought MGM and decided it wants to make the Thirteen Lives available on Prime Video streaming service as soon as possible. So, the film is currently scheduled for a short theatrical release this summer, immediately followed by availability on Prime Video.
The Shrinking of Treehorn, which will be the first animated film that Ron has directed, is now in pre-production. The film has moved from Paramount to Netflix, but is still being produced in conjunction with Imagine Entertainment. Ron is also producer or executive producer of no less than two dozen movies, documentaries and TV shows that are either scheduled for release this year or currently in production. There should be even more projects in the pipeline, because Imagine just made a firs-look deal with The Washington Post, which likely will produce a steady stream of ideas.
And the accolades for Ron are occurring almost as fast as his productions. Ron and Imagine partner Brian Grazer are two of six people who received honorary doctorates from the University of Southern California during its commencement exercises on May 13. The university awards its honorary doctorate to "remarkable individuals who have made exceptional contributions to the university and industry, education, philanthropy, athletics, leadership and other fields."
On June 11, Imagine's dynamic duo also received the Innovation in Entertainment Award from the G'Day USA and American Australian Association at a gala event in Los Angeles. Among other things, the two were recognized for their Thirteen Lives film, most of which was filmed in Australia.
Following in the footsteps of father Rance Howard, who played several preachers on film (including marrying Barney and Thelma in 1986's Return to Mayberry movie), Ron officiated at the wedding of daughter Paige and actor-artist Tim Nabou-Nasr during a ceremony in New York's Central Park on May 1. Daughter Bryce Dallas Howard was a bridesmaid.
.
Clint Howard (Leon) says he had a ball at Carolina Fear Fest, a cosplay event in Raleigh, N.C. during Memorial Day weekend. Though the festival's attendees might've been drawn to some of Clint's creepy horror films (such as Ice Cream Man) and his fantasy and sci-fi roles, a festival in Raleigh likely had some folks looking to have Clint sign a few photos of a certain little cowboy with a peanut butter and jelly sammich.
Rodney Dillard and The Dillards had a couple of big gigs in April. First, they played for a full house at the Great Smoky Mountains Heritage Center in Townsend, Tenn., And the next night, April 23, they performed for another packed house, a national radio audience on WSM Radio and a national TV audience on Circle TV as part of the Grand Ole Opry in Nashville.
.
May was a bittersweet month for Rodney. TV sister Maggie Peterson Mancuso died on the 15th, and the 10th Anniversary of brother Doug's death was on the 16th. The 18th was a happier milestone as Rodney celebrated his 80th birthday! Timed for that occasion, the Bluegrass Today website published an interesting profile/interview with Rodney by Lee Zimmerman.
Rodney and the band also enjoyed performing at the John Hartford Memorial Festival in Springville, Ind., in early June.
Keith Thibodeaux (Johnny Paul Jason) has been touring with his longtime Christian rock band David and the Giants. (See Floyd's bulletin board above for an upcoming date.)
Margaret Kerry (Bess Muggins and Helen Scobey) has been doing some personal appearances and book signings for her Tinker Bell Talks memoir, including on Easter Sunday at Walt Disney's Carolwood Barn in Griffith Park in Los Angeles and at the Missouri Cherry Blossom Festival in Marshfield, Mo., later in April.
Margaret and Ruta Lee ("that college kid" and Darlene Mason) were among the many celebrities participating in the Missouri Cherry Blossom Festival in April. Ruta was one of several recipients of the Edward R. Hubble Medal of Initiative, the City of Marshfield's highest honor, at a gala banquet during the festival.
LeRoy Mack McNees (the Dobro-playing Country Boy) has been playing music of praise at his church and elsewhere close to home in California. LeRoy and wife Janice recently had a wonderful vacation in Portugal before visiting family in London. There's no word on whether LeRoy took his Dobro or a regular guitar with him, but we bet he can get his hands on one while overseas.
The team behind last year's Mayberry Man movie, including Stark Howell and Cort Howell (sons of Hoke Howell, Mayberry's first Dud Wash) and Greg Schell (son of Ronnie Schell) have announced a new "Mayberry Man" TV series, which is expected to begin filming this fall. .
Like the original movie, which now has a deal for distribution in theaters, the series will be funded in large part by offering an array of incentives in exchange for relatively small donations by lots of fans. Significant funding for the series will also be provided by few larger investors. The number of episodes produced for the first season will depend in part on the amount of money raised, but there will be at least six episodes. The crowdfunding will be done primarily through Indiegogo. The fundraising campaign kicks off on June 25 and runs through July 31.
The series will follow the continuing story of Mayberry Man Chris Stone (played by Brett Varvel) and romantic interest Kate (played by Ashley Elaine). Favorite Mayberry tribute artists and others with Mayberry connections are expected to reprise their movie roles, and likely will be joined by some new, yet also familiar, faces.
That's a wrap for News of Cast & Crew for this issue.
***
**** In Memoriam ****
Remembering Gary Nelson
.
Gary Nelson, director of 1966's "Malcolm at the Crossroads" episode of TAGS,  died in Las Vegas, N.V., on May 25. He was 87.
In addition to his direct involvement with TAGS, Gary crossed paths with Mayberry friends on numerous occasions throughout his career--most notably as director of Murder in Coweta County, starring Andy Griffith, in 1983, a movie for which Gary was also the supervising producer. Gary also directed Andy in the popular 1977 miniseries Washington Behind Closed Doors (for which Gary earned an Emmy nomination) and in one episode of "Headmaster" in 1970.
Gary directed Ron Howard in "Love and the Happy Days," a 1972 episode of "Love, American Style" that served as the pilot for the "Happy Days" series. (He also directed 10 other segments of "Love, American Style.") In addition, Gary directed two episodes of "Gomer Pyle, U.S.M.C." He also directed Clint Howard in an episode of "The Baileys of Balboa" in 1965 (and was assistant director to director Bob Sweeney in two others), Ken Berry in two episodes of "F Troop" in 1966, Ronnie Schell in multiple episodes of "Good Morning World" for executive producer Sheldon Leonard in 1967 and 1968, Jackie Joseph in several episodes of "The Doris Day Show" in 1968 and 1969, and Arlene Golonka in three episodes of "Arnie" in 1970.
.
Gary was the director of nearly 100 different TV series and movies, totaling hundreds of individual episodes and movies. Among his most notable credits as director were six episodes of "Have Gun, Will Travel," 14 episodes of "The Patty Duke Show," eight episodes of "Gilligan's Island," 23 episodes of "Get Smart," nine episodes of "The Ghost and Mrs. Muir," 10 episodes of "Nanny and the Professor," four two-part episodes of "The Magical World of Disney," the miniseries "Noble House" and 19 episodes of "Early Edition," the critically acclaimed series which would be his last directing credit before retiring in 2000. (He was also co-executive producer for more than half of the episodes during that series' four seasons.)
Particularly early in his Hollywood career, during the 1950s, Gary had a reputation for expertise in Westerns, which was a good thing, because Westerns were the dominant genre, especially in those early years of commercial TV. For the big screen during that time, Gary was second assistant director or second-unit director, often uncredited, on classic movies, including Rebel Without a Cause, Guys and Dolls, The Searchers, Funny Face and Gunfight at the O.K. Corral.
As his career progressed, Gary proved to have a rare versatility. He could direct drama and comedy, sci-fi and thrillers, in a range from sitcoms and feature films to a miniseries with a single sustained storyline of 12 hours or more. Among his most memorable films released in theaters are Freaky Friday (1976) and The Black Hole (1979).
Born in Los Angeles on October 6, 1934, Gary grew up amid Hollywood's Golden Age. He met his wife, actress and former professional ice skater Judi Meredith, in 1960, when both were working on the TV series "Hotel de Paree," for which she was one of the stars and he was an assistant director. The couple were married in 1962 and had two sons, Garrett and Blue. Gary and Meredith loved spending time on their yacht, especially cruising around the Caribbean. They were married until Judi died on April 30, 2014, just two days shy of their 52nd wedding anniversary.
Mayberry fans got the chance to know Gary in recent years when he would travel with fellow Murder in Coweta County producer Dick Atkins as they visited Georgia, Mount Airy and elsewhere, for screenings and talks about the movie, which also stars Johnny Cash and includes a moving performance by Cindi Knight (just months before becoming Mrs. Andy Griffith) and which continues to have a loyal following.
.
Gary had stories about directing his one TAGS episode, but it was this talented man's tales about his fascinating experiences over a long and amazingly varied Hollywood career that truly captivated audiences.
Most of all, folks lucky enough to meet Gary and perhaps to get to know him a little bit were able to learn first-hand what a genuinely nice person he was. There's no doubt about it: Gary Nelson was a true man of Mayberry!
Gary is survived his two sons.
***
Remembering Bo Hopkins
Bo Hopkins, who played George, the gas station attendant hired by Goober in the 1967 TAGS episode "Goober the Executive," died in Van Nuys, Calif., on May 28, following a heart attack on May 9. He was 84.
"George Lindsey always said he was the one who started my career," Bo liked to quip about his pal George, whose Goober Pyle hired Bo's George to work at his filling station.
The TAGS role wasn't quite Bo's first acting role on film, but it was close. Only "The Phyllis Diller Show" in 1966 and three TV Westerns preceded his Mayberry role. In any case, Bo would go on to have a long career as one of his generation's most memorable character actors. He created some of Hollywood's most iconic roles, which were often in equally iconic movies and TV shows.
William Mauldin Hopkins was born on Groundhog Day in 1938. He did not see his shadow that day. After his father, who worked at a local textile mill, died of heart attack when Bo was nine years old and then his mother remarried the next year, Bo lived with his grandparents. He later learned that he had been adopted during his first year, and he eventually got to know his birth family.
As a kid, Billy, as Bo was then known, was rambunctious--a little rascal or, you might say, a devil-may-care young scalawag. He avoided reform school by enlisting in the Army in early 1955. The Army soon sent him to Korea.
When his Army hitch was up, Bo returned to Greenville and did well enough in a local theater production to earn a scholarship to perform in summer stock at the Pioneer Playhouse in Danville, Ky. Success there led to New York and a role as Bo Decker in an off-Broadway production of Bus Stop (separate from the earlier Broadway run and movie). The theater folk suggested that he change his name from Billy. Inspired by his Bo Decker character, he changed his first name to Bo.
Armed with a Hollywood-ready name, Bo decided he wanted to try being in movies. He once again landed a scholarship, this time for an acting school affiliated with Desilu-Cahuenga Studios, coincidentally where TAGS was filmed.
As part of his acting training after arriving in Los Angeles, Bo continued to perform in theater productions, including a local production of Picnic, which caught the attention William Holden, who then suggested Bo for the role of Clarence "Crazy" Lee in director Sam Peckinpah's The Wild Bunch. After that dynamic performance, the whole world knew who Bo Hopkins was.
He landed roles for rough-and-tumble, often menacing characters for feature films and for TV. For big parts and small, Bo was always magnetic. He could steal a scene in the blink of an eye, but audiences never wanted to blink. Among the roles he made classics during the early 1970s were Jumpin' Joe Joslin in Monte Walsh (1970), Frank Jackson in Peckinpah's The Getaway (1972; Spoiler Alert: Things don't end well for Bo or for TAGS alum Jack Dodson in that one) and Billy Bowen in The Man Who Loved Cat Dancing (1973).
One of Bo's most memorable roles was as Joe, leader of The Pharaohs, in American Graffiti (1973; working with Ron Howard for the second time), which was the first of two of Bo's movies, along with Midnight Express (1978), that were nominated for an Academy Award for Best Picture.
Amid lots of work for television, other favorite movie roles during this period, both for Bo and audiences, included Pretty Boy Floyd in The Kansas City Massacre and Jerome Miller in Peckinpah's Killer Elite (both in 1975).
It was for television, though, that Bo garnered one of his most beloved roles, recurring as John "Coop" Cooper, a delinquent attorney friend of Jim Rockford in three episodes of "The Rockford Files" in 1978 and 1979.
.
.
Bo continued to land interesting parts and make them even more interesting through the next four decades. He even  played a sheriff opposite Andy Griffith in "The Man of the Year," a 1991 episode of "Matlock."
The closest Bo came to settling into a role for an extended time was for 10 episodes as Edred McCoy in "Doc Elliot" (1973-74) and, more memorably, for 18 episodes as tomcat Matthew Blaisdel on "Dynasty" (primarily in the first season, 1981-82).
.
.
Bo's last role turned out to be playing Papaw to Glenn Close's Mamaw in 2020's Hillbilly Elegy, which made for one last special reunion with Ron Howard, who directed the film.
.
Bo married Norma Lee Woodle in 1959. The couple had a daughter, Jane, before divorcing in 1962. In 1989, Bo and Sian Green were married. They had a son, Matthew. Bo is survived by his wife and both children.
Bo Hopkins made every role he played his own. In Mayberry, he will always be George, the gas station attendant hired by Goober Pyle. And Mayberry fans will gleefully continue the tradition of asserting George Lindsey's playful claim that he started his friend's career.
**** Mayberry on the Web ****

The iMayberry Community
This TAGSRWC online group is organized and overseen by webmaster Allan "Floyd" Newsome with spirited help from Keith "Col. Harvey" Brown. You can check out the fun of this online community and sign up for free at: http://imayberrycommunity.com.
The iMayberry Community complements our other online activities, including our main www.imayberry.com page, podcasts, Facebook pages, online newsletters (such as The eBullet), weaversdepartmentstore.com and chat rooms.
"Two Chairs, No Waiting" is our weekly podcast of TAGS news, interviews and pretty much whatever happens to be going on in and around Mayberry. It's hosted by Allan Newsome.
There's a new episode every Tuesday (and you can watch and listen live during tapings on Monday evenings). As of this week, there have been 689 episodes since Allan started doing the podcast in 2008. Past episodes are in an online Archives in case you want to listen to or view classic installments you've missed.
And scroll to the bottom of the main Mayberry Podcasts web page for assorted links, including one for another outstanding Mayberry-related podcast: "Burke on Mayberry" (hosted by TAGSRWC's Kevin Burke). There are also links for the Mayberry Devotional hosted by Brian Rose and for the Mayberry Bible Study Podcast.
TAGSRWC's official page on Facebook currently has more than a quarter-million Followers. You can find us at www.facebook.com/tagsrwc. If you haven't already dropped by the page, we hope you'll check it out sometime when you have the chance. We invite you to become a TAGSRWC Facebook Friend!
In the "Liked by this Page" section of our Facebook page, we also have links to the pages of several TAGSRWC chapters on Facebook (including the Gomer and Goober Pyle Comic Book Literary Guild), as well as to Facebook pages of Mayberry Days®, the Andy Griffith Museum, TAGS actors and others.
Even Ben Weaver has his own Facebook page at www.facebook.com/weaversdepartmentstore. It features all the latest in Mayberry items and merchandise news.
And TAGSRWC has a growing presence on www.MeWe.com. Mayberry's pioneering outpost on MeWe is "Sittin' on a Velvet Pillow" chapter, headed up by Lynn Thomas. That group was followed in close order by Allan Newsome and the "Two Chairs, No Waiting" Podcast and "The Andy Griffith Show--Big," administered by Myron Clark and an able crew.
In case you're not familiar with MeWe, it's similar to Facebook. It's just smaller and a bit calmer. It has no ads. If you're looking to "relax, slow down, take it easy," check out some of the TAGSRWC groups on MeWe.
***
   **** Post Note ****
Between issues of our Weaver's Newsletter, keep up with the happenings in Mayberry with the daily "Who's Been Messin' Up the Bulletin Board?" (aka "WBMUTBB?") Digest. It's a free subscriber list that consists entirely of comments, news flashes, and questions and answers from subscribers. You can sign up for that list by going to the "Mailing Lists" link at www.tagsrwc.com.
TAGSRWC also publishes The eBullet in alternate months to Weaver's Newsletter. The eBullet is the online successor to our longtime printed newsletter, The Bullet. Like Weaver's Newsletter, The eBullet is free. It includes some of the same news as Weaver's Newsletter, but generally with more features and depth and a little less emphasis on merchandise news. To sign up, go to: www.tagsrwc.com/ebullet.
TAGSRWC's other main vehicle for Mayberry information is simply our website at www.tagsrwc.com (and its "brother figure" site www.iMayberry.com). Both sites have extensive content and links for just about everything a Mayberry fan might be looking for.
The next issue of Weaver's Newsletter is slated for August, and the next issue The eBullet is scheduled for July.
***
.
 ***
Printer Friendly Version