Weaver's Newsletter April 2022
An Online newsletter of
"The Andy Griffith Show" Rerun Watchers Club (TAGSRWC)
Welcome to the April Weaver's Newsletter! The year is just getting warmed up, but there's already a solid slate of events shaping up for 2022. (See Floyd's calendar below and check for regular updates at www.imayberry.com.)

And there are some new Mayberry items, too! Thanks for taking a look around our shop at www.weaversdepartmentstore.com when you get a notion. There's a lot of news to share from all around Mayberry, but ol' Ben likes it when we start by talking about what's in his store.
***
**** Merchandise Update ****
You'll find an enormous variety of Mayberry-related items at your fingertips online at Weaver's. Here are some of our newest and most popular items:
NEW! $35.00
Weaver's is fortunate to get this great piece of artwork from illustrator Jeff Preston.
Jeff originally created this piece for the Society of Illustrators' yearly "Members Only" show. The theme that year was fear. We feel this image perfectly sums up that emotion. It's sort of a mash-up of Mayberry's Remshaw house and The Ghost and Mr. Chicken–not exactly either and not exactly not, either, but definitely Knotts. Whether it's an attic or a cellar, ol' Ben thinks it'll be a good seller.
The print measures 13 x 19 inches and is printed on 100- lb. acid-free gloss enamel card stock.
NEW! $12.00
This full deck of 54 playing cards (including 2 Joker cards), each featuring a unique scene/character from the Mayberry Man movie, is perfect for playing Go Fish (Andy and Opie's fave), Gin Rummy (Otis' favorite), or whatever they're playing over at the Mayberry Hotel (deuces wild). Just remember: Six can't play bridge, Goober!
The cards are very good quality and are smooth to deal.  (Just be sure to keep a close eye on Gentleman Dan when he's dealing.) You may even be able to use them to see how many wishes Count Istvan Teleky might give you. He gave Opie three wishes. He's crazy about kids.
The back of each card  features the characters Chris Stone (Brett Varvel), Kate (Ashley Elaine), Barney Rik Roberts) and Floyd (Allan Newsome) along with the Mayberry squad car. The cards are perfect for having cast members autograph or just regular ol' card-playing.
***
New Blu-ray!
$92.00
The much-anticipated (that is to say, we've been waiting forever!) complete TAGS on Blu-ray is finally here! The set includes not only all 249 episodes, but also the "Danny Meets Andy Griffith" pilot episode, Return to Mayberry movie, bunches of original commercials, an interview with Andy Griffith, the color version of "The Pickle Story" and more. Not to mention the knock-out quality of blu-ray sound and visuals. A real treat for any Mayberry fan!
$24.00
The Mayberry Travel Guide, the latest book by Randy Turner, is both an actual travel guide for Andy Griffith's hometown of Mount Airy, N.C., and a book filled with facts and trivia about "The Andy Griffith Show." The guide contains info on the many influences Andy's hometown had on the beloved series with full explanations of the many references that so often made to the real town of Mount Airy–to its businesses, streets and roads, nearby towns and communities, and real people from back home. The 384-page perfect-bound softcover book contains over 350 photos and 40 sidebars that provide detailed looks at items of interest.
The book was specifically written to be of interest to Mayberry fans, even if you have no intention of ever actually visiting Mount Airy (though you definitely should whenever you have the chance).
***
Weaver's is proud to offer the popular line of premium coffees from Mayberry's Finest™!
The 12-ounce bags of ground coffees are $13.00 each and available in Sunday Morning Breakfast Blend, Otis Campbell's Better-Than-Home Dark Roasted Coffee and Mayberry Diner's Decaffeinated Coffee.
Mayberry's Finest™ coffees are sourced, roasted and ground by the unsurpassed Just Love Coffee Roasters. They know coffee! And we think you'll "just love" this coffee brought to you by Mayberry's Finest™!
P.S. While doing your marketing, don't forget about the delicious Mayberry's Finest™ Country Bacon ($12 each or two packs for $20).
Maggie Peterson Mancuso, best known as "Charlene Darling" on TAGS, loved being part of our favorite show and getting to know so many fans at Mayberry events through the years.
Weaver's Department Store is teaming with Maggie and her family to bring you photographs and other items from her career. We are hopeful that you find a treasure that brings you the same joy that Maggie received being on TAGS. Maggie wants to share this collection rather that having the items just sitting in her closet or on her shelves not being used and fully appreciated. Maggie is no longer able to perform in person, so this is a way that you can stay connected with her.
Maggie has recently been residing in a senior assisted living facility. Since moving there, she has required additional care due to her ongoing health conditions, limited mobility and restricted use of her arms. These conditions make it impossible for her to live independently. This level of care increases the costs for Maggie.
Please look through the Maggie Peterson Collection of photographs, scripts and other items. The photos are 8 in. x 10 in. and most include Maggie's autograph. Many are limited editions. Note: More items were recently added!
All proceeds will go directly to helping Maggie. We encourage you to check back from time to time because we expect to add more items as we receive them from Maggie and her family.
If you would rather donate directly or provide additional funds to Maggie, please consider going to the GoFundMe Page for Maggie operated by her family.
***
Weaver's is pleased to offer more than five dozen designs of Mayberry T-shirts. Some designs are also available as long-sleeved T-shirts, sweatshirts and hoodies. Most designs are available in Adult sizes Small to 3X-large, but we also offer several designs in toddler sizes and some in the just recently added 4X size.
Find the perfect Mayberry fit for yourself and friends and family!
And there's much more at Weaver's, including more books, caps, Goober beanies, Deputy Patches, DVDs, music, posters and tin signs, and all kinds of must-have Mayberry doodads and accessories.
Also, remember that your purchases from Weaver's help support Mayberry events and Mayberry-related charitable causes all year long at locations all around the country. Those sales also help keep our online Mayberry newsletters and communities available to everybody free of charge.
As always, thank you for shopping at Weaver's!.
     Floyd's

Barbershop

Bulletin     

Board

&

Event

Calendar
…….    ………..
The Andy Griffith Museum features the late Emmett Forrest's amazing collection of Andy Griffith artifacts.

In accordance with the latest CDC recommendations and for their own safety and the safety of those around them, visitors are encouraged to wear masks when indoors and near others.
For complete updates on operating hours, pandemic safety procedures or other info, visit the website at www.andygriffithmuseum.org, or call (336) 786-1604.
The following information is from our "brother figure" publication, The eBullet:
* Apr. 21-24: Keith Thibodeaux (aka Johnny Paul Jason) performs Christian rock with David & the Giants in a tent located at 2942 US 49 in Florence, Miss. 39073. Performances and praise begin at 7 p.m. Thurs.-Sat. and at 6 p.m. on Sun.
* Apr. 23: The Dillards featuring Rodney Dillard perform on the Grand Ole Opry during the 7 p.m. show. For tickets and info, visit www.opry.com.
* Apr. 28-30: Margaret Kerry (Bess Muggins and Helen Scobey) and Ruta Lee ("that college kid" and Darlene Mason) are among the many special guests for the Missouri Cherry Blossom Festival in Marshfield, Mo. And saaayyy, you can also meet the great-great-granddaughter of Calvin Coolidge! As a bonus, author Randy Turner will be giving a talk about Mayberry's connections to Disney (including Margaret Kerry, Hal Smith, Betty Lynn and the Howard family). For more info, visit the festival's page on Facebook or their web page at: www.cherryblossomfest.com.
* May 7: Karen Knotts brings her "Tied Up in Knotts!" show to the State Theatre in Bay City, Mich. Show time is 7 p.m. For more info, visit www.statetheatrebaycity.com..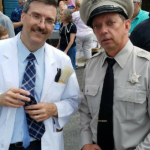 * May 7:  Memories of Mayberry festival in Valley Head, Ala. Allan "Floyd" Newsome and Andy "Barney" Woods are among the entertainers for the full day (9 a.m. to 5 p.m.) of fun for the whole family. There will be a cruise-in, food vendors, live entertainment, door prizes and more. Characters, decor and themes from Mayberry will be featured. All proceeds benefit the Valley Head Volunteer Fire Department. The festival takes place in the downtown square of Valley Head. For more info, visit www.visitlookoutmountain.com/events/memories-of-mayberry-day.
*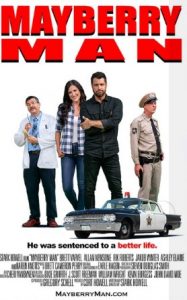 June 25: Screening of 2021's Mayberry Man movie at the Bama Theatre in Tuscaloosa, Ala., as a fundraiser for Eagles' Wings of Tuscaloosa, an organization that supports adults with special needs. The screening will include door prizes and a Q&A session with some of the cast and crew. The screening begins at 7 p.m. Tickets will be available at the theater box office the day of the show..
* July 15 and 16: 10th Annual Mayberry Meetup, sponsored by TAGSRWC's "Two Chairs, No Waiting" podcast, gathers in Mount Airy, N.C. For more info, visit this link: 10th Annual Mayberry Meetup. Note: There's also a Mayberry Bible Study on Sunday the 17th.
* Aug. 13: A Mayberry event with a passel of tribute artists and other entertainment is planned for Troy, Ohio. Details TBA, but for now, just mark your calendar..
***
* Sept. 19-25: 33rd Annual Mayberry Days® festival in Mount Airy, N.C. Tickets are already available HERE for many portions of the festival, including Thursday's The Emmett Golf Tournament (including Mayberry Days® Dinner & Entertainment starring country music star T. Graham Brown, who also has a separate, full concert on Friday), which may also be purchased separately), "Andy, Don and Jim: My Memories of Three Mayberry Legends" presented by Ronnie Schell; Doug Dillard Tribute Concert by The Dillards featuring Rodney Dillard; and "Tied Up in Knotts–A Book Talk" by Karen Knotts..
Other ticketed highlights during Mayberry Days® include "Memories of Elvis" by Michael Hoover; "A Tribute to Mayberry" by Tim White and Troublesome Hollow; concerts by The Embers, Band of Oz, and Legacy Motown; three comedy shows by John Floyd ("The Mouth of Mayberry"); Professor Brower's Lecture (saluting the life and career of Betty Lynn) with Neal Brower (immediately followed by TAGSRWC's Annual Meeting); multiple screenings of Murder in Coweta County (including Q&A with producer Dick Atkins) and Chris Hudson's The Mayberry Effect documentary; and Saturday's grand finale, "Colonel Tim's Talent Time."
More stars and more ticketed portions of the weekend are TBA. And as always, the vast majority of Mayberry Days® is free, including Saturday's parade, the Mayberry Days® Trivia Contest (aka the World Championship of Mayberry Trivia), bunches of other Mayberry-inspired contests, and the Mayor's Proclamation ceremony. For more info, visit www.mayberrydays.com.
***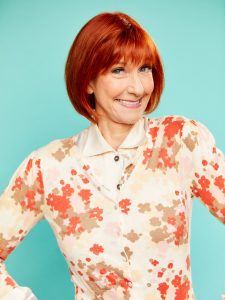 * Oct. 22: Karen Knotts brings her "Tied Up in Knotts!" show to the Brownfield Community Center in Dawson, Penn. Showtime is 8 p.m.
* Oct. 23: Karen Knotts heads a couple of hours down the road and across the state line to the Church-McKee Arts Center in Keyser, W.V., with her "Tied Up in Knotts!" show. Showtime is 3 p.m. For more info, visit the Church-McKee website.
* Sept. 24: The Dillards featuring Rodney Dillard headline the Uncle Pen Fest at the Bill Monroe Music Park & Campground (south of Indianapolis, between Morgantown and Nashville, Ind.). For more info visit: www.billmonroemusicpark.com.  (Note: The group's performance here is the day after their Friday concert at Mayberry Days®.)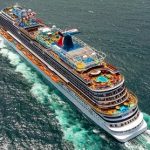 * Oct. 23-29: Clint Howard is the special guest for Mayberry Cruise 15, which was postponed with a few tweaks from its original dates in 2020 and just recently again in 2021 because of the pandemic.
This cruise aboard Carnival's Horizon will depart from Miami and travel to the Caribbean with ports of call in Grand Cayman, Ocho Rios, and Cozumel. Rates (including all taxes) start at $625 per person.
For info, contact Sharon Euliss of All About Cruises at PWESJE@aol.com or call her at (336) 538-4926.
* Oct. 29: Karen Knotts and comedian/actor/Barney tribute artist Rik Roberts present the world premiere of their family-friendly comedy variety show, "Knotts–So Fast," at the La Rita Performing Arts Center in Dalhart, Tex.  Showtime is 7 p.m. For more info, visit www.larita.org.
**** News of Cast & Crew ****
Ron Howard received the Filmmaker Award from the Motion Picture Sound Editors (MPSE) at its Golden Reel Awards during a virtual ceremony held March 13, which was followed on March 26 by a pre-Oscars reception in Los Angeles for all Golden Reel recipients. Now hear this: The award is "bestowed upon an individual outside the sound community whose career has demonstrated a great appreciation and understanding of the impact of sound editing."
Ron's Imagine Television is producing Under the Banner of Heaven, a series based on the best-selling book and starring Andrew Garfield. The series begins on FX and Hulu on April 28.
We Feed People, the documentary Ron directed about Chef José Andrés and his World Central Kitchen food charity, had its world premiere at the South by Southwest Film Festival in Austin, Tex., on March 19.
Reviews of the film have been universally positive with descriptions such as "polished and emotionally stirring." The film was produced by Imagine Documentaries in association with National Geographic Documentaries. Look for We Feed People when it starts streaming on Disney+ on May 27.
With the blessings of the Henson family, Ron also has been entrusted to direct a documentary for Disney about Muppets creator Jim Henson. At least one member of The Muppets seems pretty excited about the news.
Ron and Imagine partner Brian Grazer are among the executive producers for the fourth season of the "Genius" anthology series, which will be about Dr. Martin Luther King Jr. and Malcolm X. The series, which has been nominated for 20 Emmys during its first three seasons (with Albert Einstein, Pablo Picasso and Aretha Franklin as the subjects) on the National Geographic Channel and Hulu, will move to Disney+ for the new season.
The duo from Imagine are also two of six people who will receive honorary doctorates from the University of Southern California during its commencement on May 13.  The university awards its honorary doctorate to "remarkable individuals who have made exceptional contributions to the university and industry, education, philanthropy, athletics, leadership and other fields."
Ron and brother Clint Howard (Leon) were featured speakers at the Desert Town Hall lecture series in Indian Wells, Calif., on March 15. The focus was on their show business careers and The Boys, their best-selling memoir, which was published last October (and is available at a nice discount at Weaver's Department Store).
The Boys was a finalist for a 2o22 Audio Publishers Association's Audie Award in the Autobiography/Memoir category. While The Boys wasn't named the winner during the ceremony on March 4, Mayberry fans and other fans of Ron and Clint are sure to enjoy listening to the brothers tell their story every bit as much as we've enjoyed reading their words.
Joy Ellison (Effie Muggins, Mary Wiggins and others) had a lot to celebrate last month (in addition to her March 16 birthday). Two actors were nominated for Best Actor Oscars at last month's Academy Awards for roles for which Joy served as their dialect coach: Jessica Chastain as Tammy Faye Baker in The Eyes of Tammy Faye (and she won the Oscar!) and Benedict Cumberbatch as Phil Burbank in The Power of the Dog. Both films were also nominated for other awards, including Best Picture.
Joy recently wrapped up tenures as dialect coach for two projects about serial killers: Working with Kiera Knightley on Boston Strangler, a feature film for Warner Bros. that will also be on Hulu, and working with lead actor Evan Peters on "Monster: The Jeffrey Dahmer Story," a miniseries for Netflix.
The George Lindsey UNA Film Festival celebrated its 25th year last month in Florence, Ala. This year's festival included a screening of Mayberry Man that was attended by several of the Mayberry tribute artists who were in the film, as well as by Cort Howell, son of Hoke Howell (Dud Wash), who was one of the movie's producers. Cort and some of the tribute artists have continued attending other screenings in recent months, including ones in Indiana, Tennessee, and Alabama.  More screenings are planned in the months ahead. (Reminder: The movie's also available on DVD at Weaver's.)
Margaret Kerry (Bess Muggins and Helen Scobey) has been doing some personal appearances and book signings for her Tinker Bell Talks memoir, most recently on Easter Sunday at Walt Disney's Carolwood Barn in Griffith Park in Los Angeles.
LeRoy Mack McNees (the Dobro-playing Country Boy) has been playing music of praise at his church and elsewhere close to home in California. LeRoy and wife Janice are currently on vacation in Portugal. There's no word on whether LeRoy took his Dobro or a regular guitar with him, but we bet he can get his hands on one while overseas.
George Lindsey Jr. has been in the studio to record some more of his humorous songs and to film some videos for them. His songs and previous videos are available on YouTube, and two new videos are being timed for release this summer. (George warns potential listeners and viewers that the songs and videos aren't necessarily made for a Mayberry audience.)
George also says that Angel Girl, an indie sci-fi/horror film released in 2020, has been garnering some awards, but, once again, may not be to the liking of all audiences.
George's latest film work involved his repeatedly getting hit on the head with a rubber frying pan. He doesn't know the name of the movie (which may not even have a name yet), but it was hard for a big Three Stooges fan like George to resist the invitation to get hit on the head with a rubber frying pan.
That's a wrap for News of Cast & Crew for this issue.
***
In Memoriam
Remembering Roland White
1938-2022
Mayberry and the planet have lost a great friend and an amazing musical talent. Roland White, who performed as a member of The Country Boys in "Mayberry on Record" in the first season of TAGS, died in Nashville on April 1 from complications from a recent heart attack. He was 83 years old.
Roland's appearance on TAGS was just a footnote in an amazing music career that spanned virtually the entire existence of bluegrass music. (A footnote to the footnote: The Country Boys also performed in the epilogue of "Quiet Sam," later in the first season of TAGS, but Roland missed that episode because he was in the process of joining the Army on the day that the epilogue was filmed.)
The bluegrass genre is known for having considerable cross-pollination of talent as musicians shuffle between groups, collaborate, learn from and teach each other, and jam together. There are few bluegrass musicians who have played with more legendary groups in the field than Roland did. Try the Kentucky Colonels (morphed from for The Country Boys), Bill Monroe and His Blue Grass Boys, Lester Flatt & the Nashville Grass, Country Gazette, and Nashville Bluegrass Band for starters.
It wasn't a coincidence that Roland, a master of both the mandolin and the guitar, as well as being to top-flight vocalist, was a member of great bands. The groups often became legendary, in no small part, because Roland was a member of them.
Beyond his musical genius and artistry, soft-spoken Roland was even more revered and beloved for being an enormously good-spirited and generous person. You couldn't hope to meet or know a nicer person. When you were around Roland, you knew you were in the presence not just of greatness, but also niceness and tremendous decency.
I first saw Roland perform in person in the early 1980s at Nashville's Station Inn, the Music City's and maybe the world's most iconic bluegrass venue. I believe Roland likely holds the record for having performed at The Station Inn more times than anyone else. I know that I saw him play there more often than I did any person or group other than The Doug Dillard Band. Sometimes, I would get a twofer when Roland would be sitting in with Doug's band.
By the time Mayberry reunion shows, most notably Mayberry Days, began in earnest during the 1990s, Roland was often so busy as a performer and as a sought-after teacher (both for mandolin camps and private lessons) that it worked out only one time for him to attend a reunion. Roland brought some members of The Roland White Band, including wife and guitarist Diane Bouska and banjo player Richard Bailey, to Mayberry Days in 2012. They joined fellow Country Boys alum LeRoy Mack McNees and Ginger Boatwright, the Doug Dillard Band's lead singer, in the festival's first annual Doug Dillard Tribute Concert following Doug's passing in May 2012.
Roland received many accolades during his lifetime, including multiple Grammy nominations and wins and the rare distinction of twice being inducted into the International Bluegrass Music Hall of Fame–in 2017 just for being Roland White and in 2019 as a founding member of The Kentucky Colonels. In Roland's case, probably even more so than for most, those honors were a distant second to the joy of making satisfying music with talented friends.
In addition to wife Diane, Roland is survived by sister Rosemarie Johnson, daughter Roline Hodge, son Lawrence Lee LeBlanc, grandchildren Shayla Jones and Austin Hodge, and great-grandchild Zoe Jones. He was preceded in death by his parents, brother Clarence White, brother Eric White and sister Joanne Bierbrauer.
A private funeral for Roland was held earlier this month and a Celebration of Life is planned for a later date.
Editor's Note: For memorial tributes to members of the TAGS Cast & Crew, I generally compile an extensive life story. In the case of Roland White, writer Richard Thompson has written such an interesting, detailed and thorough remembrance of Roland and his career that I would just be re-plowing a well-tilled field to try to write something fresher or more complete. I highly recommend reading Richard's article about Roland in Bluegrass Today. There is also a well-done, shorter obituary for Roland in The New York Times.
And for further in-depth reading about Roland's life, career and influence, Bob Black's biography, Mandolin Man: The Bluegrass Life of Roland White, is scheduled for publication by the University of Illinois Press on June 28.
–Jim Clark
***
Remembrances Among Fans
We are sad to report the passing of three longtime members of our community of Mayberry fans. All made significant contributions to TAGSRWC and our enjoyment of both TAGS and Mayberry in general.
Van Craddock, Jr.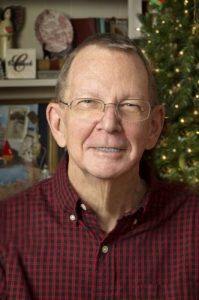 1948-2021
Van Craddock, cofounder of TAGSRWC's Mayberry Union High chapter (Longview, Tex.), died at home in Longview on December 31 after a battle with Alzheimer's and vascular dementia. He was 73 years old.
Along with fellow Mayberry Union High cofounder Ronnie Morrison, Van was a pillar of TAGSRWC in Texas for most of four decades. Van was even more involved in his local Longview community, especially his church, where he was an active member for 50 years. He received several awards honoring his dedication to a variety of community services in Longview.
Van graduated from Stephen F. Austin University in 1970 and married college sweetheart Bettye a week before Christmas that year. After a stint with the U.S. Army in Vietnam, Van, a talented writer, returned to Longview, where he worked in public relations before joining the staff of the Longview News-Journal, for which he was a reporter and later an editor and for which he wrote a weekly history and humor column for 42 years. He wrote several books about East Texas lore. He and Bettye also established a journalism scholarship at his college alma mater.
While Van was no Leonard Blush, he did present a popular program weekday mornings on KFRO Radio called "Craddock at Large," which showcased his storytelling skills.
Most of all, Van was devoted to his family. Survivors include wife Bettye, son Chris, daughter Cathy Tenner, and granddaughters Abby and Macy Tenner.
Van Craddock, "proud waves your banner in the sky!"
***
Terry Colyar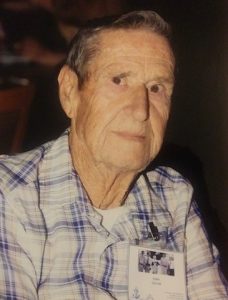 1939-2022
Terry Colyar, beloved by Mayberry Days attendees as the patriarch of The Creatsters, more formally known as  TAGSRWC's "She Called Me a Creatster" chapter (Tullahoma and Johnson City, Tenn.), died in Tullahoma on February 20. He was 82.
Terry founded The Creatsters in 1986. Sons Allan and Dean were his first recruits. Terry and wife Marilyn, who passed away in 2016, attended most editions of Mayberry Days for as long as their health allowed or there wasn't a conflicting cruise to an exotic place,  (They made sure that there usually wasn't a conflict.) When the Mayberry Cruise launched in 2006, it was a happy union of two of the couple's passions.
Allan and Dean joined Terry and Marilyn in attending Mayberry Days, and have continued to carry the torch. The contingent of Creatsters, which usually includes Kevin Mullins and often Phil Henderson and honorary golfing Creatster Billy Good, are ringleaders of fun during the festival, from their trademark kooky costumes for the golf tournament to hosting Horseshoe Pitching for many years to now several years of hosting the Mayberry Minutemen Trivia Contest, the festival's Mayberry  trivia competition for youth.
The Creatsters were honored with TAGSRWC's Mayberry Friendship Award in 2003, and they were presented the prestigious "You're the Cat's!" Award (sponsored by the "We're the Cat's" chapter of Fort Erie, Ont.) in 2020 for their contributions to Mayberry Days.
Terry was also widely known for his woodworking skills. Once again, he combined two passions by making coveted Mayberry-inspired items for gifts and for the Mayberry Days Auction. The homes of countless Mayberry fans are lucky to have some of his creations (or perhaps "Creatstations"?). Some are also on display at the Mayberry-Lucy Museum in Granville, Tenn.
But perhaps most of all, Terry's smiling face was always a welcome sight in his encounters with fellow Mayberry fans. He was happy to see us, and we were happy to see him. Few have enjoyed sharing a love of Mayberry with other fans as much as Terry and his fellow Creatsters.
In addition to sons Allan and Dean, Terry is survived by son Jeff (we figure that he has got to have some Creatster in him, too!), brother Allan Lane Colyar, six grandchildren and three great-grandchildren. And a boatload of friends in Mayberry and elsewhere.
***
Dewey Lamb Jr.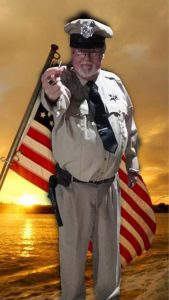 1950-2022
The world of Mayberry fans was rocked yet again with the passing of Ernest "Dewey" Lamb Jr. on February 22. He died after a lengthy battle with cancer. He was 71.
Dewey was the founder and driving force behind "Shakedown! Shakedown!" chapter in his hometown of Laurinburg, N.C. The chapter was known for its annual cookout/pool party.
.
Like Terry Colyar, his kindred spirit of The Creatsters, Dewey was famous for combining his love of Mayberry with a knack for creative crafts. Through the years, Dewey created a phenomenal proportion of the items for the Mayberry Days Auction, generating a corresponding percentage of the overall proceeds benefiting Mayberry Days. He also donated his creations as fundraisers for numerous other Mayberry events and for causes of all kinds.
Folks simply enjoyed being around Dewey, who was a natural raconteur. He would do anything he could to help anybody. He usually recognized a need without even having to be asked.
Dewey was the recipient of both of TAGSRWC's major awards. He received the Mayberry Friendship Award in 2003 and the Jim Schwenke Memorial Award in 2020.
Dewey's wanting to be involved and to help extended beyond Mayberry. He was a devoted member of New Hope Baptist Church, served as a board member of the Historical Property Society of Scotland County and on the Scotland County Highland Games Committee.
Dewey loved his family above all. He is survived by wife Connie, daughters Erin and Kelly, sisters Betty and Kathy, and six grandchildren. He also has left a grateful Mayberry community with bunches of happy memories and his treasured creations.
**** Mayberry on the Web ****

The iMayberry Community
This TAGSRWC online group is organized and overseen by webmaster Allan "Floyd" Newsome with spirited help from Keith "Col. Harvey" Brown. You can check out the fun of this online community and sign up for free at: http://imayberrycommunity.com.
The iMayberry Community complements our other online activities, including our main www.imayberry.com page, podcasts, Facebook pages, online newsletters (such as The eBullet), weaversdepartmentstore.com and chat rooms.
"Two Chairs, No Waiting" is our weekly podcast of TAGS news, interviews and pretty much whatever happens to be going on in and around Mayberry. It's hosted by Allan Newsome.
There's a new episode every Tuesday (and you can watch and listen live during tapings on Monday evenings). As of this week, there have been 681 episodes since Allan started doing the podcast in 2008! Past episodes are in an online Archives in case you want to listen to or view classic installments you've missed.
And scroll to the bottom of the main Mayberry Podcasts web page for assorted links, including one for another outstanding Mayberry-related podcast: "Burke on Mayberry" (hosted by TAGSRWC's Kevin Burke). There are also links for the Mayberry Devotional hosted by Brian Rose and for the Mayberry Bible Study Podcast.
TAGSRWC's official page on Facebook currently has more than a quarter-million Followers. You can find us at www.facebook.com/tagsrwc. If you haven't already dropped by the page, we hope you'll check it out sometime when you have the chance. We invite you to become a TAGSRWC Facebook Friend!
In the "Liked by this Page" section of our Facebook page, we also have links to the pages of several TAGSRWC chapters on Facebook (including the Gomer and Goober Pyle Comic Book Literary Guild), as well as to Facebook pages of Mayberry Days®, the Andy Griffith Museum, TAGS actors and others.
Even Ben Weaver has his own Facebook page at www.facebook.com/weaversdepartmentstore.  It features all the latest in Mayberry items and merchandise news.
And TAGSRWC has a growing presence on www.MeWe.com. Mayberry's pioneering outpost on MeWe is "Sittin' on a Velvet Pillow" chapter, headed up by Lynn Thomas. That group was followed in close order by Allan Newsome and the "Two Chairs, No Waiting" Podcast and "The Andy Griffith Show–Big," administered by Myron Clark and an able crew.
In case you're not familiar with MeWe, it's similar to Facebook. It's just smaller and a bit calmer. It has no ads. If you're looking to "relax, slow down, take it easy," check out some of the TAGSRWC groups on MeWe.
***
   **** Post Note ****
Between issues of our Weaver's Newsletter, keep up with the happenings in Mayberry with the daily "Who's Been Messin' Up the Bulletin Board?" (aka "WBMUTBB?") Digest. It's a free subscriber list that consists entirely of comments, news flashes, and questions and answers from subscribers. You can sign up for that list by going to the "Mailing Lists" link at www.tagsrwc.com.
TAGSRWC also publishes The eBullet in alternate months to Weaver's Newsletter. The eBullet is the online successor to our longtime printed newsletter, The Bullet. Like Weaver's Newsletter, The eBullet is free. It includes some of the same news as Weaver's Newsletter, but generally with more features and depth and a little less emphasis on merchandise news. To sign up, go to: www.tagsrwc.com/ebullet.
TAGSRWC's other main vehicle for Mayberry information is simply our website at www.tagsrwc.com (and its "brother figure" site www.iMayberry.com). Both sites have extensive content and links for just about everything a Mayberry fan might be looking for.
The next issue of Weaver's Newsletter is slated for June, and the next issue The eBullet will fire in May.
***
 ***
Printer Friendly Version