Weaver's Newsletter October 2021
An Online newsletter of
"The Andy Griffith Show" Rerun Watchers Club (TAGSRWC)
Welcome to the October Weaver's Newsletter!
It has been a really exciting time around Mayberry during the couple of months since our last issue! In addition to the annual Mayberry Days® in Mount Airy, N.C., last month, several new Mayberry items have come out, including two outstanding memoirs by TAGS cast and family members, the new 2022 TAGS Wall Calendar, DVDs (and screenings in theaters) of two Mayberry-related films and even a new Mayberry puzzle book.
As we head into the holiday season, don't forget that we also have some special items from Maggie Peterson Mancuso (aka Charlene Darling).
Ben Weaver always likes to start with his merchandise news, so we'll get right to that before moving on to the other happenings around Mayberry..
***.
****

Merchandise Update

****
You can find a wide variety of Mayberry-related items at your fingertips online at TAGSRWC's Weaver's Department Store. Here are some of our newest and most popular items:
Hardcover: $29.00 $23.00 Save 20%
New!
Our review of this book is simple: Read this book! (And then listen to the audio version, which is read by Ron and Clint.) The Boys is one of the best memoirs of any kind that anyone, Mayberry fan or not, could ever hope to read or listen to).  (And it makes a perfect bookend to Tied Up in Knotts–My Dad and Me by Karen Knotts, which was published last month. See the next listing below.)
Ron and Clint's tag-team approach to telling their family's fascinating story is a perfect blend of perspectives. That format truly adds depth and a whole other dimension to the book. One of the things fans will enjoy most about The Boys is its generous number of rare family photos. Even the most diehard follower of the Howard Boys likely will not have ever seen most of the images. As much as the words in the book, the pictures capture the vibe of Howard family life.
But it is Ron's and Clint's words that really make this 386-page book soar. It is by turns touching, frank, entertaining, funny, sad and uplifting. In the end, readers are sure to feel that they know not only Ron and Clint, but also their remarkable parents, Rance and Jean. And readers are also certain to be really grateful that Ron and Clint have provided this insightful window into their formative years and their family history.
Enjoy the read!
What a blessing it is for Mayberry fans to see–within less than a month of each other–the publication of both The Boys and this immensely enjoyable book from Karen Knotts!
Not only does Karen share her own memories of her famous and beloved father, but she also talked to dozens of people from all stages of her father's life and gleaned their firsthand accounts of events involving her dad. Fans are sure to learn new and perhaps surprising things about Don Knotts and about Karen and others in the Knotts family.
Karen's storytelling comes from a place of great love, but she doesn't flinch at sharing very personal and sometimes painful parts of her father's life, as well as her own–all of which will deepen any reader's appreciation for Don Knotts as a person in full and not just as a treasured actor.
If you like Don Knotts (and who among us doesn't?!), you'll like him even more after you read this essential book for any fan. You'll have fun while learning more about Don (and Karen) and gaining a greater understanding of him (and Karen). This fascinating edition is an important addition to our library of insights about the people who played key roles in creating the world of Mayberry, which has brought so much joy to generations of fans. No one but Karen could have written this book, and readers will be forever thankful that she did!
This 272-page hardcover book will be on the must-read list for all Mayberry fans.
Note: Weaver's offers copies with bookplates autographed by Karen. (They're the copies for $38.) We're sorry, but the autographs can't be personalized.
***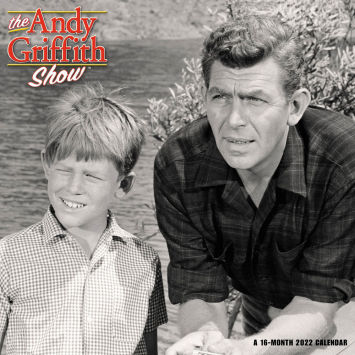 $15.00
NEW!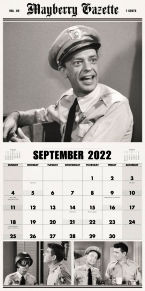 This 2022 edition of the popular TAGS Wall Calendar features fun images from the show to give a warm Mayberry feeling each time you glance to see a date. Black and white images from Mayberry are featured on every page of the calendar.

Every month you'll enjoy a large (12 in. x 12 in.) image of  favorite Mayberry characters, plus two smaller photos for Goob measure. The characters featured in this 2022 edition are Andy, Barney, Opie, Otis, Aunt Bee, Goober, Floyd, Helen, Thelma Lou,and Gomer.
The calendar is 12 in. wide x 24 in. tall when open. Perfect for home or office and always a great holiday gift! (Hint: The last couple of years, the wall calendar has sold out well before Christmas.)
P.S. Weaver's expects to have the 2022 Mayberry Flip Calendar in stock before Thanksgiving..
***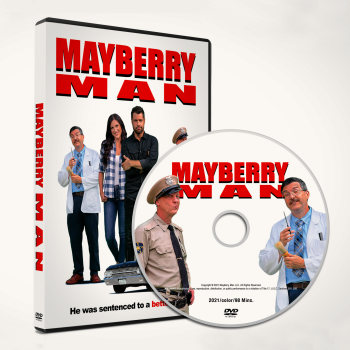 $20.00
NEW!
Maggie Peterson Mancuso, best known as "Charlene Darling" on TAGS, loved being part of our favorite show and getting to know so many fans at Mayberry events through the years.
Weaver's Department Store is teaming with Maggie and her family to bring you photographs and other items from her career. We are hopeful that you find a treasure that brings you the same joy that Maggie received being on TAGS. Maggie wants to share this collection rather that having the items just sitting in her closet or on her shelves not being used and fully appreciated. Maggie is no longer able to perform in person, so this is a way that you can stay connected with her.
Maggie is residing in a senior assisted living facility. Since moving there, she has required additional care due to her ongoing health conditions, limited mobility and restricted use of her arms. These conditions make it impossible for her to live independently. This level of care increases the costs for Maggie.
You might wonder about residuals from TAGS and where they might be. TAGS ended in the late Sixties before residuals for actors became what they are now. Residuals were paid for only the first few reruns of episodes in which actors appeared. Maggie has not received residuals for her work on TAGS in more than 50 years.
Please look through the Maggie Peterson Collection of photographs, scripts and other items. The photos are 8 in. x 10 in. and most include Maggie's autograph. Many are limited editions. Note: Some additional items were recently added!
All proceeds will go directly to helping Maggie. We encourage you to check back from time to time because we expect to add more items as we receive them from Maggie and her family.
If you would rather donate directly or provide additional funds to Maggie, please consider going to the GoFundMe Page for Maggie operated by her family.
***
Weaver's is pleased to offer more than five dozen designs of Mayberry T-shirts. Some designs are also available as long-sleeved T-shirts, sweatshirts and hoodies. Most designs are available in Adult sizes Small to 3X-large, but we also offer several designs in toddler sizes and some in the just recently added 4X size.
Find the perfect Mayberry fit for you and friends and family!
.
As we're able to get out and about more often, we're going to need something to carry our stuff in more than ever. Fortunately, Weaver's has the answer with three styles of awesome Tote Bags.
Our totes come in two sizes (16 in. x 16 in. and 18 in. x 18 in.; the bigger, the better for trick-or-treating!) and three designs (Barney Face, Lawmen and Fishin' Hole, pictured above) to accommodate a range of function and fashion desires.  (Ernest T. uses his for carrying rocks. He calls his bags "pokes," and we won't argue with him, at least not as long as his poke is full of rocks!)
For smaller carrying needs, Weaver's also has zippered Accessory Pouches  (above) in the same designs.
If Barney has said it once, he has said it a thousand times: "Zip it! Zip it in the pouch!"
***
And there's much more at Weaver's, including books, caps, Goober beanies, Deputy Patches, DVDs, music, posters and tin signs, and Mayberry's Finest brand foods (coffees, bacon, jams and…yes…pickles!).
Also, remember that your purchases from Weaver's help support Mayberry events and Mayberry-related charitable causes all year long at locations all around the country. Those sales also help keep our online Mayberry newsletters and communities available to everybody free of charge.
As always, thanks for browsing Weaver's!.
***
Floyd's

Barbershop
Bulletin

Board
&

Event

Calendar
.
.
The Andy Griffith Museum, featuring the late Emmett Forrest's amazing collection of Andy Griffith artifacts, is hitting on all cylinders during this peak time for summer visitors!
In accordance with the latest CDC recommendations and for their own safety and the safety of those around them, everybody is encouraged to wear masks when indoors and near others.
For complete updates on operating hours, pandemic safety procedures, or other info, visit the website at www.andygriffithmuseum.org or call (336) 786-1604.
The following information is from our "brother figure" publication, The eBullet:
.
.
***
* Oct. 12, 13, and 15: Ron Howard and Clint Howard make joint presentations in support of their new memoir The Boys at three book events including a ticketed presentation by The Town Hall at Strand Books in New York City at 7 p.m. on October 12, the Chicago Humanities Festival at 7 p.m. on October 13, and an L.A. Times Book Club presentation on the rooftop of the Grammy Museum in L.A. at 7 p.m. on October 15.  (You can also "attend" that last one virtually for $45.)
* Oct. 17: The Dillards featuring Rodney Dillard perform at First Baptist Church of Friendsville, 403 N. Farnum St., Friendsville, Tenn., at 9:40 a.m. and 10:15 a.m.  For more info, contact the church at 865-995-2130.
* Oct. 22: The Dillards featuring Rodney Dillard perform at 6 p.m. as part of the Bluegrass Island Festival in Manteo, N.C. For more info, visit www.bluegrassisland.com.
* Oct. 29-31: Margaret Kerry is a special guest for the Fanboy Expo in Knoxville, Tenn. For more info, visit www.fanboyexpo.com.
*

Oct. 30: 33rd Annual Uncle Jesse Big Bass Classic (founded by Denver Pyle) at Pat Mayse Lake in Paris, Tex.  The event helps raise funds for Denver Pyle's Children's Charities, which remains very active in the Paris community. For info, visit the event's page on Facebook.
* Oct. 31-Nov. 6: POSTPONED by pandemic (again) until 2022.  See new listing below.  Clint Howard is the special guest for Mayberry Cruise 15, which was postponed with a few tweaks from its original dates in 2020.
***
* POSTPONED Nov. 5-7: Margaret Kerry is a special guest for the Fanboy Expo in Columbus, Ohio. For more info, visit www.fanboyexpo.com. New dates TBA soon.
.
* Nov. 26: Roland White and his band perform at 9 p.m. at the Station Inn in Nashville, Tenn.
* Dec. 18: Roland White and his band perform at 9 p.m. at the Station Inn in Nashville, Tenn..
.
.
***
20

22
* Mar. 15: Ron Howard and Clint Howard talk about their memoir and their careers in show business at the Desert Town Hall lecture series in Indian Wells, Calif.  For info, call 760-610-2852.
.
* Sept. 20-25: 33rd Annual Mayberry Days® festival in Mount Airy, N.C. Tickets are already available HERE for portions of the festival, including The Emmett Golf Tournament (including Mayberry Days® Dinner & Entertainment, which may also be purchased separately), concert by The Dillards featuring Rodney Dillard, and Professor Brower's Lecture. For more info, visit www.mayberrydays.com...
.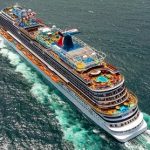 Oct. 23-29: Clint Howard is the special guest for Mayberry Cruise 15, which was postponed with a few tweaks from its original dates in 2020 and just recently again in 2021 because of the pandemic.
This cruise aboard Carnival's Horizon will depart from Miami and travel to the Caribbean with ports of call in Grand Cayman, Ocho Rios, and Cozumel . Rates (including all taxes) start at $625 per person.
For info, contact Sharon Euliss of All About Cruises at PWESJE@aol.com or call her at (336) 538-4926.
****

News of Cast & Crew

****
Ron Howard and brother Clint Howard both have, as usual, several film projects in various stages of production. But for this issue, we'll stick to the big news of this season: The release on October 12 of their much anticipated book, The Boys–A Memoir of Hollywood and Family. (In case you missed it in the Merchandise Update above, the link to get your copy is HERE.)
The book is already an instant smash national best-seller. It has received overwhelmingly positive news coverage and reviews from coast to coast. Major publications, such as the The New York Times, The Wall Street Journal and Los Angeles Times, Entertainment Weekly and Parade, as well as magazines and countless local newspapers (including Tulsa World), have given the book enormous and glowing coverage. Ditto for television news outlets (including Today and Late Night with Seth Meyers) and social media. A book tour by the brothers is currently underway from New York to Chicago to L.A. (see Floyd's bulletin board above for links and details).
It'll eventually be time to get back to making films for both of the Howard Boys, but for the next few weeks, it's time to promote the reading of a truly wonderful and momentous book!
Betty Lynn celebrated her recent 95th birthday a little more quietly than originally planned. She wasn't feeling at full strength in the weeks leading up to her August 29th birthday, so plans for a big party at Mount Airy's Cross Creek Country Club were replaced by lots of birthday cards received at home.
Betty moved into a new apartment the week of Mayberry Days®, which limited her availability to participate in the festival. However, she did thrill the large crowds lining Mount Airy's North Main Street when she once again served as grand marshal for the festival's big parade on Saturday.
TAGSRWC's Weaver's Department Store is honored to be partnering with Maggie Peterson Mancuso and her family for a fundraiser involving some of Maggie's memorabilia. (See the Maggie Peterson Collection described in our Merchandise Update section above.)
.
Several TAGS actors and their families were able to attend Mayberry Days® this year. For the record, here's the complete list of TAGS stars (or family representative) who attended this year: Betty Lynn (Thelma Lou), Rodney Dillard (Darling boy), Dennis Rush (Howie), Joy Ellison (Effie Muggins, Mary Wiggins and three others), Clint Howard (Leon), Ronnie Schell (two episodes and also Duke Slater on "Gomer Pyle, U.S.M.C."), Margaret Kerry (Bess Muggins and Helen Scobey), LeRoy Mack McNees (Dobro-playing member of The Country Boys in two episodes), Dreama Denver (widow of Bob Denver, who played Dud Wash in one episode) and Karen Knotts (daughter of Don). Another family member of the TAGS cast attended but remained incognito as Mount Pilot Fun Girl Skippy.
Calvin Peeler (Martin in an episode of "Mayberry R.F.D."), Laura Hagen (widow of Earle Hagen) and Bettina Linke (widow of associate producer Richard O. Linke, who was also personal manager of several TAGS stars) had planned to attend but unfortunately all three had to cancel because of schedule conflicts or pandemic-related concerns.
Adopted Mayberry star Dick Atkins (producer of Murder in Coweta County starring Andy Griffith) was also a special guest again this year.
Stark Howell and Cort Howell (sons of Hoke Howell, who played Dud Wash in two episodes) were also in Mount Airy during Mayberry Days®, as was Greg Schell (son of Ronnie), but they were kept busy with a full slate of separate activities centered around the Mount Airy premiere of their Mayberry Man movie.
See the Mayberry Days® Mini-Gallery below for additional coverage about cast members and their families at Mayberry Days®.
That's a wrap for News of Cast & Crew for this issue.
**** In Memoriam ****
Remembering Jay Sandrich
With the passing of Jay Sandrich in Los Angeles on September 22, Mayberry and the entertainment world mourns the loss of a true Hollywood legend. Jay died of complications of dementia. He was 89.
Jay's involvement was somewhat below the radar on TAGS. He served as associate producer for the entire fifth season (1964-65), taking over (along with Bob Ross) some of the day-to-day duties of Aaron Ruben, who, while still working as a producer for TAGS, was more focused that season on his new duties as creator, head writer and sometimes director of "Gomer Pyle, U.S.M.C."
But it was his work as a director after his time on TAGS that earned Jay the most renown. He directed 119 of the 168 episodes of "The Mary Tyler Moore Show" (winning two Emmy Awards in the process) and directed more than half of the 197 episodes of "The Cosby Show" (earning two more Emmys).
Jay is officially credited with directing four score and seven different series and movies during his career. All of the movies, except Neil Simon's Seems Like Old Times in 1980, were productions made for TV. He had begun work on a second feature film, Sweet Deception, which was being written by John Belushi, who died before the project could be completed. In any case, Jay found that he preferred the faster pace and quicker turn-around time of TV shows.
The TV shows he directed read like a Hall of Fame roster of TV comedy, including multiple episodes of "Get Smart," "Here's Lucy," "The Odd Couple," "The Bob Newhart Show," "WKRP in Cincinnati," "Soap," "Night Court," "The Golden Girls" (for which he also had a pivotal role in casting) and "Two and a Half Men," which was his final directing assignment for TV in 2003. In his retirement years, Jay directed a few plays that were produced in Aspen, Colo., where he often spent his summers.
.
Early in his career, Jay was fortunate to be a protégé of Sheldon Leonard. Working closely with Sheldon, Jay learned all aspects of the TV and movie business. He served as assistant director for 161 episodes of "The Danny Thomas Show" (including the episode "Danny Meets Andy Griffith," the pilot for TAGS), for which Sheldon served as executive producer and often directed. As he would do for many others, including Howard Morris, Sheldon Leonard offered Jay his first chance to take the helm as director with a 1963 episode of "The Danny Thomas Show."
Prior to his work with Sheldon Leonard, Jay had the chance to work as an assistant director for other top shows, including for 15 episodes during the sixth season of "I Love Lucy" in 1956-57. He was able to spend a lot of time working with and learning from the best in the business.
Jay Henry Sandrich was born the second of two sons (after Mark Jr., who also became a respected assistant director and director) to parents Mark and Freda on February 24, 1932. In many ways, Jay was born on a path destined to lead to success in Hollywood. His father was an accomplished director, who was best known for his work on musicals with Fred Astaire, including classics such as The Gay Divorcee, Shall We Dance, Top Hat (all three also starring Ginger Rogers) and Holiday Inn (with Bing Crosby).
Jay graduated from Beverly Hills High School and then, in 1953, from UCLA with a BA in film and theater arts. During the summer after graduating, he took a non-paying job as second assistant director on "The Lone Ranger" TV series. He then joined the Army and made training films and documentaries for the Signal Corps.
After his three-year hitch in the Army, Jay was hired as a second assistant director for Desilu Productions. (His boss was Argyle Nelson, Desilu's head of production, a position for Nelson that would eventually include production supervisor duties for the first two seasons of TAGS.)
Through a steady process of working and observing, Jay developed the skills that would make him a legend in the industry. His basic philosophy of directing was to focus on the writing and the casting, with the idea that, if a production got those two things right, then proficient directing could help optimize both.
Jay credited Sheldon Leonard with teaching him that camera positions and other technical details were there to serve the actors and the story, and not the other way around–and that he should move the cameras, not the actors, to get the desired shot. Trying to be an auteur with dazzling camera angles and effects was not Jay's style. He was first and foremost a storyteller.
Jay once said that his season working with Don Knotts on TAGS taught him that the laughs need to come from a character's humanity, not the laugh track. He famously quipped that his duties on TAGS were basically just to handle the laugh track, but that was typical modesty.
In addition to his four Primetime Emmys, Jay was nominated six additional times, and he also won a Daytime Emmy. He was also nominated nine times for the Directors Guild of America's award for Outstanding Directorial Achievement and won three times: 1975's "The Lily Tomlin Special," 1984's pilot episode for "The Cosby Show" and a 1985 episode of "The Golden Girls." Jay was inducted in the Television Academy Hall of Fame in 2020.
Jay was the one who suggested that "Golden Girls" characters played by Betty White and Rue McClanahan be reversed, with White playing the more reserved Rose Nyland and McClanahan playing the friskier Blanche Devereaux.
Upon learning of Jay's passing, Ron Howard tweeted, I knew Jay when he was an associate producer on "The Andy Griffith Show," before he became one of the greatest and most prolific TV comedy directors. Talent, taste, hard work and a great team spirit defined his stellar reputation."
And so it was that Mayberry once again had been touched by greatness and kindness when Jay Sandrich spent that 1964-65 TV season working on TAGS.
Jay married Nina Kramer in 1953, the same year he graduated from college. The couple had three children, Wendy, Eric, and Tony. Jay and Nina divorced in 1976, and, in 1984, Jay married Linda Silverstein, who survives him, as do his children and four grandchildren.
.
***
Reel News: A Double Feature!
After a highly successful tour of film festivals far and wide, The Mayberry Effect, director Chris Hudson's documentary about the influences of Mayberry on our lives, was released to streaming services on August 31. (It's now available to order on DVD at Weaver's.)
While much of the emphasis of the movie is on Mayberry tribute artists, especially David "Mayberry Deputy" Browning (the longtime leader the principal troupe), Allan "Floyd" Newsome and Kenneth "Otis" Junkin, watch for that scene-stealing Opie, too!
The Mayberry Effect was a labor of love of many years for Chris, and it shows. It's a fun, moving and observant film that makes for a compelling examination not only of how Mayberry has affected many of our lives, but also of how people today can shape Mayberry and its impact. It's a great way to spend an hour and a half immersed in Mayberry!
But wait–there's more!
The Mayberry Man movie, written and directed by Stark Howell and produced by Cort Howell (both sons of Hoke Howell, aka Mayberry's Dud Wash) and co-produced by Greg Schell (son of Ronnie Schell) recently completed its three red-carpet premieres before its wider release (including now being available on DVD at Weaver's, in case you missed the listing above) as of October 1.
The first premiere was held in Danville, Ind., where much of the movie was filmed, during Labor Day weekend. The West Coast premiere took place in Newhall, Calif. The third and East Coast premiere was in Mount Airy during the week of Mayberry Days®, though the film goings-on weren't an official part of the festival. Several additional screenings were held in Mount Airy that week, and there are additional select screenings this month in locations ranging from Tennessee and Indiana to West Virginia, Ohio and Michigan. (They're "makin' for Canada!").
Cast and crew and backers and other friends and supporters of the movie attended the gala premieres.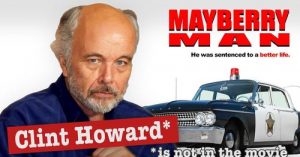 Reviews of the movie, which features many familiar faces, especially Mayberry tribute artists, have also been positive and have stressed that Mayberry Man is a good, wholesome movie that families can enjoy together. Here's a LINK to a nice plug for the movie from Clint Howard (a lifelong friend of Stark and Cort Howell). Clint has nothing but high praise for the film and singles out Allan Newsome's role in particular. (Big shots in Hollywood might be saying that Allan's performance gives every indication that "a star is born," but tell us something we didn't already know. Allan has been a star for TAGSRWC and Mayberry in general for decades!)
All in all, The Mayberry Effect and Mayberry Man make this is a grand time to invest in movie popcorn. (You just know Barney would take the plunge!)
Speaking of videos about Mayberry…For anyone who missed correspondent Ted Koppel's story about Mayberry for "Sunday Morning" on CBS (September 19). Here's the LINK. The story has been "somewhat" controversial among Mayberry fans and has gotten more than a few jaw muscles working. But it's a noteworthy piece of reporting about Mayberry and Mount Airy.
.
.
***
****

Mayberry Days® Mini-Gallery

****
Here are few photos from the September's 32nd Annual Mayberry Days® in Mount Airy, N.C. We'll have additional coverage in the November edition of our Brother Figure publication, The eBullet.
There's also a giant Mayberry Days® Photo Gallery on the official Mayberry Days® website. (Most of the photos in this issue are borrowed from that gallery.) Here's the GALLERY LINK to those images provided by photographers Hobart Jones, Kenny Hooker and Robbie Curlee. And thanks to Surry Arts Council webmaster Jeff Koontz for once again organizing the annual gallery of Mayberry Days® memories.
****

Mayberry on the Web

****

The iMayberry Community
This TAGSRWC online group is organized and overseen by webmaster Allan "Floyd" Newsome with big help from Keith "Col. Harvey" Brown. You can check out the fun of this online community and sign up for free at: http://imayberrycommunity.com.
The iMayberry Community complements our other online activities, including our main www.imayberry.com page, podcasts, Facebook pages, online newsletters (such as The eBullet), weaversdepartmentstore.com and chat rooms.
"Two Chairs, No Waiting" is our weekly podcast of TAGS news, interviews and pretty much whatever happens to be going on in and around Mayberry. It's hosted by Allan Newsome.
There's a new episode every Tuesday (and you can watch and listen live during tapings on Monday evenings). As of this week, there have been 654 episodes since Allan started doing the podcast in 2008! Past episodes are in an online Archives in case you want to listen to or view classic installments you've missed.
And look for links on the podcast's regular web page which includes another outstanding Mayberry-related podcast: Burke on Mayberry (hosted by TAGSRWC's Kevin Burke).
.
TAGSRWC's official page on Facebook is now hovering around 250,000 Followers. You can find us at www.facebook.com/tagsrwc. If you haven't already dropped by the page, we hope you'll check it out sometime when you have the chance. We invite you to become a TAGSRWC Facebook Friend!
We also have links in our "Liked by this Page" section to the pages of several TAGSRWC chapters on Facebook (including the Gomer and Goober Pyle Comic Book Literary Guild), as well as to Facebook pages of Mayberry Days®, the Andy Griffith Museum, TAGS actors and others.
Even Ben Weaver has his own Facebook page at www.facebook.com/weaversdepartmentstore.  It features all the latest in Mayberry items and merchandise news.
And TAGSRWC has a growing presence on www.MeWe.com. Mayberry's pioneering outpost on MeWe is "Sittin' on a Velvet Pillow" chapter, headed up by Lynn Thomas. That group was followed in close order by Allan Newsome and the "Two Chairs, No Waiting" Podcast and "The Andy Griffith Show–Big," administered by Myron Clark and an able crew.
In case you're not familiar with MeWe, it's similar to Facebook. It's just smaller and a bit calmer. It has no ads. So, it's more like a quiet street like Willow or Woods Way as opposed to the hustle and bustle of Main Street in downtown Mayberry. ("You're on my foot! You're on my foot!") So, if you're looking to "relax, slow down, take it easy," check out some of the TAGSRWC groups on MeWe.
***
  

****

Post Note

****
Between issues of our Weaver's Newsletter, keep up with the happenings in Mayberry with the daily "Who's Been Messin' Up the Bulletin Board?" (aka "WBMUTBB?") Digest. It's a free subscriber list that consists entirely of comments, news flashes, and questions and answers from subscribers. You can sign up for that list by going to the "Mailing Lists" link at www.tagsrwc.com.
This year's Mayberry Days® Auction and Rummage Sale, which is organized and supported by "WBMUTBB?" raised an impressive combined total of $4,458.50! Thanks to all who created, donated, bid on, and bought items for this year's fundraiser. All proceeds (that is, every penny of the $4,458.50) goes to the Surry Arts Council for its Mayberry Days® efforts.
TAGSRWC also publishes The eBullet in alternate months to Weaver's Newsletter. The eBullet is the online successor to our longtime printed newsletter, The Bullet. Like Weaver's Newsletter, The eBullet is free. It includes some of the same news as Weaver's Newsletter, but generally with more features and depth and a little less emphasis on merchandise news. To sign up, go to: www.tagsrwc.com/ebullet.
TAGSRWC's other main vehicle for Mayberry information is simply our website at www.tagsrwc.com (and its "brother figure" site www.iMayberry.com). Both sites have extensive content and links for just about everything a Mayberry fan might be looking for.
The final issue of Weaver's Newsletter for 2021 is slated for December, and the year's final eBullet is scheduled for November.
***.
 ***
Printer Friendly Version