An Online newsletter of
"The Andy Griffith Show" Rerun Watchers Club (TAGSRWC)
Welcome to the August Weaver's Newsletter!
It has been a really fun summer of Mayberry activities, and now all eyes are on the biggest event of the year, September's annual Mayberry Days® festival in Mount Airy. N.C. (See Floyd's Event Calendar below. And the calendar is continually being updated as new events are confirmed. You can always find it online at www.imayberry.com.)

We also have some new items at Weaver's since the June Weaver's Newsletter, including some special items from Maggie Peterson Mancuso (aka Charlene Darling). And we'll soon have the official 2022 TAGS wall calendar and the popular flip calendar with Mayberry trivia, as well as several much-anticipated Mayberry-related books.
Ben Weaver always likes to start with his merchandise news, so we'll get right to that before moving on to the other happenings around Mayberry..
***.
**** Merchandise Update ****
You can find a wide variety of Mayberry-related items at your fingertips online at TAGSRWC's Weaver's Department Store. If you're looking for gifts for fellow Mayberry fans, Weaver's likely has just what you're looking for. And don't forget to look for something for yourself, as well. You deserve it!
Here are some of our newest items at Weaver's, and also some others that are perennially popular:
Maggie Peterson Mancuso, best known as "Charlene Darling" on TAGS, loved being part of our favorite show and getting to know so many fans at Mayberry events through the years.
Weaver's Department Store is teaming with Maggie and her family to bring you photographs and other items from her career. We are hopeful that you find a treasure that brings you the same joy that Maggie received being on TAGS. Maggie wants to share this collection rather that having the items just sitting in her closet or on her shelves not being used and fully appreciated. Maggie is no longer able to perform in person, so this is a way that you can stay connected with her.
Maggie is residing in a senior assisted living facility. Since moving there, she has required additional care due to her ongoing health conditions, limited mobility and restricted use of her arms. These conditions make it impossible for her to live independently. This level of care increases the costs for Maggie.
You might wonder about residuals from TAGS and where they might be. TAGS ended in the late Sixties before residuals for actors became what they are now. Residuals were paid for only the first few reruns of episodes in which actors appeared. Maggie has not received residuals for her work on TAGS in more than 50 years.
Please look through the Maggie Peterson Collection of photographs, scripts and other items. The photos are 8 x 10 in. and most include Maggie's autograph. Many are limited editions. All proceeds will go directly to helping Maggie. We encourage you to check back from time to time because we expect to add more items as we receive them from Maggie and her family.
If you would rather donate directly or provide additional funds to Maggie, please consider going to the GoFundMe Page for Maggie operated by her family.
***
Weaver's is pleased to offer more than five dozen designs of Mayberry T-shirts. Some designs are also available as long-sleeved T-shirts, sweatshirts and hoodies. Most designs are available in Adult sizes Small to 3X-large, but we also offer several designs in toddler sizes and some in the just recently added 4X size.
Find the perfect Mayberry fit for you and friends and family!
***
Mayberry

Pennant
Perfect for getting back to school or back to the office, not to mention around the home, this felt pennant features Mayberry colors of the ol' Orange and Blue. White lettering is outlined by orange on a blue background and topped off by a sewn-on orange edge strip. The pennant measures 24 x 9 in. Rah-Rah! Go Mayberry!
***
.
As we're able to get out and about more often, we're going to need something to carry our stuff in more than ever. Fortunately, Weaver's has the answer with three styles of awesome Tote Bags.
Our totes come in two sizes (16 in. x 16 in. and 18 in. x 18 in.) and three designs (Barney Face, Lawmen and Fishin' Hole, pictured above) to accommodate a range of function and fashion desires.  (Ernest T. uses his for carrying rocks. He calls his bags "pokes," and we won't argue with him, at least not as long as his poke is full of rocks!)
For smaller carrying needs, Weaver's also has zippered Accessory Pouches  (above) in the same designs.
If Barney has said it once, he has said it a thousand times: "Zip it! Zip it in the pouch!"
***
And there's much more at Weaver's, including books, caps, Goober beanies, Deputy Patches, DVDs, music, posters and tin signs, and Mayberry's Finest brand foods (coffees, bacon, jams and...yes...pickles!).
Also, remember that your purchases from Weaver's help support Mayberry events and Mayberry-related charitable causes all year long at locations all around the country. Those sales also help keep our online Mayberry newsletters and communities available to everybody free of charge.
As always, thanks for browsing Weaver's!
.
***
Floyd's

Barbershop
Bulletin

Board
&

Event

Calendar
The Andy Griffith Museum, featuring the late Emmett Forrest's amazing collection of Andy Griffith artifacts, is hitting on all cylinders during this peak time for summer visitors!
In accordance with the latest CDC recommendations and for their own safety and the safety of those around them, everybody is encouraged to wear masks when indoors and near others.
For complete updates on operating hours, pandemic safety procedures, or other info, visit the website at www.andygriffithmuseum.org or call (336) 786-1604.
The following information is from our "brother figure" publication, The eBullet:
* Aug. 20-22: Margaret Kerry is a special guest for the Fanboy Expo in Orlando. For more info, visit www.fanboyexpo.com.
.
..
* Aug. 27: Roland White and his band perform at 9 p.m. at the Station Inn in Nashville, Tenn..N
* Sept. 10-12: Kent McCord, who is best known as Officer Jim Reed on "Adam-12," but who was also an extra in the "Barney's Uniform" episode of TAGS, is a special guest for the Fanboy Expo in Indianapolis. For more info, visit www.fanboyexpo.com..
.
..
***
* Sept. 20-26: 32nd Annual Mayberry Days® in Mount Airy, N.C. Special Guests from "The Andy Griffith Show" confirmed so far include Betty Lynn (Thelma Lou), Rodney Dillard (guitar-playing Darling boy), Dennis Rush (Howie), Margaret Kerry (Bess Muggins and Helen Scobey), Joy Ellison (Effie Muggins, Mary Wiggins and others), Ronnie Schell (two episodes of TAGS and also Duke Slater on "Gomer Pyle, U.S.M.C."), LeRoy Mack McNees (one of the Country Boys in two episodes) and Calvin Peeler (Martin Barton in an episode of "Mayberry R.F.D.").
Other Special Guests include Karen Knotts (daughter of Don), Bettina Linke (wife of Richard O. Linke, associate producer of TAGS and also longtime personal manager of Andy Griffith, and many others with Mayberry connections), and Dick Atkins (producer of Murder in Coweta County, starring Andy Griffith).
Tickets are available HERE for some concerts and presentations, including Collin Raye (actually on Sept. 18, the Sat. before Mayberry Days® week), two shows (one as part of the banquet for the Mayberry Days® Golf Tournament) by T. Graham Brown, The Doug Dillard Tribute Show by The Dillards featuring Rodney Dillard, LeRoy Mack and Friends Present: Bluegrass Mayberry Style, Ronnie Schell Presents: "Andy, Don & Jim--My Memories of Three Mayberry Legends," Karen Knotts Presents: "Tied Up in Knotts--A Book Talk," Professor Brower's Lecture with Neal Brower, Tim White and Troublesome Hollow's "Tribute to Mayberry," Allen Leath's "Mayberry Melodies," Michael Hoover's "Memories of Elvis" and Colonel Tim's Talent Time.
Other concert highlights during the week include The Embers featuring Craig Woolard, Legacy Motown Revue, The Band of O, and James Gregory ("The Funniest Man in America").
Much more TBA, but for now, other than these first confirmed presentations, just  mark your calendar and be sure to check back for updates. (And don't forget to make your lodging arrangements sooner rather than later!)
***
* Oct. 1: Roland White and his band perform at 9 p.m. at the Station Inn in Nashville, Tenn.
* Oct. 29-31: Margaret Kerry is a special guest for the Fanboy Expo in Knoxville, Tenn. For more info, visit www.fanboyexpo.com.
*

Oct. 30: 33rd Annual Uncle Jesse Big Bass Classic (founded by Denver Pyle) at Pat Mayse Lake in Paris, Tex.  The event helps raise funds for Denver Pyle's Children's Charities, which remains very active in the Paris community. For info, visit the event's page on Facebook.
* Oct. 31-Nov. 6: POSTPONED by pandemic (again) until 2022.  See new listing below.  Clint Howard is the special guest for Mayberry Cruise 15, which was postponed with a few tweaks from its original dates in 2020.
***
* Nov. 5-7: Margaret Kerry is a special guest for the Fanboy Expo in Columbus, Ohio. For more info, visit www.fanboyexpo.com.
.
* Nov. 26: Roland White and his band perform at 9 p.m. at the Station Inn in Nashville, Tenn.
* Dec. 18: Roland White and his band perform at 9 p.m. at the Station Inn in Nashville, Tenn.
.
.
.
***
2022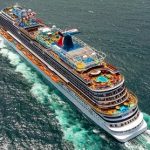 Oct. 23-29: Clint Howard is the special guest for Mayberry Cruise 15, which was postponed with a few tweaks from its original dates in 2020 and just recently again in 2021 because of the pandemic.
This cruise, now to be on Carnival's Horizon, will depart from Miami and travel to the Caribbean with ports of call in Grand Cayman, Ocho Rios and Cozumel. Rates (including all taxes) start at $625 per person.
For info, contact Sharon Euliss of All About Cruises at PWESJE@aol.com or call her at (336) 538-4926.
**** News of Cast & Crew ****
Ron Howard is busy with the post-production phase of Thirteen Lives after completing principal filming in Australia. The movie is currently set for release next April.
Ron is also still filming a documentary about chef José Andrés and his World Central Kitchen charity.
And all of Mayberry eagerly awaits Ron and brother Clint Howard's memoir, The Boys, which will be published on October 12 and is getting tremendous advance buzz. (And yes, Weaver's will be stocking "very special" copies of the book!) We'll have much more about the book in our October issue.
Margaret Kerry has been active on the book trail as well, including a stop in Leland, N.C., in June. Margaret's Tinker Bell Talks--Tales of a Pixie-Dusted Life was published in 2016. (She'll be back at Mayberry Days® this fall, with books available.)
On June 25, Betty Lynn greeted fans and signed autographs at the Andy Griffith Museum for the first time in almost 18 months. The session came together with just a day's notice and was limited to 1oo lucky fans.
Part of the impetus for the semi-impromptu meet-and-greet event was that Ted Koppel and a film crew from CBS's Sunday Morning show were in Mount Airy that week working on a story about the effects of the pandemic, while also sort of taking the pulse of the Mayberry world about various issues. The story is expected to run later this summer. Stay tuned...literally!
The Sunday Morning crew was able to get some good footage of Betty with Koppel and fans. The occasion provided a test run for Betty possibly resuming, at least on a limited basis, regular sessions at the Museum in months ahead.
Maggie Peterson Mancuso reports that she is getting stronger and feeling better as she continues to recover from surgeries during the last few years. She has settled into comfortable new quarters in Las Vegas.
While long-distance travel is still not on the immediate horizon for Maggie, she has been able to go see husband Gus perform his weekly gig at The Bootlegger. It'll be a happy day when Maggie is able to once again join him onstage to perform a few tunes together!
In the meantime, Weaver's is honored to be partnering with Maggie and her family for the fundraiser involving some of Maggie's memorabilia. (See the Maggie Peterson Collection described in our Merchandise section above.)
Karen Knotts has been doing some comedy shows in the L.A. area this summer, but is mainly gearing up for the publication of her memoir, Tied Up in Knotts--My Dad and Me, on Sept. 21 (the Tuesday of Mayberry Days®  week). Karen will have books at Mayberry Days®, and Weaver's will also be offering autographed copies as well.
That's a wrap for News of Cast & Crew for this issue.
Post-production for the Mayberry Man movie, written and directed by Stark Howell and produced by Cort Howell (both sons of Hoke Howell, aka Mayberry's Dud Wash) and co-produced by Greg Schell (son of Ronnie Schell), is complete. The film is ready for audiences! The focus is now on distribution in order to allow as many people as possible to get to see the movie. Toward that end, three VIP Red Carpet Screening Events are planned in September. This first trio of screenings will be exclusively for backers and others involved in the production of the film.
The first of these private premiere screenings will be at the Royal Theater in Danville, Ind., on September 4. It will be followed by a West Coast premiere at Laemmle Theatre in Newhall, Calif., on September 13 and then the East Coast premiere at Creekside Cinemas in Mount Airy, N.C., on September 24, the Wednesday of Mayberry Days® week.
There will likewise be a private (again invitation only) screening available online for one day only (September 28, the Tuesday after Mayberry Days®) and also only for backers. (Being a backer has its privileges!) The plan is for the movie then to be available for general audiences in selected theaters beginning in October.
The producers are forgoing the usual method of distribution to theaters, which typically involves making a deal with an official distributor. In true Mayberry fashion, the Mayberry Man team has chosen instead to depend on positive word of mouth to get their movie into those theaters where moviegoers want to see it. So, if you would like to see Mayberry Man come to a theater near you, be sure to let your favorite theater know.
**** Mayberry on the Web ****

The iMayberry Community
This TAGSRWC online group is organized and overseen by webmaster Allan "Floyd" Newsome with big help from Keith "Col. Harvey" Brown. You can check out the fun of this online community and sign up for free at: http://imayberrycommunity.com.
The iMayberry Community complements our other online activities, including our main www.imayberry.com page, podcasts, Facebook pages, online newsletters (such as The eBullet), weaversdepartmentstore.com and chat rooms.
"Two Chairs, No Waiting" is our weekly podcast of TAGS news, interviews and pretty much whatever happens to be going on in and around Mayberry. It's hosted by Allan Newsome.
There's a new episode every Tuesday (and you can watch and listen live during tapings on Monday evenings). As of this week, there have been 646 episodes since Allan started doing the podcast in 2008! Past episodes are in an online Archives in case you want to listen to or view classic installments you've missed.
And you'll also find links on the podcast's regular web page which includes another outstanding Mayberry-related podcast: Burke on Mayberry (hosted by TAGSRWC's Kevin Burke).
.
TAGSRWC's official page on Facebook is now hovering around 250,000 Followers. You can find us at www.facebook.com/tagsrwc. If you haven't already dropped by the page, we hope you'll check it out sometime when you have the chance. We invite you to become a TAGSRWC Facebook Friend!
We also have links in our "Liked by this Page" section to the pages of several TAGSRWC chapters on Facebook (including the Gomer and Goober Pyle Comic Book Literary Guild), as well as to Facebook pages of Mayberry Days®, the Andy Griffith Museum, TAGS actors and others.
Even Ben Weaver has his own Facebook page at www.facebook.com/weaversdepartmentstore.  It features all the latest in Mayberry items and merchandise news.
And TAGSRWC has a growing presence on www.MeWe.com. Mayberry's pioneering outpost on MeWe is "Sittin' on a Velvet Pillow" chapter, headed up by Lynn Thomas. That group was followed in close order by Allan Newsome and the "Two Chairs, No Waiting" Podcast and "The Andy Griffith Show--Big," administered by Myron Clark and an able crew.
In case you're not familiar with MeWe, it's similar to Facebook. It's just smaller and a bit calmer. It has no ads. So, it's more like a quiet street like Willow or Woods Way as opposed to the hustle and bustle of Main Street in downtown Mayberry. ("You're on my foot! You're on my foot!") So, if you're looking to "relax, slow down, take it easy," check out some of the TAGSRWC groups on MeWe.
***
   **** Post Note ****
Between issues of our Weaver's Newsletter, keep up with the happenings in Mayberry with the daily "Who's Been Messin' Up the Bulletin Board?" Digest. It's a free subscriber list that consists entirely of comments, news flashes, and questions and answers from subscribers. You can sign up for that list by going to the "Mailing Lists" link at www.tagsrwc.com.
TAGSRWC also publishes The eBullet in alternate months to Weaver's Newsletter. The eBullet is the online successor to our longtime printed newsletter, The Bullet. Like Weaver's Newsletter, The eBullet is free. It includes some of the same news as Weaver's Newsletter, but generally with more features and depth and a little less emphasis on merchandise news. To sign up, go to: www.tagsrwc.com/ebullet.
TAGSRWC's other main vehicle for Mayberry information is simply our website at www.tagsrwc.com (and its "brother figure" site www.iMayberry.com). Both sites have extensive content and links for just about everything a Mayberry fan might be looking for.
The next issue of Weaver's Newsletter is slated for October, and the next eBullet is scheduled for September.
***
.
***
Printer Friendly Version