An Online newsletter of
"The Andy Griffith Show" Rerun Watchers Club (TAGSRWC)
Welcome to the June Weaver's Newsletter!
After many months of just quietly cruising along, things are finally starting to get busy around Mayberry again. Several Mayberry events have already taken place since our last issue, and a bunch more are on the horizon through the summer and into the fall.  (See Floyd's Event Calendar below. And the calendar is continually being updated as new events are confirmed. You can always find it online at www.imayberry.com.)

We also have some new items at Weaver's since the April Weaver's Newsletter, including a new Mayberry print and a short-sleeved version of our popular Loaded Goat T-shirt.
And there's lots of other news in this issue, sadly including the passing of three prominent TAGS actors.
But Ben Weaver likes to always start with his merchandise news, so we'll get right to that before moving to other happenings around Mayberry.
.
***.
**** Merchandise Update ****
You can always find a wide variety of Mayberry-related items at your fingertips online at TAGSRWC's Weaver's Department Store. If you're looking for gifts for Father's Day, graduations or weddings, Weaver's Mayberry well have just what you're looking for. And don't forget to look for something for yourself, as well. After all, we're pretty sure you've got a birthday coming up within the next year!
Here are some of our newest items at Weaver's, and also some others that are perennially popular:
New! $9.00*
*Quite the bargain for a miracle!
Ben Weaver knows folks are always looking for a good hand cream, and he thinks he has finally found just the thing to meet your needs. Direct from Mt. Pilot, this 2-ounce jar of handmade Miracle Salve will most certainly help those whose hands are "dry as dust."
Mr. Weaver was told by Barney that this salve may be good for "poison ivy, athlete's foot, prickly rash, the complexion, spring itch and crow's feet." He also said that Dr. U.T. Pendyke, D.V.M., prefers it to Molly Harkin's Mange Cure.
NOTE: Available only while supplies last!**
Weaver's Dept. Store cannot confirm all the claims made about this incredible product of nature and science, but we can say it is a wonderful all-natural cream. Just look at all the good stuff it's made from:
Ingredients: Shea Butter, Glycerin, Vitamin E, Mineral Oil, Sunflower Oil, Soluble Collagen, Stearyl Alcohol, Aloe, Wheat Germ Oil, Elastin, Coconut Oil, Parsley, Lavender Fragrance.
Disclaimer: The Miracle Salve Company's offer for a chance to Win That Pony has expired.
***
NEW! $19.00-$25.00
Let's face it--this very latest T-shirt lets you use your imagination to see some of Mayberry's favorite townsfolk. Even without any faces showing, these shirts are sure to turn heads as people have fun recognizing their Mayberry friends.
This design comes in both short sleeves and long sleeves, with the short-sleeved shirts available in three colors (gray, military heather green and pink) and the long-sleeved shirts available in two color choices (gray and Carolina blue). Most are 100% cotton, but two colors have some polyester (see the descriptions on the Weaver's website).
.
As we're all able to slowly start getting out and about more often, we're going to need something to carry stuff in more than ever. Fortunately, Weaver's has the answer with three styles of awesome Tote Bags.
Our totes come in two sizes (16 in. x 16 in. and 18 in. x 18 in.) and three designs (Barney Face, Lawmen and Fishin' Hole, pictured above) to accommodate a range of function and fashion desires.  (Ernest T. uses his for carrying rocks. He calls his bags "pokes," and we won't argue with him, at least not as long as his poke is full of rocks!)
For smaller carrying needs, Weaver's also has zippered Accessory Pouches in the same designs.
If Barney has said it once, he has said it a thousand times: "Zip it! Zip it in the pouch!"
***
Rediscovered! $60.00
This is a work of art that's not one, not two, but three examples of Barney's expressive face. Just looking at each face, you can see (and almost hear) Barney's struggle to say the Preamble to the Constitution. How can that not bring an instant grin to the face of everyone who sees it?
This lithograph by acclaimed artist George Murray was commissioned as an officially licensed "Andy Griffith Show" product around two decades ago. A small stash of lithograph proofs was recently found in storage. This collectable makes the perfect decoration for the discerning home or office!
This 22 in. x 19 in. pencil rendition lithograph depicting three likenesses of Barney is signed by artist George Murray and is printed on 100-lb. acid-free paper. Each is hand numbered as one of only 5,000 created with 500 Artist Proofs. These are the Artist Proofs, one of the Limited numbered 500 Proofs.
Weaver's has a very limited number of these.  A Certificate of Authenticity accompanies each lithograph.
Weaver's also has another lithograph of Barney by George Murray, as well as a couple of wonderful ones of Goober Pyle, which are signed by both George Murray and George Lindsey! See the full lineup of these and other Mayberry artwork in the Art Section at  Weaver's.
***
They (that is, photographers anyway) say a picture is worth a thousand words, so we'll let this photo of Mayberry's Finest ™ bacon, jams and coffee speak for itself.
And there's much more at Weaver's, including books, caps, Goober beanies, Deputy Patches, DVDs, music, posters and tin signs, and both Mayberry Sheriff and Mayberry Deputy badges.
Also, remember that your purchases from Weaver's help support Mayberry events and Mayberry-related charitable causes all year long at locations all around the country. Those sales also help keep our online Mayberry newsletters and communities available to everybody free of charge. As always, thanks for browsing Weaver's!
***
Floyd's

Barbershop

Bulletin

Board


&


Event

Calendar
.
The Andy Griffith Museum, featuring the late Emmett Forrest's amazing collection of Andy Griffith artifacts, is back in full swing just in time for vibrant summer season!
Even with North Carolina's recent easing of pandemic restrictions, for their own safety and the safety of those around them, folks who haven't been fully vaccinated are encouraged to still wear masks when indoors and near others.
For complete updates on operating hours, pandemic safety procedures, or other info, visit the website at www.andygriffithmuseum.org or call (336) 786-1604.
The following information is from our "brother figure" publication, The eBullet:
***
* June 12: Mayberry 101 author Neal Brower kicks off his summer lecture series about TAGS with a discussion of the "Divorce Mountain Style" episode, starting at 2 p.m., in the Andy Griffith Museum Theatre in Mount Airy, N.C. Admission is included with Andy Griffith Museum admission ($8 for adults, $6 for ages 12 and under). Visit www.andygriffithmuseum.org or call (336) 786-1604.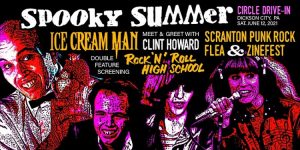 *June 12: Clint Howard is the special guest for the NEPA Horror Film Festival's Spooky Summer Event. He'll be at the Circle Drive-In in Dickson City, Penn., at 3:30 p.m. to greet fans and sign autographs. That will be followed after nightfall by screenings of two of Clint's most iconic films, The Ice Cream Man (not for ice cream lovers) and Rock 'n' Roll High School. For more info, visit this LINK.
* July 17: Mayberry 101 author Neal Brower presents the second installment of his summer lecture series about TAGS with a discussion of the "A Date for Gomer" episode, starting at 2 p.m., in the Andy Griffith Museum Theatre in Mount Airy, N.C. Admission is included with Andy Griffith Museum admission ($8 for adults, $6 for ages 12 and under). Visit www.andygriffithmuseum.org or call (336) 786-1604.
.
.
* July 31: Roland White and his band perform at 9 p.m. at the Station Inn in Nashville, Tenn.
*Aug. 14: Mayberry 101 author Neal Brower presents his final summer lecture about TAGS with a discussion of the "Goober and the Art of Love" episode, starting at 2 p.m., in the Andy Griffith Museum Theatre in Mount Airy, N.C.  Admission is included with Andy Griffith Museum admission ($8 for adults, $6 for ages 12 and under). Visit www.andygriffithmuseum.org or call (336) 786-1604.
P.S. Also be sure to check out Neal's  Professor Brower's Lecture during Mayberry Days® on September 25. It's always a highlight of the festival!
* Aug. 27: Roland White and his band perform at 9 p.m. at the Station Inn in Nashville, Tenn.
***
* Sept. 20-26: 32nd Annual Mayberry Days® in Mount Airy, N.C. Special Guests confirmed so far include Betty Lynn (Thelma Lou), Rodney Dillard (guitar-playing Darling boy), Margaret Kerry (Bess Muggins and Helen Scobey), Ronnie Schell (two episodes of TAGS and also Duke Slater on "Gomer Pyle, U.S.M.C."), Karen Knotts (daughter of Don) and Bettina Linke (wife of Richard O. Linke, associate producer of TAGS and also longtime personal manager of Andy Griffith and many others with Mayberry connections).
Tickets are already available HERE for some concerts and presentations, including Collin Raye (actually on Sept. 18, the Sat. before Mayberry Days® week), two shows (one as part of the banquet for the Mayberry Days® Golf Tournament) by T. Graham Brown, The Doug Dillard Tribute Show by The Dillards featuring Rodney Dillard, Professor Brower's Lecture with Neal Brower,  Tim White and Troublesome Hollow's "Tribute to Mayberry," Allen Leath's "Mayberry Melodies," Michael Hoover's "Memories of Elvis," and Colonel Tim's Talent Time.
Other concert highlights during the week include The Embers featuring Craig Woolard, Legacy Motown Revue, The Band of Oz, and James Gregory ("The Funniest Man in America").
Much more TBA, but for now, other than these first confirmed presentations, just  mark your calendar and be sure to check back for updates.
* Oct. 1: Roland White and his band perform at 9 p.m. at the Station Inn in Nashville, Tenn.
***
*

Oct. 30: 33rd Annual Uncle Jesse Big Bass Classic (founded by Denver Pyle) at Pat Mayse Lake in Paris, Tex. The event helps raise funds for Denver Pyle's Children's Charities, which remains very active in the Paris community. For info, visit the event's page on Facebook.
***
* Oct. 31-Nov. 6: Clint Howard is the special guest for Mayberry Cruise 15, which was postponed with a few tweaks from its original dates in 2020. This cruise aboard Carnival's Freedom will depart from Miami and travel to the Eastern Caribbean with ports of call in Princess Cays in the Bahamas, Grand Turk, and Amber Cove, the new Carnival-owned village in the Dominican Republic.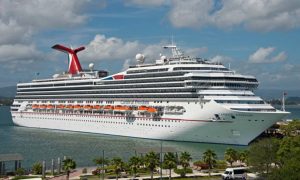 Rates (including all taxes) start at $625 per person.
For info, contact Sharon Euliss of All About Cruises at PWESJE@aol.com or call her at (336) 538-4926.
.
..
* Nov. 26: Roland White and his band perform at 9 p.m. at the Station Inn in Nashville, Tenn.
.
* Dec. 18: Roland White and his band perform at 9 p.m. at the Station Inn in Nashville, Tenn.
.
***
**** News of Cast & Crew ****
Ron Howard is well underway with filming of Thirteen Lives on Australia's Gold Coast. The movie about the 2018 cave rescue of a Thai boys soccer team stars Golden Globe winner Colin Farrell, three-time Oscar nominee Viggo Mortensen and Golden Globe nominee Joel Edgerton.

In addition to his directing duties, Ron has, by Ernest T.'s last count, a gazillion projects in the works as a producer or executive producer for his various divisions of Imagine Entertainment. One that's coming out soon is the documentary about the origin of "Peanuts" (see photo at right) for the Apple+ streaming service.
And Mayberry is still abuzz about Ron and brother Clint Howard's memoir, The Boys, which will be published in October. We'll have much more about that closer to the publication date.
.
Jackie Joseph (Romeena) says that she's healing from a recently cracked rib. We didn't ask, but we hope the injury was from the famously jovial Jackie having a hearty laugh about something!
Keith Thibodeaux (Johnny Paul Jason) and Margaret Kerry (Bess Muggins and Helen Scobey) each enjoyed safe and successful participation in the annual Missouri Cherry Blossom Festival in late April.
Reeling in Mayberry
Post-production for the Mayberry Man movie, written and directed by Stark Howell and produced by Cort Howell (both sons of Hoke Howell, aka Mayberry's Dud Wash) and co-produced by Greg Schell (son of Ronnie Schell,) is all but complete at this point. There's just the fine-tuning and tweaking left to do.
The original plan was for the world premiere to be in Danville, Ind., around mid-May in order to coincide with the annual Mayberry in the Midwest festival, but, as was the case last year, that festival was again not held this year because of the pandemic.
Plan B was May 15th's  gala fundraiser, which was held at the former Indiana Governor's Mansion in Indianapolis and whose attendees included Karen Knotts and many of the movie's cast and crew. (The fundraiser was a huge success!)
.
The Howell brothers are working out the details for the film's distribution. Until the specifics of any distribution deal are finalized, there won't be any screenings that are open to the public. But there are some private premieres planned in September for donors and other participants.
The first premiere will be in Danville, Ind., during the weekend of Labor Day. It will be followed by a West Coast premiere in Los Angeles in mid-September and an East Coast premiere in Mount Airy, N.C., the week of Mayberry Days® (September 22-26). There will also be a private VIP online screening in October. Stay tuned for updates on the movie's progress as the production is now getting really close to the finish line!
Meanwhile, for those on Facebook, here's a link to the official trailer for Mayberry Man.
And with that, that's a wrap on our News of Cast & Crew for this issue..
***
Mayberry In Memoriam
We're very sad to report the passing of three actors who made significant contributions to Mayberry: Josie Lloyd, Gavin MacLeod and Arlene Golonka.
Memorial tributes to Josie Lloyd and Gavin MacLeod are below. In honor of Arlene Golonka and her two episodes of TAGS and 49 episodes of "Mayberry R.F.D.",  we've created a Special Edition of The eBullet: Remembering Arlene Golonka.
Please click HERE for the link to that tribute.  (Or you can also always find it by clicking the Special Editions subhead in any edition of The eBullet.)
So, click the link above for the special tribute to Arlene, and continue to read below for our salutes to Josie Lloyd and Gavin MacLeod.
.
.
***
.
Remembering Josie Lloyd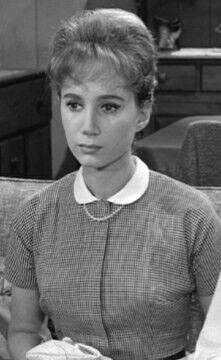 Josie Lloyd
1940-2020
This posthumous tribute to Josie Lloyd is destined to be the most unusual one that we've ever published. We typically like to present detailed, verified facts and lifetime highlights in our memorial salutes to members of the TAGS cast and crew. In the case of Josie Lloyd, there simply isn't as much confirmed information available as we would like to have. In a way, that's fitting for an actress who played such inscrutable characters in Mayberry.
For starters, Josie's death wasn't even reported by virtually any news media until her 2020 passing was mentioned in a couple of obituaries for her father, Norman Lloyd, the Hollywood legend who died on May 11 of this year at the age of 106. Later reports have listed August 30, 2020, as the date Josie died, but we haven't verified that date with a reliable source
Here's what we do know about Josie. She was born Susanna Josephine Lloyd to showbiz parents Peggy and Norman in New York in May 1940. According to Norman Lloyd, she was named Susanna after Shakespeare's daughter. Her family, later including younger brother Michael, called her Susie.
Probably at least in part to avoid confusion with actress Suzanne Lloyd, she chose to go by Josie Lloyd in her professional life. (To avoid confusion for Mayberry readers, we'll stick with calling her Josie, as that's the name most fans know.)
As her father commuted to Hollywood to make movies in the early 1940s, Josie spent her earliest years in New York with her mother. The family eventually moved to Los Angeles in 1944 while Peggy was still pregnant with Michael.
.
In her teens, Josie was able to observe and learn from her father on theater stages and film sets where he worked as an actor, director or producer.
Josie's first known film credit was as Vera Carson in a 1959 episode of "Alfred Hitchcock Presents," for which her father was associate producer. She also landed a small role in each of the next two seasons of the series, including in  the "Burglar Proof" episode, which starred future Mayberryian Paul Hartman.
Josie had two small roles in 1960--in the movie Studs Lonigan (notable for providing an early role for Jack Nicholson) and in the mostly forgotten "This Man Dawson" TV series in an episode with Amzie Strickland and Keith Andes, future guest actors on TAGS..
The remainder of Josie's filmed acting work that has been documented was in television. She appeared in one episode each of "My Three Sons," "Route 66" (both in 1962), "Channing" (1964),  "The Long, Hot Summer" (1965, with TAGS actors Nancy Malone and Paul Bryar) and "The Occasional  Wife," her last filmed role as Miss Efficiency in an episode also featuring Mayberry alums Parley Baer and Claudia Bryar.
Josie had a prominent role in "The Old Man in the Cave," a 1963 episode of "The Twilight Zone." And she had a featured role as a cowboy's desperately pregnant wife in "Be Not Forgetful of Strangers," a 1962 episode of "Have Gun--Will Travel."
.
With her father as producer and later executive producer, Josie landed good roles in an episode in each of the three seasons of "The Alfred Hitchcock Hour," in which she would cross paths with fellow character actors with Mayberry ties, including Bill Challee, Doodles Weaver and Jonathan Hole.
.
Josie had her only known recurring role outside of Mayberry when she played a nurse in five episodes of "Dr. Kildare" during its first three seasons. She was an unnamed nurse's aide in the first season, and she played Nurse Roth in her four episodes during the second and third seasons.
Josie also appeared as three different characters in the last two seasons of  "The Farmer's Daughter," which included a chance to work with Mayberry's Aneta Corsaut and to work with future TAGS guest actors Herbie Faye and Don Keefer, a virtual acting chameleon in his two Mayberry roles.
Josie's "Farmer's Daughter" episode with Aneta Corsaut ("Katy by Midnight") had interesting timing because it originally aired on February 5, 1965, just four days after the original broadcast of "Goober and the Art of Love," which was their only TAGS episode together.
And it is indeed for her four episodes of TAGS that Josie is most remembered--even revered. In the first season of the series, Josie was pitch perfect as Mayor Pike's off-key daughter Juanita in "Mayberry Goes Hollywood" and as his forlorn daughter, now named Josephine, three episodes later in "The Beauty Contest."
.
(We can only speculate that the name change from Juanita to Josephine was maybe due to a lack of great concern about the consistency of her name by the writers. Or possibly somebody just preferred to use Josie's real name of Josephine. Or perhaps it was even somebody's prescient effort to avoid eventual confusion with Juanita, Barney's unseen waitress friend, who would be mentioned for the first time later in the first season.)
.
But it is for her portrayal of Lydia Crosswaith in "Barney Mends a Broken Heart" in the third season and especially in the fifth season's "Goober and the Art of Love" that Josie Lloyd is forever immortalized in Mayberry lore.
.
Josie's hilariously stoic demeanor and masterful monotone delivery of her brilliant "ordinary conversation" are permanently etched in the memory banks of Mayberry fans, just as her earlier rendition of "Sweet Afton" is, for better or worse, the only version of that standard that most of us usually hear in our mental soundtrack.
Records indicate that, during at least part of the era that she worked on TAGS,  Josie lived in an apartment in West Hollywood. Josie's career in front of the camera apparently ended in 1967, and confirmed facts about her life after that time are elusive. There are references to her being a director, but we've not found any validated credits for either film or stage.
Josie married Michael Gruen at some point in the 1960s. Given the coincidence of timing, it's possible that Josie's marriage and her becoming a mother were connected to her retirement from performing. In 1967,  the couple had a daughter, Madeleine Michael Gruen, who was married in 2002, was a noted terrorism analyst (including a stint with the N.Y.P.D.), had a son, and, in September 2015, by then a single mother, sadly died of breast cancer.
After her marriage to Michael Gruen ended, Josie married legendary puppeteer Bil Baird (his fourth marriage) in 1974. It's possible that at least a portion of Josie's purported directing career had to do with some of his later puppeteering. At the very least, Josie worked as a puppeteer with her husband in  a 1975 production of Alice in Wonderland. The couple divorced in 1984.
About 25 to 30 years ago, TAGSRWC attempted to make contact with  Josie--just to let her know how much fans loved her Mayberry portrayals. We also hoped that she might be open to attending one of the Mayberry cast reunions that were entering their heyday around that time. The dream of getting Lydia and Goober together again was like Mayberry catnip for fans. (George Lindsey also agreed that a Goober-Lydia reunion would be a noteworthy achievement.)
We knew that Josie was extremely private and did not encourage contact with fans. She was even known to be somewhat distant from members of her own family. But through sources and methods that would make the CIA's dead-drops look like child's play, we secured her home phone number from a high-level contact.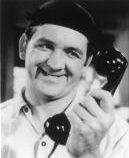 When we called the number, we predictably got Josie's answering machine (in the days before today's style of remote voicemail became dominant). We left our phone number and an un-pushy message expressing our admiration for her Mayberry work and the keen interest by fans in having her attend an event sometime.
We were hopeful for a response, but we weren't surprised when we received none. We later learned that Josie had received the message, was very much aware of TAGSRWC and had no interest in any additional contact. We respected her wishes and made no further official attempts to connect with her.
Josie's reluctance to have unsolicited contact from strangers might have stemmed in part from Bil Baird and her receiving threatening phone calls in the late 1970s from callers who confused Bil Baird with William R. Baird, a noted abortion rights advocate who lived in their general vicinity. "We've lived with this for many years," Josie told The New York Times at the time. That remark from November 1979 constitutes the last documented words from Josie that we have found so far.
.
If we confirm more information about Josie Lloyd's career and life, we'll update this story. (We have sent queries to some folks who might be able to shed further light.) With luck, we may even be able to expand this modest tribute into a fuller feature about this beguiling enigma whose performances in Mayberry and elsewhere continue to delight viewers.
At the time of her passing in 2020, Josie Lloyd was survived by her father Lloyd (now deceased), brother Mike and her grandson.
Echoing Juanita Pike (and with apologies to poet Robert Burns), we say a fond farewell to Josie Lloyd with these sentiments...
Flow gently, sweet Afton, among the green braes,
Flow gently, I'll sing thee a song in thy praise;
Our Josie's asleep by thy murmuring stream,
Flow gently, sweet Afton, disturb not her dream.
.
***
Remembering Gavin MacLeod
Gavin MacLeod, who played two memorable roles in TAGS, died at his home in Palm Desert, Calif., on May 29, at age 90.
Gavin played the bank robber (alias Gilbert Jamel) posing as a film director in "TV or Not TV" in the fifth season. A few episodes later, early in the sixth season, he then played actor Bryan Bender in "The Taylors in Hollywood."
Because Bryan Bender was playing Andy Taylor in the Sheriff Without a Gun movie, Gavin has the distinction of being the only actor besides Andy Griffith to play Andy Taylor on TAGS.
Just prior to his first appearance on TAGS, Gavin played conman Fred Fay in "Dance, Marine, Dance," a first-season episode of "Gomer Pyle, U.S.M.C."
.
Gavin MacLeod was born Allan George See, the first child of parents Margaret (who had worked for Reader's Digest and at a bank) and George (an electrician and gas station owner) in Mount Kisco, N.Y., on February 28, 1931. The birth of brother Ron three years later would complete the young family. Sadly, George See, who struggled with alcoholism, died of cancer in 1945, at age 39, when Gavin was only 14.
Gavin was raised in nearby Pleasantville, about an hour's drive north of New York City. Gavin attended Pleasantville High School, where he played football and performed in plays. He was graduated in 1947 and received a scholarship to Ithaca College in upstate New York. He earned his bachelor's degree in Fine Arts in 1952.
Gavin had started acting when he was four years old. He was smitten by the audience's positive reaction to his performance in a play. While at Ithaca, he studied drama with Beatrice MacLeod, whose last name he later borrowed for part of his stage name. (His first name was taken from someone he had seen on television.) He later said that he felt that the name Allan didn't sound strong enough and that See was too confusing for a last name.
Following his graduation from college, Gavin joined the Air Force, for which he helped put on plays and other entertainment. After the Air Force, he worked odd jobs, including as a janitor and as both an elevator operator (for $36 a week) and an usher at Radio City Music Hall, where he met first wife Joan "Rootie" Rootvik, a Rockette. They married in 1955 and had four children (Keith, Julie, David and Meghan).
Gavin's talent and perhaps his elevator and usher connections paid off when, in 1956, he made his first appearance on Broadway in A Hatful of Rain at the Lyceum Theatre. Both he and Steve McQueen were replacements for original cast members.
Encouraged by his success on Broadway, Gavin decided to join the waves of actors who had been heading to Hollywood. Though he returned to Broadway for a short stint in The Captains and the Kings in 1962 (the show had toured the country but, despite a top-notch cast, closed after its first week on Broadway), Gavin generally stayed focused on his film career and doing California-based theater.
As a stout man in his twenties, Gavin, who also had become largely bald while still in college and therefore looked years older than his actual age, was almost always cast as a heavy. To try to get additional and more diverse parts, Gavin started wearing toupées, the first of which he bought secondhand, because he couldn't afford a brand new one.
The hairpiece seemed to help. Gavin worked in a few films and many top television shows in the late 1950s and into the early 1960s. His first credited movie role was as a bully detective in the prison film I Want to Live! in 1958. (Susan Hayward won an Oscar for her starring role.)
Among the TV shows were "The Thin Man," "Peter Gunn," "Mr. Lucky," "Dr. Kildare," "Death Valley Days," "Perry Mason," "The Dick Van Dyke Show" (his first time working with Mary Tyler Moore) and several episodes of "The Untouchables." His biggest movie of that era was 1959's Operation Petticoat, starring Cary Grant and Tony Curtis. Gavin played Ernest Hunkle.
That role prepared Gavin well for his steadiest role to date, when he played Joseph "Happy" Haines in 73 episodes of the hit series "McHale's Navy." But all was not happy in Gavin's life. Though he was staying busy, the parts, including the one in "McHale's Navy," were generally small and unsatisfying.
.
Because he now had two kids and a mortgage on his new Granada Hills home, he reluctantly accepted the smaller roles and their paydays. Still, his career was not progressing as he had hoped. He was drinking too much and he became so despondent at one point that he even began having suicidal thoughts.
Recognizing that Gavin was not on an even keel, his family and friends, including actor Robert Blake, urged him to seek professional treatment. He followed their advice and asked to be released from his contract with"McHale's Navy" in order to begin to taking better care of his health.
After his time in treatment in 1964, Gavin was able to resume his career with renewed vigor. He worked regularly in theater productions in L.A. and landed guest roles in numerous TV shows, including TAGS and "Gomer Pyle, U.S.M.C." Other credits during that time included "Ben Casey," "My Favorite Martian," "Combat!", three episodes of "The Big Valley," four episodes of "Hogan's Heroes," "Hawaii 5-0," "Ironside" and "The Flying Nun."
Once again finding his seafaring legs, Gavin was reunited with Steve McQueen, his old pal from their Broadway days, in The Sand Pebbles, a hit movie of 1966. He was also in Deathwatch with Leonard Nimoy in 1965.
By this time, Gavin had also joined up with the Words and Music theater company in the San Fernando Valley. Productions included A Funny Thing Happened on the Way to the Forum and High Button Shoes.
Gavin's next big break came with his being cast as TV news writer Murray Slaughter in "The Mary Tyler Moore Show" in 1970. He had originally gone in to audition for the part of Lou Grant, but he didn't feel comfortable being Mary Richards' boss. He persuaded the producers to let him instead audition for her friend and coworker Murray. (He had just finished playing Jigger in a Words and Music production of Carousel, so he already had the sideburns for the part!) It would become Gavin's signature role. That is, at least until "The Love Boat" launched.
.
During the award-winning show's seven seasons, Gavin and Mary Tyler Moore were the only cast members to appear in all 168 episodes. While Mary Tyler Moore, Ed Asner, Ted Knight, Valerie Harper and Cloris Leachman each won Emmys for their roles, Gavin, as would be fitting for Murray, was overlooked by Emmy voters. However, he was twice nominated for a Golden Globe for Best Supporting Actor.
When the WJM-TV newsroom turned off the lights for the last time in 1977, Gavin was not a castaway for long. He signed on as Capt. Merrill Stubing for what would be the most successful cruise of his career aboard "The Love Boat."
.
The highly rated, if not critically acclaimed, show, whose crew included many old hands on deck from TAGS (writers Art Baer, Ben Joelson, Sid Morse and Harvey Bullock and directors Bob Sweeney, Bruce Bilson and Earl Bellamy, just for starters) sailed for 10 seasons and 250 episodes, plus a cross-over episode with "Charlie's Angels," two reunion movies and a sequel series. (Gavin, Bernie Kopell and Ted Lange were the only actors to appear in all sailings of "The Love Boat.") "The Love Boat" and Gavin's role as Captain Stubing remain iconic to this day.
Back on shore, Gavin's personal life had not navigated storms as well. He and wife Rootie had divorced in 1972, early in the run of "The Mary Tyler Moore Show." His first marriage to second wife, singer-dancer-actress Patti Kendig Steele, lasted from 1974 until 1982, when his heavy drinking caused her to divorce him.
After that marital reckoning, Gavin had a true "come to Jesus" awakening. He credited his newfound Christian faith for saving his life and bringing Patti and him back together. They remarried in 1985 and remained together until his passing. They wrote about Gavin's troubles and their faith in their 1987 book Back on Course: The Remarkable Story of a Divorce That Ended in Remarriage. They also hosted faith-based "Back on Course" marriage-counseling shows on both Christian cable TV and Christian radio.
During the last decades of his life, Gavin had only sporadic film roles that weren't related to "The Love Boat"--most notably "Murder, She Wrote," "Touched by an Angel" and a couple of episodes of "The King of Queens." Other selected roles tended to be for faith-based projects. He also enjoyed a long and lucrative tenure as spokesperson for Princess Cruises.
.
.
Gavin continued to perform in selected productions, including Gigi at the Paper Mill Playhouse in Millburn, N.J., in 1996; Lend Me a Tenor at the New Theatre & Restaurant in Overland Park, Kan., in 1998; and Happy Hour at the Coachella Valley Repertory Playhouse in Cathedral City, Calif., in 2015. He also performed in productions of No, No, Nanette and Gypsy (both opposite Kay Ballard). In 2013, his memoir This Is Your Captain Speaking: My Fantastic Voyage Through Hollywood, Faith and Life was published by HarperCollins.

.
Through the years, Gavin endured several health problems, including back surgery, heart attacks, quintuple heart bypass surgery (six is the maximum bypasses before you have to start bypassing the previous bypasses!) and prostate cancer. In later life, he and Patti, content in their faith, enjoyed spending time at their home in Palm Desert, Calif., far from the ocean and Hollywood.
In addition to his wife, Gavin MacLeod is survived by both sons and both daughters from has first marriage, three stepchildren, 10 grandchildren, one great-grandchild and his brother. In accordance with his wishes, his ashes were spread at sea..
.
Gilbert Jamel: "Cut!"
"That's a wrap," Bryan Bender!
"Great story, Murray!"
Bon voyage, Capt. Stubing!
.
**** Mayberry on the Web ****

The iMayberry Community
This TAGSRWC online group is organized and overseen by webmaster Allan "Floyd" Newsome with big help from Keith "Col. Harvey" Brown. You can check out the fun of this online community and sign up for free at: http://imayberrycommunity.com.
The iMayberry Community complements our other online activities, including our main www.imayberry.com page, podcasts, Facebook pages, online newsletters (such as The eBullet), weaversdepartmentstore.com and chat rooms.
"Two Chairs, No Waiting" is our weekly podcast of TAGS news, interviews and pretty much whatever happens to be going on in and around Mayberry. It's hosted by Allan Newsome.
There's a new episode every Tuesday (and you can watch and listen live during tapings on Monday evenings). As of this week, there have been 636 episodes since Allan started doing the podcast in 2008! Past episodes are in an online Archives in case you want to listen to or view classic installments you've missed.
And you'll also find links on the podcast's regular web page which includes another outstanding Mayberry-related podcast: Burke on Mayberry (hosted by TAGSRWC's Kevin Burke). Kevin has added a new episode just this month.
TAGSRWC's official page on Facebook is now hovering around 250,000 Followers. You can find us at www.facebook.com/tagsrwc. If you haven't already dropped by the page, we hope you'll check it out sometime when you have the chance. We invite you to become a TAGSRWC Facebook Friend!
We also have links in our "Liked by this Page" section to the pages of several TAGSRWC chapters on Facebook (including the Gomer and Goober Pyle Comic Book Literary Guild), as well as to Facebook pages of Mayberry Days, the Andy Griffith Museum, TAGS actors and others.
Even Ben Weaver has his own Facebook page at www.facebook.com/weaversdepartmentstore.  It features all the latest in Mayberry items and merchandise news.
And TAGSRWC also has a growing presence on www.MeWe.com. Mayberry's pioneering outpost on MeWe is "Sittin' on a Velvet Pillow" chapter, headed up by Lynn Thomas. That group was followed in short order by Allan Newsome and the "Two Chairs, No Waiting" Podcast and "The Andy Griffith Show--Big," administered by Myron Clark and an able crew.
In case you're not familiar with MeWe, it's similar to Facebook. It's just smaller and a bit calmer. It has no ads. So, it's more like a quiet street like Willow or Woods Way compared to the hustle and bustle of Main Street in downtown Mayberry. ("You're on my foot! You're on my foot!") So, if you're looking to "relax, slow down, take it easy," check out some of the TAGSRWC groups on MeWe.
***
   **** Post Note ****
Between issues of our Weaver's Newsletter, keep up with the happenings in Mayberry with the daily "Who's Been Messin' Up the Bulletin Board?" Digest. It's a free subscriber list that consists entirely of comments, news flashes, and questions and answers from subscribers. You can sign up for that list by going to the "Mailing Lists" link at www.tagsrwc.com.
TAGSRWC also publishes The eBullet in alternate months to Weaver's Newsletter. The eBullet is the online successor to our longtime printed newsletter, The Bullet. Like Weaver's Newsletter, The eBullet is free. It includes some of the same news as Weaver's Newsletter, but generally with more features and depth and a little less emphasis on merchandise news. To sign up, go to: www.tagsrwc.com/ebullet.
TAGSRWC's other main vehicle for Mayberry information is simply our website at www.tagsrwc.com (and its "brother figure" site www.iMayberry.com). Both sites have extensive content and links for just about everything a Mayberry fan might be looking for.
The next issue of Weaver's Newsletter is slated for August, and the next eBullet is scheduled for July.
***
.
Arlo & Janis is drawn by Jimmy Johnson, a co-founder of TAGSRWC's Otis Campbell chapter (Jackson, Miss.). We love it when Jimmy includes winks to Mayberry in his popular syndicated comic strip. And beyond the direct shout-outs to Mayberry, there are Mayberry-ish moments in virtually every installment.
***
Printer Friendly Version