An Online newsletter of
"The Andy Griffith Show" Rerun Watchers Club (TAGSRWC)
Welcome to the April Weaver's Newsletter, our second issue for 2021! With the arrival of springtime and with folks starting to feel the strain of the pandemic finally starting to lift a bit, additional public Mayberry activities are getting scheduled.  There's lots of news from the cast and crew, too.
We're hoping to make up for time celebrating Mayberry that was lost last year with lots of fun activities this year. More and more events are coming back on the calendar virtually every week.
***
.
**** Merchandise Update ****
You can always find a wide variety of Mayberry-related items at your fingertips online at TAGSRWC's Weaver's Department Store. If you're looking for gifts for Mother's Day, graduations or weddings, Weaver's could Mayberry well have just what you're looking for. And don't forget to look for something for yourself, as well. After all, we're pretty sure you've got a birthday coming up within the next year!
Here are some of our newest items at Weaver's, and also some others that are perennially popular:
New! $9.00*
*Quite the bargain for a miracle!
Ben Weaver knows folks are always looking for a good hand cream, and he thinks he has finally found just the thing to meet your needs. Direct from Mt. Pilot, this 2-ounce jar of handmade Miracle Salve will most certainly help those whose hands are "dry as dust."
Mr. Weaver was told by Barney that this salve may be good for "poison ivy, athlete's foot, prickly rash, the complexion, spring itch and crow's feet."  He also said that Dr. U.T. Pendyke, D.V.M., prefers it to Molly Harkin's Mange Cure.
NOTE: Available only while supplies last!**
Weaver's Dept. Store cannot confirm all the claims made about this incredible product of nature and science, but we can say it is a wonderful all-natural cream. Just look at all the good stuff it's made from:
Ingredients: Shea Butter, Glycerin, Vitamin E, Mineral Oil, Sunflower Oil, Soluble Collagen, Stearyl Alcohol, Aloe, Wheat Germ Oil, Elastin, Coconut Oil, Parsley, Lavender Fragrance.
Disclaimer: The Miracle Salve Company's offer for a chance to Win That Pony has expired.
***
NEW! $19.00-$25.00
Let's face it--this very latest T-shirt lets you use your imagination to see some of Mayberry's favorite townsfolk.  Even without any faces showing, these shirts are sure to turn heads as people have fun recognizing their Mayberry friends.
This design comes in both short sleeves and long sleeves, with the short-sleeved shirts available in three colors (gray, military heather green and pink) and the long-sleeved shirts available in two color choices (gray and Carolina blue). Most are 100% cotton, but two colors have some polyester (see the descriptions on the Weaver's website).
Even without faces, this design has an all-star Mayberry lineup that will bring many smiles to faces of fans...like us!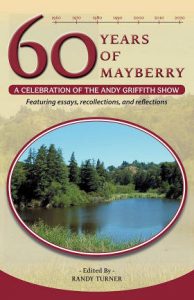 New! $22.00
This collection of essays, recollections and reflections in celebration of the 60th Anniversary of  the debut of TAGS includes writings from:
Dixie Griffith--Andy Griffith's  daughter
George Lindsey Jr.--George "Goober" Lindsey's son
Bruce Bilson--Assistant Director  of  TAGS
LeRoy McNees--Musical guest star on TAGS
Sean  Dietrich--Author and "Sean of the South" podcast creator
* Allan  Newsome--Floyd the barber tribute artist and host of TAGSRWC's "Two Chairs, No Waiting" podcast
Tim Bradshaw--Author and Mayberry fan
Chris Grewe--Pastor  and  devoted TAGS fan
Randy Turner--Author and  Mayberry historian
The 188-page softcover book is filled with wonderful memories from fans, family members of the show's stars, an instrumental performer and a key behind-the-scenes crew member.
* NOTE: If you would like to have Allan Newsome sign your book, as one of the contributors, add a message in the "customer comments" of the shopping cart, and he'll be glad to oblige. 
***
.
As we're all able to slowly start getting out and about more often, we're going to need something to carry stuff in more than ever. Fortunately, Weaver's has the answer with three styles of awesome Tote Bags.
Our totes come in two sizes (16 in. x 16 in. and 18 in. x 18 in.) and three designs (Barney Face, Lawmen and Fishin' Hole, pictured above) to accommodate a range of function and fashion desires.  (Ernest T. uses his for carrying rocks. He calls his bags "pokes," and we won't argue with him, at least not as long as his poke is full of rocks!)
For smaller carrying needs, Weaver's also has zippered Accessory Pouches in the same designs.
If Barney has said it once, he has said it a thousand times: "Zip it! Zip it in the pouch!"
.
Also, remember that your purchases from Weaver's help support Mayberry events and Mayberry-related charitable causes all year long at locations all around the country. Those sales also help keep our online Mayberry newsletters and communities available to everybody free of charge. As always, thanks for browsing Weaver's!
  ***
Floyd's

Barbershop

Bulletin

Board


&


Event

Calendar
.
The Andy Griffith Museum, featuring the late Emmett Forrest's monumental collection of Andy Griffith artifacts, is open!
Please note that the Museum has more than just Barney's Two Rules at The Rock. Bu the good news is that, as of March 26, North Carolina's pandemic protocols now allow for 100% of visitor capacity in museums! However, everyone must still wear a mask (bring your own or come prepared to buy one for $5.35).

For complete updates on operating hours, safety procedures, or other info, visit the website at www.andygriffithmuseum.org or call (336) 786-1604.
The following information is from our "brother figure" publication, The eBullet:
* Apr. 21-25: Keith Thibodeaux (Johnny Paul Jason) and Margaret Kerry (Bess Muggins and Helen Scobey) are among the impressive and diverse lineup of special guests for the 15th Annual Missouri Cherry Blossom Festival in Marshfield, Mo. For the schedule and info about tickets (much of the festival is free), visit www.cherryblossomfest.com.
.
***
.
* May 1: Memories of Mayberry festival in Valley Head, Ala. Allan "Floyd" Newsome is among the entertainers for the full day (9 a.m. to 9 p.m.) of fun for the whole family. There will be a cruise-in, food vendors, live entertainment, door prizes and more. Characters from Mayberry will be featured. All proceeds benefit the Valley Head Volunteer Fire Department. The festival takes place in the downtown square of Valley Head. For more info, visit www.visitlookoutmountain.com/event/memories-of-mayberry.
***
* May 1-28: The Mammoth Month of Mayberry on MeTV. Technically, it doesn't start till May 2, but they're showing The Ghost and Mr. Chicken on May 1's installment of "Svengoolie," so that's a bonus bit of Mayberry with Don Knotts and lots of other Mayberry connections.
All month long, MeTV is highlighting TAGS, "Gomer Pyle, U.S.M.C." and "Mayberry R.F.D." as well as "Matlock" and other TV shows that feature Mayberry actors. ("Matlock" episodes in May will focus on episodes that include Don Knotts and other Mayberry folks, such as Aneta Corsaut, Jack Dodson and writer Everett Greenbaum as Judge Katz.) The Mayberry celebration wraps up on May 28 with Return to Mayberry, the 1986 reunion movie.
There are character theme weeks and much more. For more info, visit this MeTV Month of Mayberry link and check your local listings.
***
* May 15: Karen Knotts is the special guest for a Mayberry Garden Party, a $125/person fundraiser in Indianapolis in support of the upcoming Mayberry Man movie. For more info, visit www.mayberryonmeridian.com/mlpz.
***
.
***
* Sept. 20-26: 32nd Annual Mayberry Days® in Mount Airy, N.C. Special Guests confirmed so far include Betty Lynn (Thelma Lou), Rodney Dillard (guitar-playing Darling boy), and Bettina Linke (wife of Richard O. Linke, associate producer of TAGS and also longtime personal manager of Andy Griffith and many others with Mayberrry connections).
Tickets are already available HERE for some concerts and presentations, including Collin Raye (actually on Sept. 18, the Sat. before Mayberry Days® week), two shows (one as part of the banquet for the Mayberry Days® Golf Tournament) by T. Graham Brown, The Doug Dillard Tribute Show by The Dillards featuring Rodney Dillard, Professor Brower's Lecture with Neal Brower,  Tim White and Troublesome Hollow's "Tribute to Mayberry," Allen Leath's "Mayberry Melodies," Michael Hoover's "Memories of Elvis," and Colonel Tim's Talent Time.
Other concert highlights during the week include The Embers featuring Craig Woolard, Legacy Motown Revue, The Band of Oz, and James Gregory ("The Funniest Man in America").
Much more TBA, but for now, other than these first confirmed presentations, just  mark your calendar and be sure to check back for updates.
***
* Oct. 31-Nov. 6: Clint Howard is the special guest for Mayberry Cruise 15, which was postponed with a few tweaks from its original dates in 2020. This cruise aboard Carnival's Freedom will depart from Miami and travel to the Eastern Caribbean with ports of call in Princess Cays in the Bahamas, Grand Turk, and Amber Cove, the new Carnival-owned village in the Dominican Republic.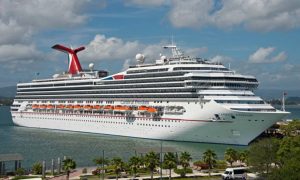 Rates (including all taxes) start at $625 per person.
For info, contact Sharon Euliss of  All About Cruises at PWESJE@aol.com or call her at (336) 538-4926.
***
.

**** News of Cast & Crew ****
Ron Howard is on location in Australia where filming has recently gotten underway for  his current directing project, Thirteen Lives, a film for MGM based on the cave rescue of a boys' soccer team in Thailand, the harrowing event that captivated the world in 2018. Most of the filming will take on the island continent's Gold Coast. The impressive list of actors in the movie includes Viggo Mortensen, Colin Farrell and Joel Edgerton.
For her supporting role as Mamaw in Ron's Hillbilly Elegy, Glenn Close was nominated for a Golden Globe, and last month she received an Oscar nod as well. Hillbilly Elegy has consistently ranked as one of the most-streamed movies on Netflix since its release last fall.
Ron's Imagine Entertainment recently struck a "first look" deal with Apple Studios to produce films for the Apple Original Films, which makes movies for streaming on Apple TV+. Imagine has a similar production deal with Apple Documentaries, and the company has a TV production deal with CBS.
Ron and Imagine partner Brian Grazer are executive producers for Genius: Aretha, a limited series about Aretha Franklin that is the latest edition of their Genius series and that premiered on the National Geographic Channel in March.
For Mayberry fans in particular, the big news from Ron and brother Clint Howard came just this week when publisher William Morrow announced that a memoir by the brothers will be released on October 12.
The book is titled The Boys--A Memoir of Hollywood and Family. It talks about their lives, especially their childhoods, in show business. An emphasis in the book is on the role of their parents, Rance and Jean, in their upbringing and on into adulthood. Bryce Dallas Howard, Ron and wife Cheryl's oldest child, wrote the book's Foreword.
In a statement announcing the book, Ron said, "When our dad passed in 2017, Clint and I began reflecting upon our lives and realized that while our childhoods seemed normal, they were anything but."
He continued, "Who grows up on a soundstage hanging out with Andy Griffith and Don Knotts, or with a trained bear? And what are the ways that particular childhood forever informed the choices I would make as a husband, father and filmmaker? We're excited to share the story of how our parents pulled this off—raising two show-business kids who had no clue that their lives were out of the ordinary while rooting them in a loving, slightly off-beat family."
Clint added, "Mom and Dad's teachings are treasures to this day but I've realized that I took their presence for granted. Writing The Boys with my brother has been the topper of a wonderful lifetime."
If you can judge a book by its cover, then this memoir should be something truly special.  And if you can judge a book by its authors, then there is no doubt!
.
Betty Lynn  (Thelma Lou) continues to be cautious about crowds during the pandemic. She has had both doses of one of the COVID-19 vaccines, but protocols in North Carolina and her own wisdom are keeping her close to home.
The need for caution hasn't kept Betty from still making a big splash this month. She's the subject of the cover story of the April issue of Our America Magazine, the quarterly publication of the Missouri Cherry Blossom Festival. Her featured story was cherry-picked to coincide with the issue that comes out during this month of the actual festival.
Speaking of the Missouri Cherry Blossom Festival (just in case you missed the notice on Floyd's bulletin board above), Margaret Kerry (Bess Muggins and Helen Scobey) and Keith Thibodeaux (Johnny Paul Jason) are among the special guests for the festival being held April 21-25.
Rodney Dillard (the guitar-playing Darling boy) headlined this year's Mayberry & "I  Love Lucy"  Day in Granville, Tenn., on April 10. He was joined by wife Beverly and a local band of pickers. Also on hand were Mayberry tribute artists Allan "Floyd" Newsome, Rick "Barney" Roberts and Bo "Briscoe" Pierce. Lucy & Desi tribute artists also performed.
.
Storms kept the crowd size down early in the day, but didn't dampen spirits (check that jug for mulberry squeezin's!) or hamper the always top-notch show by Rodney and whatever band he has backing him.
Jackie Joseph (Romeena) says that she's healing from a recently cracked rib. We didn't ask, but we hope the injury was from the famously jovial Jackie having a hearty laugh about something!
Ruta Lee, who guest-starred in two episodes of TAGS (as Jean Boswell, aka "that college kid," and as Darlene Mason) and in one episode each of "Gomer Pyle, U.S.M.C." and "Mayberry R.F.D.," has written a memoir, which will be published on April 20. The 284-page book with the cheeky title Consider Your Ass Kissed includes stories and photos from Ruta's legendary film, TV and theater career that spans seven decades.
Ever vivacious and charmingly bold in her directness, Ruta has a wonderful life story to tell, and she knows how to tell it. There's a reason she was a favorite guest of Johnny Carson and other talk-shows! Few actors are as steeped in such a wide and long swath of Hollywood history that also includes memorable times in Mayberry..
There will be no shortage of Mayberry-related reading this year. Tied Up in Knotts-My Dad and Me, a memoir by Karen Knotts (daughter of Don), has been officially announced by her publisher. The plan is for the book to be available in time for Mayberry Days® in September.
Karen is also the special guest for a gala fundraiser for the Mayberry Man movie in Indianapolis in May. (See Floyd's bulletin board above.)
The Mayberry Man movie, written and directed by Stark Howell and produced by Cort Howell (both sons of Hoke Howell, aka Mayberry's Dud Wash) and co-produced by Greg Schell (son of Ronnie Schell), is now in the final stages of post-production work.
The Howell brothers are working out the details for the film's distribution. Until the specifics of any distribution deal are finalized, there won't be any screenings that are open to the public. But there are some private premieres planned in September for donors and other participants.
The first premiere will be in Danville, Ind., during the weekend of Labor Day. It will be followed by a West Coast premiere in Los Angeles in mid-September and an East Coast premiere in Mount Airy, N.C., the week of Mayberry Days® (September 22-26). There will also be a private VIP online screening in October. Stay tuned for updates on the movie's progress as the production is now getting really close to the finish line!
And with that, that's a wrap on our News of Cast & Crew for this issue.
.
***
Mayberry In Memoriam
We're sad to report the passing of actor Kim Tyler, who died at his home in Hollywood Heights, Calif., on February 10, after a lengthy battle with cancer. He was 66.
Kim played Opie pal Billy Gray in the third-season classic "One-Punch Opie" (Episode #77), which was originally broadcast on December 31, 1962.
Beyond Mayberry, Kim is probably best known for his portrayal of Kyle Nash in all 58 episodes of on "Please Don't Eat the Daisies," which aired on NBC from 1965 to 1967. The series had lots of Mayberry connections, including having two dozen of its episodes directed by TAGS directors (10 of those by TAGS assistant director Bruce Bilson).
Kim also appeared in six episodes of "The Adventures of Ozzie and Harriet" and in a memorable episode of both "The Addams Family" and "My Favorite Martian," among other roles.
.
Kim James Tyler was born in Hollywood, Calif., on April 17, 1954. Two years and one day later he made his screen debut in the role of Peter King a "20th Century- Fox Hour" production of "Mr. Belvedere."
Immediately after "Please Don't Eat the Daisies," Kim retired from acting. He then turned his focus to being a musician and videographer. He was also a highly skilled poker player.
Kim is survived by Michelle Dixon, his wife of 42 years. He was buried in Hollywood Forever Cemetery. He will forever live on in Mayberry as beanie-wearing Billy Gray.
Note: According to news accounts, until Kim's passing, "Please Don't Eat the Daisies" was the oldest television series for which the whole core cast was still alive.
.
***
.
**** Mayberry on the Web ****

The iMayberry Community
This TAGSRWC online group is organized and overseen by webmaster Allan "Floyd" Newsome with big help from Keith "Col. Harvey" Brown. You can check out the fun of this online community and sign up for free at: http://imayberrycommunity.com.
The iMayberry Community complements our other online activities, including our main www.imayberry.com page, podcasts, Facebook pages, online newsletters (such as The eBullet), weaversdepartmentstore.com and chat rooms.
"Two Chairs, No Waiting" is our weekly podcast of TAGS news, interviews and pretty much whatever happens to be going on in and around Mayberry. It's hosted by Allan Newsome.
There's a new episode every Tuesday (and you can watch and listen live during tapings on Monday evenings). As of this week, there have been 628 episodes since Allan started doing the podcast in 2008! Past episodes are in an online Archives in case you want to listen to or view classic installments you've missed.
And you'll also find links on the podcast's regular web page which includes another outstanding Mayberry-related podcast: Burke on Mayberry (hosted by TAGSRWC's Kevin Burke).
TAGSRWC's official page on Facebook is now hovering around 250,000 Followers. You can find us at www.facebook.com/tagsrwc. If you haven't already dropped by the page, we hope you'll check it out sometime when you have the chance. We invite you to become a TAGSRWC Facebook Friend!
We also have links in our "Liked by this Page" section to the pages of several TAGSRWC chapters on Facebook (including the Gomer and Goober Pyle Comic Book Literary Guild), as well as to Facebook pages of Mayberry Days, the Andy Griffith Museum, TAGS actors and others.
Even Ben Weaver has his own Facebook page at www.facebook.com/weaversdepartmentstore.  It features all the latest in Mayberry items and merchandise news.
And TAGSRWC also has a growing presence on www.MeWe.com. Mayberry's pioneering outpost on MeWe is "Sittin' on a Velvet Pillow" chapter, headed up by Lynn Thomas. That group was followed in short order by Allan Newsome and the "Two Chairs, No Waiting" Podcast and "The Andy Griffith Show--Big," administered by Myron Clark and an able crew.
In case you're not familiar with MeWe, it's similar to Facebook. It's just smaller and a bit calmer. It has no ads. So, it's more like a quiet street like Willow or Woods Way compared to the hustle and bustle of Main Street in downtown Mayberry. ("You're on my foot! You're on my foot!") So, if you're looking to "relax, slow down, take it easy," check out some of the TAGSRWC groups on MeWe.
***
   **** Post Note ****
Between issues of our Weaver's Newsletter, keep up with the happenings in Mayberry with the daily "Who's Been Messin' Up the Bulletin Board?" Digest. It's a free subscriber list that consists entirely of comments, news flashes, and questions and answers from subscribers. You can sign up for that list by going to the "Mailing Lists" link at www.tagsrwc.com.
TAGSRWC also publishes The eBullet in alternate months to Weaver's Newsletter. The eBullet is the online successor to our longtime printed newsletter, The Bullet. Like Weaver's Newsletter, The eBullet is free. It includes some of the same news as Weaver's Newsletter, but generally with more features and depth and a little less emphasis on merchandise news. To sign up, go to: www.tagsrwc.com/ebullet.
TAGSRWC's other main vehicle for Mayberry information is simply our website at www.tagsrwc.com (and its "brother figure" site www.iMayberry.com). Both sites have extensive content and links for just about everything a Mayberry fan might be looking for.
The next issue of Weaver's Newsletter is slated for June, and the next eBullet is scheduled for May.
***
Did we mention that Mother's Day is coming up?
.
***
Printer Friendly Version