Weaver's Newsletter February 2021
An Online newsletter of
"The Andy Griffith Show" Rerun Watchers Club (TAGSRWC)
Welcome to the February Weaver's Newsletter, our first for 2021! And aren't we all hoping for a better year than 2020! Not that ol' Ben Weaver won't still be grumpy, but that's just Ben being Ben!
**** Merchandise Update ****
Even a curmudgeon like Ben can't help himself from providing lots of great Mayberry items for us fans–including several that are brand new since our last issue.
You can always find a wide variety of Mayberry-related items at your fingertips online at TAGSRWC's Weaver's Department Store.
Here are some of the newest items at Weaver's: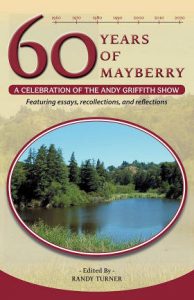 New! $22.00
This collection of essays, recollections and reflections in celebration of the 60th Anniversary of  the debut of TAGS includes writings from:
Dixie Griffith–Andy Griffith's  daughter
George Lindsey Jr.–George "Goober" Lindsey's son
Bruce Bilson–Assistant Director  of  TAGS
LeRoy McNees–Musical guest star on TAGS
Sean  Dietrich–Author and "Sean of the South" podcast creator
* Allan  Newsome–Floyd the barber tribute artist and host of TAGSRWC's "Two Chairs, No Waiting" podcast
Tim Bradshaw–Author and Mayberry fan
Chris Grewe–Pastor  and  devoted TAGS fan
Randy Turner–Author and  Mayberry historian
The 188-page softcover book is filled with wonderful memories from fans, family members of the show's stars, an instrumental performer and a key behind-the-scenes crew member.
* NOTE: If you would like to have Allan Newsome sign your book, as one of the contributors, add a message in the "customer comments" of the shopping cart, and he'll be glad to oblige. 
Mayberry Firsts
A Compendium of Historical Essays on the
Classic Television Series (Revised)

Mayberry Firsts, written by Randy Turner, is a collection of short-form essays. Each essay makes us aware of the "first" time something happened in Mayberry, but it isn't just a checklist of events. Each "first" is used as a springboard to dive deeper into the series and present fun and interesting facts about TAGS in the process.
This completely revised 2nd edition of the softcover book is available just in time for the holidays and includes additional information and more than 20 new photos, all for the same $20 price as the original version.

Have you wondered where the names Mayberry, Opie or Gomer came from? What the names of the Darling boys were as written in the script? Why was Otis written off the series? The answers to these questions and so many more can be found in the 224 pages of Mayberry Firsts.
Also, remember that your purchases from Weaver's help support Mayberry events and Mayberry-related charitable causes all year long at locations all around the country. Those sales also help keep our online Mayberry newsletters and communities available to everybody free of charge. As always, thanks for browsing Weaver's!.
Floyd's

Barbershop

Bulletin

Board


&


Event

Calendar
.
The Andy Griffith Museum, featuring the late Emmett Forrest's monumental collection of Andy Griffith artifacts, is open!
Please note that the Museum has more than just Barney's Two Rules at The Rock. With North Carolina pausing in Phase 3 of pandemic protocols until at least the end of March (and likely beyond), the Museum's Rules include: Only 25 visitors at a time, everyone must wear a mask (bring your own or come prepared to buy one for $5.35), wear gloves if you're planning to use the Museum's touch screens and have a credit/debit card or exact change for payment.
For complete updates on operating hours, safety procedures, or other info, visit the website at www.andygriffithmuseum.org or call (336) 786-1604.
The following information is from "The eBullet": Official E-mail Newsletter of "The Andy Griffith Show" Rerun Watchers Club (TAGSRWC).
* Apr. 10: Rodney & Beverly Dillard are special guests and performers for Mayberry & I Love Lucy Day, in Granville, Tenn. Rodney and Beverly will perform at 11 a.m., 2 p.m., and also as part of the Sutton Ole Time Music Hour at 7 p.m. (which involves getting a ticket for a preceding dinner with seatings at 5:00 p.m. or 6:30 p.m.) Festivities begin with an antique-car Cruise-In at 9:00 a.m. Other guests include tribute artists Allan "Floyd" Newsome, Rik "Barney" Roberts, Bo "Briscoe Darling" Pierce and Lucy and Ricky Ricardo tribute artists. In addition, there will be a presentation about the Ladies of Mayberry at both 11 a.m. and 3 p.m., along with music and other festival activities throughout the day. Granville also has a Mayberry-I Love Lucy Museum that's open for touring year-round. For more info (and dinner/Ole Time Music Hour tickets), visit www.granvilletn.com or call (931) 653-4151.
* July 16-18: 9th Annual Mayberry Meet-Up sponsored by TAGSRWC's "Two Chairs, No Waiting" podcast gathers in Mount Airy, N.C. More details TBA soon (with roughly the same format and casual schedule as last year), so for now just mark your calendar.
* Sept. 20-26: 32nd Annual Mayberry Days® in Mount Airy, N.C. Special Guests confirmed so far include Betty Lynn (Thelma Lou) and Rodney Dillard (guitar-playing Darling boy).
Tickets are already available HERE for some concerts and presentations, including Collin Raye (actually on Sept. 18, the Sat. before the official start of Mayberry Days® week), two shows (one as part of the banquet for the Mayberry Days Golf Tournament) by T. Graham Brown, The Doug Dillard Tribute Show by The Dillards featuring Rodney Dillard, Professor Brower's Lecture with Neal Brower,  Tim White and Troublesome Hollow's "Tribute to Mayberry," Allen Leath's "Mayberry Melodies," Michael Hoover's "Memories of Elvis" and Colonel Tim's Talent Time.
Other concert highlights during the week include The Embers featuring Craig Woolard, Legacy Motown Revue, The Band of Oz, and James Gregory ("The Funniest Man in America").
Much more TBA, but for now, other than these first confirmed presentations, just  mark your calendar and be sure to check back for updates.
***
* Oct. 31-Nov. 6: Clint Howard is the special guest for Mayberry Cruise 15, which was postponed with a few tweaks from its original dates in 2020. This cruise aboard Carnival's Freedom will depart from Miami and  travel to the Eastern Caribbean with ports of call in Princess Cays in the Bahamas, Grand Turk, and Amber Cove, the new Carnival-owned village in the Dominican Republic.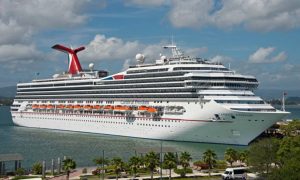 Rates (including all taxes) start at $625 per person.
For info, contact Sharon Euliss of  All About Cruises at
PWESJE@aol.com
or call her at (336) 538-4926.
***
**** News of Cast & Crew ****
Ron Howard was scheduled to be inducted into the Duncan Area Hall of Fame in his hometown of Duncan, Okla., last month, but the gala ceremony has been postponed until next January because of the pandemic.
Meanwhile, Ron is in Australia, where he has completed the country's mandatory 14-day quarantine and is in pre-production for Thirteen Lives, a film based on the famous cave rescue of a boys' soccer team in Thailand. The film is set to begin shooting next month.
Ron also added to his reputation for directing performers in roles that receive award nominations when Glenn Close last week was nominated for a Golden Globe for her performance as Mamaw in Hillbilly Elegy.
Maggie Peterson Mancuso (Charlene Darling) and husband Gus tested positive for COVID-19 last month. Both were hospitalized for treatment with antivirals and other specialized care.
Maggie says her symptoms were fairly mild and that she responded well to the treatments. She was able to return home after a few days. (In early December, she and Gus sold their house and had moved to an assisted living facility.)
Gus's symptoms were more severe and required a longer hospital stay. Maggie reports that Gus is now rehabbing at a skilled care facility after his release from the hospital. Please continue to keep Maggie and Gus in your prayers!
Maggie's GoFundMe page, which Maggie's family has set up to help with some of Maggie's and Gus's significant and uncovered medical expenses, is still active. Maggie and Gus are extremely grateful for all of the generous donations received.
Speaking of big expenditures, a 1966 Austin Mini Moke, owned and loved for five decades by Jackie Joseph and the late Ken Berry and their family, sold at auction last month for $24,200. (Take that, Mrs. Lesch!)
Here are a couple of photos of the classic vehicle, including a recent color shot and one of Jackie and kids John and Jenny in a parade c. 1970.
.
Tied Up in Knotts, the memoirs of Karen Knotts (daughter of Don) has been officially announced by her publisher. The plan is for it to be available in time for Mayberry Days® in September.
George Lindsey Jr. has released a new CD with three songs. (It's not available at our Weaver's Department Store, but  autographed copies of his previous Goobason Sings CD of silly songs are newly available at our online store.)
George also has shared the sad news of the passing of his and sister Camden's mom (George Lindsey's ex-wife), Azasha J. Lindsey of complications from Alzheimer's on August 12. She was 84.
***
Mayberry's About to Get Reel!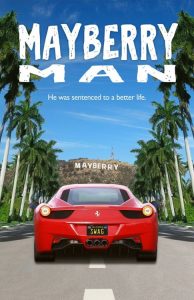 The Mayberry Man movie, written and directed by Stark Howell and produced by Cort Howell (both sons of Hoke Howell, aka Mayberry's Dud Wash) and co-produced by Greg Schell (son of Ronnie Schell), is now in the final stages of post-production work. Stark and his team are pleased with how all the pieces have come together.
Depending on the status of the pandemic and other considerations, initial screenings are planned for this spring. Since the beginning of the project, the announced hope has been for the premiere to be held around mid-May in Danville, Ind., where much of the movie was filmed last summer. Things seem to be still on a good track for that happening. Further avenues of distribution are also being pursued.
That's a wrap on our News of Cast & Crew for this issue. Stay tuned for lots more in 2021!
***
In Memoriam
Mike Fenton

We're sad to report the passing of Mike Fenton, a casting director for TAGS and "Gomer Pyle, U.S.M.C."  He died of natural causes at his home in Los Angeles on December 30. He was 85.
Ronald Michael Fenton was born in Los Angeles in 1935. With an eye on becoming a cinematographer, Mike earned a B.A. degree in Theater and Motion Picture Arts from UCLA  in 1956. His career started in the mailroom at MCA, followed by work as an agent at top talent agencies for a few years. Mike then joined the casting department at Paramount Pictures, where he worked from 1963 to 1965, before leaving to work as an assistant to Sheldon Leonard during the 1965-66 season of TAGS and for the pilot episode of "That Girl."
By the start of the following television season, Mike and business partner Fred Roos were serving as casting directors for TAGS, "I Spy," a few episodes of "Gomer Pyle, U.S.M.C." and other shows in the Sheldon Leonard/Danny Thomas production orbit, including "Accidental Family"  and "Good Morning World." They also worked on "Rango," which starred Tim Conway and was produced by TAGS writers Harvey Bullock and Ray Allen.
Sometimes working together and sometimes dividing casting duties among their many projects (for example, Fred Roos served as solo casting director for the first two seasons of "Mayberry R.F.D."), the dynamic duo of Fenton and Roos were on their way to becoming Hollywood casting legends. Mike also partnered with other casting giants of the last 50 years including Jane Feinberg and Judy Taylor. More recently, he had joined forces in an agency with Ann Frederick.
A partial list of Mike's numerous casting credits includes some of the most notable films for some of the most talented directors of all time, including  Chinatown, American Graffiti, Shampoo, One Flew Over the Cuckoo's Nest, Poltergeist, The Godfather Part II, Norma Rae, A Christmas Story, Back to the Future (and its sequels), E.T. the Extraterrestrial, Raiders of the Lost Ark (and sequels), Beaches, Aliens, Blade Runner, Footloose, History of the World, Part I and Young Frankenstein. Showing the depth of his range, Mike  also helped cast 2014's Sharknado 2: The Second One.
In a statement, Mike' good friend and frequent collaborator Steven Spielberg said, "Working with Mike Fenton was like working in a candy store–he made casting a blast. His fervent support of actors was the stuff of legend, and after landing a part, any actor's smile was rarely as wide as Mike's. He didn't just support actors, he launched crusades. And he was a pretty good actor himself, as he would always read off-camera dialogue to create energy and mojo for the person reading for the part. Much like the actors for whom he advocated, Mike loved his role–and those around him loved him so much, and I will miss him dearly."
In 1982, Mike co-founded the Casting Society of America. In 1989, he received the group's Hoyt Bowers Award for lifetime achievement. His casting work after that recognition could be an entire distinguished career for most people. Casting work after 1989 included Bird on a Wire, Arachnophobia, Total Recall, Chaplin, Honeymoon in Vegas, Dante's Peak and Toy Story, among dozens of others.
Mike was nominated for the CSA's Artios award 11 times and won twice, in 1996 and 2000.
In his spare time, Mike was an avid runner. He even founded a Santa Monica-based running club in the 1980s called Flying Squirrels.
By all accounts, Mike Fenton was more than just highly respected in his profession and personal life. He was genuinely beloved by all who knew him. TAGS fans can be proud that such a talented and nice person was involved in shaping the characters of Mayberry during its later years of filming.
Mike's survivors include his wife, Irene, son Mick from his first marriage to Janet Monfort, who preceded him in death in the 41st year of their marriage, and two grandchildren.
Editor's Note: Mike  received The Bullet and TAGSRWC's subsequent printed fliers for most of the years they were produced through 2015. He had fond memories of working on Mayberry-related shows. And yes, you can be sure that we asked him if he happened to remember who played the elusive Mr. Schwamp. As with the countless others that we've asked, he unfortunately didn't have any information that could help solve that tenacious mystery.
***
We also note the passing of Jim Weatherly, who made a wonderful latter-day contribution to Mayberry. Jim co-wrote "Andy and Opie Christmas" with Charlie Monk, who also performed the recitation. The song has been a holiday tradition among Mayberry fans since its release in 2011. (Note: It's a tranquil listening experience for any time of year!)
Jim died at home in Brentwood, Tenn., on February 3. He was 77. Beyond Mayberry, Jim is best-known for writing "Midnight Train to Georgia, the chart-topping, Grammy-winner for Gladys Knight & The Pips in 1974. His "Neither One of Us (Wants to Be the First to Say Goodbye)" also won a Grammy for the group that same year. He wrote dozens of songs recorded by everyone from Kenny Rogers and Glen Campbell to Ray Price and Garth Brooks.
Fans of Mayberry are grateful for the gem that Jim and his pal Charlie created for us to enjoy for many years to come.
***
**** Mayberry on the Web ****

The iMayberry Community
This TAGSRWC online group is organized and overseen by webmaster Allan "Floyd" Newsome with big help from Keith "Col. Harvey" Brown. You can check out the fun of this online community and sign up for free at: http://imayberrycommunity.com.
The iMayberry Community complements our other online activities, including our main www.imayberry.com page, podcasts, Facebook pages, online newsletters (such as The eBullet), weaversdepartmentstore.com and chat rooms.
"Two Chairs, No Waiting" is our weekly podcast of TAGS news, interviews and pretty much whatever happens to be going on in and around Mayberry. It's hosted by Allan Newsome.
There's a new episode every Tuesday (and you can watch and listen live during tapings on Monday evenings). As of this week, there have been 619 episodes since Allan started doing the podcast just over a dozen years ago! Past episodes are in an online Archives in case you want to listen to or view classic installments you've missed.
And you'll also find links on the podcast's regular web page which includes another outstanding Mayberry-related podcast: Burke on Mayberry (hosted by TAGSRWC's Kevin Burke).
TAGSRWC's official page on Facebook is now hovering around 250,000 Followers. You can find us at www.facebook.com/tagsrwc. If you haven't already dropped by the page, we hope you'll check it out sometime when you have the chance. We invite you to become a TAGSRWC Facebook Friend!
We also have links in our "Liked by this Page" section to the pages of several TAGSRWC chapters on Facebook (including the Gomer and Goober Pyle Comic Book Literary Guild), as well as to Facebook pages of Mayberry Days, the Andy Griffith Museum, TAGS actors and others.
Even Ben Weaver has his own Facebook page at www.facebook.com/weaversdepartmentstore.  It features all the latest in Mayberry items and merchandise news.
And TAGSRWC also has a growing presence on www.MeWe.com. Mayberry's pioneering outpost on MeWe is "Sittin' on a Velvet Pillow" chapter, headed up by Lynn Thomas. That group was followed in short order by Allan Newsome and the "Two Chairs, No Waiting" Podcast and "The Andy Griffith Show–Big," administered by Myron Clark and an able crew.
In case you're not familiar with MeWe, it's similar to Facebook. It's just smaller and a bit calmer. It has no ads. So, it's more like a quiet street like Willow or Woods Way compared to the hustle and bustle of Main Street in downtown Mayberry. ("You're on my foot! You're on my foot!") So, if you're looking to "relax, slow down, take it easy," check out some of the TAGSRWC groups on MeWe.
***
   **** Post Note ****
Between issues of our Weaver's Newsletter, keep up with the happenings in Mayberry with the daily "Who's Been Messin' Up the Bulletin Board?" Digest. It's a free subscriber list that consists entirely of comments, news flashes, and questions and answers from subscribers. You can sign up for that list by going to the "Mailing Lists" link at www.tagsrwc.com.
TAGSRWC also publishes The eBullet in alternate months to Weaver's Newsletter. The eBullet is the online successor to our longtime printed newsletter, The Bullet. Like Weaver's Newsletter, The eBullet is free. It includes some of the same news as Weaver's Newsletter, but generally with more features and depth and a little less emphasis on merchandise news. To sign up, go to: www.tagsrwc.com/ebullet.
TAGSRWC's other main vehicle for Mayberry information is simply our website at www.tagsrwc.com (and its "brother figure" site www.iMayberry.com). Both sites have extensive content and links for just about everything a Mayberry fan might be looking for.
The next issue of Weaver's Newsletter is slated for April, and the next eBullet will be published in March.
***

***
Printer Friendly Version