Weaver's Newsletter December 2020
An Online newsletter of
"The Andy Griffith Show" Rerun Watchers Club (TAGSRWC)
Welcome to the December Weaver's Newsletter, our sixth and final edition for 2020!
After the grueling year we've all had and with some likely even tougher times expected in the months ahead, our being able to have the diversion and comfort of Mayberry in our lives has never been more appreciated.
Even amid all the struggles of 2020, as we close out this 60th Anniversary Year of TAGS, there's still a lot to celebrate in Mayberry and beyond. We have a sleighful of news and happenings from around the world of Mayberry. Because we are Weaver's Newsletter, after all, we'll start with some highlights in store at Weaver's.
****

Merchandise

Update

****
First, an important reminder from our Shipping Department:
*** 

Holiday

 

Shipping

 

Schedule

 ***
For orders received as late as Tuesday, December 15, we'll be shipping for Christmas delivery with our standard flat-rate of $5.00 for shipping & handling.
We'll still be shipping orders for Christmas right on through the week of Christmas, but unless you live really near our shipping HQ in Huntsville, Ala., any orders we receive after December 15th, will require FedEx Overnight Delivery for them to be guaranteed to arrive by Christmas.
PLEASE NOTE: All FedEx charges are in addition to our standard flat rate of $5 for shipping and handling on all orders shipped to the same address. FedEx charges will be added to your order, and you will be required to approve the additional shipping cost in advance.

But why pay extra money to FedEx? Avoid the rush and order now. You won't get a "rude"  from Miss Crump like Ernest T., because this is one time it's perfectly O.K. to go ahead and hurry a bit in Mayberry.
***
You'll find a variety of new Mayberry-related items and best-selling classics online at TAGSRWC's Weaver's Department Store. Add a touch of Mayberry to your gift-giving with the convenience and ease of shopping online at Weaver's.
Ol' Ben Weaver (aka Jan Newsome) has got the shelves at our online Weaver's Department Store all stocked up for holiday shopping. And how!
Here are some holiday gift ideas:
We're really excited to offer some brand new Mayberry's Finest ™ brand products to the popular gourmet coffees and country bacon that Weaver's already carries. We're so fired up that you might even say we're "pickled tink." Did somebody say pickles? Yep, that's right. Somebody finally did it…they're making Mayberry pickles!
Fortunately, these are good ol' store-bought pickles (it even says so right on the label). Delicious hamburger dill chips to put it precisely. We're proud to be able to ship these everywhere from Oregon to Nova Scotia. And best of all, you won't have to learn to love 'em like Aunt Bee's "kerosene cucumbers." No, these are more like Clara's blue-ribbon pickles–just as flavorsome as can be.
And you know if there's canning going on in Mayberry, then the next thing to come after pickles has to be preserves (or at least jams). Fortunately, Mayberry's Finest ™ has steered clear of marmalade that smells like paint. Instead they've created some truly outstanding Blackberry, Strawberry and Peach jams. You'll be tempted to eat them by the spoonful right out of the jar, but we think you'll find that they're even better on biscuits and peanut butter and jelly sandwiches.
.
In any case, Mayberry's Finest ™ is hitting on all cylinders now with a great lineup of food items. And more products are in the works for 2021. Weaver's is proud to be the online retail partner for these wonderful, official "Andy Griffith Show" gourmet foods from Mayberry's Finest ™.
***
Miss Crump's

Reading List



Here are three books about Mayberry that were published (or re-published) this year. Read up because more great Mayberry-related books are expected in 2021!
Mayberry Firsts
A Compendium of Historical Essays on the
Classic Television Series (Revised)

Mayberry Firsts, written by Randy Turner, is a collection of short-form essays. Each essay makes us aware of the "first" time something happened in Mayberry, but it isn't just a checklist of events. Each "first" is used as a springboard to dive deeper into the series and present fun and interesting facts about The Andy Griffith Show in the process.
This completely revised 2nd edition of the softcover book is available just in time for the holidays and includes additional information and more than 20 new photos, all for the same $20 price as the original version.

Have you wondered where the names Mayberry, Opie or Gomer came from? What the names of the Darling boys were as written in the script? Why was Otis written off the series?  The answers to these questions and so many more can be found in the 224 pages of Mayberry Firsts.
This 144-page volume ($22.00) is the first comprehensive book totally devoted to "Gomer Pyle, U.S.M.C." and Gomer's portion of the Mayberry universe. Author Denny Reese provides an insider's look at the show's creation, Marines history and why "Gomer Pyle, U.S.M.C." ranked high with the service.
An outstanding companion to watching the series, the book includes in-depth reviews of select "Gomer Pyle, U.S.M.C." episodes, bios of the show's stars and an exclusive interview with Ronnie Schell, who also provided the Foreword.
This new 60th Anniversary hardcover edition of Aunt Bee's Mayberry Cookbook ($19.00) from Harper Horizon has all the same recipes (including many from the TAGS cast and crew, as well as TAGSRWC members), bits of trivia, dialogue passages and photos as the original 1991 edition, but all freshened up with a new design and a sturdy hardcover that also lies flat for easy use while cooking.
And we're not sure, but maybe Aunt Bee's reputation for wielding her famous wooden spoon made the publisher agreeable, because they made sure to prominently include her spoon and Briscoe's spill-catching napkin on the cover for this edition.
In these days when we're being advised about the wisdom of trying to stay at home more, this cookbook is all the more helpful for preparing some truly delicious home-cooked meals. And it's a great gift for any occasion!
And looking for that extra-special gift for yourself or a friend? Here's a top-shelf suggestion:
.
More than a keepsake, this is a work of art with not one, not two, but three examples of Goober Pyle's talent. ("Goober, you really got talent." Just looking at the faces, you can hear Goober's voice saying, "O.K., you guys. Come on, you guys. All right, you guys. Beat it, you guys." How can that not bring an instant grin to the face of everyone who sees it?
Not only do you get the wonderful print but you also get an 100% authentic George Lindsey autograph. Each autograph was obtained from George Lindsey by the artist, George Murray. Mr. Lindsey passed away on May 6, 2012. This is a wonderful chance to get his autograph and know that Weaver's stands behind the authenticity.
Printed with premium inks on archival paper, this 11 x 14 inches collage pencil portrait is also signed by George Murray.
Note: Weaver's also offers an autographed "Three Faces of Goober" print by George Murray.
.
And there's much more at Weaver's, including caps, Goober beanies, Deputy Patches, DVDs, music, posters and tin signs, and both Mayberry Sheriff and Mayberry Deputy badges.
Also, remember that your purchases from Weaver's help support Mayberry events and Mayberry-related charitable causes all year long at locations all around the country. Those sales also help keep our online Mayberry newsletters and communities available to everybody free of charge. As always, thanks for browsing Weaver's!
.
Happy Holidays to you and yours!
.
.
.
Floyd's

Barbershop

Bulletin

Board




&




Event

Calendar
.
The Andy Griffith Museum, featuring the late Emmett Forrest's monumental collection of Andy Griffith artifacts, is open!
Please note that the Museum has more than just Barney's Two Rules at The Rock. With North Carolina pausing in Phase 3 of pandemic protocols until at least December 11 (and likely beyond), the Museum's Rules include: Only 25 visitors at a time, everyone must wear a mask (bring your own or come prepared to buy one for $5.35), wear gloves if you're planning to use the Museum's touch screens, and have a credit/debit card or exact change for payment.
For complete updates on operating hours, safety procedures, or other info, visit the website at www.andygriffithmuseum.org or call (336) 786-1604.
The following information is from "The eBullet": Official E-mail Newsletter of "The Andy Griffith Show" Rerun Watchers Club (TAGSRWC).
20

21
* Sept. 20-26: 32nd Annual Mayberry Days® in Mount Airy, N.C. Special Guests confirmed so far include Betty Lynn (Thelma Lou) and Rodney Dillard (guitar-playing Darling boy).
Tickets are already available HERE for some concerts and presentations, including Collin Raye (actually on Sept. 18, the Sat. before Mayberry Days® week), two shows (one as part of the banquet for the Mayberry Days Golf Tournament) by T. Graham Brown, The Doug Dillard Tribute Show by The Dillards featuring Rodney Dillard, Professor Brower's Lecture with Neal Brower, Tim White and Troublesome Hollow's "Tribute to Mayberry," Allen Leath's "Mayberry Melodies," Michael Hoover's "Memories of Elvis," and Colonel Tim's Talent Time.
Other concert highlights during the week include The Embers featuring Craig Woolard, Legacy Motown Revue, The Band of Oz, and James Gregory ("The Funniest Man in America").
Much more TBA, but for now, other than these first confirmed presentations, just  mark your calendar and be sure to check back for updates.
***
* Oct. 31-Nov. 6: Clint Howard is the special guest for Mayberry Cruise 15, which was postponed with a few tweaks from its original dates in 2020. This cruise aboard Carnival's Freedom will depart from Fort Lauderdale and  travel to the Eastern Caribbean with ports of call in Princess Cays in the Bahamas, Grand Turk, and Amber Cove, the new Carnival-owned village in the Dominican Republic.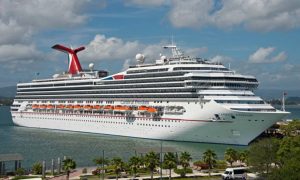 Rates (including all taxes) start at $625 per person.
For info, contact Sharon Euliss of  All About Cruises at PWESJE@aol.com or call her at (336) 538-4926.
***
****

News

of

Cast

&

Crew

****
On the heels of of November's releases of both Rebuilding Paradise (a documentary for National Geographic) and Hillbilly Elegy (Netflix), Ron Howard is now busy directing a documentary (again for National Geographic) about Chef José Andrés and his World Central Kitchen charity.
Ron is also in pre-production on his next directing project, Thirteen Lives, a film based on the cave rescue of a boys' soccer team in Thailand, which captivated the world in 2018. The film is set to begin shooting in Australia in March.
The "Willow" TV series for Disney+, one of many projects for which Ron is serving as executive producer, is also in pre-production. Ron is expected to direct at least one early episode before turning his attention to directing one of several more movies in the queue at Imagine Entertainment.
Ron and most of the surviving core cast members of "Happy Days" reunited to share stores and do a Q&A session for a Wisconsin political fundraiser in October.
Ron also reports that his wife Cheryl (with whom Ron recently celebrated the 50th Anniversary of their first date) and daughter Paige both have thankfully recovered well from COVID-19 earlier this year.
Betty Lynn  (Thelma Lou) is still hunkering down in Mount Airy. She's eager to resume her meet-and-greets with fans at the Andy Griffith Museum, but that likely won't happen until next summer, at the earliest.
Maggie Peterson Mancuso (Charlene Darling) and husband Gus have moved into an assisted living facility, which will hopefully allow her to have even steadier progress in her recovery from recent surgeries. Even so, she was wistful about leaving the home she has lived in since shortly after her time on TAGS.
Maggie's GoFundMe page, which Maggie's family has set up to help with some of Maggie's significant and uncovered medical expenses, is still active. Maggie is extremely grateful for all of the kind donations received.
***
Off to Hollywood
The Mayberry Man movie ,written and directed by Stark Howell and produced by Cort Howell (both sons of Hoke Howell, aka Mayberry's Dud Wash) and co-produced by Greg Schell (son of Ronnie Schell) is now in post-production. They've already done a rough edit, and Stark and crew are pleased with how things are coming together.
In part depending on the status of the pandemic, initial screenings are planned for next spring. The premiere is tentatively slated for Danville's Mayberry in the Midwest festival next May–followed, the producers hope, by wider distribution and eventual availability through one or more of the leading streaming services.
In other Mayberry-related movie news, The Mayberry Effect, a documentary by director and TAGSRWC member Chris Hudson, recently was accepted for its 25th film festival of 2020. The film has won numerous festival awards, and plans are in the works for distribution in the next year.
That's a wrap on our News of Cast & Crew for this issue. Stay tuned for lots more in 2020!
***
****

Mayberry

on

the

Web

****

The iMayberry Community
This TAGSRWC online group is organized and overseen by webmaster Allan "Floyd" Newsome with big help from Keith "Col. Harvey" Brown. You can check out the fun of this online community and sign up for free at: http://imayberrycommunity.com.
The iMayberry Community complements our other online activities, including our main www.imayberry.com page, podcasts, Facebook pages, online newsletters (such as The eBullet), weaversdepartmentstore.com and chat rooms.
"Two Chairs, No Waiting" is our weekly podcast of TAGS news, interviews and pretty much whatever happens to be going on in and around Mayberry. It's hosted by Allan Newsome.
There's a new episode every Tuesday (and you can watch and listen live during tapings on Monday evenings). As of this week, there have been 610 episodes since Allan started doing the podcast just over a dozen years ago! Past episodes are in an online Archives in case you want to listen to or view classic installments you've missed.
And you'll also find links on the podcast's regular web page to a couple of other outstanding Mayberry-related podcasts: Burke on Mayberry (hosted by TAGSRWC's Kevin Burke) and the Mayberry Bible Study Podcast (again hosted by Allan Newsome).
TAGSRWC's official page on Facebook is now hovering around 250,000 Likes. You can find us at www.facebook.com/tagsrwc. If you haven't already dropped by the page, we hope you'll check it out sometime when you have the chance. We invite you to become a TAGSRWC Facebook Friend!
We also have links in our "Liked by this Page" section to the pages of several TAGSRWC chapters on Facebook (including the Gomer and Goober Pyle Comic Book Literary Guild), as well as to Facebook pages of Mayberry Days, the Andy Griffith Museum, TAGS actors and others.
Even Ben Weaver has his own Facebook page at www.facebook.com/weaversdepartmentstore.  It features all the latest in Mayberry items and merchandise news.
And TAGSRWC also has a growing presence on www.MeWe.com. Mayberry's pioneering outpost on MeWe is "Sittin' on a Velvet Pillow" chapter, headed up by Lynn Thomas. That group was followed in short order by Allan Newsome and the "Two Chairs, No Waiting" Podcast and "The Andy Griffith Show–Big," administered by Myron Clark and an able crew.
In case you're not familiar with MeWe, it's similar to Facebook. It's just smaller and a bit calmer. It has no ads. So, it's more like a quiet street like Willow or Woods Way compared to the hustle and bustle of Main Street in downtown Mayberry. ("You're on my foot! You're on my foot!") So, if you're looking to "relax, slow down, take it easy," check out some of the TAGSRWC groups on MeWe.
And while online this time of year, be sure to give a listen to Charlie Monk's wonderful recitation of "Andy & Opie Christmas" on YouTube. It has become a Mayberry-style holiday tradition. It's a nostalgic 4 minutes and 22 seconds that's sure to get you in the Christmas spirit.
***
  

****

Post

Note

****
Between issues of our Weaver's Newsletter, keep up with the happenings in Mayberry with the daily "Who's Been Messin' Up the Bulletin Board?" Digest. It's a free subscriber list that consists entirely of comments, news flashes, and questions and answers from subscribers. You can sign up for that list by going to the "Mailing Lists" link at www.tagsrwc.com.
TAGSRWC also publishes The eBullet in alternate months to Weaver's Newsletter. The eBullet is the online successor to our longtime printed newsletter, The Bullet. Like Weaver's Newsletter, The eBullet is free. It includes some of the same news as Weaver's Newsletter, but generally with more features and depth and a little less emphasis on merchandise news. To sign up, go to: www.tagsrwc.com/ebullet.
TAGSRWC's other main vehicle for Mayberry information is simply our website at www.tagsrwc.com (and its "brother figure" site www.iMayberry.com). Both sites have extensive content and links for just about everything a Mayberry fan might be looking for.
The next issue of Weaver's Newsletter is slated for February, and the next eBullet will be published in January. (We also have a Special Edition of The eBullet coming up either toward the end of this month or in February.)
***

.
***
Printer Friendly Version