Weaver's Newsletter        
An Online newsletter of
"The Andy Griffith Show" Rerun Watchers Club (TAGSRWC)
.Welcome to our August Weaver's Newsletter, our fifth for this special 60th Anniversary year of TAGS!
In this momentous year, unexpectedly bizarre, painful and sad in so many ways, it has been a comfort to have the joys of TAGS as a diversion and an escape.
On the heels of Mayberry Days® in late September and then the milestone October 3 Anniversary of TAGS, there has been a lot to celebrate. TAGS-related subjects have even been the cover story for at least four magazines so far this month:
.
You can read three of the stories online: Carolina Country (about Mount Airy and Mayberry Days), Bluegrass Unlimited (about Rodney Dillard and The Dillards) and Alabama Living (about TAGSRWC's Allan "Floyd" Newsome).
As Barney famously said, "During our lifetime, we travel many roads." Now is a good time for all of us to be happy and grateful that so many roads (and channels and streaming services) still lead to Mayberry!
***
****

Merchandise Update

****
Also, remember that your purchases from Weaver's help support Mayberry events and Mayberry-related charitable causes all year long at locations all around the country. Those sales also help keep our online Mayberry newsletters and communities available to everybody free of charge.
COMING SOON: By the end of this month (or maybe early November), look for new food items from Mayberry's Finest to join their popular coffees and bacon on Weaver's shelves. And in the weeks ahead, we're expecting a new book about Mayberry and the 2021 edition of the Mayberry Day-By-Day Flip Book Calendar.
As always, we thank you for shopping at Weaver's!
Floyd's

Barbershop
Bulletin

Board

&

Event

Calendar
.
The Andy Griffith Museum, featuring the late Emmett Forrest's monumental collection of Andy Griffith artifacts, is open!
Please note that the Museum has more than just Barney's Two Rules at The Rock. With North Carolina now in Phase 3 of pandemic protocols until October 23, the Museum's Rules include: Only about 35 visitors at a time, everyone must wear a mask (bring your own or come prepared to buy one for $5.35), wear gloves if you're planning to use the Museum's touch screens, and have a credit/debit card or exact change for payment.
For complete updates on operating hours, safety procedures, or other info, visit the website at www.andygriffithmuseum.org or call (336) 786-1604.
The following information is from "The eBullet": Official E-mail Newsletter of "The Andy Griffith Show" Rerun Watchers Club (TAGSRWC).
***
* RESCHEDULED FOR 2021 (see listing below): Nov. 1-7: Clint Howard is the Special Guest for Cruise to Mayberry 15 to the Eastern Caribbean aboard Carnival's Breeze. Also including a boatload of popular Mayberry tribute artists and even an Elvis.
The  cruise departs from of Ft. Lauderdale and makes stops in Nassau, Amber Cove, and Grand Turk and has two fun days at sea. For info, contact Sharon Euliss of  All About Cruises at PWESJE@aol.com or call her at (336) 538-4926.
20

21
* Sept. 20-26: 32nd Annual Mayberry Days® in Mount Airy, N.C. Special Guests confirmed so far include Betty Lynn (Thelma Lou) and Rodney Dillard (guitar-playing Darling boy).
Tickets are already available HERE for some concerts and presentations, including Collin Raye (actually on Sept. 18, the Sat. before Mayberry Days® week), two shows (one as part of the banquet for the Mayberry Days® Golf Tournament) by T. Graham Brown, The Doug Dillard Tribute Show by The Dillards featuring Rodney Dillard, Professor Brower's Lecture with Neal Brower,  Tim White and Troublesome Hollow's "Tribute to Mayberry," Allen Leath's "Mayberry Melodies," Michael Hoover's "Memories of Elvis," and Colonel Tim's Talent Time.
Other concert highlights during the week include The Embers featuring Craig Woolard, Legacy Motown Revue, The Band of Oz and James Gregory ("The Funniest Man in America").
Much more TBA, but for now, other than getting tickets for these first confirmed presentations, just mark your calendar and be sure to check back for updates.
* Oct. 31-Nov. 6: Clint Howard is the special guest for Mayberry Cruise 15, which was postponed with a few tweaks from its original dates in 2020. This cruise aboard Carnival's Freedom will depart from Fort Lauderdale and  travel to the Eastern Caribbean with ports of call in Princess Cays in the Bahamas, Grand Turk, and Amber Cove, the new Carnival-owned village in the Dominican Republic. 
Rates (including all taxes) start at $625 per person.
For info, contact Sharon Euliss of  All About Cruises at 
PWESJE@aol.com
 or call her at (336) 538-4926.
****

News of Cast

&

Crew

****
Ron Howard has been active promoting Rebuilding Paradise, his National Geographic documentary about the aftermath of the 2018 fires around Paradise, Calif. The film, all the more poignant given the current wildfire crisis in the West, opened in select socially distancing theaters in July and premieres (commercial-free!) on the Nat Geo Channel on November 8. It has been receiving universally excellent reviews. Watch the trailer HERE.
Ron's much-anticipated Hillbilly Elegy is also scheduled for release in select theaters in November and on Netflix on November 24. The film starring Amy Adams, Glenn Close and TAGS alum Bo Hopkins is already being mentioned as an Oscar contender. You can watch the film's first trailer HERE.
Ron and Brian Grazer will serve as executive producers of an Imagine Documentaries production of "The Supermodels," a docuseries for Apple TV+ that will be directed by Oscar-winner Barbara Kopple and will feature the careers of Cindy Crawford, Naomi Campbell, Evangelista and Christy Turlington.
Ron and the Howard family have made a $90,000 gift to the Weitzenhoffer Family College of Fine Arts at Oklahoma University to  establish a scholarship in the name of Ron and Clint's late parents, Rance and Jean (both of whom were born in Oklahoma and studied drama at OU), to support students from rural areas in the college's Helmerich School of Drama.
.
"Our mom and dad were from small-town, rural America," Ron, himself a native of tiny Duncan, Okla.,  said in a statement. "Their ability to afford to be the first in their families to pursue a career in the arts at OU changed their lives, as well as the course of our family history. They met on campus, made lifelong friends and career connections there, and affirmed the viability of their dreams. Our family wants to help support that dream for students from similar circumstances who make the excellent choice to attend the University of Oklahoma for drama and fine arts."
Ron also reports that his wife Cheryl and daughter Paige both have thankfully recovered well from COVID-19 earlier this year.
Betty Lynn continues to obey all rules during the pandemic and is still hunkering down at home in Mount Airy. She had thought about at least riding around in a car to observe the festivities and wave to fans during Mayberry Days®, but ultimately decided that wouldn't be prudent or particularly satisfying for anyone.
Making Waves

Fans of Old-Time Radio enjoyed the Sept. 12 edition of "Those Were the Days" on Chicago's WDCB-FM (wdcb.org/archive). That day's 4-hour show was a  special called "Mayberry on the Air," which celebrated the 60th Anniversary of TAGS.
The show featured TAGS stars in old radio shows, including Don Knotts, Betty Lynn, Howard McNear (Floyd the Barber), Parley Baer (Mayor Stoner), Olan Soule (John Masters), Sheldon Leonard (executive producer), along with songs and monologues by Andy Griffith.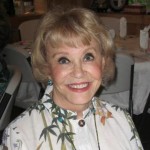 Maggie Peterson Mancuso (Charlene Darling) continues her "patient" recovery from recent surgeries. Maggie's GoFundMe page, which Maggie's family has set up to help with some of Maggie's significant and uncovered medical expenses, is still active. Maggie has expressed her deep appreciation for all of the kind donations received thus far. They have truly been a blessing for Mayberry's "Darling person."
Rodney Dillard (the guitar-playing Darling boy) hasn't been able to be on the road this year, but that hasn't stopped his new Dillards album, Old Road New Again from tearing up the Bluegrass charts since its digital release in August and CD release in September. (And yes, Weaver's is proud to carry the CD on our shelves!)
Elizabeth MacRae (one TAGS episode and Lou Ann Poovie on "Gomer Pyle, U.S.M.C." and Ronnie Schell (two TAGS episodes and Duke Slater on "Gomer Pyle") recently reconnected by phone. Both have been doing their best to stay safe during the pandemic. Here's a link to a nice story about their telephone reunion.
We're very sad to report that Jenny Berry, daughter or Jackie Joseph-Lawrence (Mayberry's Sweet Romeena) and the late Ken Berry (Sam Jones), died of natural causes on September 21, at age 55. Here's a link to an obituary for Jenny in Broadway World. All hearts in Mayberry continue to go out to Jackie and all of Jenny's family.
***
Hollywood Has Returned to Mayberry!
.
The Mayberry Man movie (written and directed by Stark Howell and produced by Cort Howell, both sons of Hoke Howell, aka Mayberry's Dud Wash, and by Greg Schell, son of Ronnie Schell) began filming in Indiana the first half of September and then shifted production to Mount Airy, N.C., and vicinity to wrap up principal photography in the latter part of September. (Some additional filming is being done in the Los Angeles area.)
.
Karen Knotts (daughter of Don) joined a large contingent of Mayberry tribute artists, both familiar and new faces, for the initial days of  filming, which included a Mayberry Fest parade in the town of Danville on Labor Day.
.
.
Some casting changes were needed in large part because of the pandemic--mainly due to the super-stringent safety requirements of SAG/AFTRA. Most union actors and crew aren't able to participate in the film, which meant that lead actor Richard Gunn (son of Laura Hagen, widow of TAGS maestro Earle Hagen) was among those who had to withdraw from the project. The producers have been nimble in making necessary adjustments, and the production, largely funded by contributions from fans, has stayed on schedule.
.
The movie is still on track for at least initial screenings as early as next spring. The premiere is tentatively planned for Danville's Mayberry in the Midwest festival next May--followed, the producers hope, by eventual availability through one or more of the leading streaming services.
That's all for this edition of News of Cast & Crew.
***
Mayberry Days

®

Report
Though scaled back in order to follow North Carolina's pandemic protocols, this year's Mayberry Days® was by all accounts a big success. The 31st annual festival provided all who attended a safe and enjoyable way to gather with fellow Mayberry fans and to celebrate the 60th Anniversary of TAGS.
We'll have a more extensive report and gallery of photos in the November edition of TAGSRWC's eBullet newsletter, but here are a few highlights:
.
Esteemed Elvis impersonator Michael Hoover did yeoman's work performing several shows during the festival. Michael also received a richly deserved Key to the City of Mount Airy during the Mayor's Proclamation. Michael has been a central part of Mayberry Days® for more than two decades. All hail the King of Mayberry Days®!
.
The Creatsters (aka members of TAGSRWC's Tullahoma/Johnson City-based "She Called Me a Creatster" chapter) received the "You're the Cat's!" Award recognizing their years of contributions to Mayberry Days®. The group of friends participate by helping run various events during the festival (especially the Youth Trivia Contest) while also being enthusiastic contestants in others. Be sure to check out the article The Creatsters wrote for The Mayberry Confidential about their years of involvement in Mayberry Days®. (If you don't have access to a printed copy, it's also on Page 22 of this year's online edition.)
A Mayberry Friendship Award, sponsored by TAGSRWC's "Hearty Eatin' Men and Beautiful, Delicate Women" chapter (Tuscaloosa, Ala.) was presented to Eric Lowry, who has been a (make that the) Mayor Pike tribute artist for several years and is an active participant in Mayberry Days® (where he stepped up to serve as auctioneer for this year's auction) and in the Mayberry in the Midwest festival, among others.
TAGSRWC's prestigious Jim Schwenke Memorial Award was presented to Dewey Lamb of "Shakedown! Shakedown!" chapter (Laurinburg, N.C.). In addition to being leader of his very active chapter, Dewey has been extraordinarily generous with his time and talents in creating popular items for various Mayberry fundraisers, most notably the Mayberry Days® Auction for many years.
Congratulations to all of these outstanding award recipients!
Coming up in the November eBullet, along with that promised gallery of photos of other parts of the festival, we'll also have additional photos of these award recipients and coverage of winners of some of the various Mayberry Days® contests.
A very special thanks to the Surry Arts Council (the organization behind the festival) and the City of Mount Airy for creating a way to have such a safe and enjoyable festival during difficult circumstances, and for once again welcoming us fans to their town to celebrate Mayberry, Andy Griffith and TAGS!
***
****

Mayberry on the Web

****

The iMayberry Community
This TAGSRWC online group is organized and overseen by webmaster Allan "Floyd" Newsome with big help from Keith "Col. Harvey" Brown. You can check out the fun of this online community and sign up for free at: http://imayberrycommunity.com.
The iMayberry Community dovetails with our other online activities, including our main www.imayberry.com page, podcasts, Facebook pages, online newsletters, weaversdepartmentstore.com and chat rooms.
"Two Chairs, No Waiting"  is our weekly podcast of TAGS news, interviews and pretty much whatever happens to be going on in and around Mayberry. It's hosted by Allan Newsome. Recent installments also include a Mayberry History Lesson from special correspondent Randy Turner.
There's a new episode every Tuesday (and you can watch and listen live during tapings on Monday evenings). Past episodes are in an online Archives in case you want to listen to or view ones you've missed. As of this week, there have been 602 episodes since Allan started the podcasts almost 12 years ago.
If you're combing the web looking for fun Mayberry stuff, you might need...a comb. We've got just the thing with the new "Two Chairs, No Waiting" Comb, now available at Weaver's for just $2, or as we like to say "Two Chairs, Two Bucks":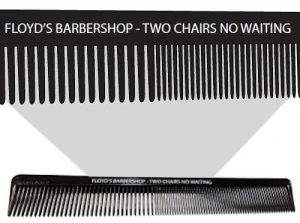 And you'll also find links on our Podcasts web page to a couple of other outstanding Mayberry-related podcasts: Burke on Mayberry (also a long-running  program, hosted by TAGSRWC's Kevin Burke) and the Mayberry Bible Study Podcast (another one hosted by Allan Newsome).
If you haven't already dropped by TAGSRWC's official page on Facebook, we hope you'll check it out sometime when you have the chance and maybe become one of the 250,00 fellow Goobers who follow TAGSRWC! You can find us at www.facebook.com/tagsrwc.
We also have links in our "Liked by this Page" section to the pages of several TAGSRWC chapters on Facebook (including the Gomer and Goober Pyle Comic Book Literary Guild and a lively TAGS Group page founded by our "That's My Number One Job--Stalking, Not Fly Killing" chapter) as well as to Facebook pages of Mayberry Days®, the Andy Griffith Museum, several TAGS actors and others.
.
Even Ben Weaver has his own Facebook page at www.facebook.com/weaversdepartmentstore.  It features all the latest in Mayberry items and merchandise news.
***
  

****

Post Note

****
Between issues of our Weaver's Newsletter, keep up with the happenings in Mayberry with the daily "Who's Been Messin' Up the Bulletin Board?" Digest. It's a free subscriber list that consists entirely of comments, news flashes, and questions and answers from subscribers. You can sign up for that list by going to the "Mailing Lists" link at www.tagsrwc.com.
By the way, the Mayberry Days® Silent Auction (sponsored annually by "WBMUTBB?") this year transformed itself into a Live auction. Even with fewer fans in attendance, the auction raised $2,907 for the Surry Arts Council's efforts to host Mayberry Days®. The live format was so much fun and so effective that it's likely to become the new way going forward. Thanks to all who donated items and participated in the auction. And a special thanks to Jeff Koontz for being the organizer and the Keeper of the Closet of Auction Items.
TAGSRWC also publishes The eBullet in alternate months to Weaver's Newsletter. The eBullet is the online successor to our longtime printed newsletter, The Bullet. Like Weaver's Newsletter, The eBullet is free. It includes some of the same news as Weaver's Newsletter, but generally with more features and depth and a little less emphasis on merchandise news. To sign up, go to: www.tagsrwc.com/ebullet.
TAGSRWC's other main vehicle for Mayberry information is simply our website at www.tagsrwc.com (and its sister site www.iMayberry.com). Both sites have extensive content and links for just about everything a Mayberry fan might be looking for.
The next issue of Weaver's Newsletter (the final issue for 2020) is slated for December, and the next eBullet (also the last for this year) will be published in November.
***
.
***
Printer Friendly Version