Weaver's Newsletter October 2019
Weaver's Newsletter        
An Online newsletter of
"The Andy Griffith Show" Rerun Watchers Club (TAGSRWC)
October 2019
Welcome to our October Weaver's Newsletter, our fifth edition for 2019! There's a lot of news and happenings. We'll start with some highlights in store at Weaver's.
****

Merchandise Update

****
You'll find a huge variety of new items, best-sellers and classic collectibles online at TAGSRWC's Weaver's Department Store.
We have several brand new items this issue. (And more exciting new items are expected ahead of the holiday shopping season!)
.
$17.00 NEW!
Want a new Mayberry calendar experience every day in addition to every month? Well, then this is the calendar for you! It consists of 366 days (2020 is a leap year, you know) of fun facts about "The Andy Griffith Show." Each fact actually occurred on the calendar date. The calendar is all new for 2020. If you loved all the interesting Mayberry info in the 2019 edition, just imagine the fun of learning that much more new stuff about Mayberry again in 2020!
The calendar stands on an easel and is designed to be used as a desk calendar throughout the year with pages that are flipped over each day instead of being removed. At the end of the year, the easel can be removed, if desired, and it becomes a book that can be kept as a reference.
So get ready to start each day of Mayberry's 60th Anniversary year with a 4 in. x 5.75 in. fact about our hometown.
***
$12.00
Be ready for Halloween all year long with this haunting print of the very painting that hangs in the Old Remshaw Place in Mayberry.
As you look closely at the print, you will likely notice that the eyes seem to follow you when you move around the room. Of course, "It's probably just the lighting."
The print is 16 in. x 20 in." on heavyweight stock. The print will be shipped in an art tube to protect it during shipment.
The print includes the image of the original painting and the image of the frame (just as seen). Get yours before they disappear. And remember that it's just a print. There's nothing to be afraid of. Isn't that right, Gomer? Gomer?  Gome?
***
$40.00
NEW and IMPROVED FABRIC!
Get ready for a picnic or game-day tailgating with one of our comfy fleece blankets. Or maybe just snuggle up on that couch Goober was telling us about.
Note: Weaver's previously carried a fleece blanket with this same design, but this is a new and amazingly soft upgrade from our previous offering.
Join Andy and Opie at the Fishin' Hole with this soft, ultra silky, and double-overlock stitched (for unsurpassed durability and comfort) blanket, which has amazing color and detail. Shrink and fade resistant.
It is so soft…if you could touch it through this screen….you would buy it just to be able to feel it against your skin.
This blanket is 100% polyester made from soft napped insulating polar fleece and measures 36 in. x 58 in. The Fishin' Hole design is on one side with the reverse being a soft white fleece. Easy to wash and quick drying. We also have fleece blankets in two other designs, both featuring Barney.
Additional Note: This is a dye-sublimated print. Each item is Uniquely Hand Printed in the U.S.A.  The dye sublimation printing process creates slight imperfections over seams and/or folds and are unique to and a part of each item.
***
And now exclusive to Weaver's are woven throws in three designs and two sizes, including the brand new super-sized deluxe throw that measures a whopping 48 in. x 80 in. Aw, big ain't the word for it!
We also have accessories pouches for this and that in the popular Fishin' Hole, Barney Face and Lawmen designs.
***
***
You'll find these items and much more (including  CDs, DVDs, collectibles, tin signs, artwork and items for vehicles) online at weaversdepartmentstore.com. (Or just go to www.imayberry.com and click on one of the orange and blue Weaver's buttons at the top.)
And there's more!  We have caps, Goober beanies, stickers, deputy patches and both Mayberry Sheriff and Mayberry Deputy badges.
***
And remember that your purchases from Weaver's help support Mayberry events and Mayberry-related charitable causes all year long at locations all around the country. Those sales also help keep our online Mayberry newsletters and communities available to everybody free of charge. As always, thank you for shopping at Weaver's. We really appreciate it!
Shopping Tip:
Keep an eye on the Foley's Market section of Weaver's in the next few days for some tasty new food offerings from the nice folks at Mayberry's Finest that are joining their line of outstanding coffees currently available at Weaver's. And look for even more exciting items from Mayberry's Finest in the coming months.
.
Floyd's

Barbershop

Bulletin

Board


&


Event

Calendar
.
The Andy Griffith Museum, featuring the late Emmett Forrest's amazing collection of Andy Griffith memorabilia, is open daily in Mount Airy, N.C. For info, visit the website at www.andygriffithmuseum.org or call (336) 786-1604.
Between issues of this newsletter, you can monitor updates about Mayberry happenings with TAGSRWC's online Event Calendar.
* Oct. 12: Rodney Dillard & the Dillard Band bring their Mayberry Moments show to Marion, Va., as part of the "Song of the Mountains" TV show.
* Oct. 12: Roland White and his band perform at 9 p.m. at the Station Inn in Nashville, Tenn.
* Oct. 18: Betty Lynn (Thelma Lou) greets fans at the Andy Griffith Museum 1:00-3:00 p.m. She will have 8 x 10 photos available for autographing ($10). For info, visit the website at www.andygriffithmuseum.org or call (336) 786-1604.
* Nov. 2-7: Cruise to Mayberry 14 sets sail with Ronnie Schell (two episodes of "The Andy Griffith Show" and also Duke Slater on "Gomer Pyle, U.S.M.C.") and Dixie Griffith (daughter of Andy) and a boatload of Mayberry tribute artists aboard Carnival's Sunshine from Charleston to Nassau and Half Moon Cay in the Bahamas. For good measure, Elvis impersonator Wayne Euliss and bluegrass band Cane Mill Road will also entertain.
For more info, e-mail cruise organizer Sharon Euliss of All About Cruises at PWESJE@aol.com or call her at (336) 538-4926.
* Nov. 8: Rodney Dillard and the Dillard Band perform at Bluegrass and Mayberry Memories  at 8:00 p.m. in conjunction with  WSLR Radio, 525 Kumquat Ct, Sarasota, Fla.
* Nov. 9: Rodney Dillard and the Dillard Band perform at Swampfest at 3:30 p.m., at Flamingo Gardens, 3750 S. Flamingo Road in Davie, Fla.
* Nov. 10: A Return to Mayberry concert will be presented Rodney Dillard and the Dillard Band at 5:30 p.m. at the Bradfordsville Blues Club, 7152 Moses Lane in Tallahassee, Fla.
* Nov. 15: Betty Lynn (Thelma Lou) greets fans at the Andy Griffith Museum 1:00-3:00 p.m. She will have 8 x 10 photos available for autographing ($10). For info, visit the website at www.andygriffithmuseum.org or call (336) 786-1604.
* Nov. 29: Roland White and his band perform at 9 p.m. at the Station Inn in Nashville, Tenn.
* Dec. 7:  Roland White and his band host the annual Bill Monroe Appreciation Night at 9 p.m. at the Station Inn in Nashville, Tenn.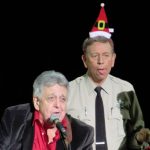 * Dec. 18: A Mayberry Christmas starring Maggie Peterson Mancuso (Charlene Darling), Rodney Dillard and the Dillard Band, and featuring David Browning as the Mayberry Deputy will be presented at 7:00 p.m. at the Freedom Hall Civic Center in Johnson City, Tenn.
* Dec. 20: Betty Lynn (Thelma Lou) greets fans at the Andy Griffith Museum 1:00-3:00 p.m. She will have 8 x 10 photos available for autographing ($10). For info, visit the website at www.andygriffithmuseum.org or call (336) 786-1604.
20

20
.
* Sept. 21-27: 31st Annual Mayberry Days® in Mount Airy, N.C. Celebrating the 60th Anniversary  of "The Andy Griffith Show."  Special guests  already confirmed include Betty Lynn (Thelma Lou), Darling boy Rodney Dillard & the Dillard Band, Ronnie Schell (two Mayberry roles and Duke Slater on "Gomer Pyle, U.S.M.C.") and Karen Knotts (daughter of Don Knotts).
.
.
Tickets are available online for several of the festival's events at  www.mayberrydays.org. More stars and tickets TBA. Get your tickets early for the best seats to what promises to be a banner year for Mayberry Days! (And don't delay in reserving those hotel rooms either!)
***
****

News of Cast & Crew

****
Ron Howard and Imagine partner Brian Grazer were on hand as keynote speakers last month's Toronto International Film Festival. Ron's daughter Bryce Dallas Howard was also at TIFF promoting her directorial debut for her documentary titled Dads, which features interviews with Ron and others. It was also announced during the festival that Apple has acquired the worldwide distribution rights for the film.
Ron will be in Rome later this month to present his Pavarotti documentary at the Rome Film Festival. The film has been well received by audiences and critics alike since its official release in June. It comes to home formats in November.
Ron is also in post-production for Hillbilly Elegy, which is expected to be released by Netflix in 2020. And he has begun filming the spy comedy series "68 Whiskey" (expected to premiere on the Paramount Network in early 2020) and is working on Rebuilding Paradise, a documentary about the 2018 Paradise fire in California. Ron is also serving as producer or executive producer for these and other projects, including National Geographic's "Genius" (the third season of which will be about Aretha Franklin).
Clint Howard totaled his rental car while on his way to Mayberry Days. He was fortunately O.K. except for some soreness and a few kinks. He was able to participate in a few of the festival's activities on Friday and even did this TV interview, but decided it was prudent just to rest on Saturday before heading back home. He also did this additional TV interview in Charlotte before the accident, which also threw a wrench in his plans to attend the Days of the Dead horror convention in Charlotte the day after Mayberry Days.
In other news from Old Doc Andrews, Maggie Peterson Mancuso took a tumble while hurrying to catch an elevator while in Knoxville, Tenn., to perform with Rodney Dillard at the Tennessee Valley Fair in September. But she was back to please crowds (again performing with Rodney) at Mayberry Days. And they're back together for a taping of "Song of the Mountains" in Marion, Va., this month, following a separate appearance by Rodney and his band earlier this month at a festival in Leadwood, Mo.
Also, look for Maggie and Rodney being joined by David "Mayberry Deputy" Browning touring with their "Mayberry Christmas" show. And Rodney and his band have several dates coming up during the remainder of the year. (Check Floyd's Barbershop Bulletin Board and Event regularly for these and other upcoming appearances by cast members. New dates are regularly added between issues of newsletters.)
Also, Rodney Dillard expects to have a special new CD of Mayberry-inspired music released sometime during 2020. Get ready to "dance till your stockin's are hot and ravelin'."
Also on the music front, LeRoy McNees and Roland White were on hand at the International Bluegrass Music Association awards in Raleigh on September 26 for the induction of the Kentucky Colonels into the Bluegrass Music Hall of Fame. (The Kentucky Colonels was what the Country Boys renamed themselves shortly after their 1961 episodes of TAGS.) Congratulations to Roland and LeRoy and their fellow bandmates, including TAGS alums Clarence White, Eric White and Billy Ray Latham (who was later also a post-Mayberry member of The Dillards). LeRoy Mack's first performance after his Hall of Fame induction was fittingly the next day at Mayberry Days!
And it's not really medical news (more mechanical, really), but Margaret Kerry's computer recently conked out on her. Not even Tinker Bell's pixie dust could revive it. But she should be back online around the time this issue comes out, which will be a big relief to her many friends and followers online. Meanwhile, Margaret is back from Mayberry Days and making mostly Disney-related appearances in California.
And the big news for Margaret came when she was reunited at Mayberry Days with an old beau, whom she hadn't seen in more that seven decades. She dated Bob Boeke in her late teens, before different career paths and geographic needs found them having to go separate ways. Both raised families and lost spouses. They reconnected by e-mail and phone this summer and saw each other in person again for the first time during September's Mayberry Days. They currently live on opposite coasts, but at the very least, both know the way to Mount Airy, so stay tuned for updates on this rekindled special friendship!
Margaret was also once again reunited at Mayberry Days with her Mayberry daughter of two episodes, Joy Ellison, who has recently been doing dialect coaching on Waldo, an upcoming film release starring Mel Gibson.
About a week after their participation at Mayberry Days, Keith Thibodeaux and wife Kathy found themselves in Brazil for a two-week stint with their Christian ballet company, Ballet Magnificat, which also had its Mayberry Days debut this year. The world is indeed a stage!
The 170-acre Maui estate (aka macadamia nut plantation) of Jim Nabors was recently listed for sale. The asking price is $4.5 million. The offering comes on the heels of his Honolulu home selling for $12 million early this year and a recent auction items of home decor and memorabilia this summer.
For the record, Mayberry cast and crew attending this year's Mayberry Days included Betty Lynn (Thelma Lou), Bruce Bilson (assistant director for the first two seasons), Gary Nelson (director of "Malcolm at the Crossroads" in his Mayberry Days debut), Maggie Peterson Mancuso (Charlene Darling), Rodney Dillard (Rodney Darling), Keith Thibodeaux (Johnny Paul Jason), Dennis Rush (Howie), Joy Ellison (Mary Wiggins and others), Margaret Kerry (Bess Muggins and Helen Scobey), Ronnie Schell (two episodes of TAGS and Duke Slater on "Gomer Pyle, U.S.M.C."), Clint Howard (Leon), LeRoy McNees (The Country Boys), Calvin Peeler (Martin in the "Youth Takes Over" episode of "Mayberry R.F.D.") and Karen Knotts (Opie's secretary in 1986's Return to Mayberry movie and daughter of Don).  Gary Nelson and Calvin Peeler received Keys to the City of Mount Airy during this year's festival.
.
.
.
Family members representing deceased cast and crew this year were Bettina Linke (wife of associate producer/personal manager Richard O. Linke), Stark and Cort Howell (sons of Hoke Howell), Dreama Denver (wife of Bob "Other Dud Wash" Denver). Incognito as Fun Girl Skippy most of the weekend was Dixie Griffith (daughter of Andy). More than 20 local Griffith relatives also joined in festivities during the weekend.
.
.
Other guests included Dick Atkins (producer of the Gary Nelson-directed Murder in Coweta County, which starred Andy Griffith), Renne Bilson, Kathy Thibodeaux, Judy Rush, Janice McNees, Beverly Dillard, Joanna Atkins (spouses) and Greg Schell and Garrett Nelson (sons of Ronnie and Gary, respectively).
We'll have much more coverage of Mayberry Days, including extensive photo galleries in the November issue of our brother-figure publication, The eBullet.
***
**** Mayberry on the Web ****

The iMayberry Community
This TAGSRWC online group is organized and overseen by webmaster Allan "Floyd" Newsome with big help from Keith "Col. Harvey" Brown. You can check out the fun of this online community and sign up for free at: http://imayberrycommunity.com.
The iMayberry Community complements our other online activities, including our main www.imayberry.com page, podcasts, Facebook pages, online newsletters (such as The eBullet!), weaversdepartmentstore.com and chat rooms.
"Two Chairs, No Waiting" is our weekly podcast of TAGS news, interviews and pretty much whatever happens to be going on in and around Mayberry. It's hosted by Allan Newsome.
There's a new episode every Tuesday (and you can watch and listen live during tapings on Monday evenings). As of this week, there have been 551 episodes since Allan started doing the podcast just over a decade ago! Past episodes are in an online Archives in case you want to listen to or view classic installments you've missed.
And you'll also find links on the podcast's regular web page to a couple of other outstanding Mayberry-related podcasts: Burke on Mayberry (hosted by TAGSRWC's Kevin Burke) and the Mayberry Bible Study Podcast (again hosted by Allan Newsome).
TAGSRWC's official page on Facebook now has over 250,000 Likes! You can find us at www.facebook.com/tagsrwc. If you haven't already dropped by the page, we hope you'll check it out sometime when you have the chance. We invite you to become a TAGSRWC Facebook Friend!
We also have links in our "Liked by this Page" section to the pages of several TAGSRWC chapters on Facebook (including the Gomer and Goober Pyle Comic Book Literary Guild, which has interesting history contributions by member Randy Turner), as well as to Facebook pages of Mayberry Days, the Andy Griffith Museum, TAGS actors and others.
Even Ben Weaver has his own Facebook page at www.facebook.com/weaversdepartmentstore.  It features all the latest in Mayberry items and merchandise news.
***
  

****

Post Note

****
Between issues of our Weaver's Newsletter, keep up with the happenings in Mayberry with the daily "Who's Been Messin' Up the Bulletin Board?" Digest. It's a free subscriber list that consists entirely of comments, news flashes, and questions and answers from subscribers. You can sign up for that list by going to the "Mailing Lists" link at www.tagsrwc.com.
.
.
By the way, the 20th annual Mayberry Days Silent Auction, sponsored by "WBMUTBB?" and spearheaded by Jeff Koontz, raised $3,563 this year. Thanks to Dewey Lamb and all the others who created and contributed items for the auction and to all those who volunteered their time and made bid! We have the feeling that the auction for the 60th Anniverary of TAGS during next year's Mayberry Days is going to be another real humdinger!
TAGSRWC also publishes The eBullet in alternate months to Weaver's Newsletter. The eBullet is the online successor to our longtime printed newsletter, The Bullet. Like Weaver's Newsletter, The eBullet is free. It includes some of the same news as Weaver's Newsletter, but generally with more features and depth and a little less emphasis on merchandise news. To sign up, go to: www.tagsrwc.com/ebullet.
SPECIAL NOTICE:  The eBullet switched to a new e-mail notification system in 2018.  (There were ongoing glitches with the previous system of distributing the newsletter itself by e-mail. We had the happy problem of having too big of a newsletter and more subscribers than the distribution system could handle!)
Unfortunately, the switch requires those who were already subscribers at the time of the switch to resubscribe. Fortunately, it's as easy as typing in your e-mail address and clicking a button, and then clicking a button in the follow-up confirmation e-mail sent to you. Here again is the link: www.tagsrwc.com/ebullet. Everything else about The eBullet remains the same–including being free!
TAGSRWC's other main vehicle for Mayberry information is simply our website at www.tagsrwc.com (and its sister site www.iMayberry.com). Both sites have extensive content and links for just about everything a Mayberry fan might be looking for.
The next issue of Weaver's Newsletter is slated for December, and the next eBullet will be published in mid-November and will include more special highlights of this year's Mayberry Days.
***

.
***
Printer Friendly Version