Weaver's Newsletter        
An Online newsletter of
"The Andy Griffith Show" Rerun Watchers Club (TAGSRWC)
February 2019

Welcome to the winter Weaver's Newsletter, our first issue for 2019! Even as we're hunkered down in the cold weather for a few more weeks, there has been a lot going on in Mayberry. We'll jump right in with our report.
**** Merchandise Update ****
We've got a new T-shirt design, Barney Fife--Influencer, since our last newsletter.
And Weaver's is pleased to be the introductory retailer of the new line of officially licensed Mayberry's Finest Coffee.
Meanwhile, it's last call for the 2019 Andy Griffith Show Wall Calendar. We still have a handful left, but we don't expect our supply to last much longer. The year is still young, so there's plenty of time to get lots of good use out of the calendar this year.  (And hang on to the calendar after this year. Not only will it likely become a collectible, but frugal Barney reminds us that the same calendar grid will be usable again in 2030!)
Here are some highlights from Weaver's shelves, followed by our calendar of upcoming events and the latest news from all corners of Mayberry.
$20.00
There's no disguising that this is a classic Barney Fife T-shirt.  You can bank on that. Some might say it's the world's first self-cleaning T-shirt, but we still recommend washing it after each wearing.  No matter where this shirt might be manufactured, we can always say it's Maid in America!
Weaver's now has more than 50 different T-shirt designs to choose from!
New! $12.00
We're proud to offer the new line of premium coffees from Mayberry's Finest! The 12-ounce bags of ground coffees are available in Sunday Morning Breakfast Blend, Otis Campbell's Better-Than-Home Dark Roasted Coffee and Mayberry Diner's Decaffeinated Coffee.
Many shoppers will remember the popular line of Mayberry's Finest baking mixes and canned goods from a few years back. Well, Mayberry's Finest is back and now associated with Malcolm Tucker LLC, so you know they mean business. (There will soon be other delicious Mayberry's Finest products joining the coffees.)
This line of fine coffees will eventually be coming to the shelves of leading supermarkets and other top retailers, but the Mayberry's Finest folks wanted Weaver's customers to have the opportunity to be the first to try them--with the added convenience of having bags of coffee delivered right to your door.
By the way, Mayberry's Finest coffees are sourced, roasted and ground by the unsurpassed Just Love Coffee Roasters. They know coffee! And we think you'll "just love" this coffee brought to you by Mayberry's Finest!
***
.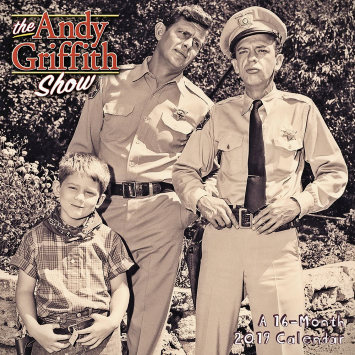 $15.00
The official 2019 TAGS Wall Calendar is an outstanding item for both home and office.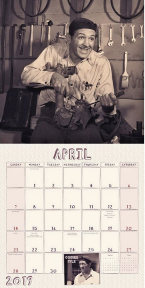 The 2019 edition of this annual favorite features photos from all around the town of Mayberry. You can see which characters are featured each month in the image at left. And at right you can see a representation of how the months are displayed.
The calendar is 12 in. wide x 12 in. tall when closed and 12 in. wide x 24 in. tall when open.
Characters featured in this 2019 edition are Andy, Barney, Opie, Aunt Bee, Goober, Floyd and Gomer. No item is more timely for holiday giving.
And there's more!  We have caps, Goober beanies, stickers, deputy patches and both Mayberry Sheriff and Mayberry Deputy badges.
***
Here are some other favorite items. They're joined more than 200 different Mayberry-related items, both new and vintage, at Weaver's.
$48.00
We offer beautiful tapestry throws in three Mayberry designs. The one-sided designs are imprinted on soft, custom woven 100% polyester (for easy cleaning) trimmed with fringe. They're ideal for spreading out on a bed, couch or favorite chair.  And they're also handy for picnic season, which will be here before you know it!
All throws measure an ample 36 in. x 58 in. And the designs are also available as fleece blankets, pillows, pillowcases, tote bags and pouches.
Check out new items and old favorites including lots of great books for winter reading online at Weaver's Department Store.
And remember that your purchases from Weaver's help support Mayberry events and Mayberry-related charitable causes all year long at locations all around the country. Those sales also help keep our online Mayberry newsletters and communities available to everybody free of charge. As always, thank you for shopping at Weaver's!
.
Floyd's

Barbershop

Bulletin

Board


&


Event

Calendar
.
The Andy Griffith Museum, completely remodeled in 2017, features the late Emmett Forrest's amazing collection of Andy Griffith memorabilia, The museum is open daily in Mount Airy, N.C. For info, visit the website at www.andygriffithmuseum.org or call (336) 786-1604.
The following information is from The eBullet.

* Feb. 28-Mar. 2: 22nd Annual George Lindsey UNA Film Festival in Florence, Ala. Special guests include George Lindsey Jr., actress Nancy Stafford ("Matlock") and Oscar-nominated writer Will Fetters (A Star Is Born). For more info, visit either www.lindseyfilmfest.com or the festival's page on filmfreeway.com.
* Mar. 15: Betty Lynn greets fans at the Andy Griffith Museum 1:00-3:00 p.m. She will have autographed 8 x 10 photos available ($10). For info, visit the website at www.andygriffithmuseum.org or call (336) 786-1604.
* Mar. 15: Roland White and his band perform at 9 p.m. at the Station Inn in Nashville, Tenn.
* Mar. 23: Rodney Dillard & the Dillard Band perform at 6 p.m. at First Baptist Church in Friendship, Tenn.
* Mar. 25:  Rodney Dillard & the Dillard Band perform at 8 p.m. (doors open at 7:00 p.m.) at the Grey Eagle Music Hall in Asheville, N.C. Advance general admission tickets are $22 ($32 for priority general admission) and available online at www.thegreyeagle.com.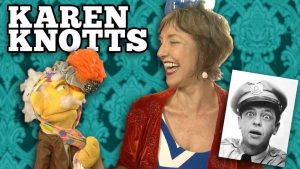 * Mar. 25: Karen Knotts brings her "Tied Up in Knotts" show to Covey Center for the Arts in Provo, Utah. Showtime is 7:00 p.m. For info and tickets, visit www.provo.org.
* Apr. 11: Karen Knotts heads to the hills with "Tied Up in Knotts" at the Municipal Auditorium in Morganton, N.C. Show time is 7:00 p.m. For info, go to www.commaonline.org.
* Apr. 19: Betty Lynn greets fans at the Andy Griffith Museum 1:00-3:00 p.m. She will have autographed 8 x 10 photos available ($10). For info, visit the website at www.andygriffithmuseum.org or call (336) 786-1604.
* Apr. 20: Roland White and his band perform at 9 p.m. at the Station Inn in Nashville, Tenn.

* May 4: 32nd Annual Uncle Jesse Big Bass Classic (founded by Denver Pyle) in Paris, Tex.  The event helps raise funds for Denver Pyle's Children's Charities, which remains very active in the Paris community. For info, visit the event's page on Facebook.
* Apr. 24-27: Margaret Kerry is a guest for the Missouri Cherry Blossom Festival in Marshfield, Mo.
* May 9-12: Karen Knotts brings "Tied Up in Knotts" to the Heritage Music Hall at the Crown Center in Kansas City, Mo., for four shows. For show times, tickets, and more info, visit www.musicaltheaterheritage.com.
* May 17: Betty Lynn greets fans at the Andy Griffith Museum 1:00-3:00 p.m. She will have 8 x 10 photos available for autographing ($10). For info, visit the website at www.andygriffithmuseum.org or call (336) 786-1604.
* May 17: Roland White and his band perform at 9 p.m. at the Station Inn in Nashville, Tenn.
* May 17-19: Sixth Annual Mayberry in the Midwest festival in Danville, Ind. Guests confirmed so far include Maggie Peterson Mancuso (Charlene Darling), Ronnie Schell (Duke Slater and two Mayberry roles), Margaret Kerry (two roles), Dixie Griffith (Andy's daughter), George Lindsey Jr., and the award-winning bluegrass band, The Grascals, who will perform a free concert on Sat. night.
A full troupe of Mayberry tribute artists will also be on hand. Other highlights include the Meet & Greet Dinner, a parade, and the Mayberry Squad Car Nationals. For more info, visit www.mayberryinthemidwest.com.
* May 25: Maggie Peterson joins Rodney Dillard & the Dillard Band for an edition of Bluegrass Underground billed as "Mayberry Memories: Andy Griffith Show Celebration," at The Caverns in Pelham, Tenn. David "Mayberry Deputy" Browning will also be on patrol and performing. Showtime is 2:00 p.m. (Cave opens at 1:00.) Reserved tickets are priced $40 and up, with various package options. For info visit www.thecaverns.com.
* June 12: Rodney Dillard & the Dillard Band perform at the Bean Blossom Bluegrass Festival in Bean Blossom, Ind.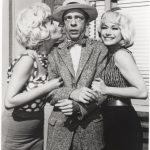 * June 15: Mayberry 101 author Neal Brower kicks off his summer lecture series about TAGS with a discussion of the "Fun Girls" episode ("Hello, doll!"), starting at 2 p.m., in the Andy Griffith Museum Theatre in Mount Airy, N.C. Admission is included with Andy Griffith Museum admission ($8 for adults, $6 for ages 12 and under). Visit www.andygriffithmuseum.org or call (336) 786-1604.
* June 15: Roland White and his band perform at 9 p.m. at the Station Inn in Nashville, Tenn.
* June 21: Betty Lynn greets fans at the Andy Griffith Museum 1:00-3:00 p.m. She will have 8 x 10 photos available for autographing ($10). For info, visit the website at www.andygriffithmuseum.org or call (336) 786-1604.
* July 13 and 14: The Roland White Band performs at the 9th Annual Bluegrass on the Green in Frankfort, Ill.
* July 19: Betty Lynn greets fans at the Andy Griffith Museum 1:00-3:00 p.m. She will have 8 x 10 photos available for autographing ($10). For info, visit the website at www.andygriffithmuseum.org or call (336) 786-1604.
* July 19 and 21: 7th Annual Mayberry Meet-Up in Mount Airy, N.C.  Here's the link to more info on the event's Facebook page, and here's a link (also on the Facebook page) to the online registration form. The event coincides nicely (and not by accident) with Betty Lynn's meet-and-greet at the Andy Griffith Museum on Friday (see above) and Neal Brower's lecture at the Museum on Saturday (see below).
.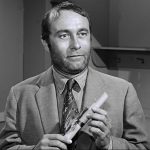 * July 20: Mayberry 101 author Neal Brower's second summer lecture about TAGS finds him talking about "The Education of Ernest T. Bass," starting at 2 p.m., in the Andy Griffith Museum Theatre in Mount Airy, N.C. Admission is included with Andy Griffith Museum admission ($8 for adults, $6 for ages 12 and under). Visit www.andygriffithmuseum.org or call (336) 786-1604.
.
* Aug. 10: Mayberry 101 author Neal Brower wraps up his summer lecture series about TAGS with a discussion of the "Andy's English Valet" episode, starting at 2 p.m., in the Andy Griffith Museum Theatre in Mount Airy, N.C. Admission is included with Andy Griffith Museum admission ($8 for adults, $6 for ages 12 and under).
Visit www.andygriffithmuseum.org or call (336) 786-1604.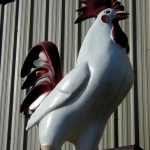 * Sept. 19: Karen Knotts performs "Tied Up in Knotts" at a luncheon show from 1:30 to 3:30 at Wright's Chicken Farm Restaurant in Harrisville, R.I. The cost is $69 for the all-inclusive round-trip motorcoach that is part of part of a group tour, or $45 for just the luncheon and show (drive yourself). For more info visit www.travelgrouptrips.com.
***
* Sept. 23-29: 30th Annual Mayberry Days in Mount Airy, N.C. Tickets are already available for many of the week's events, including for concerts by Rodney Dillard & the Dillard Band. LeRoy "Mack" McNees & Friends, and a presentation of "A Deputy's Daughter" by Karen Knotts.
.
.
Tickets are also available for The Emmett Golf Tournament (and the dinner and entertainment featuring comedian Henry Cho), concerts by Collin Raye, The Grascals, The VW Boys, The Embers, Envision, and Legacy Motown Revue, as well as comedy performances by John Floyd (The Mouth of Mayberry) and James Gregory ("The Funniest Man in America"). Tickets are also available for Professor Brower's Lecture/TAGSRWC Meeting and Colonel Tim's Talent Time.
Other guest stars joining Mount Airy's own Betty Lynn for the festival are TBA.  For advance tickets (order early and get those extra-good seats!), visit www.mayberrydays.com. And of course, much of Mayberry Days, including assorted contests and performances and the parade, don't require a ticket.
* Oct. 12: Rodney Dillard & the Dillard Band bring their Mayberry Moments show to Marion, Va., as part of the "Song of the Mountains" TV show.
***
**** News of Cast & Crew ****
Ron Howard, as usual, has many projects underway as director.  He's wrapping up post-production work on his Pavarotti documentary (set for release, likely later this year, by CBS Films) just as he's in the midst of pre-production work on both Hillbilly Elegy (in conjunction with Netflix and Ron's Imagine Entertainment) and the National Geographic documentary Rebuilding Paradise about the aftermath and recovery of 2018's fire disaster in Paradise, Calif. Ron is also currently slated to direct 68 Whiskey, a television movie being developed by Imagine and CBS Television.
Ron has also announced that he and other Imagine executives will be executive producers in partnership with NBA legend Dwyane Wade on a documentary about Wade's career. (Wade planned ahead by making arrangements years ago for shooting behind-the-scenes footage of his life, in addition to game footage.)
.
Betty Lynn continues to hold court at Mount Airy's Andy Griffith Museum the third Friday of every month (see Floyd's bulletin board above for details). Here's a greeting from Betty posted by the museum.
.
.
Rodney Dillard is on the mend after surgery in January and will be back on the truck this year for performances beginning in March.
When in Las Vegas, be sure to check out Maggie Peterson Mancuso and husband Gus Mancuso performing in the Main Dining Room at the legendary Bootlegger Italian Bistro on Friday afternoons. And Maggie has several performance dates (including Mayberry Days) coming up this year with TV "brother figure" Rodney Dillard, as well as with other TAGS performers at Mayberry in the Midwest in May (see Floyd's calendar above).
The beautiful oceanfront home of the late Jim Nabors sold for $12 million on January 4. The new owner has not been announced.
Margaret Kerry (Bess Muggins and Helen Scobey) was in the Tampa area in December for a Tinker Bell/Disney-related event. She also made some holiday appearances closer to home in California, including in Palm Springs for a book-signing event for her Tinker Bell Talks memoir.  Margaret was also a participant at the Annie Awards (the Oscars/Emmys for animation) at UCLA's Royce Hall on February 2.
Joy Ellison (Mary Wiggins and others) has recently wrapped up dialect coaching for the upcoming films The Laundromat (working with Antonio Banderas) and Jungleland.
Though LeRoy "Mack" McNees, a member of The Country Boys during his two TAGS episodes, has officially retired, he still enjoys getting together with fellow musicians for occasional performances, including at Mayberry Days in September and earlier this month, closer to home in California, with his group of friends who call themselves The Grateful Dudes.
***
Mayberry in Memorium
We're very sad to report the passing of three actors, each of whom had memorable performances in their single episodes of TAGS.  All three also made iconic contributions to show business.
Herb Ellis, who played bandleader Bobby Fleet in "The Guitar Player Returns" (Episode 31) died in San Gabriel, Calif., on December 26. He was 97.
Born Herbert E. Siegel in Cleveland, Ohio, on January 17, 1921, Herb made his way to San Francisco, where he worked as an announcer and eventually actor in radio, where he met and worked with Jack Webb.
With Webb, Herb developed the concept for a new police detective show with the Joe Friday character and what became "Dragnet," first for radio and then for television.
Herb originated the role of Officer Frank Smith for the first "Dragnet" TV series in 1952. He and Jack Webb would continue to work on many series together, including "The D.A.'s Man," which Webb helped produce and in which Herb co-starred as Frank La Valle in 23 episodes.
Herb was usually cast in the role of authority figures, particularly cops and lawyers. He had multiple and sometimes reoccurring roles in many TV series ranging from "Peter Gunn," "Peter Loves Mary" and "The Many Loves of Dobie Gillis" to "M Squad," "Hennesey" and "Bewitched."
Herb's feature films included Stanley Kubrick's The Killing in 1958, Billy Wilder's The Fortune Cookie in 1966 and The Party for director Blake Edwards in 1968. He also had a robust career doing voice-overs, including as narrator for The Disappearance of Flight 412, a 1974 made-for-TV movie starring Glenn Ford.
For further reading about Herb's career, there's a comprehensive  profile on the Radio Spirits website that was published on the occasion of Herb's 95th birthday three years ago.
Even with all that Herb accomplished in his career, he stayed in touch with Mayberry. In fact, he received our printed Bullet newsletter from its early years until its final issue in 2001.
.
.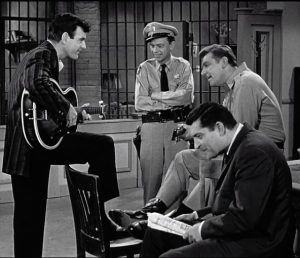 And while Herb wasn't the only actor to portray Bobby Fleet (not to mention the confusion with Freddy Fleet), he was the Bobby Fleet who successfully rehired Jim Lindsey. And Herb also showed enviable gusto and style when keeping musical tempo with a rolled-up newspaper.
Herb Ellis is survived by daughter Karen and four grandchildren. He was predeceased by Sylvia, his wife of 73 years, and their son, Steven.
.
***
 Julie Adams passed away in Los Angeles on February 3 at age 92.   In the title role of 1962's "The County Nurse" (Episode 56), Julie captivated both Mayberry and the audience. In fact, Julie's portrayal of nurse Mary Simpson likely ranks near the very top of favorite one-episode appearances among many TAGS fans.
Betty May Adams was born in Waterloo, Iowa, on October 17, 1926, and grew up in Blytheville and Little Rock, Ark. She was attending Little Rock Junior College when was named Miss Little Rock at age 19. After that milestone, she dropped out of school and moved to California to pursue a career in acting.
Julie was still going by Betty Adams for her first film, 1949's Red, Hot, and Blue. She made eight more low-budget Westerns before  changing her name to Julia and signing with Universal Studios in 1951.
As Julia and, beginning in 1955, just Julie, she made another 20 films (still mostly Westerns) with Universal until 1957--most notably Bend of the River (with Jimmy Stewart and Rock Hudson) and Horizons West (with Robert Ryan, Rock Hudson, Raymond Burr, James Arness, Dennis Weaver and Frances Bavier) in 1952, The Man from the Alamo (with Glenn Ford and Hugh O'Brian) and The Lawless Breed in 1953, and Francis Joins the WACs (with Donald O'Connor) and One Desire (with Rock Hudson and Natalie Wood), both in 1955.
Oh, and maybe one more film of that era that should be mentioned: Creature of the Black Lagoon, released in 1954. Julie's performance as Capt. Jane Parker would endure as her most publicized and popular role (that is, at least in the world beyond Mayberry). More than six decades later Julie was still a big draw at gatherings of sci-fi/fantasy fans.  She would gladly sign movie posters and pose with assorted Creatures.
.
.
After she was no longer under contract with Universal, Julie went on to make 16 more feature films for various studios, including Tickle Me (with Elvis Presley) in 1965, Dennis Hopper's The Last Movie in 1971, McQ (with John Wayne) in 1974 and Oliver Stone's World Trade Center in 2006.
Beginning in the late 1960s, Julie also appeared in a handful of made-for-TV movies, include 1973's Go Ask Alice (with Andy Griffith and William Shatner). She also played the role of The Mother to Andy Griffith's The Father in a 1976 adaptation, filmed for public television, of Six Characters in Search of an Author.  (The production was one of Andy Griffith's favorites of his career.)
As far back as 1949 but steadily since the mid-1950s, Julie appeared in scores of TV productions, with multiple appearances in top shows, such as "Alfred Hitchcock Presents," "77 Sunset Strip," "Perry Mason," "General Hospital" and "Quincy M.E."
Julie was also a costar in all 24 episodes of 1971's "The Jimmy Stewart Show" in which she played Stewart's wife. She was also the recurring character Ann Rorchek for 1981's "Code Red" (opposite Lorne Greene) and she was a favorite guest star as real estate agent Eve Simpson in 10 episodes of "Murder She Wrote" from 1987 to 1993.
After her time under contract at Universal Studios ended in the late 1950s , Julie had decided to expand her repertoire to live theater.  Through the decades that followed, from California to Chicago to Florida, she enjoyed performing in works ranging from Shakespeare and Tennessee Williams to Eugene O'Neill and Driving Miss Daisy. Along the way, Julie picked up her first acting award, a 1989 Drama-Logue Award for her portrayal of Mary Tyrone in a Los Angeles production of Long Day's Journey into Night.
Julie also was recognized for her lifetime achievements in Westerns (1999 Golden Boot Award) and in the Sci-Fi, Fantasy and Horror genres at CineCon in 2011 and at the Saturn Awards in 2013. She was inducted into the Arkansas Entertainers Hall of Fame in 2000.
Julie married writer-producer Leonard Stern in 1951 and divorced 1953. She was married to actor and director-to-be Ray Danton from 1955 until their 1978 divorce. (They remained friends, and Julie acted in several TV episodes directed by Ray after they separated.) The couple had two sons, Steve (in demand as a second unit director) and Mitch (a busy film editor), who also co-wrote Julie's outstanding 2011 memoir, The Lucky Southern Star-Reflections from the Black Lagoon.  Julie is survived by her sons and four grandchildren.
About her time on TAGS, Julie wrote in her memoir, "There was a kind of ease about it. Working with Andy and Don was a pleasure--the humor of the show was quite delicious. ... For the week I was there, they made me feel right at home in their Mayberry world. ... I feel fortunate to have been part of it, if only for a little while."
She added, "It has been over 40 years since it went off the air, yet the fans stay involved. It's quite rare that a TV show's audience remains loyal for that many years. I'm grateful that I share a small part of that legacy."
Generations of fans likewise are grateful that, even though for far too short a time, Julie gave Mayberry some of its truly best shots!
***
.
Joe Sirola, Freddy Fleet in "The Mayberry Band" (Episode 71), died from complications of respiratory failure in New York City on February 10. He was 89.
Joe was the third and final Fleet bandleader to appear on TAGS (following the two Bobby Fleets in the first season played by Henry Slate and then Herb Ellis, whose remembrance lead off this In Memorium section.)
Joe's show business career was as diverse and accomplished as anybody who ever passed through Mayberry. Joe approached everything in life with the same zest he showed in his few scenes in Mayberry.
Dubbed "King of the Voice-Overs" by the Wall Street Journal in 1970, Joe provided voices for Wendy's, Nyquil, Vicks Formula 44, Boar's Head meats, Hertz, Mobil, Ford, GE and many other brands. It's estimated that he recorded more than 10,000 voice-overs. He won 25 prestigious Clio Awards for his advertising work.
For many years, Joe was the voice of the "I Love New York" campaign.  And for decades, if you took an audio tour of the Empire State Building, it was Joe's voice guiding you. Joe was also the voice of Dr. Doom in the animated "Fantastic Four" series.
About his voice-over work, Joe famously and Fleetly once commented, "I used the mic as a person. I spoke to the audience rather than at them. I went from $3,200 a year to a million a year for 20 years."
The son of Croatian immigrants, Joseph A. Sirola was born in Carteret, N. J., on October 7, 1929 (about three weeks before the stock market crash).  Joe's father was a skilled carpenter and his mother operated a boarding house. Joe attended Manhattan's esteemed Stuyvesant High School and then won a scholarship to attend Columbia University.
Following graduation, Joe served in the Army for 15 months during the Korean War. He then worked as a sales promotion manager for Kimberly-Clark for a few years, before deciding to study acting at New York City's Hunter College.
His first Broadway role came in 1960, when he showed his singing chops and originated the role of Christmas Morgan while costarring with Tammy Grimes and Harve Presnell in The Unsinkable Molly Brown. (Hear him singing on several numbers on the original cast album.) During that time, as many theater actors often did then and still do now, Joe also performed in daytime television.  He played Peter Nino in the CBS soap opera "The Brighter Day."
Joe's other Broadway performing credits included starring with Steve Lawrence and Eydie Gormé in Golden Rainbow (1968-69) and in Pal Joey with Dixie Carter and Marilu Henner in 1976. He said his favorite performing role on stage was as Alfred. P. Doolittle in a production of My Fair Lady.
In recent years, Joe had turned to producing Broadway shows, starting with original plays Time Stands Still in 2011 and Stick Fly in 2012, followed by a revival of Trip to Bountiful in 2013 (for which he was nominated for a Tony Award) and that same year the smash hit A Gentleman's Guide to Love & Murder for which he  received a Tony Award in 2014. He also produced a revival of Love Letters in 2014 starting Brian Dennehy and Mia Farrow. And he produced numerous off-Broadway shows, including Cagney: The Musical.
.
.
Though voice-over work was Joe's bread and butter and allowed him to live a life befitting Freddy Fleet (including a rare Mercedes-Benz and penthouse apartment on Manhattan's East 66th Street, complete with a lush rooftop garden; see accompanying photos), he found time for other work in Hollywood.
.
Joe's appearance in Mayberry was among his first West Coat film credits, but he went on to perform in dozens of top shows, including multiple episodes of "Perry Mason," "Gunsmoke," "Death Valley Days," "Get Smart," "The Man from U.N.C.L.E.," "Quincy M.E." and "The Rockford Files.
Another stand-out performance was when Joe brought preeminent American writer and patriot Thomas Paine to life with great force and style in his comedic interview with Steve Allen for the PBS series "Meeting of Minds" in 1977.
Joe also played the recurring character Jonathan Kaye in five episodes of "Hawaii 5-0" and costarred as Sal Wolf in "Wolf," as Tony Montefusco in "The Montefuscos" and as Dominick with Bill Bixby in "The Magician."
Joe's mini-series and made-for-TV movies included Washington: Behind Closed Doors (1977) and Terrible Joe Moran (1984) with Art Carney and James Cagney in what would be Cagney's his final role.
Most of Joe's on-camera film work was in television, but he also appeared in a handful of feature films, including Strange Bedfellows and The Greatest Story Ever Told.  Perhaps most memorable was his role as Reno, an eye-patch-wearing scoundrel who meets his match when he goes against Clint Eastwood in 1968's Hang 'em High (also featuring Arlene Golonka).
.
.
But in real life, Joe was much more like Freddy Fleet than Reno. He lived life with debonair vigor and great social engagement, typified by his hosting an annual Champagne and Roses Soiree at his penthouse. It is the rare photograph of recent years that doesn't show Joe with his trademark red rose tucked into his lapel.
.
.
Joe's survivors include companion Claire Gozzo, daughter Dawn, granddaughters Eva, Isabel and Sofia, nephew Stewart, nieces Susan and Andre, and goddaughter Curran.
Though Joe made only a brief visit to Mayberry, his performance as the bon vivant Freddy Fleet continues to signal that a good time is in store for us--just as Joe himself spread joy wherever he went in life.
.
.
***
.
**** Mayberry on the Web ****

The iMayberry Community
This TAGSRWC online group is organized and overseen by webmaster Allan "Floyd" Newsome with big help from Keith "Col. Harvey" Brown. You can check out the fun of this online community and sign up for free at: http://imayberrycommunity.com.
The iMayberry Community complements our other online activities, including our main www.imayberry.com page, podcasts, Facebook pages, online newsletters (such as The eBullet!), weaversdepartmentstore.com and chat rooms.
Two Chairs, No Waiting is our weekly podcast of TAGS news, interviews and pretty much whatever happens to be going on in and around Mayberry. It's hosted by Allan Newsome.
There's a new episode every Tuesday (and you can watch and listen live during tapings on Monday evenings). As of this week, there have been 518 episodes since Allan started doing the podcast just over a decade ago! Past episodes are in an online Archives in case you want to listen to or view classic installments you've missed.
The Two Chairs podcast had an informal Meet-Up in Huntsville earlier this month. Here's a video link that includes a tour of both the Two Chairs HQ and Weaver's that weekend. We just knew some great Mayberry items would be on display! (Once on the Facebook page with the video link, scroll down to February 16 and click the play icon on the video.)
And you'll also find links on the podcast's regular web page to a couple of other outstanding Mayberry-related podcasts: Burke on Mayberry (hosted by TAGSRWC's Kevin Burke) and the Mayberry Bible Study Podcast (again hosted by Allan Newsome).
TAGSRWC's official page on Facebook has over 245,000 Likes! You can find us at www.facebook.com/tagsrwc. If you haven't already dropped by the page, we hope you'll check it out sometime when you have the chance. We invite you to become a TAGSRWC Facebook Friend!
We also have links in our "Liked by this Page" section to the pages of several TAGSRWC chapters on Facebook (including the Gomer and Goober Pyle Comic Book Literary Guild, which has fascinating history contributions by member Randy Turner), as well as to Facebook pages of Mayberry Days, the Andy Griffith Museum, TAGS actors and others.
Even Ben Weaver has his own Facebook page at www.facebook.com/weaversdepartmentstore.  It features all the latest in Mayberry items and merchandise news.
***
   **** Post Note ****
Between issues of our Weaver's Newsletter, keep up with the happenings in Mayberry with the daily "Who's Been Messin' Up the Bulletin Board?" Digest. It's a free subscriber list that consists entirely of comments, news flashes, and questions and answers from subscribers. You can sign up for that list by going to the "Mailing Lists" link at www.tagsrwc.com.
TAGSRWC also publishes The eBullet in alternate months to Weaver's Newsletter. The eBullet is the online successor to our longtime printed newsletter, The Bullet. Like Weaver's Newsletter, The eBullet is free. It includes some of the same news as Weaver's Newsletter, but generally with more features and depth and a little less emphasis on merchandise news. To sign up, go to: www.tagsrwc.com/ebullet.
SPECIAL NOTICE:  The eBullet has recently switched to a new e-mail notification system.  (There were ongoing glitches with the previous system of distributing the newsletter itself by e-mail. We had the happy problem of having too big of a newsletter and more subscribers than the distribution system could handle!)
Unfortunately, the switch requires those who were already subscribers at the time of the switch to resubscribe. Fortunately, it's as easy as typing in your e-mail address and clicking a button, and then clicking a button in the follow-up confirmation e-mail sent to you. Here again is the link: www.tagsrwc.com/ebullet. Everything else about The eBullet remains the same--including being free!
TAGSRWC's other main vehicle for Mayberry information is simply our website at www.tagsrwc.com (and its sister site www.iMayberry.com). Both sites have extensive content and links for just about everything a Mayberry fan might be looking for.
The next issue of Weaver's Newsletter is slated for April, and the next eBullet will be published in March.
***

.
***
Printer Friendly Version