Weaver's Newsletter        
An Online newsletter of
"The Andy Griffith Show" Rerun Watchers Club (TAGSRWC)
December 2018

This is our final issue for 2018. And what a bustling year it has been around Mayberry--filled with many joys, but also with some heartfelt sadnesses. Happy or sad, though, we're thankful for Mayberry and all of the entertainment, fun times and friendships it continues to bring us.
But now's the time of  year to just sit back and relax. Slow down. Take it easy. But wait...first there's all our shopping to do! Fortunately...
****

Merchandise

Update

****
...Ben Weaver has been hard at work making sure his virtual shelves are filled for all your Mayberry holiday shopping needs.
We're especially excited to offer a brand new line of officially licensed Mayberry's Finest Coffee! The bags of this premium ground coffee are so fresh that right now they're not even available anywhere else except through Weaver's!
.
***

Holiday

 

Shipping

 

Schedule

***
For orders received as late as Noon CT on Wednesday, December 19, we'll be shipping for Christmas delivery with our standard flat-rate of $5.00 for shipping & handling. Unless you live really near our shipping HQ in Huntsville, Ala., any orders we receive after 12 Noon CT on December 19th, will require FedEx Overnight Delivery to be guaranteed to arrive by Christmas. FedEx orders for Christmas delivery will be processed until Noon CT on Thursday, December 2oth. Orders received after that time will not be shipped in time for guaranteed delivery by Christmas.

PLEASE NOTE: All FedEx charges are in addition to our standard flat rate of $5 for shipping and handling on all orders shipped to the same address. All FedEx charges are billed separately and directly by FedEx to your credit card.
But why pay extra money to use FedEx? Avoid the rush. Don't worry about not being Mayberry-like. You won't get a "rude" like Ernest T., because this is one time it's perfectly O.K. to hurry up a little bit in Mayberry.
We've got everything from deluxe gifts and rare collectibles to apparel and all sorts of great stocking stuffers. Here are some highlights:
.
New! $12.00
Just in time for the holidays, we're proud to offer the new line of premium coffees from Mayberry's Finest! The 12-ounce bags of ground coffees are available in Sunday Morning Breakfast Blend, Otis Campbell's Better-Than-Home Dark Roasted Coffee and Mayberry Diner's Decaffeinated Coffee.
Many shoppers will remember the popular line of Mayberry's Finest baking mixes and canned goods from a few years back. Well, Mayberry's Finest is back and now associated with Malcolm Tucker LLC, so you know they mean business. (There will soon be other delicious Mayberry's Finest products joining the coffees.)
This line of fine coffees will eventually be coming to the shelves of leading supermarkets and other top retailers, but the Mayberry's Finest folks wanted Weaver's customers to have the opportunity to be the first to try them--with the added convenience of having bags of coffee delivered right to your door.
By the way, Mayberry's Finest coffees are sourced, roasted and ground by the unsurpassed Just Love Coffee Roasters. They know coffee! And we think you'll "just love" this coffee brought to you by Mayberry's Finest!
.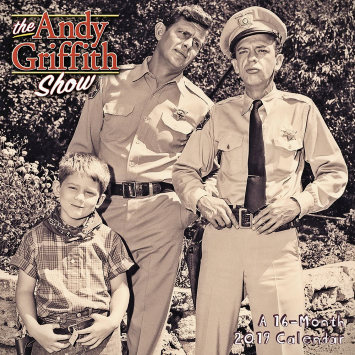 $15.00
The official 2019 TAGS Wall Calendar is an outstanding item for home or office, or both.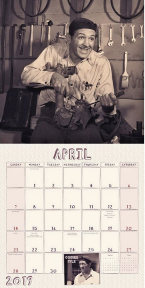 The 2019 edition of this annual favorite features photos from all around the town of Mayberry. You can see which characters are featured each month in the image at left. And at right you can see a representation of how the months are displayed.
The calendar is 12 in. wide x 12 in. tall when closed and 12 in. wide x 24 in. tall when open.
Characters featured in this 2019 edition are Andy, Barney, Opie, Aunt Bee, Goober, Floyd and Gomer. No item is more timely for holiday giving.
Most of our adult-sized T-shirts are just $20. A few designs are $18, and the Lawmen and Sheriff all-over designs are $25. (The long-sleeved Sheriff shirt is $40.) Several designs are available in sweatshirts (and some also as hoodies) as well.
And there's more!  We have caps, Goober beanies, deputy patches and both Mayberry Sheriff and Mayberry Deputy badges.
.
Here are some other favorite items. They're joined more than 200 different Mayberry-related items, both new and vintage, at Weaver's.
$48.00
Shown here are two of our three beautiful tapestry throws--one featuring an iconic image of Andy and Opie fishing down at Myers Lake and one that's just a big Barney Face. (The third throw design features Andy, Barney and Opie.)
The one-sided designs are imprinted on soft, custom woven 100% polyester (for easy cleaning) trimmed with fringe. They're ideal for spreading out on a bed, couch or favorite chair.
All throws measure an ample 36 in. x 58 in. And the designs are also available as fleece blankets, pillows, pillowcases, tote bags and pouches.
Weaver's also has several Mayberry items especially for the Christmas season, including music, movies and books.
Check out new items and old favorites including lots of great books for winter reading online at Weaver's Department Store.
And remember that your purchases from Weaver's help support Mayberry events and Mayberry-related charitable causes all year long at locations all around the country. Those sales also help keep our online Mayberry newsletters and communities available to everybody free of charge. As always, thank you for shopping at Weaver's!
Floyd's

Barbershop
Bulletin

Board




&




Event

Calendar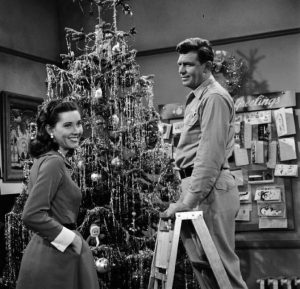 .
The Andy Griffith Museum, completely remodeled in 2017, features the late Emmett Forrest's amazing collection of Andy Griffith memorabilia, The museum is open daily in Mount Airy, N.C. For info, visit the website at www.andygriffithmuseum.org or call (336) 786-1604.
The following information is from The eBullet.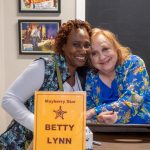 * Dec. 21: Betty Lynn (Thelma Lou) greets fans at the Andy Griffith Museum 1:00-3:00 p.m. She will have 8 x 10 photos available ($10) for autographing. For info, visit the website at www.andygriffithmuseum.org or call (336) 786-1604. Treat yourself to the holiday gift of a visit with Betty Lynn.
*** 2019 ***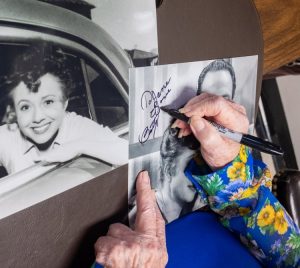 * Jan. 18: Betty Lynn greets fans at the Andy Griffith Museum 1:00-3:00 p.m. She will have autographed 8 x 10 photos available ($10). For info, visit the website at www.andygriffithmuseum.org or call (336) 786-1604.
* Feb. 15: Betty Lynn greets fans at the Andy Griffith Museum 1:00-3:00 p.m. She will have autographed 8 x 10 photos available ($10). For info, visit the website at www.andygriffithmuseum.org or call (336) 786-1604.

* Feb. 28-Mar. 2: 22nd Annual George Lindsey UNA Film Festival in Florence, Ala. The deadline for film submissions is Dec. 1. For more info visit either www.lindseyfilmfest.com or the festival's page on filmfreeway.com. Full schedule and guests TBA.
* Mar. 15: Betty Lynn greets fans at the Andy Griffith Museum 1:00-3:00 p.m. She will have autographed 8 x 10 photos available ($10). For info, visit the website at www.andygriffithmuseum.org or call (336) 786-1604.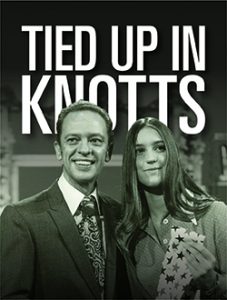 * Mar. 25: Karen Knotts brings her "Tied Up in Knotts" show to Covey Center for the Arts in Provo, Utah. Showtime is 7:00 p.m. For info and tickets, visit www.provo.org.
* Apr. 11: Karen Knotts heads to the hills with "Tied Up in Knotts" at the Municipal Auditorium in Morganton, N.C. Showtime is 7:00 p.m. For info, go to www.commaonline.org.
* Apr. 19: Betty Lynn greets fans at the Andy Griffith Museum 1:00-3:00 p.m. She will have autographed 8 x 10 photos available ($10). For info, visit the website at www.andygriffithmuseum.org or call (336) 786-1604.
* May 9-12: Karen Knotts brings "Tied Up in Knotts" to the Heritage Music Hall at the Crown Center in Kansas City, Mo., for four shows. For showtimes, tickets and more info, visit www.musicaltheaterheritage.com.
* May 17-19: Sixth Annual Mayberry in the Midwest festival in Danville, Ind. Guests confirmed so far include Maggie Peterson Mancuso (Charlene Darling), Ronnie Schell (Duke Slater and two Mayberry roles), Margaret Kerry (two roles), Dixie Griffith (Andy's daughter), George Lindsey Jr. and the award-winning bluegrass band, The Grascals, who will perform a free concert on Sat. night.
A full troupe of Mayberry tribute artists will also be on hand. Other highlights include the Meet & Greet Dinner, a parade, and the Mayberry Squad Car Nationals. For more info, visit www.mayberryinthemidwest.com.
* May 25: Maggie Peterson joins Rodney Dillard & the Dillard Band for an edition of Bluegrass Underground billed as "Mayberry Memories: Andy Griffith Show Celebration," at The Caverns in Pelham, Tenn. David "Mayberry Deputy" Browning will also be on patrol and performing. Showtime is 2:00 p.m. (Cave opens at 1:00.) Reserved tickets are priced $40 and up, with various package options. For info visit www.thecaverns.com.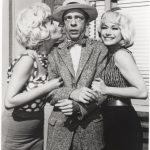 * June 15: Mayberry 101 author Neal Brower kicks off his summer lecture series about TAGS with a discussion of the "Fun Girls" episode ("Hello, doll!"), starting at 2 p.m., in the Andy Griffith Museum Theatre in Mount Airy, N.C. Admission is included with Andy Griffith Museum admission ($8 for adults, $6 for ages 12 and under). Visit www.andygriffithmuseum.org or call (336) 786-1604.
.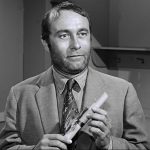 * July 20: Mayberry 101 author Neal Brower's second summer lecture about TAGS finds him talking about "The Education of Ernest T. Bass," starting at 2 p.m., in the Andy Griffith Museum Theatre in Mount Airy, N.C. Admission is included with Andy Griffith Museum admission ($8 for adults, $6 for ages 12 and under). Visit www.andygriffithmuseum.org or call (336) 786-1604.
.
* Aug. 10: Mayberry 101 author Neal Brower wraps up his summer lecture series about TAGS with a discussion of the "Andy's English Valet" episode, starting at 2 p.m., in the Andy Griffith Museum Theatre in Mount Airy, N.C. Admission is included with Andy Griffith Museum admission ($8 for adults, $6 for ages 12 and under).
Visit www.andygriffithmuseum.org or call (336) 786-1604.
* Sept. 19 and 20: Karen Knotts performs "Tied Up in Knotts" somewhere in Connecticut. Details TBA, but if you're in the vicinity, mark your calendars!
* Sept. 23-29: 30th Annual Mayberry Days in Mount Airy, N.C. Tickets are already available for many of the week's events, including for a concert by Rodney Dillard and the Dillard Band and a presentation "A Deputy's Daughter" by Karen Knotts.
.
.
Tickets are also available for The Emmett Golf Tournament (and the dinner and entertainment featuring comedian Henry Cho), concerts by Collin Raye, The Grascals, The VW Boys, The Embers, Envision, and Legacy Motown Revue, as well as comedy performances by John Floyd (The Mouth of Mayberry) and James Gregory ("The Funniest Man in America"). Tickets are also available for Professor Brower's Lecture/TAGSRWC Meeting and Colonel Tim's Talent Time.
Other guest stars and much more are TBA.  For advance tickets (order early and get those extra-good seats!), visit www.mayberrydays.com. And of course, much of Mayberry Days, including assorted contests and performances and the parade, don't require a ticket.
***
**** News of Cast & Crew ****
From Mayberry to Fort Courage, folks are greatly saddened by the passing of Ken Berry. He died on December 1 at Providence St. Joseph Medical Center in Burbank, Calif. He was 85.
Ken became a pillar of the Mayberry legacy with his character of Sam Jones in four episodes of TAGS and all 78 episodes of "Mayberry R.F.D." Andy Griffith could not have handed the Mayberry reins to more capable hands. Not to mention feet, because Ken was also one of the premier dancers of his generation or any other.
Most of all, Ken was simply a gracious and kind person. He was universally considered to be one of the nicest people in show business. No, make that one of the nicest people, period.
Especially after his retirement from show business in the 1990s, Ken was famous for being totally content with just staying at home, enjoying time with friends and family, and learning about, tinkering with, and driving cars and other vehicles. After decades of being on the road and flying all over the country to perform, he reveled in the chance in retirement just to take it easy at home and see what each day might bring. Only rarely was he coaxed to make public appearances, or even many private ones.
Ken could never be persuaded to attend any Mayberry fan events, such as Mayberry Days. He knew he was always invited, but he gently declined. He simply had no desire to get on another plane or stay in one more hotel room. In short, he had the opportunity to figuratively (and maybe sometimes literally) just sit on a front porch and rock. No longer a "man in a hurry." It's hard to get more Mayberry than that!
We've published a Special Edition of The eBullet (our brother-figure publication online): Remembering Ken Berry. It draws extensively from the 1999 interview/profile in our old printed newsletter, The Bullet. The story has been updated, and we've added several new photos. Most of the story is in Ken's own words.
President George H.W. Bush, who died the day before Ken, was known for his call for us to be "kinder and gentler." He needed to look no further than to Ken Berry, a true "point of light" if there ever were one.
Our deepest sympathies go out to Ken's family and friends, including ex-wife Jackie Joseph, herself a member of the Mayberry family.
***
Ron Howard is juggling lots of projects these days, both as director and producer. He's currently directing Pavarotti, about the legendary tenor. He also has been scouting locations (especially around Middletown, Ohio) for Hillbilly Elegy, a feature film based on J.D. Vance's best-seller. And Ron and the Imagine team are back as executive producers of the new season of the hit series "Mars," which started on NatGeo in November.
.
.
Apple Seed, the last film of Rance Howard, has had some initial screenings with very good reviews. (Filming of Rance's part was completed shortly before Rance passed away in November 2017.) The movie, which also features Clint Howard, will hopefully have wider distribution soon.
.
.
Betty Lynn still holds court at Mount Airy's Andy Griffith Museum the third Friday of every month (see Floyd's bulletin board above for details). Here's a greeting from Betty posted by the museum.
Speaking of Mount Airy, we shared some photos from September's Mayberry Days festival in our last issue. There are now many more photos ("bunches, bunches") by ace Mount Airy photographer Kenny Hooker online in the Surry Arts Council's Mayberry Days Gallery.
That official gallery is organized by individual events of the festival, so it's easy to search if you're looking for photos of specific parts of Mayberry Days.
.
Jackie Joseph made the cover of the current issue (Dec.-Jan.) of The Pet Press! The story about Jackie puts a spotlight on her decades of work on behalf of animals, especially through pet adoptions and spaying and neutering programs, most notably through her work with Actors and Others for Animals, which is just one of many worthy causes that Jackie supports.
Jackie also continues to write a column for The Tolucan Times whenever the notion or an occasion prompts her, including her most recent article about a milestone birthday in November.
***
.
****

Mayberry

on

the

Web

****

The iMayberry Community
This TAGSRWC online group is organized and overseen by webmaster Allan "Floyd" Newsome with big help from Keith "Col. Harvey" Brown. (As we've previously reported, Keith has been under the weather since mid-July, so please continue to keep a good thought for him. You can check out the fun of this online community and sign up for free at: http://imayberrycommunity.com.
The iMayberry Community complements our other online activities, including our main www.imayberry.com page, podcasts, Facebook pages, online newsletters (such as The eBullet!), weaversdepartmentstore.com and chat rooms.
Two Chairs, No Waiting is our weekly podcast of TAGS news, interviews and pretty much whatever happens to be going on in and around Mayberry. It's hosted by Allan Newsome.
There's a new episode every Tuesday (and you can watch and listen live during tapings on Monday evenings). As of this week, there have been 508 episodes since Allan started doing the podcast just over a decade ago! Past episodes are in an online Archives in case you want to listen to or view classic installments you've missed.
And you'll also find links on that same podcast web page to a couple of other outstanding Mayberry-related podcasts: Burke on Mayberry (hosted by TAGSRWC's Kevin Burke, recipient of a Mayberry Friendship Award during September's Mayberry Days!) and the Mayberry Bible Study Podcast (again hosted by Allan Newsome).
TAGSRWC's official page on Facebook has over 245,000 Likes! You can find us at www.facebook.com/tagsrwc. If you haven't already dropped by the page, we hope you'll check it out sometime when you have the chance. We invite you to become a TAGSRWC Facebook Friend!
We also have links in our "Liked by this Page" section to the pages of several TAGSRWC chapters on Facebook (including the Gomer and Goober Pyle Comic Book Literary Guild, which has fascinating history contributions by member Randy Turner), as well as to Facebook pages of Mayberry Days, the Andy Griffith Museum, TAGS actors and others.
Even Ben Weaver has his own Facebook page at www.facebook.com/weaversdepartmentstore.  It features all the latest in Mayberry items and merchandise news.
And while online this time of year, be sure to check out Charlie Monk's wonderful recitation of "Andy & Opie Christmas" on YouTube. It has become a Mayberry-style holiday tradition. It's a nostalgic 4 minutes and 22 seconds that's sure to get you in the Christmas spirit.
***
  

****

Post

Note

****
Between issues of our Weaver's Newsletter, keep up with the happenings in Mayberry with the daily "Who's Been Messin' Up the Bulletin Board?" Digest. It's a free subscriber list that consists entirely of comments, news flashes, and questions and answers from subscribers. You can sign up for that list by going to the "Mailing Lists" link at www.tagsrwc.com.
TAGSRWC also publishes The eBullet in alternate months to Weaver's Newsletter. The eBullet is the online successor to our longtime printed newsletter, The Bullet. Like Weaver's Newsletter, The eBullet is free. It includes some of the same news as Weaver's Newsletter, but generally with more features and depth and a little less emphasis on merchandise news. To sign up, go to: www.tagsrwc.com/ebullet.
SPECIAL NOTICE:  The eBullet has recently switched to a new e-mail notification system.  (There were ongoing glitches with the previous system of distributing the newsletter itself by e-mail. We had the happy problem of having too big of a newsletter and more subscribers than the distribution system could handle!)
Unfortunately, the switch requires those who were already subscribers at the time of the switch to resubscribe. Fortunately, it's as easy as typing in your e-mail address and clicking a button, and then clicking a button in the follow-up confirmation e-mail sent to you. Here again is the link: www.tagsrwc.com/ebullet. Everything else about The eBullet remains the same--including being free!
TAGSRWC's other main vehicle for Mayberry information is simply our website at www.tagsrwc.com (and its sister site www.iMayberry.com). Both sites have extensive content and links for just about everything a Mayberry fan might be looking for.
The next issue of Weaver's Newsletter is slated for February and the next eBullet will be starting us off for the new year in January.
***
.
***
Printer Friendly Version