Weaver's Newsletter        
An Online newsletter of
"The Andy Griffith Show" Rerun Watchers Club (TAGSRWC)
October 2018

****

Merchandise

Update

****
Ben Weaver has been hard at work making sure his virtual shelves are filled for all your Mayberry shopping needs. It's downright scary just how many great items he has in store. Here are some highlights:
$12.00
Be ready for Halloween all year long with this haunting print of the very painting that hangs in the Old Remshaw Place in Mayberry.
As you look closely at the print, you will likely notice that the eyes seem to follow you when you move around the room. Of course, "It's probably just the lighting."
The print is 16"x 20" on heavyweight stock. The print will be shipped in an art tube to protect it during shipment.
The print includes the image of the original painting and the image of the frame (just as seen). Get yours before they disappear. And remember that it's just a print. There's nothing to be afraid of. Isn't that right, Gomer? Gomer?  Gome?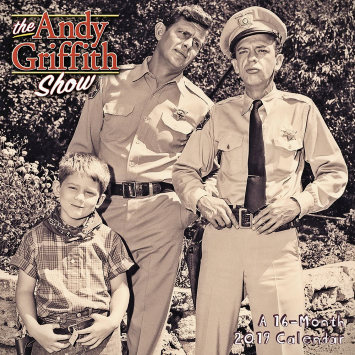 Just Arrived! $15.00
The official 2019 TAGS Wall Calendar is now in stock at Weaver's and ready to ship.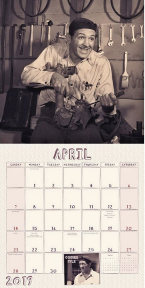 The 2o19 edition of this annual favorite features photos from all around the town of Mayberry. You can see which characters are featured each month in the image at left. And at right you can see a representation of how the months are displayed.
The calendar is 12 in. wide x 12 in. tall when closed and 12 in. wide x 24 in. tall when open.
Characters featured in this 2019 edition are Andy, Barney, Opie, Aunt Bee, Goober, Floyd and Gomer.
Most of our adult-sized T-shirts are just $20. A few designs are $18, and the Lawmen and Sheriff all-over designs are $25. (The long-sleeved Sheriff shirt is $40.) Several designs are available in sweatshirts (and some also as hoodies) as well.
And there's more!  We have caps, Goober beanies, deputy patches and both Mayberry Sheriff and Mayberry Deputy badges.
.
Here are some other favorite items. They're joined more than 200 different Mayberry-related items, both new and vintage, at Weaver's.
$48.00
Shown here are two of our three beautiful tapestry throws--one featuring an iconic image of Andy and Opie fishing down at Myers Lake and one that's just a big Barney Face. (The third throw design features Andy, Barney and Opie.)
The one-sided designs are imprinted on soft, custom woven 100% polyester (for easy cleaning) trimmed with fringe. They're ideal for spreading out on a bed, couch or favorite chair.
All throws measure an ample 36 in. x 58 in. And the designs are also available as fleece blankets, pillows, pillowcases, tote bags and pouches.
Weaver's also has several Mayberry items especially for the Christmas season, including music, movies and books.
Check out new items and old favorites including lots of great books for fall reading online at Weaver's Department Store.
And remember that your purchases from Weaver's help support Mayberry events and Mayberry-related charitable causes all year long at locations all around the country. Those sales also help keep our online Mayberry newsletters and communities available to everybody free of charge. As always, thank you for shopping at Weaver's!
Floyd's

Barbershop

Bulletin

Board

&

Event

Calendar
The Andy Griffith Museum, featuring the amazing collection of Andy Griffith artifacts started by the late Emmett Forrest, continues to celebrate its complete renovation in 2017. It's a must-see! The museum is open daily in Mount Airy, N.C. For info, visit the website at www.andygriffithmuseum.org or call (336) 786-1604.
The following information is from "The eBullet": Official E-mail Newsletter of "(TAGSRWC).
* Oct. 19: Betty Lynn greets fans at the Andy Griffith Museum 1:00-3:00 p.m. She will have autographed 8 x 10 photos available ($10). For info, visit the website at www.andygriffithmuseum.org or call (336) 786-1604.
* Oct. 26: Roland White and his band perform at 9 p.m. at the Station Inn in Nashville, Tenn.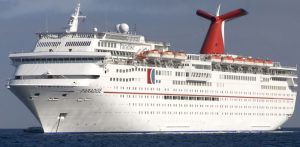 * Nov. 5-10: Mayberry Cruise 13.  Dixie Griffith (daughter of Andy) will be the guest for the cruise to the Western Caribbean from Tampa to Cozumel and back aboard Carnival's Paradise. For more info, visit www.allaboutcruisesnc.net or call (336) 538-4926.
* Nov. 16: Betty Lynn greets fans at the Andy Griffith Museum 1:00-3:00 p.m. She will have autographed 8 x 10 photos available ($10). For info, visit the website at www.andygriffithmuseum.org or call (336) 786-1604.
* Nov. 23: Roland White and his band perform at 9 p.m. at the Station Inn in Nashville, Tenn.
* Dec. 1: Roland White and his band host the annual Bill Monroe Appreciation Night at 9 p.m. at the Station Inn in Nashville, Tenn.
* Dec. 21: Betty Lynn greets fans at the Andy Griffith Museum 1:00-3:00 p.m. She will have autographed 8 x 10 photos available ($10). For info, visit the website at www.andygriffithmuseum.org or call (336) 786-1604.
***
**** News of Cast

        & Crew ****
Ron Howard has several films in the queue at Imagine and he's currently slated to direct three of them: The Girl Before, Seveneves and a documentary about Luciano Pavarotti.
Along with Imagine partner Brian Grazer, Ron also continues to serve as executive producer of acclaimed TV shows, including "Arrested Development," "Genius" and "Mars," which returns for a second season on the National Geographic Channel on Nov. 12.
There's also chatter (notably from Ron himself) about developing a sequel to Willow, which Ron directed for executive producer George Lucas three decades ago.
With brother Clint Howard directing and producing (and manning the microphone attached to a shovel, Ron made a  video greeting for September's Mayberry Days festival.
For the record, TAGS stars and their immediate family members attending Mayberry Days this year were Betty Lynn, Maggie Peterson (and Gus) Mancuso, Rodney (and Beverly Cotten) Dillard, Keith (and Kathy) Thibodeaux, Dennis Rush, Clint Howard, Margaret Kerry, LeRoy Mack (and Jan) McNees, Ronnie (and son Greg) Schell, Karen Knotts (daughter of Don), Bettina Linke (wife of Richard O. Linke), Laura Hagen (wife of Earle Hagen) and Stark Howell (son of Hoke Howell).
A week after Mayberry Days, Rodney Dillard and his band were joined by Maggie Peterson Mancuso for a taping of "Song of the Mountains," the popular PBS concert show that originates at the Lincoln Theatre in Marion, Va. Some familiar Mayberry tribute artists were also on hand, including one who was incognito at times. Keep an eye on Floyd's Barbershop Bulletin Board online for a listing of when the episode will be broadcast.
.
A couple of weeks after "Song of the Mountains," Rodney was back on stage for the grand opening of the new Bluegrass Music Hall of Fame and Museum in Owensboro.  A Hall of Fame inductee himself (along with his fellow Original Dillards), Rodney was among a Who's Who of Bluegrass who performed in special concerts for the gala grand opening, which began Oct. 18.
***
In August, we updated our Special Edition of The eBullet: Remembering Dean Webb by adding a link to the text of Pastor Rich Futrell's beautiful Funeral Sermon from the Celebration of Life Memorial Service for Dean on August 11. We highly recommend it as inspiring and informative reading!
We're very sad to report that Sandy Webb, Dean's wife, died on September 3 from complications with treatment for breast cancer. (She had been diagnosed three days before Dean died in June.)
Sandy attended several Mayberry events with Dean over the years, and some Mayberry fans also got to know her well at performances by Missouri Boatride, Dean's most recent band. Our hearts continue to got out to Dean and Sandy's family during what has been a year of great loss.
***
In Memoriam
.
Mayberry lost another of its most memorable performers when actress Peggy McCay, who played Sharon DeSpain, Andy's high school sweetheart in 1963's "Class Reunion"episode, died of natural causes in California on October 7, just a few weeks shy of her 91st birthday.
Margaret Ann McCay was born to parents Catherine and Michael in New York City on November 3, 1927. She graduated from Barnard College with a degree in fine arts in 1949, when she then began pursuing a career as an actor, both on stage and in film.
Peggy landed ever-larger roles in television--usually live TV shows based in New York. In 1956, Peggy earned an Obie Award as Best Young Actress of the Year for her role as Sofia in an Off-Broadway production of Uncle Vanya. She reprised the role in the movie version in 1957.
By the early 1960s, Peggy was appearing as a guest star in top TV shows, such as "Perry Mason," "Maverick" and "77 Sunset Strip."
In 1962 she was cast as lead Anna Rose opposite Andrew Duggan in ABC's "Room for One More,"which also starred Ronnie Dapo (aka Mayberry's Arnold Winkler and others).
.
.
After the one-year run of that series, Peggy resumed a robust career of solid guest roles, including her iconic role as Sharon DeSpain in Mayberry. Other notable work during this time included roles on "The Virginian," "The Fugitive," "Ben Casey," "Alfred Hitchcock Hour" and multiple episodes of "Hawaiian Eye."
Peggy also found steady work in daytime TV, first as Vanessa Dale on "Love of Life" from 1951 to 1955 and later as Susan Garret in two seasons (over 100 episodes) of "The Young Marrieds" from 1964 to 1966 and then a recurring role as Iris Fairchild on "General Hospital" from 1967 to 1970.
All the while, Peggy continued to be in demand for work in primetime TV with roles on popular shows such as "Gunsmoke," "Bonanza," "Barnaby Jones" and "Kojak," along with recurring roles on several shows, including "Gibbsville" (13 episodes) and as Marian Hume on "Lou Grant" (9 episodes).
Beyond Mayberry, Peggy is known best (by far) for her role as matriarch Caroline Brady for 33 years (645 episodes, from 1983-2016!) on daytime's "Days of Our Lives." Between 1986 and 2016, Peggy was nominated for a Daytime Emmy Award five times for the role. She was also nominated for two Primetime Emmys, including a win in 1991 for Outstanding Guest Actress in a Drama Series for her role as Irene Hayes in the "State of Mind" episode of "The Trials of Rosie O'Neill." Peggy had the rare (actually, it's believed to be unique) distinction of having been nominated for separate Daytime and Primetime Emmys in the same year.
Through all the years, Peggy was involved in many community and charitable causes, both through organizing and fundraising. Some of the causes closes to her heart were ones involving animals--from cats and dogs to elephants. Whether close to home or across the country, Peggy would participate in the causes about which she was passionate.
.
Peggy also stayed apprised of activity in the Mayberry community. For many years, her busy schedule and occasional health hiccups prevented her from being able to attend some of the Mayberry reunion/fan events to which she was invited as early as 1995. She had to cancel several scheduled appearances at the last minute.  But finally, in 2012, she was able to attend Mayberry Days in Mount Airy, where she delighted the especially large crowd gathered that year. (She also attended the festival in 2013.)
.
Many Mayberry fans had also gotten to meet and to know Peggy when she traveled for various fundraisers or for "Days of Our Lives" events. She was always extraordinarily gracious about making special time to visit with contingents from the Mayberry realm of her life.
In keeping with her love of animals, Peggy designated the Kitty Bungalow (a cat rescue organization in L.A.) as a charity for memorial donations. She also was a longtime supporter of the Elephant Sanctuary in Tennessee.
Mayberry was truly blessed by a visit by Peggy McCay as elegant Sharon DeSpain. That performance, along with countless others, is one that we'll fortunately be able to continue enjoying all the days of our lives.
.
.
ANDY:  Do the tears on your pillow
bespeak the pain that's in your heart?
BARNEY: Yeah.
ANDY: Me, too.
.
***
****

Mayberry

Days

Mini

-

Gallery

****
We'll have much more comprehensive coverage of September's Mayberry Days festival (both in words and with a full photo gallery) in the November issue of our online eBullet newsletter, but here are a few images to bridge the gap till then:
.
.
.
.
.
***
****

Mayberry

on

the

Web

****

The iMayberry Community
This TAGSRWC online group is organized and overseen by webmaster Allan "Floyd" Newsome with big help from Keith "Col. Harvey" Brown. (Keith has been under the weather since mid-July, so keep a good thought for him. And yes, you can be sure he knows to take the adult dose of his Elixir!) You can check out the fun of this online community and sign up for free at: http://imayberrycommunity.com.
The iMayberry Community complements our other online activities, including our main www.imayberry.com page, podcasts, Facebook pages, online newsletters (such as The eBullet!), weaversdepartmentstore.com and chat rooms.
Two Chairs, No Waiting is our weekly podcast of TAGS news, interviews and pretty much whatever happens to be going on in and around Mayberry. It's hosted by Allan Newsome.
There's a new episode every Tuesday (and you can watch and listen live during tapings on Monday evenings). Past episodes are in an online Archives in case you want to listen to or view classic installments you've missed.
As of the October 16 edition, there have been an amazing 500 episodes since Allan started doing the podcast 10 years ago!  It has been an incredible journey so far.  Here's to the next 500!  (Stay tuned for the celebration of the 1,000th episode around July 2028!)
And you'll also find links on that same podcast web page to a couple of other outstanding Mayberry-related podcasts: Burke on Mayberry (hosted by TAGSRWC's Kevin Burke, recipient of a Mayberry Friendship Award during last month's Mayberry Days!) and the Mayberry Bible Study Podcast (again hosted by Allan Newsome).
TAGSRWC's official page on Facebook has over 245,000 Likes! You can find us at www.facebook.com/tagsrwc. If you haven't already dropped by the page, we hope you'll check it out sometime when you have the chance. We invite you to become a TAGSRWC Facebook Friend!
We also have links in our "Liked by this Page" section to the pages of several TAGSRWC chapters on Facebook (including the Gomer and Goober Pyle Comic Book Literary Guild, which has fascinating history contributions by member Randy Turner), as well as to Facebook pages of Mayberry Days, the Andy Griffith Museum, TAGS actors and others.
Ben Weaver also has his own Facebook page at www.facebook.com/weaversdepartmentstore.  It features all the latest in Mayberry items and merchandise news.
***
  

****

Post

Note

****
Between issues of our Weaver's Newsletter, keep up with the happenings in Mayberry with the daily "Who's Been Messin' Up the Bulletin Board?" Digest. It's a free subscriber list that consists entirely of comments, news flashes, and questions and answers from subscribers. You can sign up for that list by going to the "Mailing Lists" link at www.tagsrwc.com.
TAGSRWC also publishes The eBullet in alternate months to Weaver's Newsletter. The eBullet is the online successor to our longtime printed newsletter, The Bullet. Like Weaver's Newsletter, The eBullet is free. It includes some of the same news as Weaver's Newsletter, but generally with more features and depth and a little less emphasis on merchandise news. To sign up, go to: www.tagsrwc.com/ebullet.
SPECIAL NOTICE:  The eBullet has recently switched to a new e-mail distribution system.  (There were ongoing glitches with the previous system, in part because of the happy problem of having more subscribers than the system could handle.)
Unfortunately, the switch requires those who were already subscribers at the time of the switch to resubscribe. Fortunately, it's as easy as typing in your e-mail address and clicking a button, and then clicking a button in the confirmation e-mail sent to you. Here again is the link: www.tagsrwc.com/ebullet. Everything else about The eBullet remains the same--including being free!
TAGSRWC's other main vehicle for Mayberry information is simply our website at www.tagsrwc.com (and its sister site www.iMayberry.com). Both sites have extensive content and links for just about everything a Mayberry fan might be looking for.
The next issue of Weaver's Newsletter is scheduled for December and the next eBullet will be out in November.
***
.
***
Printer Friendly Version