Weaver's Newsletter        
An Online newsletter of
"The Andy Griffith Show" Rerun Watchers Club (TAGSRWC)
August 2018

There has been a lot going on around Mayberry since our June issue, and the fun activities are really gearing up as we head toward Mayberry Days in Mount Airy in September.
Unfortunately, we also have the very sad news to share of the passing of Dean Webb, the fierce, mandolin-playing Darling boy and co-founder of The Dillards. Dean passed away in Branson West, Mo., on June 30. Dean was 81.
We have published a Special Edition of The eBullet: Remembering Dean Webb. (You can access it by clicking either the highlighted link HERE or the Special Editions header below the masthead of any issue of The eBullet. Memorial service and donation information has been added since the original publication of the Special Edition. Note: On August 17, we updated the Special Edition yet again by adding a link to the text of Pastor Rich Futrell's beautiful Funeral Sermon from the Celebration of Live Memorial Service for Dean on August 11. We highly recommend it!)
Dean was a great friend to countless people around Mayberry, the bluegrass world and far beyond. Our thoughts continue to be with wife Sandy and all of his family.
.
**** Merchandise Update ****
Ben Weaver has been busy making sure his virtual shelves are filled for all your Mayberry shopping needs.  Here's the latest: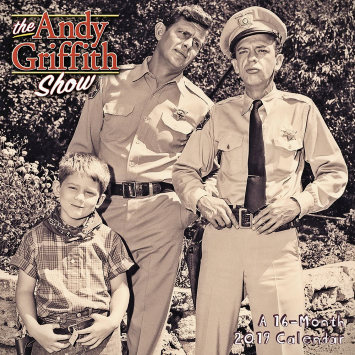 Just Arrived! $15.00
The official 2019 TAGS Wall Calendar is now in stock at Weaver's and ready to ship.  If there can be "Christmas in July," then we say, Why not Christmas shopping in July!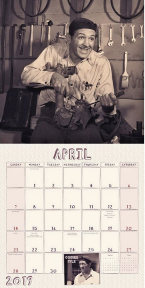 The 2o19 edition of this annual favorite features photos from all around the town of Mayberry. You can see which characters are featured each month in the image at left. And at right you can see a representation of how the months are displayed.
The calendar is 12 in. wide x 12 in. tall when closed and 12 in. wide x 24 in. tall when open.
Characters featured in this 2019 edition are Andy, Barney, Opie, Aunt Bee, Goober, Floyd and Gomer.
2018/2019 Andy Griffith Show Wall Calendar Combo

Two calendars for one great price. Just $25.00 for the pair, but only when you buy them together in this special combo.
Enjoy the rest of 2018 and be ready for the new year with this Calendar Combo, the final two of the 20-teens.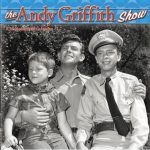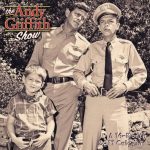 For Mayberry shopping, our Weaver's Department Store has something for everybody. There's no better time to get that perfect Mayberry T-shirt for yourself and friends and family. Weaver's has more than 50 different designs, including 10 new T-shirt designs added just in the least couple of months!
Here are some other items we've recently added. They join more than 200 different Mayberry-related items, both new and vintage, on our shelves at Weaver's.
 $2.50
We all know that part of any deputy's standard uniform includes an identification tag and chain to be worn during weigh-ins down at the civil service office. Here's your chance to get a Mayberry Sheriff Department identification tag, or what we laymen call a "dog tag," for your very own.
.
.
This tags measures 2 inches x 1-1/8 inches and has a matte finish made of sturdy stainless steel with a rolled edge. The tag comes with a 24-inch ball-chain necklace. (NOTE: The special "heavyweight" chain that Barney wore for his weigh-in is not included!)
$5.00
Send your friends a postcard while you're visiting the corner room at the "Y" in Raleigh or wherever you might be traveling, or whenever you just want to say, "Hey!" These vintage Mayberry postcards capture the spirit that have made Mayberry our hometown. And they're guaranteed to bring smiles to every recipient.
Each set contains six postcards, each with a different image from Mayberry.
.
Check out new items and old favorites (including lots of great books for end-of-summer reading online at Weaver's Department Store. (Or just go to www.imayberry.com and click on one of the orange and blue Weaver's buttons at the top of the page.)
And remember that your purchases from Weaver's help support Mayberry events and Mayberry-related charitable causes all year long at locations all around the country. Those sales also help keep our online Mayberry newsletters and communities available to everybody free of charge. As always, thank you for shopping at Weaver's!
Floyd's

Barbershop

Bulletin

Board


&


Event

Calendar
.
The Andy Griffith Museum, featuring the amazing collection of Andy Griffith artifacts started by the late Emmett Forrest, continues to celebrate its complete renovation in 2017. It's a must-see! The museum is open daily in Mount Airy, N.C. For info, visit the website at www.andygriffithmuseum.org or call (336) 786-1604.
The following information is from "The eBullet": Official E-mail Newsletter of "The Andy Griffith Show" Rerun Watchers Club (TAGSRWC).
* Sept. 21: Betty Lynn greets fans at the Andy Griffith Museum 1:00-3:00 p.m. (Beat the rush to visit with her the next week at Mayberry Days!) She will have autographed 8 x 10 photos available ($10). For info, visit the website at www.andygriffithmuseum.org or call (336) 786-1604.
* Sept. 22: Roland White and his band perform at 9 p.m. at the Station Inn in Nashville, Tenn.
***
* Sept. 27-30: 29th Annual Mayberry Days in Mount Airy, N.C. Actually, a few festival events start as early as Monday the 24th. Stars from "The Andy Griffith Show" confirmed so far include Betty Lynn, Keith Thibodeaux (his Mayberry Days debut!), Dennis Rush (Opie's pal Howie in his Mayberry Days debut!), Rodney Dillard, Maggie Peterson Mancuso, Clint Howard, Ronnie Schell, Margaret Kerry, and LeRoy McNees.
Karen Knotts will also present her show "A Deputy's Daughter." Bettina Linke, wife of late TAGS associate producer Richard O. Linke; Laura Hagen, wife of late TAGS music director Earle Hagen; and Stark Howell (son of actor Hoke Howell, aka Dud Wash) also will be attending. Much more TBA soon.
Tickets are available for several performances and activities, including The Doug Dillard Tribute Concert featuring Rodney Dillard and his band, Ronnie Schell's Salute to Jim Nabors, and "Bluegrass Mayberry Style" by LeRoy McNees and Friends.
Also performing are the VW Boys with their "Salute to Mayberry," the Motown Legacy Revue, Michael Hoover's "Memories of Elvis," the Mayberry Days debut of country star Collin Raye (four platinum albums and four #1 singles), the legendary Marty Stuart and the Fabulous Superlatives (another Mayberry Days debut), James Gregory ("the funniest man in America"), and the Malpass Brothers.
There's still more: Colonel Tim's Talent Time, Neal Brower's Lecture/TAGSRWC Annual Meeting, and the Mayberry Days Golf Tournament and its separate Banquet & Entertainment, which this year features popular stand-up comedian Henry Cho, often called Mr. Clean for the wholesome hilarity he's known for on The Grand Ole Opry, Comedy Central and Sirius Radio.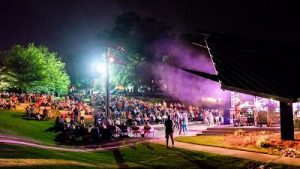 Or make it a whole week of fun in Mount Airy with shows earlier in the week, Sept. 24-26, including comedian John Floyd aka the Mouth of Mayberry (Mon.), beach music by both Band of Oz (Tues.) and The Embers featuring Craig Woolard (Wed.), and screenings of 1983's Murder in Coweta County (starring Andy Griffith and Johnny Cash) along with a special Q&A with producer Dick Atkins (Tues. and Wed. evenings).
And those are just the ticketed events. There's much more that doesn't require tickets, including the Mayberry Days Parade, Mrs. Wiley's Tea Party, trivia, apple-peeling, checkers, horseshoes, pie-eating, pork chop sandwich-eating and Mayberry Idle Talent contests, music, and a variety of vendors.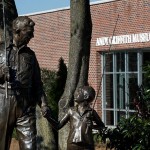 And that's not to mention meet-and-greet sessions with the Mayberry stars, the Andy Griffith Museum, Mayberry-related movies at the Earle Theatre, Mayberry Days Silent Auction, and all of the everyday sights and attractions of Mount Airy.
In other words, make your plans to attend now! For complete info, visit www.mayberrydays.org.
***
* Oct. 6: Special guests Rodney Dillard and the Dillard Band and Maggie Peterson Mancuso are joined by David "Mayberry Deputy" Browning and host Tim White with the VW Boys for a taping of "Song of the Mountains" (the official TV show of the State of Virginia) at 7:00 p.m. at the Lincoln Theatre in Marion, Va. Reserved seat tickets are $25.  For info and tickets, visit https://songofthemountains.org.
* Oct. 19: Betty Lynn greets fans at the Andy Griffith Museum 1:00-3:00 p.m. She will have autographed 8 x 10 photos available ($10). For info, visit the website at www.andygriffithmuseum.org or call (336) 786-1604.
* Oct. 26: Roland White and his band perform at 9 p.m. at the Station Inn in Nashville, Tenn.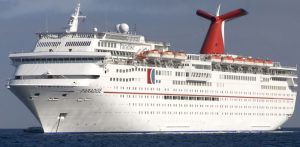 * Nov. 5-10: Mayberry Cruise 13.  Dixie Griffith (daughter of Andy) will be the guest for the cruise to the Western Caribbean from Tampa to Cozumel and back aboard Carnival's Paradise. For more info, visit www.allaboutcruisesnc.net or call (336) 538-4926.
* Nov. 16: Betty Lynn greets fans at the Andy Griffith Museum 1:00-3:00 p.m. She will have autographed 8 x 10 photos available ($10). For info, visit the website at www.andygriffithmuseum.org or call (336) 786-1604.
* Nov. 23: Roland White and his band perform at 9 p.m. at the Station Inn in Nashville, Tenn.
* Dec. 1: Roland White and his band host the annual Bill Monroe Appreciation Night at 9 p.m. at the Station Inn in Nashville, Tenn.
.
* Dec. 21: Betty Lynn greets fans at the Andy Griffith Museum 1:00-3:00 p.m. She will have autographed 8 x 10 photos available ($10). For info, visit the website at www.andygriffithmuseum.org or call (336) 786-1604.
***
**** News of Cast & Crew ****
Ron Howard has signed to direct the pilot for 68 Whiskey, a TV series described as a "dark military comedy" about medics serving in Afghanistan. Ron and Imagine Entertainment partner Brian Grazer will produce the series for the Paramount Network.
Ron and Imagine will also produce a film adaptation of the musical Tick, Tick...Boom! with Lin-Manuel Miranda (Hamilton) co-producing and also directing.
"Genius: Picasso," the series that Ron and Brian Grazer helped produce for the National Geographic Channel, is nominated for an Emmy, as is series star Antonio Banderas with whom Joy Ellison (Mayberry's Mary Wiggins and others) worked as dialect coach.
Ron's Imagine team is also working on the second season of the sci-visionary docudrama Mars, set to air on Nat Geo in 2019.
And Ron is back as narrator for the fifth season of "Arrested Development," currently streaming on Netflix. Ron and several Howard family members, including late patriarch Rance Howard, have on-camera cameos in the new season.
Meanwhile, Solo: A Star Wars Story has officially become Ron's third highest-grossing film (worldwide) as director, behind only The Da Vinci Code and Angels & Demons. (Adjusted for inflation, the worldwide box-office grosses of Apollo 13, How the Grinch Stole Christmas and A Beautiful Mind might also top Solo.)
The beautiful 5,900 square-foot Honolulu home that Jim Nabors bought in 1992 is now for sale. Nestled on a lush half acre of Diamond Head oceanfront property, the estate has an asking price of $14.9 million. (Goober was interested, but later concluded, "I ain't no Rockefeller!") Here's a link to an article about the the listing, which includes several interior and exterior photos.
Maggie Peterson Mancuso and Ronnie Schell were the stars of A Touch of Mayberry in Calhoun, Ga., on June 30. Here's  a photo:
.
Maggie also headlined the Mayberry Night in Troy, N.C., earlier this month. She was joined by Dixie Griffith (daughter of Andy), the popular VW Boys and a big contingent of Mayberry tribute artists for the annual fundraiser for the local DARE program.
.
Bettina Linke (wife of late TAGS associate producer Richard O. Linke, also longtime personal manager for Andy Griffith, Jim Nabors, Ken Berry, Maggie Peterson Mancuso, Ronnie Schell, and Jerry Van Dyke) says that all's safe from the Kilauea eruption on her side of Hawaii's Big Island. Just a little extra thick air, or "vog" as it's often called. However, as we write and possibly still as you read this, Bettina and her fellow Hawaiians are dealing with torrential rains from Hurricane Lane and bracing for the eye of the storm to pass. Something tells us that Bettina will be more than ready for her return to the tranquility of Mayberry Days in September!
***
We're sad to report the passing of actor Roger Perry, who played conman George Jones in "Don't Miss a Good Bet" (Episode #205). He died at home in Indian Wells, Calif., on July 12, after a battle with prostate cancer. He was 85.
Outside of Mayberry, Roger might be remembered best for his dozen episodes as John Costello on "Falcon Crest" and his 10 episodes as Charles Parker on "Fact of Life," both in the mid-1980s. Or just maybe it's his role as Air Force Major John Christopher in the time-travel "Tomorrow is Yesterday" episode of "Star Trek" that will live long and prosper in film history. (The episode first aired 24 days after his TAGS episode in January 1967.)
Born in Davenport, Iowa, on May 7, 1933, Roger's first big acting break came in 1960 when he was cast as Jim Harrigan Jr. opposite Pat O'Brian's Jim Harrigan Sr. in Desilu's lawyer-themed sitcom "Harrigan and Son," which ran on ABC-TV for 34 episodes in the 1960-61 season and which featured a parade of familiar faces from Mayberry.
Roger went on to play mostly authority figures in a wide cross-section of TV shows and TV movies during the next 25 years, including a starring role as Det. Sgt. Dan Kirby in 1964's "Arrest and Trial" and multiple episodes of "Nanny and the Professor," "Love, American Style," "Ironside," "Barnaby Jones" and "The F.B.I."
Following a 10-year marriage to first wife Patty, Roger was married to actress Jo Anne Worley ("Laugh-In") from 1975 to 2000. He married another very funny lady, actress Joyce Bulifant, in 2002.
Roger was also an accomplished songwriter and composer, whose work included Barbra Streisand's "A Kid Again" and scores for stage productions. He continued to direct, produce and act in numerous stage productions after his heyday of film work.
In addition to Joyce Bulifant, Roger is survived by son Chris, daughter Dana (both from his first marriage), brother Nick, a grandson, and an extended blended family of children and grandchildren from Joyce's previous marriages.
In lieu of flowers, donations can be made to River Bridge Regional Center for Abused Children in Glenwood Springs, Colo., which was founded by Roger and Joyce.
Roger Perry's George Jones may have conned some of our favorite Mayberry characters, but his life and career were filled with real treasures, and those who knew him or simply enjoyed his performances are all the richer for it. Roger that.
***
Tribute to an American with Pluck
It is with great sadness that we also learned of the passing of banjo legend Billy Ray Lathum in Nashville on August 19. He was 80.
As a member of The Country Boys, Billy appeared in two episodes during the first season of TAGS: "Mayberry on Record" and "Quiet Sam." Songs the group performed in "Mayberry on Record" were also included as tracks on the Songs, Themes and Laughs from "The Andy Griffith Show" album released on Capitol Records in 1961. (It was during this period that Billy also found time to give a young Barbara Mandrell her first banjo lessons. He later also gave jump-started The Grateful Dead's Jerry Garcia's mastery of the banjo with some early lessons.)
.
Billy was born the son of cotton farmers in Wild Cat Corner, Ark. (that is, in northeastern Arkansas near Hazel Grove in the southeast corner of Sharp County near the Lawrence County and Independence County lines and more or less in the middle of a triangle formed by the communities of Strawberry, Evening Shade and Oil Trough), on January 12, 1938. Billy moved with his family to Michigan, where his father had found work in a factory after farming could no longer provide for his family.
At a very young age, Billy largely taught himself to play guitar and eventually focused on the banjo. Having to drop out of school to help support his family after his father died, Billy worked various jobs dealing with the automotive industry. He played music in his spare time and even put together a group that was good enough to play on local live radio shows. Billy Ray worked at GM for a while before getting laid off. He then joined his brother in California, where he worked at a gas station. He played music wherever and whenever he could while hoping for the right career opportunity.
That opportunity came when brothers Clarence, Roland, and Eric White asked him (and soon after LeRoy Mack McNees) to join them in forming what became The Country Boys in 1957. Billy was still with the the band when they changed their name to The Kentucky Colonels in 1963 and remained with the group until they broke up near the height of their success in late 1965. Band members pursued their own artistic directions in what was becoming a vibrant and diverse bluegrass, folk and emerging country-rock music scene.
Billy decided to move to Missouri. He got married and settled into work as a musician on the "Ozark Opry" in Branson for a few years, before getting the itch to return to California, where he worked at his brother's gas station.
Before long, though, Billy was back playing music full time. He recorded and toured with Doug Dillard and the Expedition for a short time in 1969 and into 1970. He then recorded two albums and toured with Rick Nelson for a couple of years. Meanwhile, Billy continued to cross-pollinate his musical interests with a lot of the blossoming country rock bands of the late 1960s and 1970s, including The Country Gazette. He frequently crossed paths and collaborated with his former Country Boys bandmates.
In 1971 Billy began recording with The Dillards and by 1972 had officially joined the band. He was with The Dillards until 1978, and then joined Roger Miller's band, mainly as guitarist, in 1979.
After his stint with Roger Miller, Billy kept busy for most of the 1980s with bands of various configurations (including one with his second wife) around his home base in California.
Some health issues curtailed his touring and much of his performing in the early 1990s before being able to resume with the Laurel Canyon Ramblers for a couple of albums in the mid-'90s, before his health once again caused him to have to leave the road in 1997.
By 2003, Billy had accepted an invitation to be the new banjo player with Soulgrass, a Kentucky-based group that had started the year before. The move to Kentucky Wildcats country was a natural move for a native of Wild Cat Corner. He eventually settled in the town of Horse Cave, near Mammoth Cave.
.
A horrific car wreck nearly took Billy's life in 2004. His right arm was so severely injured in the accident that he never fully recovered the distinctive banjo-playing form for which he was so renowned. Soulgrass disbanded that year as well.
Billy Ray Lathum is remembered by friends and his fellow musicians as one of the truly untamable, ever-restless creative spirits of his realm. When he was ready to change direction and try something else, he did. As his friend and former bandmate LeRoy Mack McNees fondly wrote in an online post about his friend, "He was always searching for the next best thing."
That was indeed Billy Ray Lathum--truly a wild cat.
Editor's Note: Survivors and funeral services are not known at the time we are first publishing this story. We'll update this story as we receive more information.
***
.
**** Mayberry on the Web ****

The iMayberry Community
This TAGSRWC online group is organized and overseen by webmaster Allan "Floyd" Newsome with big help from Keith "Col. Harvey" Brown. (Keith has been under the weather since mid-July, so keep a good thought for him. And yes, you can be sure he knows to take the adult dose of his Elixir!) You can check out the fun of this online community and sign up for free at: http://imayberrycommunity.com.
The iMayberry Community complements our other online activities, including our main www.imayberry.com page, podcasts, Facebook pages, online newsletters (such as The eBullet!), weaversdepartmentstore.com and chat rooms.
Two Chairs, No Waiting is our weekly podcast of TAGS news, interviews and pretty much whatever happens to be going on in and around Mayberry. It's hosted by Allan Newsome.
There's a new episode every Tuesday (and you can watch and listen live during tapings on Monday evenings). Past episodes are in an online Archives in case you want to listen to or view classic installments you've missed. (As of this week, there have been 492 episodes since Allan started doing the podcast almost 10 years ago.)
And you'll also find links on that podcast web page to a couple of other outstanding Mayberry-related podcasts: Burke on Mayberry (hosted by TAGSRWC's Kevin Burke) and the Mayberry Bible Study Podcast (again hosted by Allan Newsome).
TAGSRWC's official page on Facebook has over 240,000 Likes! You can find us at www.facebook.com/tagsrwc. If you haven't already dropped by the page, we hope you'll check it out sometime when you have the chance. We invite you to become a TAGSRWC Facebook Friend!
We also have links in our "Liked by this Page" section to the pages of several TAGSRWC chapters on Facebook (including the Gomer and Goober Pyle Comic Book Literary Guild, which has fascinating history contributions by member Randy Turner), as well as to Facebook pages of Mayberry Days, the Andy Griffith Museum, TAGS actors and others.
Ben Weaver also has his own Facebook page at www.facebook.com/weaversdepartmentstore.  It features all the latest in Mayberry items and merchandise news.
***
   **** Post Note ****
Between issues of our Weaver's Newsletter, keep up with the happenings in Mayberry with the daily "Who's Been Messin' Up the Bulletin Board?" Digest. It's a free subscriber list that consists entirely of comments, news flashes, and questions and answers from subscribers. You can sign up for that list by going to the "Mailing Lists" link at www.tagsrwc.com.
TAGSRWC also publishes The eBullet in alternate months to Weaver's Newsletter. The eBullet is the online successor to our longtime printed newsletter, The Bullet. Like Weaver's Newsletter, The eBullet is free. It includes some of the same news as Weaver's Newsletter, but generally with more features and depth and a little less emphasis on merchandise news. To sign up, go to: www.tagsrwc.com/ebullet.
SPECIAL NOTICE:  The eBullet has recently switched to a new e-mail distribution system.  (There were ongoing glitches with the previous system, in part because of the happy problem of having more subscribers than the system could handle.)
Unfortunately, the switch requires those who were already subscribers at the time of the switch to resubscribe. Fortunately, it's as easy as typing in your e-mail address and clicking a button, and then clicking a button in the confirmation e-mail sent to you. Here again is the link: www.tagsrwc.com/ebullet. Everything else about The eBullet remains the same--including being free!
TAGSRWC's other main vehicle for Mayberry information is simply our website at www.tagsrwc.com (and its sister site www.iMayberry.com). Both sites have extensive content and links for just about everything a Mayberry fan might be looking for.
The next issue of Weaver's Newsletter is scheduled for October and the next eBullet will be out before Mayberry Days in September.
***
.
***
Printer Friendly Version