Weaver's Newsletter December 2017
Weaver's Newsletter        
An Online newsletter of
"The Andy Griffith Show" Rerun Watchers Club (TAGSRWC)
December 2017
Welcome to our sixth and final issue for 2017!  There's a lot of Mayberry news to report this month, some of it unfortunately very sad.  (See News of Cast & Crew below.)
With less than three weeks till Christmas, we still have lots of great new Mayberry-related items for your last-minute holiday shopping needs on our shelves online at Weaver's Department Store.
And from the looks of ol' Ben, it's obvious that he needs some cheering up by having folks merry up Christmas by shopping at his store!
.
****

Holiday

Shipping

Schedule

****
As late as December 19, we'll be shipping orders for Christmas delivery. However, unless you live really near our shipping HQ in Huntsville, Ala., any orders we receive after 10 a.m. CT on Friday, December 19th, will require FedEx Overnight Delivery to be guaranteed to arrive by Christmas. PLEASE NOTE: All FedEx charges are in addition to our standard flat rate of $5 for shipping and handling on all orders shipped to the same address. All FedEx charges are billed separately and directly by FedEx.
But why pay extra money to FedEx? Avoid the rush. Don't worry about not being Mayberry-like. You won't get a "rude" like Ernest T., because this is one time it's perfectly O.K. to hurry up a little bit in Mayberry.
But enough shipping instructions from Old Lady Crump.  Here are some highlights from around Mayberry.  We'll begin with merchandise features and then share upcoming events and discuss other news.
****

Merchandise Update

****
We once again have a couple of fun, brand new items in store:
NEW! $10
This felt pennant features Mayberry colors of the ol' Orange and Blue. White lettering outlined by orange all on a blue background and topped off by a sewn-on orange edge strip. The pennant measures 24 x 9 inches. Perfect for showing your Mayberry pride at home or at work.
***
NEW! $10
Opie made a deal with Mr. Weaver to handmake each slingshot, so they're all one of a kind. The dimensions, wood type and color will vary because Opie chooses only the best real forked tree branches to make his slingshots. Sure, they can be a little rough around the edges, but these slingshots are brimming with personality! They might have a nick here and there, but with their well-loved look and well-made construction, these slingshots are still perfect in our eyes.
The height will fall between 7 in. to 10 in and the width between 3 in. to 6 in.  Each handmade slingshot has the classic look and feel, is outfitted with a leather projectile pouch, and uses natural latex tubing.
Slingshots are not toys. Adult supervision required. Ages 5 and up. Please read Opie's Safety Guidelines on the Weaver's website before purchasing.
NOTE: Opie will choose the style and color of your slingshot personally when you place your order. The image is representative of but not the exact slingshot you will receive.
***
$15.00
This official 2018 "Andy Griffith Show" Wall Calendar is 12 in. wide x 12 in. tall when closed and 12 in. wide x 24 in. tall when open.
Characters featured in this 2018 edition are Andy, Barney, Opie, Aunt Bee, Gomer and Goober.
The back side of the calendar shows the images for each month:
.
Get a jump on 2018 and finish out your holiday shopping by ordering your Mayberry wall calendar (perennially a favorite Christmas present) today!
***
$10.00
It's time to step into Andy's shoes by getting a Mayberry Sheriff Badge to go along with the Mayberry Deputy Badge.
This badge is a sturdy, but simplified, representation of Andy's Mayberry Sheriff's badge.  In other words, it's not an exact replica but for the price, you can't beat it.
The color is "nickel" and you'll be able to pin it to the khaki shirt of your choice to have that official sheriff look.
***
We now have more than 40 different T-shirt designs to choose from.
.
***
$9.00
GreenLight Collectibles has put our love of Mayberry into a 1:64th scale replica of the Mayberry squad car.  This die-cast replica is the same size as the 1961 squad car released in 1998 by Johnny Lightning.
This is an officially licensed, limited-edition run, so don't delay and miss the chance to add this 1967 Ford Custom Mayberry Squad Car to your collection.
Weaver's also has several Mayberry items especially for the Christmas season, including music, movies and books.
And we also have a new bumper sticker and a sheriff's emblem sticker. They make great stocking stuffers!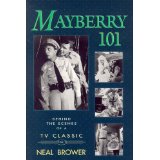 Check out new items and old favorites (including lots of great books for wintertime reading!) online at Weaver's Department Store. (Or just go to www.imayberry.com and click on one of the orange and blue Weaver's buttons.)
And remember that your purchases from Weaver's help support Mayberry events and Mayberry-related charitable causes all year long at locations all around the country.  Those sales also help keep our online Mayberry newsletters and communities available to everybody free of charge.  As always, thank you for shopping at Weaver's!
 ***
Floyd's

Barbershop

Bulletin

Board




&




Event

Calendar
.
The Andy Griffith Museum, featuring the amazing collection of Andy Griffith artifacts started by the late Emmett Forrest, is celebrating its recently completed renovation.  The museum is open daily in Mount Airy, N.C. For info, visit the website at www.andygriffithmuseum.org or call (336) 786-1604.

* Dec. 9: The Mayberry Christmas show, starring Maggie Peterson (Charlene Darling), Rodney Dillard and the current Dillards band, and David "Mayberry Deputy" Browning, returns to Middle Tennessee for a performance at Green Hill Church, 13251 Lebanon Road in Mt. Juliet, Tenn.  Doors open at 5 p.m. Show time is 6 p.m. General admission tickets are $20 (Family 4-Pack and Group discounts are also available.) For tickets and more info, visit mayberrychristmas.org or call 615-754-7035. Sponsored by Green Hill Church, Victory Baptist Church, and Abundant Life Church.
* Dec. 13: Rodney Dillard and wife Beverly bring their Mayberry Values presentation of music and stories to Beech Grove United Methodist Church in Bristol, Va. Show time is 7 p.m.
* Dec. 15: Celebrate the holidays with Betty Lynn as she greets fans at the Andy Griffith Museum 12:30-3:30 p.m. She will have autographed 8 x 10 photos available ($10). For info, visit the website at www.andygriffithmuseum.org or call (336) 786-1604.
* Dec. 17: Maggie Peterson, Rodney Dillard & The Dillards, and David Browning celebrate Mayberry Christmas with their show at Freedom Hall in Johnson City, Tenn.  Show time is 7 p.m.
***
2018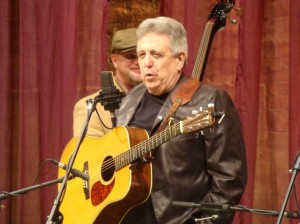 * Jan. 4: Beverly and Rodney Dillard are joined by the Walker Brothers for An Evening in Mayberry at the Thomas Center in Gainesville, Fla.  Show time is 7 p.m.
* Jan. 5: Rodney Dillard and company (including the Walker Brothers) bring An Evening in Mayberry to WSLR Radio 525 in Sarasota, Fla., at 8 p.m.
*  Jan. 6: Rodney Dillard and crew continue their tour of Florida with their Evening in Mayberry show with a performance at the Norris Center in Naples, Fla.  Show time is 7 p.m.
*  Jan. 7: Rodney Dillard and the Evening in Mayberry show with the Walker Brothers come to New Hope United Methodist Church in North Brandon, Fla., at 6 p.m.

* Mar. 1-3: 21st Annual George Lindsey UNA Film Festival in Florence, Ala.  Details TBA.  For updates, visit www.lindseyfilmfest.com.
* Mar. 10: Karen Knotts performs at the Effingham Performance Center in Effingham, Ill., at 7:00. For more info, visit www.the-epc.org.
* Apr. 15: Karen Knotts performs at the McPherson Opera House in McPherson, Kan., at 3:00.  For more info, visit www.mcphersonoperahouse.ticketforce.com.
* May 5: 31st Annual Uncle Jesse Big Bass Classic (founded by Denver Pyle) in Paris, Tex.  For more info, visit: www.unclejessefishing.com.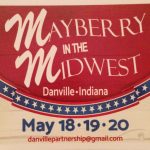 * May 18-20: Fifth Annual Mayberry in the Midwest festival (also featuring the Mayberry Squad Car Nationals) in Danville, Ind. Lots of Mayberry tribute artists will be on hand. Other special guests TBA. Look for updates here and at Mayberry in the Midwest on Facebook.
* July 12: Karen Knotts brings her "Tied Up in Knotts" show to the Muckenthaler Cultural Center in Fullerton, Calif.  Show time is 7:30 p.m.  For more info, visit themuck.org/upcoming.
* Sept. 27-30: 29th Annual Mayberry Days in Mount Airy, N.C.  Actually, a few festival events start as early as Monday the 24th. Guest stars from the TAGS cast and crew already confirmed include Betty Lynn and Rodney Dillard. Further details TBA in 2018.
Tickets are available for several performances and activities, including concerts by The Dillards featuring Rodney Dillard, the VW Boys, Marty Stuart and the Fabulous Superlatives, James Gregory ("the funniest man in America"), and the Malpass Brothers, plus Colonel Tim's Talent Time and Professor Brower's Lecture. For tickets and more info, visit www.mayberrydays.org.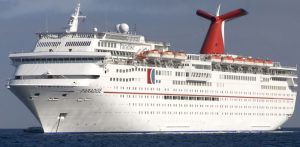 * Nov. 5-10: Mayberry Cruise 13.  Dixie Griffith (daughter of Andy) will be the guest for the cruise to the Western Caribbean from Tampa to Cozumel and back aboard Carnival's Paradise. For more info, visit www.allaboutcruisesnc.net or call 1-800-832-7993.
****

News

of

Cast

&

Crew ****
Everyone in the Mayberry community and far beyond is saddened by the news of the death of Rance Howard at age 89 on November 25 and then the death of Jim Nabors at age 87 on November 30. Our deepest sympathies continue to go out to sons Ron and Clint and all of the Howard family and to Stan Cadwallader and all of Jim's family.
Rance was a universally beloved person. His contributions to TAGS were both essential to its success and often subtle. Rance's friendship to and kind encouragement and support of others, including many of us involved with TAGSRWC, were hallmarks of how he lived all aspects of his life.
We have created a special Remembrance of Rance Howard with a more in-depth discussion of his remarkable life and his special contributions to Mayberry.
Rance remained a busy actor who worked till his last days. Some of his most recent work happens to be highlighted in this issue's installment of News of Cast & Crew, in which Rance was already slated to have a starring role.
.
We've also published a Remembrance of Jim Nabors with coverage about Jim's life and career. Like Rance, Jim was known as one of the nicest people in all of show business. In fact, a person would be hard-pressed to find two nicer people anywhere than both Rance and Jim.
As we continue to absorb the news of these two important losses for Mayberry, here now is this issue's regularly scheduled News of Cast & Crew, which has mostly upbeat happenings, but also includes coverage of two other Mayberry-related losses in recent weeks, the deaths of actor Jack Bannon and director Peter Baldwin.
Ron Howard has wrapped filming of next year's Solo: A Star Wars Story, which will be released May 25.
Ron will also return as narrator for the hit Netflix comedy "Arrested Development," whose new episodes will be released sometime in 2018.
On November 13, Ron attended the Founder's Gala, a fundraiser for the Garry Marshall Theatre in Burbank, in honor of the late creator of "Happy Days" and other iconic TV shows and films.
And members of the Howard family were on hand at the Writers Guild Theater the following night, November 14, for the Los Angeles premiere of Broken Memories, a film about Alzheimer's Disease that stars Rance Howard as Jasper.
Ron and daughter Bryce Dallas Howard were among the stars attending the fundraiser for Alzheimer's care and research. The Howard family has a personal connection to Alzheimer's as Rance's second wife, Judy, died of Alzheimer's in January.
.
.
Betty Lynn was the unannounced (but not exactly surprise) special attendee for the debut of Dr. Elliot Engel's lecture about Andy Griffith in Mount Airy on November 14.  All reports are that the lecture was very well received. Engel will soon be presenting the lecture elsewhere. Meanwhile, Betty continues to greet fans and sign autographs during the afternoon of the third Friday of each month at the Andy Griffith Museum.
Dean Webb (mandolin player of the original Dillards and Mayberry's Darlings) has been under the weather the last few weeks. Upon Dean's official retirement from performing this fall, his most recent bluegrass band, The Missouri Boatride, also disbanded.
When asked by a former bandmate how he was feeling the other day, Dean replied, "I feel like an old chicken with an egg busted in her!" (We think that means he was feeling better than if had eaten a ruined Hoot Owl Pie, but we can't be 100% sure.)  In any case, we hope Dean feels fit as a fiddle, if not a mandolin, very soon!
.
Kent McCord (best known as Officer Jim Reed on TV's "Adam-12") appeared in TAGS only once, as an extra in the background of Mr. Izamoto's judo class in "Barney's Uniform" (Episode #135).  But that's enough to be considered part of TAGS. And it's reason enough for Mayberry fans to attend Knoxville's Fan Boy Expo in October in order to meet him.
.
.
Karen Knotts did three presentations about her dad in October (her "Tied Up in Knotts" show twice and also a keynote speech called "Don Knotts Rides Again"), including a sold-out show in Los Angeles that several folks from the TAGS cast community were able to attend.
George Lindsey Jr. is about halfway through recording an album of humorous songs called Goobason Sings, echoing the title of his dad's 1968 Goober Sings album.
***
Fundraising Fun!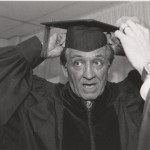 George Lindsey's alma mater, the University of North Alabama, is in the home stretch of completing funding of the George Lindsey Film and Digital Media Endowed Scholarship at the university.
George's son and daughter, George Jr. and Camden, together recently have made a very generous donation to bring the scholarship to the brink of being fully endowed by the funding deadline of December 31.
Just a little over $2,000 remains to be raised. To help encourage one last surge of donations to get the endowment over the required fundraising goal line, TAGSRWC has a gift-matching pledge of up to $1,000 in place. If TAGSRWC members, Mayberry fans in general, and other fans and friends of George donate a total of $1,000 between now and December 15, those donations combined with the matching gift will be sufficient to reach the goal by the deadline.
This scholarship honoring George is an effort that TAGSRWC, Weaver's Department Store and other Mayberry groups and individuals have been supporting since the scholarship was first announced. The campaign is now at the critical juncture where it needs that final bit of help to become a reality.
George Jr. and Camden's gift has gotten the scholarship close to its goal. The scholarship needs just a little more help from fans like us to be fully funded.
We know there's a world of worthy causes and needs coming from all directions, but for anyone for whom this unique educational scholarship strikes a chord, here's the link for making your tax-deductible donation: www.una.edu/alumni/georgelindseyscholarship.
Again, the scholarship donation deadline is December 31, but the deadline for potentially doubling the impact of your donation with the matching gift is December 15, so we recommend that date as the extra-effective target to shoot for when making a donation.
***
We're sad to learn that Jack Bannon, who played the Announcer in "The  Mayberry Chef" (Episode #236) died October 25 in Coeur d'Alene, Idaho.  He was 77.
Jack's TAGS performance was one of his first on network television in what would become a long career of memorable character roles. He is best known for his role as Art Donovan in five seasons of the acclaimed "Lou Grant" series on CBS from 1977 to 1982.
He was also a prolific stage actor who often performed with second wife Ellen Travolta (older sister of John Travolta), who survives.
Born in Los Angeles, Jack grew up in an acting family. Father Jim Bannon was a noted stuntman and actor known for his work in Westerns of the 1950s. His mother, the legendary Bea Benaderet, is best known for her roles as Kate Bradley on "Petticoat Junction" (and "Green Acres") and Pearl Bodine on "The Beverly Hillbillies."
To read more about Jack's life and career, here's an outstanding obituary in the Spokane Spokesman-Review.  His story is an excellent example of someone with just a small part in TAGS who had a wonderfully full life and career beyond his moment in Mayberry (or in his case, technically, Siler City).
***
We're sorry to report that TAGS director Peter Baldwin died in Pebble Beach, Calif., on November 19.  He was 86.
Peter directed seven episodes of TAGS ("Barney Fife, Realtor," "Goober Takes a Car Apart," "The Rehabilitation of Otis," "Andy's Rival," "Suppose Andy Gets Sick," "Howard and Millie" and "Mayberry R.F.D.") and 13 episodes of "Gomer Pyle, U.S.M.C." He also directed episodes of more than 500 episodes of more than 100 different TV series, including multiple episodes of most and 42 episodes of "Carter Country" alone.
Though he won first prize at the 1964 Venice Film Festival for the docudrama Some Sort of Cage (which he wrote, produced and directed), Peter specialized in comedies. He got his start directing Hollywood productions from Sheldon Leonard with  two 1964 episodes of "The Dick Van Dyke Show." He also frequently worked with TAGS producer Aaron Ruben on his shows and with various series connected to MTM and to producer Sherwood Schwartz.
Some of his directing credits include "The Partridge  Family," "Mary Tyler Moore" (including an Emmy nomination),  "The Brady Bunch," "Sanford and Son," "The Bob Newhart Show," "Happy Days," "Chico and the Man," "CPO Sharkey," "The Love Boat," "Too Close for Comfort," "Family Ties," "ALF," "Full House," "WKRP in Cincinnati," "Newhart," "Murphy Brown," "Blossom," "The Wonder Years" (two Emmy nominations, including a win for a 1988 episode) and"Sabrina, the Teenage Witch."
Peter DuBois Baldwin was born in Winnetka, Ill., on January 11, 1931. He graduated from New Trier High (a few years after Charlton Heston and Rock Hudson and just ahead of TAGS alum William Christopher), and went on to be an athlete at Stanford University, where he was spotted by a talent scout for Paramount Pictures. He pursued acting before and after a three-year stint in the U.S. Navy.
He performed with Julie Harris in a national tour of The Warm Peninsula in 1958. He then went to Italy where he starred in a handful of films, including 1960's Escape by Night with director Roberto Rossellini. Back in the United States, Peter had parts in three productions performed in repertory at New York's City Center in 1962.
Some of his film performances in the United States were as Sgt. Johnson in Billy Wilder's Stalag 17 (1953), an uncredited role in Cecil B. DeMille's The Ten Commandments (1956) and episodes of TV's "The Untouchables" and "Ben Casey," as well as a murderer on "Perry Mason." Though working primarily as a director beginning in 1964, Peter continued to accept occasional acting roles until the early 1970s.
During his well-earned retirement years in the Monterey Bay area, Peter enjoyed boating and playing golf, and he was an avid supporter of Stanford University, as well as local arts, especially theater.
Peter is survived by his wife, Terry, son Drew Baldwin, daughters Amy Anderson and Eleonora Baldwin, five grandchildren and three great-grandchildren.
  ***
****

Mayberry

on

the

Web

****

The iMayberry Community
This TAGSRWC online group is organized and overseen by webmaster Allan "Floyd" Newsome with big help from Keith "Col. Harvey" Brown. You can check out the fun and sign up for free at: http://imayberrycommunity.com.
The iMayberry Community complements our other online activities, including our main www.imayberry.com page, podcasts, Facebook pages, online newsletters (such as The eBullet!), weaversdepartmentstore.com and chat rooms.
Two Chairs, No Waiting is our weekly podcast of TAGS news, interviews and pretty much whatever happens to be going on in and around Mayberry. It's hosted by Allan Newsome.
There's a new episode every Tuesday (and you can watch and listen live during tapings on Monday evenings). Past episodes are in an online Archives in case you want to listen to or view classic installments you've missed. (As of this week, there have been 455 episodes since Allan started the podcasts almost nine years ago.)
And you'll also find links on that podcast web page to a couple of other outstanding Mayberry-related podcasts: Burke on Mayberry (hosted by TAGSRWC's Kevin Burke) and the Mayberry Bible Study Podcast (again hosted by Allan Newsome).

TAGSRWC's official page on Facebook has over 244,000 Likes! You can find us at www.facebook.com/tagsrwc. If you haven't already dropped by the page, we hope you'll check it out sometime when you have the chance. We invite you to become a TAGSRWC Facebook Friend!
We also have links in our "Liked by this Page" section to the pages of several TAGSRWC chapters on Facebook (including the Gomer and Goober Pyle Comic Book Literary Guild, which has fascinating daily history contributions by member Randy Turner), as well as to Facebook pages of Mayberry Days, the Andy Griffith Museum, TAGS actors and others.
Ben Weaver also has his own Facebook page at www.facebook.com/weaversdepartmentstore.  It features all the latest in Mayberry items and merchandise news.
***
   ****

Post Note

****
Between issues of our Weaver's Newsletter, keep up with the happenings in Mayberry with the daily "Who's Been Messin' Up the Bulletin Board?" Digest. It's a free subscriber list that consists entirely of comments, news flashes, and questions and answers from subscribers. You can sign up for that list by going to the "Mailing Lists" link at www.tagsrwc.com.
TAGSRWC also publishes The eBullet in alternate months to Weaver's Newsletter. The eBullet is the online successor to our longtime printed newsletter, The Bullet. Like Weaver's Newsletter, The eBullet is free. It includes some of the same news as Weaver's Newsletter, but generally with more features and depth and a little less emphasis on merchandise news. To sign up, go to: www.tagsrwc.com/ebullet.
SPECIAL NOTICE:  The eBullet has recently switched to a new e-mail distribution system.  (There were ongoing glitches with the previous system, in part because of the happy problem of having more subscribers than the system could handle.)
Unfortunately, the switch requires current subscribers to resubscribe.  Fortunately, it's as easy as typing in your e-mail address and clicking a button, and then clicking a button in the confirmation e-mail sent to you.  Here again is the link: www.tagsrwc.com/ebullet. Everything else about The eBullet remains the same–including being free!
TAGSRWC's other main vehicle for Mayberry information is simply our website at www.tagsrwc.com (and its sister site www.iMayberry.com). Both sites have extensive content and links for just about everything a Mayberry fan might be looking for.
The first issue of Weaver's Newsletter for 2018 is scheduled for February, and the next eBullet will be out in January.
***
.
.
***
Printer Friendly Version