Weaver's Newsletter        
An Online newsletter of
"The Andy Griffith Show" Rerun Watchers Club (TAGSRWC)

October 2017
Welcome to our fifth issue for 2017!  There's a lot of Mayberry news this month, including even more new items on our online shelves at our Weaver's Department Store site.
Here are some highlights.  We'll begin with merchandise features and then share upcoming events and discuss other news.
****

Merchandise Update

****
We once again have a couple of fun, brand new items in store:
NEW! $10
This felt pennant features Mayberry colors of the ol' Orange and Blue. White lettering outlined by orange all on a blue background and topped off by a sewn-on orange edge strip. The pennant measures 24 x 9 inches. Perfect for showing your Mayberry pride at home or at work.
***
NEW! $10
Opie made a deal with Mr. Weaver to handmake each slingshot, so they're all one of a kind. The dimensions, wood type and color will vary because Opie chooses only the best real forked tree branches to make his slingshots. Sure, they can be a little rough around the edges, but these slingshots are brimming with personality! They might have a nick here and there, but with their well-loved look and well-made construction, these slingshots are still perfect in our eyes.
The height will fall between 7 in. to 10 in and the width between 3 in. to 6 in.  Each handmade slingshot has the classic look and feel, is outfitted with a leather projectile pouch, and uses natural latex tubing.
Slingshots are not toys. Adult supervision required. Ages 5 and up. Please read Opie's Safety Guidelines on the Weaver's website before purchasing.
NOTE: Opie will choose the style and color of your slingshot personally when you place your order. The image is representative of but not the exact slingshot you will receive.
***
$15.00
This official 2018 "Andy Griffith Show" Wall Calendar is 12 in. wide x 12 in. tall when closed and 12 in. wide x 24 in. tall when open.
Characters featured in this 2018 edition are Andy, Barney, Opie, Aunt Bee, Gomer and Goober.
The back side of the calendar shows the images for each month:

.
Get a jump on 2018 and your holiday shopping and order your Mayberry wall calendar (perennially a favorite Christmas present) today!
***
$10.00
It's time to step into Andy's shoes by getting a Mayberry Sheriff Badge to go along with the Mayberry Deputy Badge.
This badge is a sturdy, but simplified, representation of Andy's Mayberry Sheriff's badge.  In other words, it's not an exact replica but for the price, you can't beat it.
The color is "nickel" and you'll be able to pin it to the khaki shirt of your choice to have that official sheriff look.
***
We now have more than 40 different T-shirt designs to choose from.
.
***
$9.00
GreenLight Collectibles has put our love of Mayberry into a 1:64th scale replica of the Mayberry squad car.  This die-cast replica is the same size as the 1961 squad car released in 1998 by Johnny Lightning.
This is an officially licensed, limited-edition run, so don't delay and miss the chance to add this 1967 Ford Custom Mayberry Squad Car to your collection.
And we also have a new bumper sticker and a sheriff's emblem sticker.
Check out new items and old favorites online at Weaver's Department Store. (Or just go to www.imayberry.com and click on one of the orange and blue Weaver's buttons at the top of the page.)
And remember that your purchase from Weaver's help support Mayberry events and Mayberry-related charitable causes all year long at locations all around the country.  Those sales also help keep our online Mayberry newsletters and communities available to everybody free of charge.  As always, thank you for shopping at Weaver's!
 ***
Floyd's

Barbershop

Bulletin

Board


&


Event

Calendar
.
The Andy Griffith Museum, featuring the amazing collection of Andy Griffith artifacts started by the late Emmett Forrest, is celebrating its recently completed renovation.  The museum is open daily in Mount Airy, N.C. For info, visit the website at www.andygriffithmuseum.org or call (336) 786-1604.

The following information is from "The eBullet, the Official E-mail Newsletter of "The Andy Griffith Show" Rerun Watchers Club (TAGSRWC).
* Oct. 19: Karen Knotts performs "Tied Up in Knotts" at 7 p.m. at the Gaslight Music Hall in Oro Valley, Ariz.  For more info, visit www.gaslightmusichall.com.
* Oct. 20: Betty Lynn greets fans at the Andy Griffith Museum 12:30-3:30 p.m. She will have autographed 8 x 10 photos available ($10). For info, visit the website at www.andygriffithmuseum.org or call (336) 786-1604.
* Oct. 22: Karen Knotts gives the keynote speech titled "Don Knotts Rides Again" at the Wild Bunch Film Festival in Wilcox, Ariz.  For info, visit www.thewildbunchfilmfestival.com.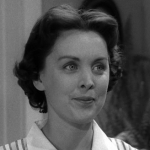 * Oct. 24-29: Margaret Kerry (Bess Muggins and Helen Scobey) is the special guest star for Cruise to Mayberry 12. This year's cruise is for five days aboard Carnival's Ecstasy, departing Charleston, S.C., and traveling to Freeport and Nassau in the Bahamas.
Margaret will be joined by the usual cruise company of Mayberry tribute artists and musical entertainers. For more info, visit www.allaboutcruisesnc.net or call 1-800-832-7993.
* Oct. 27: Roland White and his band perform at 9 p.m. at the Station Inn in Nashville, Tenn.
* Nov. 14: A screening of the The Real Mayberry, a recent documentary about Mount Airy, N.C., will be held at 6:00 p.m. at the Aperture Cinema in Winston-Salem, N.C.
* Nov. 17: Betty Lynn greets fans at the Andy Griffith Museum 12:30-3:30 p.m. She will have autographed 8 x 10 photos available ($10). For info, visit the website at www.andygriffithmuseum.org or call (336) 786-1604.
* Nov. 27: Roland White and his band perform at 9 p.m. at the Station Inn in Nashville, Tenn.
* Dec. 2: Roland White and his band host the annual Bill Monroe Appreciation Night at 9 p.m. at the Station Inn in Nashville, Tenn.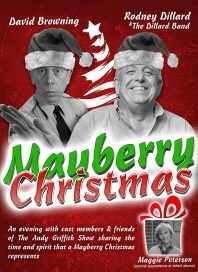 * Dec. 9: The Mayberry Christmas show starring Maggie Peterson (Charlene Darling), Rodney Dillard and the current Dillards band, and David "Mayberry Deputy" Browning returns to Middle Tennessee for a performance at Green Hill Church, 13251 Lebanon Road in Mt. Juliet, Tenn.  Doors open at 5 p.m. Show time is 6 p.m. General admission tickets are $20 (Family 4-Pack and Group discounts are also available.) For tickets and more info, visit mayberrychristmas.org or call 615-754-7035. Sponsored by Green Hill Church, Victory Baptist Church and Abundant Life Church.
* Dec. 15: Celebrate the holidays with Betty Lynn as she greets fans at the Andy Griffith Museum 12:30-3:30 p.m. She will have autographed 8 x 10 photos available ($10). For info, visit the website at www.andygriffithmuseum.org or call (336) 786-1604.
***
2018

* Mar. 1-3: 21st Annual George Lindsey UNA Film Festival in Florence, Ala.  Details TBA.  For updates, visit www.lindseyfilmfest.com.
* Mar. 10: Karen Knotts performs at the Effingham Performance Center in Effingham, Ill., at 7:00. For more info, visit www.the-epc.org.
* Apr. 21: Karen Knotts performs at the McPherson Opera House in McPherson, Kan., at 7:30.  Details TBA.
* May 5: 31st Annual Uncle Jesse Big Bass Classic (founded by Denver Pyle) in Paris, Tex.  For more info, visit: www.unclejessefishing.com.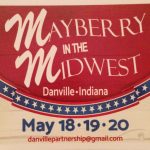 * May 18-20: Fifth Annual Mayberry in the Midwest festival in Danville, Ind. Lots of Mayberry tribute artists will be on hand. Other special guests TBA. Look for updates here and at Mayberry in the Midwest on Facebook.
* Sept. 27-30: 29th Annual Mayberry Days in Mount Airy, N.C.  Actually, a few festival events start as early as Monday the 24th. Guest stars confirmed so far include Betty Lynn and Rodney Dillard. Full details TBA in 2018.
For more info, visit www.mayberrydays.org. Tickets are already available for several performances and activities, including concerts by The Dillards featuring Rodney Dillard, the VW Boys, Marty Stuart and the Fabulous Superlatives, James Gregory ("the funniest man in America"), and the Malpass Brothers, plus Colonel Tim's Talent Time.
***
****

News

of

Cast

&

Crew

****
Ron Howard has been busy in London filming next year's still untitled Han Solo film, which will be released during Memorial Day Weekend 2018. Ron has been teasing fans with playful tweets and photos from the set.
Ron is being coy about what role brother Clint Howard will play in the Han Solo movie.  Clint's not saying much either, but he has talked more about another project he started working on the week after last month's Mayberry Days. The film is Apple Seed and stars Rance Howard, Ron and Clint's father, as a hitchhiker with a past.  It's  scheduled for release in 2018.
.
.
Betty Lynn was under the weather for much of last month's Mayberry Days, but she was able to ride in the parade, where she was enthusiastically cheered by the large crowds along Mount Airy's Main Street.  And she also called into a couple of shows to greet fans by phone.
Betty continues to greet fans and sign autographs every third Friday at the Andy Griffith Museum in Mount Airy.
.
September 30 was officially Dean Webb Night in Kimberling City, Mo., in honor of Dean Webb and his retirement from full-time performing. The Darling Boy and co-founder of The Dillards has been playing mandolin and lending his vocals to The Missouri Boatride bluegrass band since its founding 16 years. Several local and state citations were presented to Dean, who helped his Missouri Boatride bandmates close out 2017, which also marks the band's final year.
Echoing Briscoe Darling's famous proclamation of "Got time to breathe, got time for music," bluegrass fans in Missouri and beyond hope Dean, who turned 80 last March, will still make occasional guest appearances for public performances, along with continuing lots of informal picking and singing on back porches in the Ozarks.  Meanwhile, happy official retirement to Dean!
Roland White (the mandolin-playing member of the Country Boys in the "Mayberry on Record" episode) was inducted into the International Bluegrass Music Hall of Fame during the IBMA Awards, which were held in Raleigh, N.C., on Sept. 28. He also performed with an all-star band during the show.
Roland's brother Clarence, the late legendary guitar player who appeared in the same TAGS episode and also in "Quiet Sam" (Roland was absent from the latter, because he joined the Air Force), was a 2016 inductee.
Hearty congratulations to Roland!
.
Mayberry Days was lucky that Joy Ellison (Effie Muggins, Mary Wiggins and others) had a break in her schedule as a dialect coach  and was able to attend this year's festival with her sister, dancer Joan Pierce. Joy recently wrapped up work on the Dumplin', a film that stars Jennifer Aniston. Joy was also a dialect coach for Logan Lucky, a box-office hit this summer (still in theaters in a few places).
.
Bettina Linke (wife of the late Richard O. "Dick" Linke, TAGS associate producer and personal manager of Andy Griffith, Jim Nabors, Maggie Peterson, Ken Berry, Ronnie Schell and Jerry Van Dyke) received the Key to the City of Mount Airy during the Mayor's Proclamation during Mayberry Days.  Bettina also presented original Mayberry Sheriff and Deputy badges to the Andy Griffith Museum, where they are now on permanent display.
.
We missed it at the time, but Barbara Perry (several Mayberry characters, including Floss in "Class Reunion") played a gift shop employee in an episode of the award-winning "Baskets" TV series called "Ronald Reagan Library," which originally aired last February. We think this might make Barbara (an amazing 94!) the senior working actor among Mayberry alums.
.
George Lindsey's alma mater, the University of North Alabama, is in the process of trying to complete funding of the George Lindsey Film and Media Endowed Scholarship at the university.  It is an effort that TAGSRWC, Weaver's Department Store and other Mayberry groups and individuals have been supporting. Here's the link for making donations: www.una.edu/alumni/georgelindseyscholarship.
***
We're sad to report the passing of Harry Dean Stanton, who played the unnamed island shopkeeper in 1967's "Howard's New Life" (Episode #234).  Harry Dean died in Los Angeles on September 15. He was 91.
Harry Dean was born in West Irvine, Ky., on July 14, 1926. His father was a tobacco farmer and barber, and his mother was a cook and hairdresser. Harry Dean served in the U.S. Navy during World War II (including the Battle of Okinawa). He then attended the University of Kentucky, but dropped out to pursue an acting career in Southern California.  His early training was at the Pasadena Playhouse.
Appearing in over 200 film roles (including the title role in Lucky, which is in theaters now), Harry Dean was the quintessential character actor. As he once said, he could "bring a sense of menace to the screen," which is true even of his part on TAGS.
Harry Dean's early film work included lots of episodes in TV, especially Westerns. He got a foothold in movies in 1970 and soon became a favorite character actor of top directors. His list of performances is as varied and of consistently high quality as for any actor in Hollywood history—from The Godfather: Part II, The Missouri Breaks and Escape from New York to Alien, Private Benjamin and The Green Mile. He could always make even small parts seem big.
Harry Dean might be best known for his lead roles in two films, both from 1984: Repo Man and Paris, Texas, which was his personal favorite.
Harry Dean also continued to work on award-winning productions for TV including HBO's "Big Love."  And he appeared in five episodes of this year's "Twin Peaks" series for Showtime.
Harry Dean never married, and his survivors are not known. What is known is that he has left film-lovers a lasting legacy of memorable performances. And he helped Howard Sprague realize that making ships in bottles in the Caribbean maybe wasn't the happiest life for him after all.
***
Mayberry

Days

Gallery
Here's a handful of photos featuring favorite moments from September's annual Mayberry Days festival in Mount Airy, N.C.
.
.
.
"You Belong in the Funny Papers!"--B. Fife
The September 1 installment of the popular Nancy comic strip once again featured Mayberry:

Drawn by Nashvillian (and TAGSRWC member) Guy Gilchrist, Nancy, Sluggo, Aunt Fritzi and the gang always "shoot for the good feeling."  Keep up with Nancy daily online at www.gocomics.com/Nancy.
****

Mayberry

on

the

Web

****

The iMayberry Community
This TAGSRWC online group is organized and overseen by webmaster Allan "Floyd" Newsome with big help from Keith "Col. Harvey" Brown. You can check out the fun and sign up for free at: http://imayberrycommunity.com.
The iMayberry Community complements our other online activities, including our main www.imayberry.com page, podcasts, Facebook pages, online newsletters (such as The eBullet!), weaversdepartmentstore.com and chat rooms.
Two Chairs, No Waiting is our weekly podcast of TAGS news, interviews and pretty much whatever happens to be going on in and around Mayberry. It's hosted by Allan Newsome.
There's a new episode every Tuesday (and you can watch and listen live during tapings on Monday evenings). Past episodes are in an online Archives in case you want to listen to or view classic installments you've missed. (As of this week, there have been 447 episodes since Allan started the podcasts almost nine years ago.)
And you'll also find links on that podcast web page to a couple of other outstanding Mayberry-related podcasts: Burke on Mayberry (hosted by TAGSRWC's Kevin Burke) and the Mayberry Bible Study Podcast (again hosted by Allan Newsome).

TAGSRWC's official page on Facebook has over 244,000 Likes! You can find us at www.facebook.com/tagsrwc. If you haven't already dropped by the page, we hope you'll check it out sometime when you have the chance. We invite you to become a TAGSRWC Facebook Friend!
We also have links in our "Liked by this Page" section to the pages of several TAGSRWC chapters on Facebook (including the Gomer and Goober Pyle Comic Book Literary Guild, which has fascinating daily history contributions by member Randy Turner), as well as to Facebook pages of Mayberry Days, the Andy Griffith Museum, TAGS actors and others.
Ben Weaver also has his own Facebook page at www.facebook.com/weaversdepartmentstore.  It features all the latest in Mayberry items and merchandise news.
***
  

****

Post Note

****
Between issues of our Weaver's Newsletter, keep up with the happenings in Mayberry with the daily "Who's Been Messin' Up the Bulletin Board?" Digest. It's a free subscriber list that consists entirely of comments, news flashes, and questions and answers from subscribers. You can sign up for that list by going to the "Mailing Lists" link at www.tagsrwc.com.
TAGSRWC also publishes The eBullet in alternate months to Weaver's Newsletter. The eBullet is the online successor to our longtime printed newsletter, The Bullet. Like Weaver's Newsletter, The eBullet is free. It includes some of the same news as Weaver's Newsletter, but generally with more features and depth and a little less emphasis on merchandise news. To sign up, go to: www.tagsrwc.com/ebullet.
TAGSRWC's other main vehicle for Mayberry information is simply our website at www.tagsrwc.com (and its sister site www.iMayberry.com). Both sites have extensive content and links for just about everything a Mayberry fan might be looking for.
The final issue of Weaver's Newsletter for 2017 is scheduled for December, and the next eBullet will be out in November.
***
.
.
***
Printer Friendly Version