Weaver's Newsletter August 2017
Weaver's Newsletter          
An Online newsletter of
"The Andy Griffith Show" Rerun Watchers Club (TAGSRWC)
August 2017
Welcome to our fourth issue for 2017!  There's once again a lot of Mayberry news this month, including even more new items on our online shelves at our Weaver's Department Store site.
Here are some highlights.  We'll begin with merchandise features and then share upcoming events and discuss other news.
****

Merchandise Update

****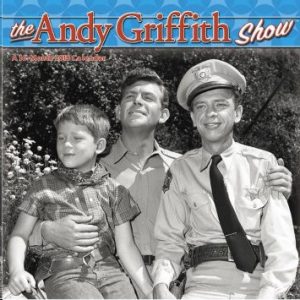 NEW!  $15.00
Just released in July, the 2018 wall calendar is 12 in. wide x 12 in. tall when closed and 12 in. wide x 24 in. tall when open.
Characters featured in this 2018 edition are Andy, Barney, Opie, Aunt Bee, Gomer and Goober.
The back side of the calendar shows the images for each month:

.
Get a jump on 2018 and your holiday shopping and order your Mayberry wall calendar (perennially a favorite Christmas present) today!
We now have more than 40 different T-shirt designs to choose from.
$9.00
GreenLight Collectibles has put our love of Mayberry into a 1:64th scale replica of the Mayberry squad car.  This die-cast replica is the same size as the 1961 squad car released in 1998 by Johnny Lightning.
This is an officially licensed, limited-edition run, so don't delay and miss the chance to add this 1967 Ford Custom Mayberry Squad Car to your collection.
And we also have a new bumper sticker and a sheriff's emblem sticker.
Check out all these new items and old favorites online at Weaver's Department Store. (Or just go to www.imayberry.com and click on one of the orange and blue Weaver's buttons at the top.)
And remember that your purchase from Weaver's help support Mayberry events and Mayberry-related charitable causes all year long at locations all around the country.  Those sales also help keep our online Mayberry newsletters and communities available to everybody free of charge.  As always, thank you for shopping at Weaver's!
 ***
Floyd's

Barbershop

Bulletin

Board




&




Event

Calendar
.
The Andy Griffith Museum, featuring the amazing collection of Andy Griffith artifacts started by the late Emmett Forrest, is now celebrating its completed renovation as of June 29.  The museum is open daily in Mount Airy, N.C. For info, visit the website at www.andygriffithmuseum.org or call (336) 786-1604.

 .
Bedazzling Museum Makeover
The Andy Griffith Museum has just completed a major remodeling that now provides a truly beautiful, state-of-the-art home for its impressive collection of Andy Griffith artifacts.
The museum reopened on June 29.  In a scenario that only Count Istvan Teleky could make happen, the first visitor after the reopening was Andy Mayberry and his family from Arkansas.
.
Read more about the remodeling effort HERE.
The following information is from "The eBullet, the Official E-mail Newsletter of "The Andy Griffith Show" Rerun Watchers Club (TAGSRWC).
* Aug. 18: Betty Lynn greets fans at the Andy Griffith Museum 12:30-3:30 p.m. She will have autographed 8 x 10 photos available ($10). For info, visit the website at www.andygriffithmuseum.org or call (336) 786-1604.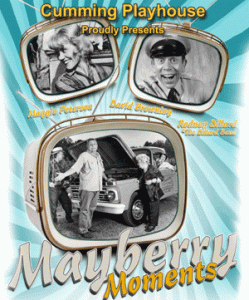 * Aug. 19: Maggie Peterson, Rodney Dillard and the current Dillards band are joined by David "Mayberry
Deputy" Browning for two performances of their Mayberry Moments show at the Cumming Playhouse in Cumming, Ga. Show times are 3 p.m. and 8 p.m.  Tickets are $25 and $30 plus tax. For more info, visit
www.playhousecumming.com/Events/Event-Details/EventID/89.
* Aug. 19: Roland White and his band perform at 9 p.m. at the Station Inn in Nashville, Tenn.
* Sept. 11: A screening of the The Real Mayberry, a documentary about Mount Airy, N.C., will be held at 7:30 p.m. at the Silverspot Cinema in Chapel Hill, N.C.
* Sept. 13: The Real Mayberry will be shown at the Starmount Cinema in Jonesville, N.C., at a time TBD.
* Sept. 15: Betty Lynn greets fans at the Andy Griffith Museum 12:30-3:30 p.m. She will have autographed 8 x 10 photos available ($10). For info, visit the website at www.andygriffithmuseum.org or call (336) 786-1604.
***
* Sept. 20-24: 28th Annual Mayberry Days in Mount Airy, N.C.  Stars confirmed so far are Betty Lynn (Thelma Lou), Rodney Dillard (and the current Dillards band), Maggie Peterson (Charlene Darling), Clint Howard (Leon), Ronnie Schell (two episodes and also Duke Slater on "Gomer Pyle, U.S.M.C.), "LeRoy Mack" McNees (two episodes as the Dobro-playing Country Boy), Margaret Kerry (Bess Muggins and Helen Scobey),  Joy Ellison (Mary Wiggins and others), Laura Hagen (wife of late music director Earle Hagen), Bettina Linke (wife of late associate producer Richard O. Linke), Karen Knotts, and George Lindsey Jr.
.
Several of the stars are presenting their own ticketed concerts and shows during the weekend, including some that are in intimate (aka smaller) venues, so advance tickets are wise.  And virtually all of the guests will be participating in larger portions of the weekend, some of which are also ticketed, but many of which are free.
Also booked to perform are the VW Boys, Michael Hoover and his "Memories of Elvis" show, the Malpass Brothers, Balsam Range, The Tams, The Lisemby Family, and James Gregory ("the funniest man in America"). Neal Brower will also be presenting his always-popular Professor Brower's Lecture with a guest or guests TBA soon.
.
Many more details TBA.  For more info, visit www.mayberrydays.org. Tickets are  available for several performances and activities.

***
* Sept. 23: Missouri Boatride (with Dean Webb on mandolin) performs at the Carl Junction Bluegrass Festival in Carl Junction, Mo. (just a few miles northwest of Joplin).
* Sept. 23: Roland White and his band perform at 9 p.m. at the Station Inn in Nashville, Tenn.
* Oct. 7: A half dozen of so of the top Mayberry tribute artists present A Tribute to Mayberry at the Averett Center for the Arts in Statesboro, Ga. Show time is 7:30 p.m. and tickets are $24.  For more info visit www.averittcenterforthearts.org/professional-series.
* Oct. 19: Karen Knotts performs "Tied Up in Knotts" at 7 p.m. at the Gaslight Music Hall in Oro Valley, Ariz.  For more info, visit www.gaslightmusichall.com.
* Oct. 20: Betty Lynn greets fans at the Andy Griffith Museum 12:30-3:30 p.m. She will have autographed 8 x 10 photos available ($10). For info, visit the website at www.andygriffithmuseum.org or call (336) 786-1604.
* Oct. 22: Karen Knotts gives the keynote speech titled "Don Knotts Rides Again" at the Wild Bunch Film Festival in Wilcox, Ariz.  For info, visit www.thewildbunchfilmfestival.com.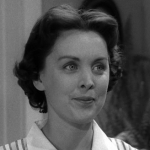 * Oct. 24-29: Margaret Kerry (Bess Muggins and Helen Scobey) is the special guest star for Cruise to Mayberry 12. This year's cruise is for five days aboard Carnival's Ecstasy, departing Charleston, S.C., and traveling to Freeport and Nassau in the Bahamas.
Margaret will be joined by the usual cruise company of Mayberry tribute artists and musical entertainers. For more info, visit www.allaboutcruisesnc.net or call 1-800-832-7993.
* Oct. 27: Roland White and his band perform at 9 p.m. at the Station Inn in Nashville, Tenn.
* Nov. 17: Betty Lynn greets fans at the Andy Griffith Museum 12:30-3:30 p.m. She will have autographed 8 x 10 photos available ($10). For info, visit the website at www.andygriffithmuseum.org or call (336) 786-1604.
* Nov. 27: Roland White and his band return for a show starting at 9 p.m. at the Station Inn in Nashville, Tenn.
* Dec. 2: Roland White and his band host the annual Bill Monroe Appreciation Night at 9 p.m. at the Station Inn in Nashville, Tenn.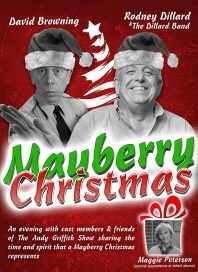 * Dec. 9: The Mayberry Christmas show starring Maggie Peterson (Charlene Darling), Rodney Dillard and the current Dillards band, and David "Mayberry Deputy" Browning returns to Middle Tennessee for a performance at Green Hill Church, 13251 Lebanon Road in Mt. Juliet, Tenn.  Doors open at 6 p.m. Show time is 7 p.m. Ticket information will be coming soon.  Sponsored by Green Hill Church, Victory Baptist Church and Abundant Life Church.
* Dec. 15: Betty Lynn greets fans at the Andy Griffith Museum 12:30-3:30 p.m. She will have autographed 8 x 10 photos available ($10). For info, visit the website at www.andygriffithmuseum.org or call (336) 786-1604.
***
****

News

of

Cast

&

Crew

****
As every being in every galaxy (whether near or far, far away) knows by now, Ron Howard has been brought in mid-filming to save the new Han Solo Star Wars film, which had gotten off course (that is, too snarky) with its previous directing team. There's a general consensus that Han will be in very good hands with Ron as solo director.  The film is still slated for release during Memorial Day Weekend 2018.
Ron is an Emmy finalist for best documentary or non-fiction special for his The Beatles: Eight Days a Week–The Touring Years.
In late June, Ron announced that Pablo Picasso will be the subject of the second season of "Genius," which Ron is executive-producing for NatGeo.  The first season, which was about the life of Albert Einstein, earned solid ratings and nice reviews worldwide. Ron is also nominated for an Emmy in the Limited Series category for his direction of the premiere episode of  the series, which also received several other Emmy nods.
A new season of "Arrested Development" is now filming.  Ron returns as the narrator. He's also slated to return in at least one cameo as himself in the second season of the critically acclaimed "This Is Us," a smash hit for NBC-TV last season.
It has been announced (by his brother) that Clint Howard will be in the Han Solo movie.  The exact role is still under wraps. Fans can also expect to search for Ron's wife, Cheryl, in a cameo role, as she is in all of Ron's movies.

Though officially retired, Jim Nabors still does occasional performances in Hawaii, where he lives.  He has performed a few songs during at least one event so far this year, but mostly is just enjoying a quiet life at home in his tropical paradise.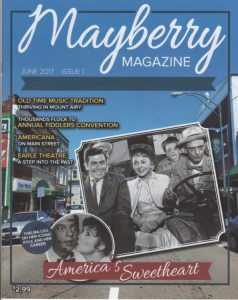 Betty Lynn was the subject of the cover story of the June issue Mayberry magazine, the inaugural issue of the entertainment and tourism publication for Mount Airy, N.C., where Betty lives.
And in July, Betty participated in a sold-out lecture with Neal Brower for a specialty tour group at the Andy Griffith Museum.
Betty's next day to greet fans at the Andy Griffith Museum in Mount Airy is August 18.
Maggie Peterson joined TV brother Rodney Dillard and his band (plus David "Mayberry Deputy" Browning) in early May for their Mayberry Moments show in Duluth, Ga.
Maggie also has just returned from the annual DARE fundraiser in Troy, N.C., where she was joined by Dixie Griffith (daughter of Andy).  And Maggie and Rodney Dillard and his Dillards band will be back in Georgia on August 19 for their Mayberry Moments show with David Browning.
.
The International Bluegrass Music Association (IBMA) announced on July 26 that Roland White (the mandolin-playing member of the Country Boys in the "Mayberry on Record" episode) will be inducted into the International Bluegrass Music Hall of Fame during the IBMA Awards, which will be held in Raleigh, N.C., on September 28. Roland's brother Clarence, the late legendary guitar player who appeared in the same TAGS episode and also in "Quiet Sam" (Roland was absent from the latter, because he joined the Air Force), was a 2016 inductee.
Elinor Donahue was a featured guest at the Hollywood Show, a celebrity-greeting and memorabilia event in Los Angeles in July.
Other stars with TAGS connections at the show were Charles Dierkop (Larry, one of the crooks in "Otis the Deputy") and Kellie Flanagan (new Mayberry arrival Claudia Campbell in "Opie and Mike," Episode 247). Kellie is now managing editor of Sierra News Online. You can read a recent story about her HERE.
Margaret Kerry (two TAG episodes) and Alan Oppenheimer (Mr. Ruskin in "Barney Hosts a Summit Meeting," Episode 240) were guests for the Fanboy Expo in Knoxville, Tenn., in late June.
.
.
Both stars were at the comic convention primarily for roles beyond Mayberry–Margaret for being the live model for Disney's Tinker Bell and Alan for his countless voices in iconic animation productions, ranging from Skeletor (in the He-Man and Masters of the Universe stories) to Vanity Smurf.
.
Julie Adams (Nurse Mary in "The County Nurse," Episode 56) also made an appearance at a comic-book convention this summer.  Hers was closer to home at the San Fernando Valley Comic Book Convention on June 4.
In a recent "Talk with Jackie" column in The Tolucan Times, Jackie Joseph-Lawrence (Mayberry's Sweet Romeena) writes about adventures that she and husband David Lawrence have had, including an interesting cruise to Bora Bora last year.
LeRoy McNees (the Dobro-playing Country Boy) and his Gloryland bluegrass-gospel band have been playing gigs close to home in California. But LeRoy will returning to Mayberry Days in September, and is putting together a band with top pickers for a show.

George Lindsey's alma mater, the University of North Alabama, is in the process of trying to complete funding of the George Lindsey Film and Media Endowed Scholarship at the university.  It is an effort that TAGSRWC, Weaver's Department Store and other Mayberry groups and individuals have been supporting.
As the endowment approaches its funding deadline later this year, we'll be more "pushy" about creating awareness and support for this worthy cause in honor of our late friend George.  For now, here's a link where you can make a donation: www.una.edu/alumni/georgelindseyscholarship.
***
George Spence
1928-2017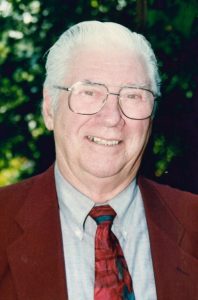 It is with great sadness that we share news of the passing of George Spence, a wonderful friend to countless in the Mayberry community.  George died on July 13 at home in Kill Devil Hills N.C., with his wife, Stephanie, by his side.  He was 89.
George was beloved by legions of Mayberry fans, especially those who attend Mount Airy's annual Mayberry Days festival, which he began attending in 1996 and continued to do, as long as his health allowed, which was for most years through 2013.
George's one episode of TAGS was "Guest in the House" (Episode 151) in 1965.  He played Frank, the temporarily estranged  fiancé of Andy's "cousin" Gloria, in one brief scene and then the epilogue, which is rarely seen in reruns.
But George made the absolute most of his pivotal scene, which included one line ("Hi ya, Glory."), a kiss, and an embrace.  That was all it took for George to be included among Mayberry royalty.
George loved to tell the story about how director Coby Ruskin didn't want a rehearsal of the kissing scene. As George told it, "I thought we were going to have to kiss five times in rehearsal.  Then, I'll probably mess up and have to kiss her 10 more times."
George got it right in just one take.  Ruskin commanded, "That's a cut.  That's a wrap."
Andy was off to the side busting a gut laughing.  He came over to George and said, "That's the toughest thing you have to do in film,  And you did it in one take."
Not missing a beat, George replied, "Andy, I've been kissin' girls all my life."
The stuff of legends. But to know just George's one memorable scene in TAGS is to miss the fullness of his life and his contributions to many communities.
George Jones Spence Jr. was born in Elizabeth City, N.C., on April 18, 1928.  He was the son of George J. and Pearl Kellam Spence. He grew up around The Lost Colony, the famed outdoor drama on Roanoke Island, N.C.  George even attended shows in the first two seasons of the production (1937 and 1938). It was from that exposure George got the acting bug.  He began playing Lost Colony villain Simon Fernando while in college in 1948.  (He received his degree in English from Wake Forest University in 1951 and did further study in Theater at the University of North Carolina at Chapel Hill.) Among his fellow Lost Colony cast members for several years was Andy Griffith.
George would return to play other Lost Colony roles in the 1970s and again in the early 2000s. Along the way, George was involved in over 100 productions, as both a performer and often as set designer or producer and, even more often, as director.
George was also a gifted teacher.  He taught drama at A.L. Brown High School in Kannapolis, N.C. He took time off from full-time teaching to earn his master's degree in Speech and Drama from Florida State University in 1960. He returned to North Carolina to be assistant professor of Drama and serve as department chairman at Lenoir Rhyne College in Hickory.
George spent a short time in Hollywood in the mid-1960s–just long enough to make his mark in Mayberry. (You might also spot him in an episode of "Rawhide" and two episodes of "Combat.") He then returned to teaching, this time at East Tennessee State University in Johnson City, Tenn., where he was an associate professor of Drama for five years.
.
.
George next taught Drama in high school again (Sanderson High School in Raleigh, N.C.) and then worked for the historic preservation board in St. Augustine, Fla., for a time before eventually returning to the Outer Banks of North Carolina, where he called home from 1973 onward.
George worked for coastal Dare County on and off from the 1974 to the 1990s, first as a public information officer, then as Director of Emergency Medical Services and finally as Director of Emergency Management Services. As part of his duties, George developed and implemented the county's first hurricane evacuation plan. (He also served as volunteer Dare County Sheriff's Deputy.)
George was a strong advocate for developing the area's reverse osmosis water treatment networks–a practical system still in use today and a vital part of Dare County being able to provide enough clean water to keep up with demand during years of booming population and tourism growth.
Amid all of his educational and civil-preparedness contributions to the communities where he lived, George remained very involved in acting and directing, including some film work (such as the Jury Foreman in the "The Hunting Party," a "Matlock" two-parter filmed on the Outer Banks in 1989), but mostly for the theater. During his career, George produced shows with Richard Boone and even directed John Carradine in The Merchant of Venice.
But it was for his return to Mayberry in the 1990s that fans are probably most appreciative of George, because that's when most fans first got to know him and wife Stephanie, who was always by his side.
Whenever George was in a room or on a stage, there was no missing him. He had a commanding presence, punctuated by his booming, rich baritone voice.  (His everyday speaking voice was like Gomer Pyle's singing voice!) There was no need for a microphone to hear George all the way in the back of an auditorium or even an amphitheater.
In a profile about George some years ago, a writer described George as a "Renaissance man" of the Outer Banks.  And it's true.  George was an accomplished performer, a longtime educator and a devoted public servant.
Through it all, George was incredibly humble. He knew better than almost anyone else could ever know what an amazing gift it was to have been on TAGS–even for just a few moments.  He embraced every minute of being at Mayberry Days and shared his gratitude with fans.
Mayberry Days is a celebration of many wonderful people, values, feelings and relationships. George represented all of them.  And he always will.
.
Family was foremost for George. In addition to wife Stephanie, survivors include son Jamie and his wife, Nam Sayavong; daughter Shannon Dudley and her husband, Rolfe Dudley; and four grandchildren, all of Kill Devil Hills.
A memorial service was held on July 23 at Kitty Hawk United Methodist Church with the Rev. Betsy Haas officiating.
Memorial donations may be made to The Lost Colony, 1409 National Park Drive, Manteo, NC  27954.  (For his Mayberry friends, we feel sure George would also be pleased by donations to the Surry Arts Council, P.O. Box 141, Mount Airy NC  27030.)
Here is a link to George's official obituary.
 ***
****

Mayberry

on

the

Web

****

The iMayberry Community
This TAGSRWC online group is organized and overseen by webmaster Allan "Floyd" Newsome with big help from Keith "Col. Harvey" Brown. You can check out the fun and sign up for free at: http://imayberrycommunity.com.
The iMayberry Community complements our other online activities, including our main www.imayberry.com page, podcasts, Facebook pages, online newsletters (such as The eBullet!), weaversdepartmentstore.com and chat rooms.
Two Chairs, No Waiting is our weekly podcast of TAGS news, interviews and pretty much whatever happens to be going on in and around Mayberry. It's hosted by Allan Newsome.
There's a new episode every Tuesday (and you can watch and listen live during tapings on Monday evenings). Past episodes are in an online Archives in case you want to listen to or view classic installments you've missed. (As of this week, there have been 439 episodes since Allan started the podcasts almost nine years ago.)
And you'll also find links on that podcast web page to a couple of other outstanding Mayberry-related podcasts: Burke on Mayberry (hosted by TAGSRWC's Kevin Burke) and the Mayberry Bible Study Podcast (again hosted by Allan Newsome).

TAGSRWC's official page on Facebook has over 240,000 Likes! You can find us at www.facebook.com/tagsrwc. If you haven't already dropped by the page, we hope you'll check it out sometime when you have the chance. We invite you to become a TAGSRWC Facebook Friend!
We also have links in our "Liked by this Page" section to the pages of several TAGSRWC chapters on Facebook (including the Gomer and Goober Pyle Comic Book Literary Guild, which has fascinating daily history contributions by member Randy Turner), as well as to Facebook pages of Mayberry Days, the Andy Griffith Museum, TAGS actors and others.
Ben Weaver also has his own Facebook page at www.facebook.com/weaversdepartmentstore.  It features all the latest in Mayberry items and merchandise news.
***
  

****

Post Note

****
Between issues of our Weaver's Newsletter, keep up with the happenings in Mayberry with the daily "Who's Been Messin' Up the Bulletin Board?" Digest. It's a free subscriber list that consists entirely of comments, news flashes, and questions and answers from subscribers. You can sign up for that list by going to the "Mailing Lists" link at www.tagsrwc.com.
TAGSRWC also publishes The eBullet in alternate months to Weaver's Newsletter. The eBullet is the online successor to our longtime printed newsletter, The Bullet. Like Weaver's Newsletter, The eBullet is free. It includes some of the same news as Weaver's Newsletter, but generally with more features and depth and a little less emphasis on merchandise news. To sign up, go to: www.tagsrwc.com/ebullet.
TAGSRWC's other main vehicle for Mayberry information is simply our website at www.tagsrwc.com (and its sister site www.iMayberry.com). Both sites have extensive content and links for just about everything a Mayberry fan might be looking for.
The next issue of Weaver's Newsletter is scheduled for October, and the next eBullet will be out in mid-September.
***
.
.
***
Printer Friendly Version