Weaver's Newsletter          
An Online newsletter of
"The Andy Griffith Show" Rerun Watchers Club (TAGSRWC)
August 2016
Welcome to our fourth issue for 2016!
Here are some more highlights from what's in store online at Weaver's Department Store this month, along with news about recent happenings and details about upcoming Mayberry events.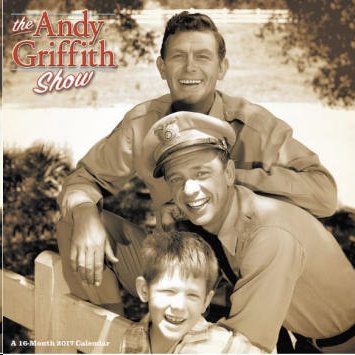 $15.00
Now in stock!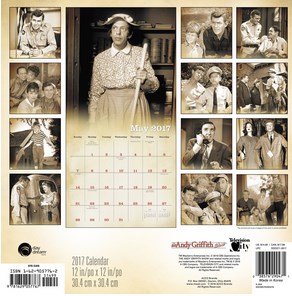 All the photos contained in this 2017 edition are in black and white (actually sepia, as shown here), though some are taken from color publicity shots.  The calendar is 12" wide x 12" tall when closed and 12" wide x 24" tall when open.
The nine characters featured in this 2017 calendar are Andy, Barney, Opie, Aunt Bee, Goober, Gomer, Otis, Thelma Lou and Helen.
Order early and take advantage of this 16-month calendar. September through December 2016 are featured together with Andy, Opie, Aunt Bee and Helen on display. All other months are in separate openings featuring one new image per month.
Elsewhere in our store...
With the Dog Days of summer officially yapping up this week, we've got lots of cool T-shirts for these hot days. In fact, we have three dozen different designs to choose from!
Here are two new designs in cool cream colored shirts we're offering, along with two other favorites in gray:
 
 
Suit yourself to a Summertime Tee!
 
Most of our adult-sized T-shirts are just $20.  (A few designs are $18, and the Lawmen all-over design is $25.)  We also have caps, Goober beanies and deputy patches.
You'll find these items and much more, including  books, CDs, DVDs, Blu-rays, collectibles, tin signs, artwork, rare board games, blankets,  and items for vehicles online at weaversdepartmentstore.com. (Or just go to www.imayberry.com and click on one of the orange and blue Weaver's buttons at the top.)
***
Sneak Peek
Coming in October...the colorized Andy Griffith Show Christmas Special, featuring both "Christmas Story" and "The Pickle Story" on DVD and in color as they were seen for the first time during the hit presentation on CBS last Christmas.
But even better, these DVD versions will be the original 1960s broadcast length, not shortened slightly as they had to be for the TV special.  Andhe DVD will also include the original black and white versions of both episodes, also in original broadcast length.  The price is expected to be around $15.
The release date is October 4, but we'll start taking pre-orders a few weeks before that.  (Hint from Ben Weaver: What a great holiday gift combo the 2017 TAGS Wall Calendar and this DVD will make!)
 

Floyd's

Barbershop
Bulletin

Board

&

Event

Calendar
The Andy Griffith Museum, featuring the late Emmett Forrest's amazing collection of Andy Griffith memorabilia, is open daily in Mount Airy, N.C. For info, visit the website at www.andygriffithmuseum.org or call (336) 786-1604.
The following information is from "The eBullet": Official E-mail Newsletter of "The Andy Griffith Show" Rerun Watchers Club (TAGSRWC).
* Aug. 13: Mayberry 101 author Neal Brower presents a lecture on the "Goober and the Art of Love" episode of TAGS, starting at 2 p.m., in the Andy Griffith Museum Theatre in Mount Airy, N.C.  Admission is included with an Andy Griffith Museum admission ($6).  Visit the website at www.andygriffithmuseum.org or call (336) 786-1604.
* Aug. 14: Julie Adams (Mayberry's first Nurse Mary) will be appearing from 1 to 4 p.m. at the San Fernando Valley Comic Book Convention in the Signature Banquet Hall, 11128 Balboa Blvd. in Granada Hills, Calif. She'll be greeting fans and signing her book and memorabilia.
* Aug. 20: Mayberry Night in Troy, N.C., starring Maggie Peterson, the VW Boys and most of the Mayberry tribute artists in a fundraiser show for the local DARE program. Showtime at the James Garner Center is 7 p.m. Reserved seating is $20, General Admission tickets are $15 and admission for kids ages 6-12 is $10.  For advance tickets or info, contact Jeff Branch at jbranch205@gmail.com or (704) 985-6987.
* Aug. 23: Hal J. Smith (aka Otis Campbell) 100th Birthday Celebration in Massena, N.Y.  Hal was born in Petoskey, Mich., on Aug. 24, 1916, but called Massena home for many years. Cake and ice cream will be served at the Massena Public Library from 4 to 7 p.m.,  accompanied by screenings of Hal's movie and TV appearances. There will also be a display of photos and memorabilia, and a book signing by his biographer.  Follow updates on plans at the event's Facebook page, or contact organizer John Michaud III by phone at (315) 769-2102 or by e-mail at massenaguy2003@yahoo.com.
* Aug. 26-31: As part of the celebration of Betty Lynn's 90th Birthday (Aug. 29), the historic Earle Theatre in Mount Airy, N.C., will screen June Bride, the 1948 film starring Betty in the title role. Also starring Bette Davis and Robert Montgomery.  And look for Debbie Reynolds and Mayberry's Amzie Strickland (Miss Rosemary) and Tom Tully (Walt Simpson) in smaller roles.
* Aug, 27 and 28: Oh boy, David "Mayberry Deputy" Browning is in action for the 26th Annual Amboy (Ill.) Depot Days.  All aboard!
* Sept. 10: Roland White and his band perform at 9 p.m. at the Station Inn in Nashville, Tenn.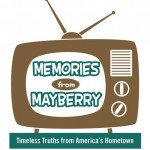 * Sept. 19-22: Memories From Mayberry: Timeless Truths from America's Hometown is a Bible study event drawing on the biblical truths and life applications found in "The Andy Griffith Show." Hosted by the Georgia Baptist Conference Center in Toccoa, GA (90 miles NE of Atlanta). The price is $325 per person.

The all-inclusive price includes three nights of on-campus lodging, eight meals, Bible study sessions based on favorite TAGS episodes, dynamic preaching, worship, and special guest star LeRoy McNees ("Mayberry on Record" and "Quiet Sam") in concert. To register, call (706) 886-3133 or visit www.mytoccoa.com/mayberry.
***
* Sept. 21-25: 27th Annual Mayberry Days in Mount Airy, N.C. Stars confirmed so far include Mount Airy's own Betty Lynn (Thelma Lou); The Dillards (featuring Darling boy Rodney Dillard); Maggie Peterson (Charlene Darling); Clint Howard (Leon); Joy Ellison (Effie Muggins, Mary Scobey, Mary Wiggins and Iris); Ronnie Schell (two TAGS episodes and Duke Slater on "Gomer Pyle, U.S.M.C."), who will present his "Ronnie Schell Again: A Serious Afternoon of Hilarious Comedy" show; Margaret Kerry (Bess Muggins and Helen Scobey), who will do a presentation of "Tinker Bell Meets Andy Griffith"; Ronnie Dapo (Arnold Winkler and others); Laura Hagen (wife of late TAGS music director Earle Hagen); and Karen Knotts (daughter of Don Knotts), who will present two one-woman shows this year: her popular "Tied Up in Knotts" and her brand new one, "A Deputy's Daughter." Dorothy Best and David Browning will also present "Remember Me with Laughter: A Tribute to James Best."
Other performances include the comedy of James Gregory ("the funniest man in America"), The VW Boys, Michael Hoover's Elvis, The Embers (featuring Craig Woolard), The Tams, and the Malpass Brothers. Tickets are also available for The Emmett Golf Tournament, the Golf Banquet & Entertainment, Professor Brower's Lecture/TAGSRWC Meeting, and Colonel Tim's Talent Time.
More details and stars TBA soon. Much of the festival is free, but tickets for the activities/performances that have a paid admission are available online at www.mayberrydays.org.
***
* Oct. 1: LeRoy McNees and Gloryland perform at the Kern County Fair in Bakersfield, Calif.
* Oct. 21: Roland White and his band perform at 9 p.m. at the Station Inn in Nashville, Tenn.
* Oct. 21: Karen Knotts performs "Tied Up in Knotts" in Milton, Del.  Details TBA.
* Oct. 22: Karen Knotts brings "Tied Up in Knotts" to the Sellersville Theater in Sellersville, Penn.  Show time is 7:30 p.m. For more info, visit www.st94.com.
* Oct. 23: Next stop for Karen Knotts and her "Tied Up in Knotts" tour is the Bickford Theatre in the Morris Museum in Morristown, N.J. Show time is 2:00 p.m. For info, visit www.morrismuseum.org.
* Oct. 29 -Nov. 3: Cruise to Mayberry 11 with special guest star Jackie Joseph (aka to Ernest T. Bass's Sweet Romeena)! Join the fun (including Halloween) in the western Caribbean aboard Carnival's Paradise cruise ship as it departs Tampa with stops in Grand Cayman (a favorite of Asa's and Mr. Meldrim's) and Cozumel (a fave of Daphne and Skippy and Mavis Neff).
A bunch of popular Mayberry tribute artists (and also an Elvis) will join Jackie in providing entertainment and hosting contests, along with all the hearty eatin' and usual cruise highlights.  For more info, visit www.allaboutcruisesnc.net or call 1-800-832-7993.
* Nov. 25: Roland White and his band perform at 9 p.m. at the Station Inn in Nashville, Tenn.
* Dec. 3: Roland White hosts and the Roland White Band performs for the 20th Annual Bill Monroe Appreciation Night at the Station Inn in Nashville, Tenn.
* Dec. 3: Get "Tied Up in Knotts" for the holidays when Karen Knotts brings her one-woman show to the Monroe Arts Center in Monroe, Wis. Show time is 7:30 p.m.  For further info, go to www.morrismuseum.org.
***
**** News of Cast & Crew ****
The Don Knotts statue was unveiled on July 23 in Don's hometown of Morgantown, W.V., with daughter Karen on hand. Seated in front of Karen in this photo is John Pyles, Don's classmate and friend who spearheaded the statue effort for 10 years.
Ron Howard continues with post-production and initial promotion work for Inferno, which is scheduled to be in theaters (including IMAX) on October 28 and is a solid bet for big box-office success. Here's the current trailer.
And Imagine is producing and Ron directed The Beatles: Eight Days a Week--The Touring years, a documentary made in cooperation with the Beatles and their families and scheduled to premiere in theaters on Sept. 16 and then on Hulu the next day. Here's the first trailer for the doc.
Ron and the Imagine team are also producing a six-part sci-fi docu-miniseries called "Mars" about the colonization of Mars that's scheduled for National Geographic Channel's 2016-17 season. Here's the first promo for the series.
And Imagine is producing and Ron has also signed to direct the first episode of "Genius," the first scripted series for Nat Geo.  The series is about great innovators, with the first episode set to feature Albert Einstein.
In a statement about the project, Ron said, "Having already worked with National Geographic on 'Breakthrough' and currently in production on 'Mars' -- our exciting unscripted and scripted hybrid series that tells of our journey to colonize Mars -- I look forward to their support as we tell this ambitious but intimate and revealing human story behind Einstein's scientific brilliance. I hope that his story, as well as those of other geniuses, will both entertain and inspire the next generation of Einsteins."
The series is expected to premiere next spring in 171 countries and 45 languages.
And it has been announced that Ron will direct and Brian Grazer will produce a film adaptation of the Neal Stephenson novel Seveneves.  A firm schedule for production and release hasn't been set yet.  Apollo 13 screenwriter William Broyles Jr. is working on the script.
The Imagine pair is also producing a re-imagined remake for Disney of their 1984 hit, Splash!  This time Channing Tatum has been hooked to play a merman. They're also producing a live action version of their Curious George franchise for Universal Pictures.
***
Wanna help Betty Lynn celebrate her 90th Birthday (August 29) and also keep a secret?  Here's how:  The Surry Arts Council in Mount Airy is wanting to collect at least 90 birthday cards from friends and fans to present to Betty on her birthday.
If you want to participate in this surprise, send your card to:
Betty Lynn
Surry Arts Council
P.O. Box 141
Mount Airy NC  27030
The Arts Council staff will present the cards from all of us to her during her birthday celebration.  And we're betting that Betty won't be the only one surprised, because something tells us that TAGSRWC members will come through with a lot more than 90 cards!
***
Maggie Peterson and Ronnie Schell performed Love Letters at the Starbright Theatre in Las Vegas, N.V., on July 24.  This was their third time performing the popular two-person play together.

Peggy McCay (Sharon DeSpain) took a tumble at home a couple of months ago.  She's working on getting back up to full speed and back to being "a big fish in a big pond."
Margaret Kerry (Bess Muggins and Helen Scobey) has announced that her long-anticipated autobiography, Tinker Bell Talks--Tales of a Pixie Dusted Life, was officially released at a signing event at Walt Disney's Carolwood Barn in Los Angeles on Sunday.  She'll also have copies at Mayberry Days in Mount Airy in September.  Meanwhile, Margaret continues to appear regularly at Disneyana events. Keep up with Margaret at www.tinkerbelltalks.com.
***
**** Mayberry on the Web ****
This TAGSRWC online group is organized and overseen by webmaster Allan "Floyd" Newsome with able assistance from Keith "Col. Harvey" Brown. You can check it out and sign up for free at: http://imayberrycommunity.com.
The iMayberry Community complements our other online activities, including our main www.imayberry.com page, podcasts, Facebook page, online newsletters (such as The eBullet), weaversdepartmentstore.com and chat rooms.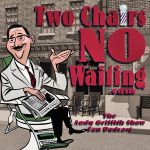 Two Chairs, No Waiting is our weekly podcast of TAGS news, interviews and pretty much whatever happens to be going on in and around Mayberry. It's hosted by Allan Newsome. There's a new episode every Tuesday (and you can watch and listen live during tapings on Monday evenings). Past episodes are in an online Archives in case you want to listen to or view episodes you've missed.
Allan started the podcast in 2008. This week's episode was #389. That's a bunch of great barbershop talk about Mayberry! There's a lot of info and discussions that you simply won't find anywhere else, including rare interviews (vintage and new) with cast and crew members of TAGS. And you'll also find links there to a couple of other outstanding Mayberry-related podcasts.
TAGSRWC's official page on Facebook now has more than 237,000 friends! You can find us at www.facebook.com/tagsrwc. If you haven't already dropped by the page, we hope you'll check it out sometime when you have the chance. We invite you to become a TAGSRWC Facebook Friend!
And even Ol' Ben Weaver now has his own Facebook page at www.facebook.com/weaversdepartmentstore. Check it out for the latest Mayberry items and merchandise news.
***
   **** Post Note ****
Between issues of Weaver's Newsletter, keep up with the happenings in Mayberry with the daily "Who's Been Messin' Up the Bulletin Board?" Digest. It's a free subscriber list that consists entirely of comments, news flashes, and questions and answers from subscribers. You can sign up for that list by going to the "Mailing Lists" link at www.tagsrwc.com.
TAGSRWC also publishes The eBullet in alternate months to Weaver's Newsletter. The eBullet is the online successor to our longtime printed newsletter, The Bullet. Like Weaver's Newsletter, The eBullet is free. It includes some of the same news as Weaver's Newsletter, but generally with more features and depth and a little less emphasis on merchandise news. To sign up, go to: www.tagsrwc.com/ebullet.
TAGSRWC's other main vehicle for Mayberry information is simply our website at www.tagsrwc.com (and its sister site www.iMayberry.com). Both sites have extensive content and links for just about everything a Mayberry fan might be looking for.
The next issue of Weaver's Newsletter is scheduled for October, and the next eBullet , including last-minute updates about Mayberry Days, will be in mid-September.
***
***
Printer Friendly Version