Weaver's Newsletter  
       
An Online newsletter of
"The Andy Griffith Show" Rerun Watchers Club (TAGSRWC)
August 2015
Welcome to our August issue!  We have a couple of new Mayberry items since our last issue, plus lots of Mayberry news, so we'll get right to it.
**** Merchandise Update ****
Here's a few of the items we're keeping a close eye on at Weaver's this summer. Go ahead and pick out something you like, and help keep Jan and Allan Newsome, the new proprietors of our online Weaver's store, busy! (And they apparently need some extra funds, so that they can get Asa a goose-down pillow for his night shift.)
2016 "Andy Griffith Show" Wall Calendar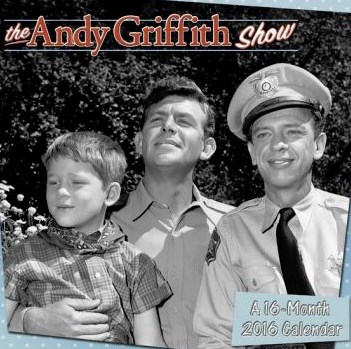 $15.00
Now in stock!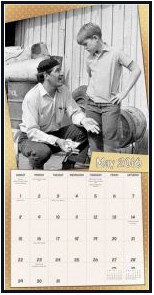 All the photos contained in this year's calendar are in black and white, but some of them are from color seasons or publicity photos.  The calendar is 12 in. wide x 12 in. tall when closed and 12 in. wide x 24 in. tall when open.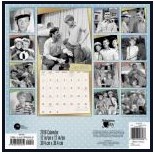 Characters featured in this 2016 edition are Andy, Barney, Opie, Aunt Bee, Goober and Gomer (who was missing from last year's calendar).
Order early and take advantage of this 16-mother calendar. September though December 2015 are featured together with Andy and Opie on display. All other months are in separate openings featuring one new image per month.
***
With temperatures really heating up across most of the country, now is the perfect time to stock up on cool Mayberry apparel. We have more than 30 T-shirt designs available at our Weaver's Department Store.
New T-Shirt!
You may think you've seen this shirt before, but, while it's very similar, this tee is without the 50th Anniversary logo of the previous T-shirt.
This T-shirt has a classic image of four of Mayberry's favorites on a heavyweight 100% preshrunk cotton shirt.  The color?  Why, that's Courthouse Coffee, of course!

And an Old Favorite
Wishin' I Was Fishin' T-shirt
$20.00
We've brought back this classic from a few years back.  We've always thought this nostalgic T-shirt really captures the easy-going, relaxed feeling of Mayberry with three of our favorite characters smiling and doing what they like best—hanging out at the fishin' hole.

You'll find these items and much more, including books, CDs, DVDs, Blu-rays, rare collectibles, tin signs, artwork, a Barney thermometer, rare board games, blankets, items for vehicles and who knows what all--all online at www.weaversdepartmentstore.com.  (Or just go to www.imayberry.com and click on one of the orange and blue Weaver's buttons at the top.)
 ***
Floyd's

Barbershop

Bulletin

Board


&


Event

Calendar
The Andy Griffith Museum, featuring the late Emmett Forrest's amazing collection of Andy Griffith memorabilia, is open daily in Mount Airy, N.C. For info, visit the website at www.andygriffithmuseum.org or call (336) 786-1604.
The following information is from "The eBullet": Official E-mail Newsletter of "The Andy Griffith Show" Rerun Watchers Club (TAGSRWC).
* Aug. 21: Betty Lynn (Thelma Lou) greets fans at the Andy Griffith Museum 12:30-3:30 p.m. She will have autographed 8x10 photos available ($10). For info, visit the website at www.andygriffithmuseum.org or call (336) 786-1604.
* Aug. 22: Rodney Dillard and Maggie Peterson are joined by several of the Mayberry tribute artists (including David "Mayberry Deputy" Browning, Allan "Floyd" Newsome, Kenneth "Otis" Junkin, Phil "Ernest T." Fox  and Jeff "Howard" Branch) for a concert benefiting the Montgomery County DARE program on Saturday at the James H. Garner Center in Troy, N.C. Tickets for the show are $20 for reserved seats and $15 for general admission.  Tickets for children 6 years-12 years old are $10. For more info, call Jeff Branch at (704) 985-6987, e-mail jbranch205@windstream.net, or visit www.bluegrassintroy.com.
* Aug. 29 and 30: David "Mayberry Deputy" Browning is on track for the 25th Annual Depot Days in Amboy, Ill.
* Sept. 12: Rodney Dillard and the Dillard Band headline the Sounds on Steele festival in Sanford, N.C.  For more info, visit www.templeshows.com/showsandevents/SoundsOnSteele.
* Sept. 12: The Roland White Band performs at the Station Inn in Nashville, Tenn. at 9 p.m.
* Sept. 20-23: Life Lessons From Mayberry: It's All There in Black and White in Ridgecrest, N.C. (just outside Asheville) is a Bible study event drawing on the biblical truths and life applications found in "The Andy Griffith Show." The event is $300 per person (based on double occupancy), and includes three nights of on-campus lodging, eight meals, Bible study sessions based on favorite TAGS episodes, dynamic preaching, worship, bluegrass concert, and special guest Margaret Kerry (Bess Muggins in "Christmas Story" and Helen Scobey in "Andy Forecloses"). To register, call Ridgecrest Conference Center at (800) 588-7222 or visit www.lifeway.com/mayberry.
***
* Sept. 24-27: 26th Annual Mayberry Days in Mount Airy, N.C.  Mayberry Days started in 1990, so this 26th annual festival marks its 25th Anniversary, and also the 55th Anniversary of "The Andy Griffith Show" itself.  It's an especially stellar lineup of, well, stars, this year. And one or two more luminaries may join this year's Mayberry Days constellation.
Guest stars confirmed so far include beloved host cast member Betty Lynn (Thelma Lou); Barbara Eden (Manicurist Ellen Brown), who is making her first-ever appearance at a Mayberry event; Clint Howard (sandwich-toting Leon), who is making his Mayberry Days debut and attending his first Mayberry event since 1997; Elizabeth MacRae (Betty Parker on TAGS and Lou Ann Poovie on "Gomer Pyle, U.S.M.C."); Ronnie Schell (two TAGS episodes and Duke Slater on "Gomer Pyle"); Morgan Brittany (Mary Alice Carter); Margaret Kerry (Bess Muggins and Helen Scobey); festival favorite George Spence (Frank the Boyfriend); and George Lindsey Jr. Stay tuned for further updates on the incredible lineup of stars for this year's special festival.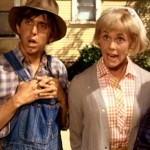 Tickets are already available online for key parts of the weekend, including the Mayberry Days Golf Tournament (aka The Emmett) and banquet show; Doug Dillard Tribute Concert by Darling boy Rodney Dillard and the Dillard Band, with special guest Maggie Peterson (Charlene Darling);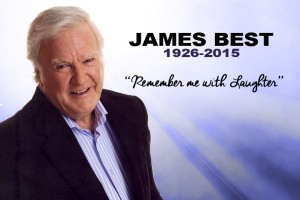 "Remember Me with Laughter: A Tribute to James Best" presented by Dorothy Best with David Browning; the comedy show of James Gregory ("the funniest man in America"); the VW Boys Tribute to Mayberry; and Neal Brower's Lecture including TAGS assistant director Bruce Bilson (who, after his two seasons on TAGS, went on to be an Emmy-winning big-time director of other top shows).
And there's still more, including "Tied-Up in Knotts" starring Karen Knotts; Colonel Tim's Talent Time; Michael Hoover's "Memories of Elvis"; Smoke on the Mountain; The Embers; The Magnificents Band; and much more.  For info, updates and tickets, visit www.surryarts.org .
***
* Oct. 3: 55th Anniversary of the airing of the first episode of "The Andy Griffith Show" on CBS.
* Oct. 3: Dean Webb and The Missouri Boatride perform at The Old Brush Arbor at Keystone Baptist Church in Reeds Spring, Mo.
* Oct. 8 and 9: Karen Knotts performs "Tied Up in Knotts" for a lunchtime show from 11:30 a.m. to 1:30 p.m. both days at Der Dutchman restaurant in Plain City, Ohio.  For more info, e-mail showtime@roadrunner.com or call (604) 906-1129.
* Oct. 10: Roland White and Diane Bouska perform at the Overland Park Farmer's Market in Overland Park, Kans.
* Oct. 12-17: Ronnie Schell is the special guest star on the Cruise to Mayberry 10 to the Caribbean aboard Carnival's Conquest cruise ship.  The cruise departs Ft. Lauderdale for Grand Turk, Half Moon Cay, Nassau, and a "Fun Day" at sea.
Activities include a Mayberry trivia contest, whistling contest, Mayberry bible study, variety show, concerts, and entertainment by Tim White of the VW Boys and Mayberry Tribute artists, including  Allan "Floyd" Newsome, Kenneth "Otis" Junkin, Ronnie "Barney" Felker, Bob "Briscoe" Mundy, Christie "Andelina" McLendon, Jeff "Howard Sprague" Branch, Elease "Thelma Lou" Felker, Tim "Goober" Pettigrew and Keith "Colonel Harvey" Brown.  "Elvis" tribute artist Wayne Euliss will also be a featured performer.   For more info, visit www.allaboutcruisesnc.net/mayberry.php.
* Oct. 17: Karen Knotts performs "Tied Up in Knotts" at the Uptown Theater in Grand Prairie, Tex.  Show time is 7 p.m.  For more info and tickets, visit www.uptowntheatergp.com.
* Oct. 30-Nov. 1: Margaret Kerry greets fans in the Gifts By Small Fry Booth at the Comikaze Expo at the Los Angeles Convention Center in Los Angeles, Calif.
* Nov. 27: The Roland White Band performs at the Station Inn in Nashville, Tenn. at 9 p.m.
* Dec. 3-5: Maggie Peterson (Charlene Darling) is the special guest for A Life Lessons from Mayberry Christmas in Ridgecrest, N.C. (just outside Asheville). This heartwarming weekend will feature Bible studies based on four popular TAGS episodes, inspirational preaching and carols, and a Christmas banquet.  Come celebrate Christmas...Mayberry style! For every member of the family--children's prices available. To register, call Ridgecrest Conference Center at (800) 588-7222 or visit www.ridgecrestconferencecenter.org/event/mayberrychristmas.
* Dec. 5: Roland White presents Bill Monroe Appreciation Night at the Station Inn in Nashville, Tenn.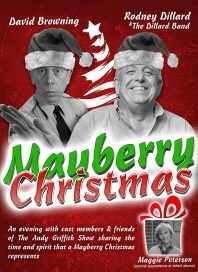 * Dec. 18: Maggie Peterson and Rodney Dillard and the Dillard Band are joined by David "Mayberry Deputy" Browning for a presentation of their Mayberry Christmas show at 7 p.m. ET at the historic State Theater in Elizabethtown, Ky.
* Dec. 19: Maggie Peterson and Rodney Dillard and the "Mayberry Christmas" show troupe featuring David Browning come back to Middle Tennessee with a return engagement in Mt. Juliet at Victory Baptist Church 1777 Tate Rd. 37122.  The show starts at 6 p.m.  Tickets are $20 per person and go on sale on Oct. 1.  (Details about how to purchase tickets TBA that.) Child care will also be provided.  The event is jointly presented by Abundant Life Church and Victory Baptist Church.
***
**** News of Cast & Crew ****
Ron Howard  finished filming Inferno in Europe in July. Now it's on to some finishing touches and post-production work. The release date for the film is October 2016. (And don't forget his In the Heart of the Sea is coming to theaters in December.  It's a whale of a story!)
Meanwhile, Bryce Dallas Howard, Ron's oldest daughter, is starring in the biggest movie on the planet this summer, Jurassic World, the giant hit that is breaking box office records all over the globe since opening in June.
Ron and his Imagine Film Entertainment team are also pleased to have secured backing from Sony Pictures and MRC for their ambitious plans to bring The Dark Tower, based on the popular series of novels by Stephen King, to TV and to theaters. As faithful readers of this newsletter will recall, putting all the pieces together for this complex film project (involving equally complex stories) has been a multi-year saga.  But it looks like the financial pieces are now in place.
And Ron and Imagine partner Brian Grazer are part of the team producing an as-yet untitled Beatles documentary, which is now in post-production and is expected to give Beatles fans an unprecedented look at the Fab Four.  Info about its release and distribution is expected soon.
Imagine is also producing the "Clan of the Cave Bear" TV series for Lifetime  Here's a link to a trailer for the series that features Ron.
And in July the Directors Guild of America announced that Ron is one of five people who will be recipients of the 2015 DGA Honors, recognizing contributions to American culture through film and television.  Ron and his fellow honorees will receive their awards at a ceremony on October 15 in New York City.
Rodney Dillard and the Dillard Band have been back in the recording studio in Nashville last week and again this week.  They're working on a new album that's scheduled for release in early 2016.  After Nashville, Rodney and the band will be on their way to Troy, N.C., for the annual DARE fundraiser with Maggie Peterson and the troupe of Mayberry tribute artists.
Karen Knotts has just completed a mini-tour of her popular "Tied Up in Knotts" stage show in Indiana and at the first Mayberry Pie Festival in Lebanon, Ky.  Next stop for her show is Mayberry Days in September.
***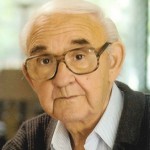 We're sad to report the passing of Al Checco, who memorably appeared in two TAGS episodes, "The Bank Job" (Episode #76) and "If I Had a Quarter Million" (Episode #149).  He died of natural causes at his home in Studio City on July 19, two days short of his 94th birthday.
Al was born in Pittsburgh, Penn.,  on July 21, 1921. He interrupted his college career at Carnegie Institute of Technology (now Carnegie Mellon University) to enlist in the Army during World War II.  He was part of a unit that entertained troops in the Pacific.  Don Knotts was a ventriloquist in the same unit, and the two were great friends from then on.
Al was a prominent speaker at the memorial service for Don Knotts in 2006.  After that, Al shared some additional memories about Don and their experiences together with TAGSRWC.  Here's a link to that story.
Al finished his degree in drama after the war and then headed to Broadway, where he worked behind the scenes and as a performer.  He returned to Broadway in the 1990s as a performer in Crazy for You.
Al had a long career as a classic character actor for TV and movies.  He performed in everything from episodes of TV's "Batman" (as Dove, a top henchman of the Penguin) and a sergeant in an a episode of "Gomer Pyle, U.S.M.C." to roles in Helter Skelter (as victim Leno LaBianca) and episodes of "The Rockford Files" to his last guest role on the hit sitcom "Scrubs" in 2004.
Of special interest to Mayberry fans are his roles with Don Knotts in The Incredible Mr. Limpet, The Ghost and Mr. Chicken and The Reluctant Astronaut, and with Andy Griffith in Angel in My Pocket.
Al could play roles from taxi drivers and bartenders to doctors and judges, including Judge John Sirica in Blind Ambition.  Some of his classic movies were Bullitt (1968) with Steve McQueen, The Party (1968) with Peter Sellers (and Jean Carson, Mayberry's "Fun Girl" Daphne and a fellow Carnegie alum) and Disney's animated Pete's Dragon (1977).
In 1953, Al married actress Jean Bradley.  She sadly contracted polio while touring overseas in Oklahoma! and died in 1955.  Al made charitable donations in her memory throughout his life, and through his will. He never remarried.
Though Al was marvelously convincing as a cunning crook not once, but twice in Mayberry, he was in real life a multi-talented man with a heart of gold. His great friendship of more than 60 years with a former Army ventriloquist is testimony to that.
 ***
**** Mayberry on the Web ****

The iMayberry Community
This TAGSRWC online group is organized and overseen by webmaster Allan "Floyd" Newsome with able assistance from Keith "Col. Harvey" Brown. You can check it out and sign up for free at: http://imayberrycommunity.com.
The iMayberry Community complements our other online activities, including our main www.imayberry.com page, podcasts, Facebook page, online newsletters (such as The eBullet), weaversdepartmentstore.com and chat rooms.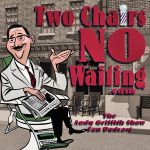 Two Chairs, No Waiting is our weekly podcast of TAGS news, interviews and pretty much whatever happens to be going on in and around Mayberry. It's hosted by Allan Newsome. There's a new episode every Tuesday (and you can watch and listen live during tapings on Monday evenings). Past episodes are in an online Archives in case you want to listen to or view episodes you've missed.
Allan started the podcast in 2008. This week's episode is #341. That's a bunch of great barbershop talk about Mayberry!

There's a lot of info and discussions that you simply won't find anywhere else, including rare interviews (vintage and new) with cast and crew members of TAGS. If you've got sound on your computer or have an iPod or similar device, you can easily tune in live or download these podcasts.  And you'll also find links there to a couple of other outstanding Mayberry-related podcasts.

TAGSRWC's official page on Facebook now has more than 164,000 friends! You can find us at www.facebook.com/tagsrwc. If you haven't already dropped by the page, we hope you'll check it out sometime when you have the chance. We invite you to become a TAGSRWC Facebook Friend!
Here's a sample of a recent posting on TAGSRWC's Facebook page:
***
   **** Post Note ****
Between issues of Weaver's Newsletter, keep up with the happenings in Mayberry with the daily "Who's Been Messin' Up the Bulletin Board?" Digest. It's a free subscriber list that consists entirely of comments, news flashes, and questions and answers from subscribers. You can sign up for that list by going to the "Mailing Lists" link at www.tagsrwc.com.
TAGSRWC also publishes The eBullet in alternate months to Weaver's Newsletter. The eBullet is the online successor to our longtime printed newsletter, The Bullet. Like Weaver's Newsletter, The eBullet is free. It includes some of the same news as Weaver's Newsletter, but generally with more features and depth and a little less emphasis on merchandise news. To sign up, go to: www.tagsrwc.com/ebullet.
TAGSRWC's other main vehicle for Mayberry information is simply our website at www.tagsrwc.com (and its sister site www.iMayberry.com). Both sites have extensive content and links for just about everything a Mayberry fan might be looking for.
The next issue of Weaver's Newsletter is scheduled for October, with the next eBullet planned for mid-September.
***
Look Who's Talkin'!

***
Printer Friendly Version