Weaver's Newsletter
An Online newsletter of
"The Andy Griffith Show" Rerun Watchers Club (TAGSRWC)
**** Merchandise Update ****
Browse the full selection of books, apparel, DVDs, artwork, collectibles, items for your vehicle, and much more online at Weaver's (www.weaversdepartmentstore.com).
We appreciate your shopping at Weaver's, especially because Weaver's sales are the main thing that helps TAGSRWC be able to support Mayberry Days and other Mayberry-connected events and charitable efforts throughout the year. We appreciate it!
Featured This Month at Weaver's:
The official "Andy Griffith Show" Wall Calendar is back for 2014! This calendar contains all black-and-white photos (though some are of color seasons). When hanging up, the calendar measures 12 x 22.
Favorite characters featured in the 2014 edition are Andy, Barney, Opie, Aunt Bee, Gomer, Goober, Weaver's Mannequins, and a very skinny Santa (ho-ho-ho).
Be sure to make your dates with Mayberry in 2014!
Was $30.00   Sale: $22.00
Two calendars for one great price. Just $22.00 for the pair, but only when you buy them together in this special combo.
List Price $339.00    Our Price: $309.00
NEW!!!

If you've "Ben" waiting all these years for the complete Matlock collection on DVD, your wait is finally over. All 195 episodes on a whopping 52 discs are now available as a Complete Series Set. No special packaging. Just each season in its own case.
The verdict is in. Like those courthouse hotdogs that Ben loves so much, "Matlock" is a guilty pleasure! And best of all, "Matlock" has lots of our beloved Andy Griffith in action...with lots of familiar friends, including many from Mayberry!
Load up on "Matlock," the next best thing to Mayberry! And at an attractive price that even frugal ol' Ben himself would like!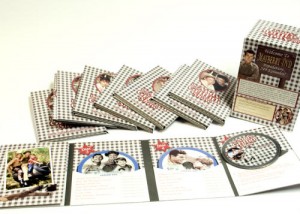 Oh, and Weaver's of course has individual Seasons, The Entire Series (now only $109.00!) and a 50th Anniversary Collection of TAGS on DVD, as well as "Gomer Pyle, U.S.M.C." and favorite movies and other features starring Andy Griffith, Don Knotts, George Lindsey and the Dillards.
Weaver's has more than two dozen officially licensed Mayberry T-shirt designs. Some are vintage designs that are no longer in production and hard to find anywhere else. We also have a handful of shirts of other TV classics and some vintage embroidered "Andy Griffith Show" logo sport shirts and even a few Snappy Lunch sports shirts.
All of our preshrunk heavyweight 100% cotton T-shirts are just $18.00. And the sport shirts are nicely priced, too. Most of the T-shirts are available in Sizes Medium, Large, XL and 2X, and a few styles also come in 3X. Several also come in small. (The size selection is not as large for the out-of-production vintage shirts.)
Have fun showing your Mayberry spirit with one of these fun-tastic shirts today!
Just a few of our many Mayberry T-shirt designs.
All still only $18.00 each!

Find all of these items and much, much more at www.weaversdepartmentstore.com, or just click on the Weaver's button at the top of the page whenever you're visiting www.imayberry.com.
Floyd's

Barbershop




Bulletin

Board

&

Event

Calendar
Look for our continual calendar updates online at www.imayberry.com.
---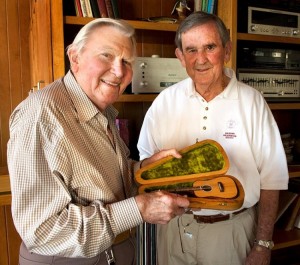 The Andy Griffith Museum, featuring the late Emmett Forrest's amazing collection of Andy Griffith memorabilia, is open daily in Mount Airy, N.C. For info, visit the website at www.andygriffithmuseum.org or call (336) 786-1604.
The following information is from "The eBullet": Official E-mail Newsletter of "The Andy Griffith Show" Rerun Watchers Club (TAGSRWC).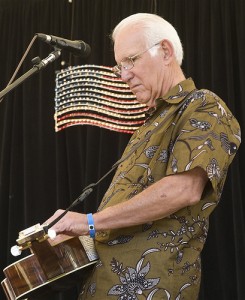 * Aug. 7-12: LeRoy "Mack" McNees has nine performances with Heaven's Key in seven cities in eastern Colorado. Visit www.leroymack.com for more info.
* Aug. 9-11: Margaret Kerry will be in the Gifts By Small Fry booth at the D23 Expo at the Anaheim Convention Center in Anaheim, Calif.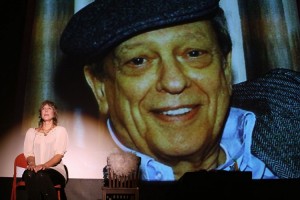 * Aug. 10: Karen Knotts performs her "Tied Up in Knotts" stage show in Bardstown, Ky., from 6:00 to 8:15 p.m. Venue and more details TBA.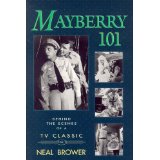 * Aug 10: Neal Brower, author of Mayberry 101, presents a lecture on the "Aunt Bee's Romance" episode of TAGS, starting at 2 p.m., on the lower level of the Andy Griffith Museum in Mount Airy, NC. Admission is included with an Andy Griffith Museum armband ($3 or $5) or is $5 without one. Important reminder from this episode: Avoid carbolic acid. "That's goodbye in any language!"
* Aug. 11: David "Mayberry Deputy" Browning makes sure those gathered stay awake in their pews at the Fountain of Life Bible Church's Mayberry Sunday.
* Aug. 16: Betty Lynn (Thelma Lou) greets fans at the Andy Griffith Museum 12:30-3:30 p.m. She will have autographed 8×10 photos available ($10). For info, visit the website at www.andygriffithmuseum.org/ or call (336) 786-1604.
* Aug. 17: Dean Webb and Missouri Boatride, Kimberling City Summer Bluegrass Concert Series, parking lot outside the Hillbilly Bowl, Kimberling City Shopping Mall, Kimberling City, Mo., 7 to 9 p.m., free, seat yourself.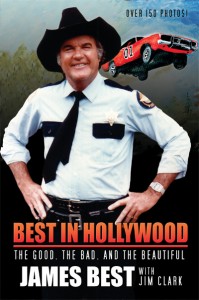 * Aug. 17: James Best and his "Dukes of Hazzard" costars return to Henderson Auctions in Livingston Parish, La., for the Second Annual Family Reunion and Car Show. They're joined by country singer Doug Stone, cast members from "Duck Dynasty," Lou Ferrigno, David "Mayberry Deputy" Browning, and others. For more info, visit www.dukesreunionla.com.
* Aug. 20 and 21: James Best participates in an art show with his paintings and also performs his "Best in Hollywood" show in Corydon, Ind.
* Aug. 22: Rodney Dillard and the Dillard Band perform at the Temple Theatre in Sanford, N.C. Doors open at 6 p.m. and show time is 7 p.m. Tickets are $15. More info at www.templeshows.com.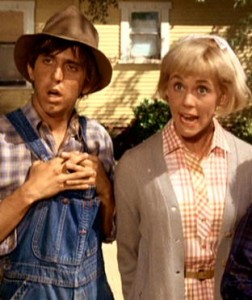 * Aug. 23 and 24: Rodney Dillard and Maggie Peterson are joined by several of the Mayberry tribute artists (including David "Mayberry Deputy" Browning, Allan "Floyd" Newsome, Kenneth "Otis" Junkin, Phil "Ernest T." Fox, Bob "Briscoe" Mundy, and Jeff "Howard" Branch) for a Cruise-In on Fri. and then concert benefiting the Montgomery County DARE program on Sat. The evening concert will be at the James H. Garner Center in Troy, N.C. Tickets are $20 for reserved seats and $15 for general admission. Tickets for children 6 years-12 years old are $10. For more info, call Jeff Branch at (704) 985-6987, e-mail jbranch205@windstream.net, or visit www.bluegrassintroy.com/.
* Aug. 31: You Know Who is at You Know When and You Know Where in Kimberling City, Mo.
* Aug. 31: David "Mayberry Deputy" Browning scores at the ballpark with the Salem (Va.) Red Sox.
*Sept. 6 and 7: David Browning makes sure the fires are started pioneer style at Tom Johnson Camping Center's Fall Barbecue.
* Sept. 14: Rodney Dillard and The Dillard Band and Maggie Peterson will be the headlining guests at the 20th annual Hickman Pecan Festival at Jeff Green Memorial Park in Hickman, Ky. Rodney and his band and Maggie will entertain, plus meet and greet festival attendees during the day. The festival is free to the public. For more info, contact festival Chairman Charles Choate at 731-885-0051 or visit Hickman Recreation and Tourism on Facebook.
* Sept. 14: Dean Webb and Missouri Boatride close out their Kimberling City Summer Bluegrass Concert Series at the Kimberling City Shopping Mall in Kimberling City, Mo. Look for them one last time for the season on their '41 Chevy flatbed truck in the parking lot outside the Hillbilly Bowl from 7 to 9 p.m. Listen all you want for free, but bring your own item of choice for seating.
* Sept. 15: Karen Knotts performs in a comedy fundraiser at Grant R. Brimhall Library in Thousand Oaks, Calif., from 2:00 to 3:30 p.m.
* Sept. 15: David "Mayberry Deputy" Browning has them rolling in the aisles during Family Comedy Night at First Baptist Church in Eufaula, Ala.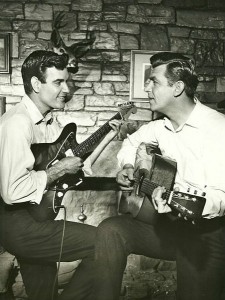 * Sept. 20 and 21: James Best presents an Art Show of his paintings and performs his "Best in Hollywood" show in Corydon, Ind. Details TBA.
* Sept. 24-26: Life Lessons From Mayberry: It's All There in Black and White in Ridgecrest, N.C. (just east of Asheville) is a celebration of "The Andy Griffith Show" and the biblical truths and life applications found in the show. The 3-day event includes Bible study based on favorite episodes, preaching and worship, bluegrass music, country cooking, and lodging nestled in the North Carolina mountains. More info at www.lifeway.com/mayberry.
***
* Sept. 26-29: 24th Annual Mayberry Days in Mount Airy, N.C. The Golf Tournament & Banquet, Doug Dillard Memorial Concert (featuring Ginger Boatwright  and the legendary Roland White of Mayberry's Country Boys making his first appearance at Mayberry Days), One-Man Show with James Best, "Tied Up in Knotts" with Karen Knotts, VW Boys "Tribute to Mayberry," Colonel Tim's Talent Time, Professor Brower's Lecture and Michael Hoover's "Memories of Elvis" are parts of the weekend requiring tickets that require tickets
Betty Lynn, Maggie Peterson, Peggy McCay, George Spence, Margaret Kerry  and George Lindsey, Jr., are also confirmed for this year's festival. More stars and details TBA. For more info and updates, visit www.mayberrydays.org.
As always, we like to remind everybody that it's a really good idea to order Mayberry Days tickets and make hotel room reservations as soon as you can. Lots of stuff sells out.


The finale of Colonel Tim's Talent Time at Mayberry Days 2012. Amid the Mayberry (and Elvis) tribute artists, see if you can spot actual TAGS cast members and two children of cast members. Photo by Hobart Jones.
***
* Oct. 4 and 5: Beverly & Rodney Dillard bring their Mayberry Values Ministry with Maggie Peterson to Heritage Christian School in Karlstad, Minn. Show time is 6:30 p.m. For tickets and info, call 218-436 -2144.
* Oct. 5 and 6: David "Mayberry Deputy" Browning and most of his merry band of fellow Mayberry tribute artists will be falling in line with cheery activities at the Autumn Jubilee Festival at Dan Nicholas Park in Salisbury, N.C. The festival runs from 11 a.m. to 6 p.m. both days (we think).
* Oct. 8: Karen Knotts performs her "Tied Up in Knotts" stage show at the Jackson Parrish Library in Jonesboro, La., from 7:00 to 8:45 p.m.
* Oct. 10: Karen Knotts performs her "Tied Up in Knotts" stage show at the Princess Theater in Winnsboro, La., from 7:00 to 8:45 p.m.
* Oct. 20: Karen Knotts performs a condensed version of her "Tied Up in Knotts" show in Colby, Kans., from 2:00 to 3:00 p.m. Venue and other details TBA.

* Oct. 28-Nov. 2: Halloween Cruise to Mayberry 8. Five Days aboard Carnival Cruise Line's Paradise, leaving from Tampa to Grand Cayman, Cozumel, and two "Fun Days" at sea. Special Guests for the cruise are Jackie Joseph, best known to Mayberry fans as Ernest T. Bass' love interest, Ramona Ankrum, and Dobro-playing Country Boys member LeRoy McNees.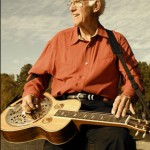 They will be joined by several Mayberry tribute artists, an Elvis tribute artist, and the VW Boys for entertainment provided exclusively to Mayberry Cruise participants. For more info, visit the All About Cruises website at www.allaboutcruisesnc.net.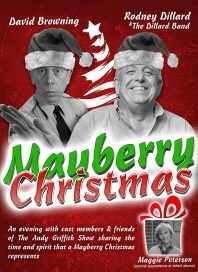 * Dec. 7: Rodney Dillard and The Dillard Band and Maggie Peterson perform their Mayberry Christmas show featuring David "Mayberry Deputy" Browning at Long Branch Baptist Church in Autryville, N.C. Shows are at 2 p.m and 7 p.m. with a meet-and-greet with the stars at 6 p.m. For more info, call 910-531-3765.
* Dec. 15: Rodney Dillard and The Dillard Band and Maggie Peterson bring a sleigh full of music and fun to Middle Tennessee with their Mayberry Christmas show featuring David "Mayberry Deputy" Browning.  They'll perform at Mt. Juliet Middle School in Mt. Juliet, Tenn., at 6:30 p.m., presented by Abundant Life Church of Mt Juliet. The evening will begin with a showing of the "Christmas Story" episode. The show will be followed by a meet-and-greet with the performers.  For more info, call 615-754-7035.
2014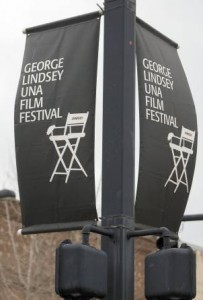 * Mar. 6-8: 17th Annual George Lindsey UNA Film Festival in Florence, Ala. For info, visit www.lindseyfilmfest.com.
* May 2 and 3: 4th Annual Mayberry Comes to Westminster Festival in Westminster, S.C. Details TBA.
**** News of Cast & Crew ****
Ron Howard is now in pre-production for an adaptation of In the Heart of the Seas, a tragic story of the Essex, a whaling ship destroyed by a whale in 1820. Ron has been spotted casually scouting possible filming locations in the Northeast, Great Britain and elsewhere.
Ron and Imagine Entertainment partner Brian Grazer are also working on bringing the "Friday Night Lights" TV series to the big screen (where filmed versions of FNL, based on the FNL book, started in 2004). The interesting twist is that Imagine likely will use crowdfunding (that is, money from fans through KickStarter or a similar program) as part of the backing for the new movie.
Ron and Imagine are likewise still looking for a way to bring Stephen King's The Dark Tower to screens of various sizes. This project has been Ron's elusive white whale (not to be confused with his work on In the Heart of the Seas, of course). There has been a lot of speculation about the prospects for Dark Tower while Ron has been at the Cannes Film Festival this month.
In the Face of Jinn, the 2005 novel by Ron's wife, Cheryl (writing under the lightly disguised pen name Cheryl Howard Crew), is being released as an audio book this summer (downloadable version already available; CD version coming soon). Daughter Bryce Dallas Howard provided the voices for all of the characters in the audio book.
Ron and Cheryl were also among the friends attending the June wedding of George Lucas and Mellody Hobson at Skywalker Ranch in California.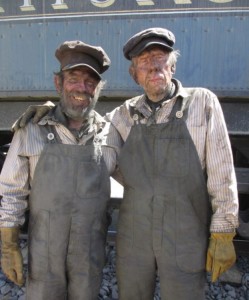 Rance Howard adds a nice touch of Western authenticity as a train engineer in the fun and so-far underrated Lone Ranger movie in theaters this summer.
Rance Howard (right) with Martin Palmer on the Lone Ranger set in May 2012.
Besides her usual appearance at the Andy Griffith Museum the third Friday of the month (where she once again drew huge crowds in July), Betty Lynn also made a special appearance at the museum with Donna Douglas (Elly May Clampett on "The Beverly Hillbillies") on August 1, and once again drawing a big crowd, even on a Thursday.
James Best has had a full schedule with personal appearances and exhibitions of his original art. So far this year, he has been to Las Vegas, Nashville, Mississippi, Maryland and beyond, with more on the way. Many of his personal appearances are "Dukes of Hazzard" reunions, but he's often joined for comedy sketches onstage by David "Mayberry Deputy" Browning.
James may be a star on stage and screen, but Best in Show around the Best hound-hold these days is his and Dorothy's new puppy, Sparkles 'N' Shine, a Cavalier King Charles Spaniel (with James at right).
Peggy McCay (Mayberry's Sharon DeSpain) was nominated for Best Actress at June's Daytime Emmy Awards for her portrayal of Caroline Brady on "Days of Our Lives," a role she has played since 1983.
In addition to her starring role at New York's Metropolitan Room on July 3 (a special evening that put a spotlight on her remarkable and varied career, while also raising funds for the Actors & Others for Animals charity), Jackie Joseph has been especially active lately in fundraisers for Blindness research and for leukemia and lymphoma assistance. And she still finds time to regularly write a column for the Tolucan Times and to be involved in SAG/AFTRA issues, among many other activities.
Morgan Brittany (Opie girlfriend Mary Alice Carter) has been making a variety of personal appearances, including at the Western Film Fair in Winston-Salem, N.C., in July.  She hopes to be able to make it back to Mayberry Days again in September.
Our thanks to all who participated in  Weaver's Dept. Store/TAGSRWC's T-Shirts for Tornado Relief effort in Oklahoma in May and June. We needed to make one adjustment in our initial plan. Our original idea was to send the Mayberry T-shirts to Moore, Okla., because they were hit so hard. But they had received such an outpouring of donations that they simply couldn't handle any more donations of clothing. We tried dozens of civic and faith organizations with no luck. (We didn't want to just randomly dump the shirts on the Salvation Army, etc.)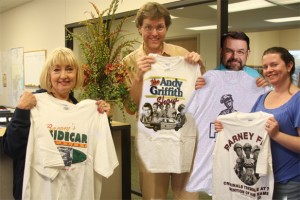 Kind Behind the Eyes– Friends at South Yukon Church of Christ show some of the T-shirts they received for tornado relief. Pictured (l-r) are: Karla Stockton (office coordinator), Clyde Hughes (Mayberry nut), Perry Greene (minister) and Holly Gooch (office technician).
When the tornadoes hit Oklahoma again the following week, we found out that some of our TAGSRWC members suffered damage in that storm. Even so, they were more concerned about helping others who had suffered worse damage. TAGSRWC member Clyde Hughes (founder of our new "You Just Can't Be Nice to People" chapter, by the way) and his fellow church members and staff at South Yukon Church of Christ had identified the community of El Reno, Okla., as one to focus their efforts on. They said they would be delighted to have our Mayberry shirts as part of their relief efforts, so that's where we sent the shirts.
We ended up shipping 60 T-shirts (plus some funds) to South Yukon Church of Christ. We hope those smiling faces of Andy, Barney, Opie and Gomer on the shirts helped spread some joy around a devastated community.
**** The Mayberry Sidecar ****
* Check out this Menu for the BBQ Shack in Paola, Kans. It's delicious Mayberry reading! (It might be easier to read if you print it out.)
**** Mayberry on the Web ****
The iMayberry Community
This is the latest Web activity hosted by TAGSRWC and organized and overseen by webmaster Allan "Floyd" Newsome. It's called iMayberry Community. You can check it out and sign up for free at: http://imayberrycommunity.com/.
The iMayberry Community has been getting a great response. About 600 fans have already signed up (it's free). It complements our other online activities, including our main www.imayberry.com page, podcasts, Facebook page, online newsletters (such as The eBullet!), weaversdepartmentstore.com and chat rooms. Combined with TAGSRWC chapters and the various Mayberry events for all fans (from Mayberry Days to ocean cruises), not to mention enjoying the sites of Mount Airy year-round, the world of Mayberry fun keeps expanding.
And best of all, it's all rooted in watching the show itself. Whether through DVDs, local stations or TV Land, loving to watch the show continues to be the energy that feeds all the other Mayberry fun and activities that we enjoy. What a wonderful thing Andy Griffith and his talented team of actors, musicians, writers and crew people created 53 years ago--for us and generations to come!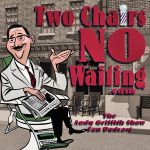 Two Chairs, No Waiting is our weekly podcast of TAGS news, interviews and pretty much whatever happens to be going on in and around Mayberry. It's hosted by Allan Newsome. There's a new episode every Tuesday (and you can tune in and participate during tapings on Monday evenings). Past episodes are in an online Archives in case you want to listen to or view episodes you've missed. (As of this week, there have been 248 episodes during the past five years.  And counting!)
There's a lot of really great info and discussions that you simply won't find anywhere else, including rare interviews (vintage and new) with cast and crew members of TAGS, and others. If you've got sound on your computer or have an iPod or android or similar device, you can easily tune in live or download these podcasts.
Also, check out the podcast area of our www.imayberry.com site for info about a Mayberry Bible Study Podcast, also hosted by Allan.
And there's a Brother Figure podcast to Two Chairs, No Waiting. It's hosted by longtime TAGSRWC member Kevin Burke, who does a super job of describing and discussing individual episodes. It's called Burke on Mayberry. Check it out.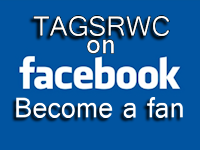 TAGSRWC's official page on Facebook now has more than 40,000 friends! You can find us at www.facebook.com/tagsrwc. There's a variety of comments about Mayberry, and a lively stream of fans' favorite TAGS lines. And our Facebook page is also one of the first places we post announcements and breaking news about TAGS. If you haven't already dropped by the page, we hope you'll check it out sometime when you have the chance. We invite you to become a TAGSRWC Facebook Friend!
**** POST NOTE ****
Between issues of Weaver's Newsletter, keep up with the happenings in Mayberry with the daily "Who's Been Messin' Up the Bulletin Board?" Digest. It's a free subscriber list that consists entirely of comments, news flashes, and questions and answers from subscribers. You can sign up for that list by going to the "Mailing Lists" link at www.tagsrwc.com.
TAGSRWC also publishes The eBullet in more or less alternate months to Weaver's Newsletter. The eBullet is the online successor to our longtime printed newsletter, The Bullet. Like Weaver's Newsletter, The eBullet is free. It includes some of the same news as Weaver's Newsletter, but with more features and depth and a little less emphasis on merchandise news. To sign up, go to: http://www.tagsrwc.com/ebullet/joinebullet.htm.
TAGSRWC's other main vehicle for Mayberry information is simply our website at www.tagsrwc.com (and its sister site www.iMayberry.com). Both sites have extensive content and links for just about everything a Mayberry fan might be looking for.
The next issue of Weaver's Newsletter is scheduled for October, with the next eBullet planned for September...the big pre-Mayberry Days issue!
Printer Friendly Version