Weaver's Newsletter August 2012
Weaver's Newsletter
An Online newsletter of
"The Andy Griffith Show" Rerun Watchers Club (TAGSRWC)
Welcome to our third Weaver's Newsletter of 2012.  This issue has been postponed since May because of all the incredibly sad news that has touched Mayberry in the last three months–especially the losses of George Lindsey and Doug Dillard in May and Andy Griffith in July.
We have published three Special Editions of The eBullet dedicated to George, Doug and Andy. Here are links to them in our eBullet Archives at www.imayberry.com:
Special Edition eBullet May 2012: Remembering George Lindsey
Special Edition eBullet June 2012: Remembering Doug Dillard
Special Edition eBullet July 2012: Remembering Andy Griffith
We also have Memorial pages set up for all three at www.imayberry.com where you can leave your own remembrances and comments. And we have photo albums at TAGSRWC's Facebook page for all three, along with lots of posts by fans and friends.
And this month we've lost another special friend. We're sad to report the passing of a wonderful person and great friend of Mayberry. Dale Robinson, co-author of The Definitive Andy Griffith Show Reference and A Guide to Television's Mayberry R.F.D., died August 1. He was 54.
Dale was one of the most positive, cheerful, and enthusiastic people you could ever hope to meet. He was always ready with a heartfelt laugh. We're lucky that one of his passions was Mayberry. He and his cousin David Fernandes wrote two highly regarded books about Mayberry. But beyond Dale's writing, it was the friendships that Mayberry allowed us to have with him that are most special. He was the friendliest person imaginable–truly "kind behind the eyes."
Our hearts go out to Dale's wife Diana, son Josh, brother Stan and all of his family. Here's a link to Dale's obituary.http://www.buchanancody.com/fh/obituaries/obituary.cfm?o_id=1549733&fh_id=12328
 **** News of Cast & Crew ****
NANCY © 2012 Gilchrist. Reprinted by permission of Universal Uclick for UFS.  All rights reserved.
Jim Nabors has recovered well from heart surgery in Hawaii on May 29.  Unable to be at the Indy 500 in person to sing "Back Home Again in Indiana," Jim made a recording that was played on the public address system before the race. Here's a link to a May interview with Jim.
Ron Howard has completed filming in England for the Formula 1 racing movie Rush, his latest film as director.  Ron is fun to follow on Twitter (@RealRonHoward), and he has tweeted a lot during the production of Rush. The film is currently set for release on Sept. 20, 2013.
Ron also is partnering with Canon USA for a second year in a photo contest.  The theme of this year's contest is Long Live Imagination. Learn more about Project Imagin8ion at YouTube.com/Imagination.
The TV production arm of Ron's Imagine Entertainment is involved in the summer reality show "The Great Escape" for TNT. And it's  producing "How to Live with Your Parents for the Rest of Your Life" for ABC this fall, as well as another season of "Parenthood" for NBC.
Signs are strengthening again for Ron's ambitious production of Stephen King's The Dark Tower.  Russell Crowe's name keeps popping up, and the script is said to be progressing well.
Meanwhile, Ron is executive producer and narrator for the resurrection of "Arrested Development" for Netflix and eventually, possibly on the big screen.  Ron also is developing Conquest, a drama about the Spanish conquering the Aztecs for Showtime. He likely will direct that project.  His Imagine Entertainment is also developing a feature film on soccer great Pelé for release in 2014.
Clint Howard has several acting projects in various stages of production.  Keep an eye out for his diabolical Amdro Ant Block commercial.  (If you don't catch it on TV, it's on YouTube.)
Rance Howard plays a train engineer in The Lone Ranger, which has wrapped filming and is scheduled for release the week of the Fourth of July 2013.  He's in several other movies that are about to start production. And he was in an April "Grey's Anatomy" episode.  He and Clint also recently filmed an episode of Showtime's "Huff."
Betty Lynn continues to greet fans monthly at the Andy Griffith Museum.  She also participated in a North Carolina USO reunion and fundraiser in April.

Maggie Peterson is doing several Mayberry events this year with TV brother Rodney Dillard, and she performs regularly at the world famous Bootlegger Bistro in Las Vegas with husband Gus Mancuso.
Dean Webb is featured in a nice profile by Bill Graham  in the Mandolin Café blog. And see Floyd's calendar below for Dean's dates performing bluegrass with Missouri Boatride.
James Best was in Romania in June filming Confections of a Discarded Woman, a movie written and produced by daughter Janeen and her husband, Michael Damian.  James has also been painting a lot and making some "Dukes of Hazzard" personal appearances.
And the big news is that Return of the Killer Shrews (starring James and produced by James and wife Dorothy) gnawed its way across the red carpet for its world premiere fundraiser in Bristol, Va., on July 27. Here's the link to the Killer Shrews website…if you dare go there!
Amid work on her memoir, Margaret Kerry (two characters in two episodes) spoke about her Disney experiences at the Ronald Reagan Presidential Library in July.
Ronnie Schell was a huge hit at the Eagles' Wings fundraiser in Tuscaloosa, Ala., in April and has just finished up a stint at Harvey's Improv Room in Lake Tahoe.
Howard Morris' son, David, has his www.ErnestT.com website up and rockin' again with some new stuff.
We're sad to report the passing since our last Weaver's Newsletter of four performers (besides George Lindsey, Doug Dillard and Andy Griffith) who appeared on TAGS.  (See the links at the top of this issue for our extensive coverage in The eBullet about George, Doug and Andy.)
Eric White Jr., bass player for The Country Boys in "Mayberry on Record," Episode 19, passed away on June 7 at age 72. (That date also would've been the 68th birthday of his late brother and guitarist Clarence White, also in that TAGS episode.)
Eric left The Country Boys in 1961, right before they became more famous as The Kentucky Colonels and before Clarence went on to become the guitar-playing legend in The Byrds.  Among Eric's survivors are brother, fellow Country Boy and renowned mandolin player Roland White of Nashville.
Here's a link to a really special home movie (about three minutes) of the White family playing music at a picnic in L.A.'s Griffith Park in 1958.  It could've just as easily have been in Mayberry.  The audio on the movie is a 1973 recording of the reunited White Brothers performing "The Last Thing on My Mind."  (It was recorded in Sweden, a short time before Clarence died.)
Frank Cady, who played town drunk Will Hoople in the "Danny Meets Andy Griffith" pilot for TAGS and also Mount Pilot-based drunk Luke in "The Rehabilitation of Otis," Episode 145, died on June 8 at his home in Wilsonville, Ore.  He was 96.
Frank was best known for his work as general store owner Sam Drucker in "Petticoat Junction" and later in "Green Acres."  (He also played Sam Drucker in some episodes of "The Beverly Hillbillies" during those same years, which we think gives him the distinction of being the only actor in TV history to play the same character in three TV shows during the same production time period.)
Frank Cady is survived by a daughter, Catherine Turk; a son, Steven; three grandchildren; and three great-grandchildren. Shirley, his wife of 68 years, died in 2008. Here's a link to his obituary in The New York Times.
We lost two Mayberry alums and character-actor legends on the same day, July 27.
Norman Alden, who played Tom Strongbow in "The Battle of Mayberry," Episode 188, and Mt. Pilot bowling team leader Hank in "Howard the Bowler," Episode 221, died in Los Angeles on July 27.
He performed in well over 2,000 television episodes, movies and commercials, usually as heavies, tough guys and no-nonsense officials. His roles ranged from years as the voice of the animated Aquaman in the 1970s to mechanic Lou in a long-running series of commercials for AC Delco.
Born Norman Adelberg on September 13, 1924, in Fort Worth, Tex., he studied theater at Texas Christian University and worked as a radio disc jockey after military service during World War II.  He moved to New York, where he won "Arthur Godfrey Talent Scouts," and then headed to Hollywood. He got his start in film on "The Bob Cummings Show" in 1957. Among his hundreds of TV roles were appearances on "Rango," "The Life and Legend of Wyatt Earp," "Hogan's Heroes," "Batman," "My Three Sons," "Gunsmoke," "My Favorite Martian," "The Big Valley," "The Rockford Files," "The Streets of San Francisco," "Adam-12," "Dynasty," "The A-Team,"  "Mary Hartman, Mary Hartman," "Charlie's Angels" "Murder, She Wrote" "Hill Street Blues" and "JAG."
In movies, he was the voice of Sir Kay in Disney's The Sword in the Stone (1963), was "Horrible" Hank Hopkins Kansas City Bomber (1972) with Raquel Welch and performed in Tora! Tora! Tora! (1970), Semi-Tough (1977), Back to the Future (1985), Ed Wood (1994), Patch Adams (1998) and K-Pax (2001), among many others.  Perhaps his most notable role was starring as Andy Chadakis in Andy (1965).
Survivors include his children Brent and Ashley, his grandson Zooey and his longtime life partner, Linda Thieben.
A celebration of Norm Alden's life is being held in Los Angeles this month and in Fort Worth in September. Donations in his name be made to TCU's drama department, the department of cardiology at Cedars-Sinai Medical Center in Los Angeles or the Frostig Center in Pasadena.
R.G. (Bob) Armstrong, who played Farmer Flint in "Ellie Saves a Female," Episode 27, died July 27 in Los Angeles. He was 95.
Robert Golden Armstrong Jr. was born on April 7, 1917, in Birmingham, Ala. He graduated from the University of North Carolina at Chapel Hill, where he met Andy Griffith.  They performed together in the campus theater group the Carolina Playmakers and also the outdoor drama The Lost Colony.  Andy's starring role in Egypt Land, a play Bob wrote as his Master's thesis at UNC, was a crucial factor in Andy's keen interest in acting.
Bob moved to New York to study with Lee Strasberg at the Actors Studio in the mid-1950s. He was quickly noticed by Elia Kazan and landed the role of Dr. Baugh in the original production of Tennessee Williams's Cat on a Hot Tin Roof in 1955.  (It was Bob who recommended Andy Griffith to Kazan for role of Larry "Lonesome" Rhodes in A Face in the Crowd.) Other Broadway productions followed for Bob, including Orpheus Descending and The Miracle Worker.
Once Bob made the move to Hollywood, he became in great demand as an actor, particularly in Westerns and especially in films by writer-director Sam Peckinpah, including Ride the High Country (1962),  Major Dundee (1965) and Pat Garrett and Billy the Kid (1973).
Other film high points were with James Earl Jones in The Great White Hope (1970) and with Arnold Schwarzenegger in Predator (1987).  He was also a favorite actor of director Warren Beatty, who cast Bob in Heaven Can Wait (1978), Reds (1981) and as Pruneface in Dick Tracy (1990).
Bob's work in television was even more extensive than his work on stage and in movies.  An especially fun TV appearance was a two-part episode of "Matlock" in 1989 called "The Hunting Party." Bob played Sheriff Dalton Parks.  The episode was filmed on Roanoke Island, where he and Andy Griffith had worked together in The Lost Colony in the late '40s.
R.G. Armstrong is survived by four daughters, a son and five grandchildren.
**** Merchandise Update ****
Browse the full selection of books, apparel (get that cool new T-shirt to finish off summer and get ready for fall!), DVDs, artwork, collectibles and much more online at  Weaver's (www.weaversdepartmentstore.com).  There are lots of great vintage and rare things, too.  First one thing and then another.  Plus bunches ("bunches, bunches") of things on sale or at permanently lower prices.
We appreciate your shopping at Weaver's, especially because Weaver's sales are the thing that helps TAGSRWC be able to support Mayberry Days and other Mayberry-connected events and charitable efforts throughout the year.
New at Weaver's
2013 Andy Griffith Show Wall Calendar

$15.00
Back by popular demand!  After an absence since 2010, the official "Andy Griffith Show" Wall Calendar is back for 2013.  Hooray!
We can't tell you how many people asked about calendars the last two years, only to be disappointed that there wasn't one.  So, we we're thrilled that one is once again available for 2013. The calendar features black-and-white photos of Andy, Barney, Opie, Aunt Bee, Gomer, and Goober.  It measures 12×22 when opened for hanging.
It's a great way to celebrate Mayberry every month and every day in 2013.
This Summer's Most Popular Item
What Would Andy Do? T-Shirt
$18.00
This design on a preshrunk 100% cotton T-shirt in Carolina Blue or Navy poses the question whose answer will always get our attention.  (Of course, we all already know the answer…"the right thing.")
Sort of like a rebus puzzle or the old "Concentration" TV game show, this shirt might give passersby a slight pause before they break into a knowing grin and nods of agreement.
This is a shirt that makes a statement without every saying (or even spelling!) a word. It seems that its message is hitting home with folks now more than ever.
The Incredible Mr. Don Knotts
ON SALE THIS MONTH!

$27.00 $15.00
This over-sized 320-page hardcover book (coffee-table style) is compiled by Steve Cox and Kevin Marhanka.  The thoroughly researched book has lots of interviews with people who worked with Don Knotts and has more than 200 photos, including a 16-page section of color photos.
It's a great gift for any Barney Fife and Don Knotts fan to give or receive.  And best of all (and just for a little while), in celebration of the 88th Anniversary of Don's birthday of July 21, 1924, we've got it brand new for $15.  That's $12.00 off the cover price and a discount of more than 44%, which "cautious" Barney Fife would surely love!
We had planned to run this sale for just a few days around Don's birthday, and we had hoped for Weaver's Newsletter subscribers to be the first to hear about it, but with the delays in our publication schedule, that didn't happen.  So, we've extended the sale period to make sure all Weaver's regulars get a chance at the super deal.  It'll be back up to our everyday discounted price of $22 soon, so if you've been on the fence about getting this book, now's a good time to hop off that fence!
Goober in a Nutshell
by George Lindsey
Foreword by Ernest Borgnine

This 1995 autobiography by George Lindsey has been out of print for a few years, but George's family has graciously provided us with a few copies, which George had kept safe all these years, to use as fundraisers for some charitable causes that meant a lot to George.
The copies we have are still pristine, carefully preserved by George since publication. The 210-page paperback covers highlights of George's fascinating life from childhood in rural Alabama to New York and Hollywood to Mayberry and Kornfield Kounty. It's filled with wonderful photos and many adventures, both hilarious and poignant.
All proceeds from the sale of this book will go toward TAGSRWC's support of the George Lindsey UNA Film Festival in Florence, Ala.
Choice of either plain ($25) or a special autographed copy ($100).
Find these and much more at www.weaversdepartmentstore.com, or just click on the Weaver's button at the top of the page whenever you're visiting www.imayberry.com.
****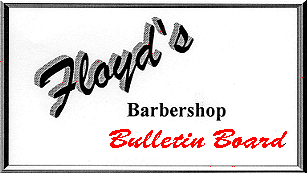 EVENT CALENDAR
The
Andy Griffith Museum
, featuring Emmett Forrest's amazing collection of Andy Griffith memorabilia, is open daily in Mount Airy, N.C. For info, visit the website at
www.andygriffithmuseum.org/
or call (336) 786-1604.
Here are some upcoming events in Mayberry that folks have thumbtacked to Floyd's bulletin board from the most recent issue of The eBullet:
* Aug. 14, 16, 17 and 18: The Best of Andy Griffith at the State Theater in Elizabethtown, Ky.  Aug. 14 features a 7 p.m. EDT showing of the 1958 film No Time for Sergeants ($3). On Aug. 16, the theater will show five classic episodes of "The Andy Griffith Show" beginning at 7 p.m. ($3), and the Aug. 17 program features a 7 p.m. showing of the made-for-TV film Return to Mayberry ($2). Karen Knotts, daughter of Don Knotts, performs in a comedy/tribute show at 7:30 p.m. Aug. 18. A Question & Answer session will follow. Tickets are: Preferred $20, General $15 and Balcony $12. A meet and greet session with Karen will be available after the show inside the First Federal Gallery Banquet Room.
To purchase tickets, please call the State Theater business office from 9:30 a.m. to 5 p.m., Monday through Friday, at 270-234-8258. Tickets will also be available at the door one hour prior to each showtime. For more info, visit http://historicstatetheater.org/.
* Aug. 17: Betty Lynn (Thelma Lou) greets fans at the Andy Griffith Museum 12:30-3:30 p.m.  She will have autographed 8×10 photos available ($10).
* Aug. 18: Dean Webb and Missouri Boatride perform at the Kimberling City Summer Bluegrass Concert Series at Kimberling City Shopping Mall, outside of Hillbilly Bowl, from 7 to 9 p.m. Got time to breathe, got time to music.
* Aug. 18: We'll be darned!  David Browning is at the Salem (Va.) Red Sox game.
* Aug. 19:  Julie Adams appears at the LA Comic Book and Science Fiction Convention at the Shrine Auditorium Expo Center, 700 West 32nd St. ,
Los Angeles, Calif.
* Aug. 24 and 25: Rodney Dillard and Maggie Peterson are joined by several of the Mayberry tribute artists (including David "Mayberry Deputy" Browning, Allan "Floyd" Newsome and Jeff "Howard" Branch) for a Cruise-In on Fri. and then concert benefiting the Montgomery County DARE program on Sat. The evening concert will be at the James H. Garner Center in Troy, N.C. Tickets are $20 for reserved seats and $15 for general admission.  Tickets for children 6 years-12 years old are $10. For more info, call Jeff Branch at (704) 985-6987, e-mail jbranch205@windstream.net or visit www.bluegrassintroy.com/.
* Sept. 1: "Surprise, surprise, I can see it in your eyes." Dean Webb and Missouri Boatride perform at the Kimberling City Summer Bluegrass Concert Series at Kimberling City Shopping Mall, outside of Hillbilly Bowl, from 7 to 9 p.m. The music is still free, but bring your chair, blanket, cushion, bench, or tree stump to sit on.
* Sept. 5: It's a big 10-4 that David "Mayberry Deputy"Browning, Allan "Floyd" Newsome and Kenneth "Otis" Junkin will be to the rescue for the 911 Festival Celebration in Haleyville, Ala.
* Sept. 7 and 8: David Browning tows the line at Tom Johnson Camping Center's Fall Barbecue in Marion, N.C.
* Sept 7-9: Julie Adams, Nurse Mary Simpson in "The County Nurse," will appear at The Hollywood Show at the Hilton Rosemont Chicago O'Hare. For more info visit: www.hollywoodshow.com.
* Sept. 15: Dean Webb and Missouri Boatride wrap up their 2012 Kimberling City Summer Bluegrass Concert Series at Kimberling City Shopping Mall, outside of Hillbilly Bowl, from 7 to 9 p.m. Got time to breathe, got time to music.
* Sept. 21: Betty Lynn (Thelma Lou) greets fans at the Andy Griffith Museum 12:30-3:30 p.m.  She will have autographed 8×10 photos available ($10).
* Sept. 25-27: Life Lessons From Mayberry: It's All There in Black and White
in Ridgecrest, N.C. (outside Asheville). 
LeRoy McNees
and David Browning are among the participants.  This event is a celebration of "The Andy Griffith Show" and the biblical truths and life applications found in the show. It includes Bible study based on favorite episodes, inspiring preaching and worship, and bluegrass music.
More info at
www.lifeway.com/mayberry
.
* Sept. 27-30: 23rd Annual Mayberry Days in Mount Airy, N.C.  Stars confirmed so far are Betty Lynn (Thelma Lou), Dean Webb (mandolin-playing Darlings boy), Maggie Peterson (Charlene Darling Wash), James Best (Jim Lindsey) for Thurs. and Fri. only, Peggy McCay (Andy's High School sweetheart, Sharon DeSpain), Morgan Brittany (Opie's girlfriend, Mary Alice Carter), Jackie Joseph (Romeena), LeRoy McNees (of the Country Boys), George Spence (Frank the Fiancé),  Margaret Kerry (Bess Muggins and Helen Scobey), Karen Knotts (daughter of Don Knotts) and George Lindsey Jr. (son of, well, obviously).
With the sad passing on May 16 of Doug Dillard, the only performer to participate in all 22 previous Mayberry Days festivals, there's a huge hole in the heart of the festival.  Doug and his memory will be honored at this year's festival.  There will also be special salutes to George Lindsey.
Mayberry Days will conclude with a celebration of music and praise, as fellow entertainers, friends, and fans remember and salute Andy Griffith and his legacy with a Hometown Tribute to Andy Griffith on Sunday morning from 9:30 a.m. till 11:00 a.m. at Blackmon Amphitheatre (Rockford & Spring Street, across from the Andy Griffith Playhouse in Mount Airy). Admission is free. Further details about Mayberry Days and more stars TBA.  Tickets are now available to order for several parts of the festival.  (And it's not at all too early to book a hotel room.)  For updates, visit www.mayberrydays.org.  It's big!!!
* Sept. 29: James Best zooms from Mount Airy to be at an event with Henderson Auctions on Hwy 190 West of Livingston, La., from 9 a.m. to 6 p.m. (If you can't find it, the gators might find you.)
* Oct. 1: James Best is featured at an All-Star Concert at the Marriott Baton Rouge Hotel in Baton Rouge, La., with country stars Clay Walker and Tracy Lawrence. Many stars from "The Dukes of Hazzard" will also appear.
* Oct. 3: 52nd Anniversary of the airing of the first episode of "The Andy Griffith Show" on CBS.  Just think…on this here day in 1960…Shazam!
* Oct. 6: A Mayberry Afternoon in Salisbury, N.C., featuring Mayberry music and Mayberry tribute artists, including David "Mayberry Deputy" Browning, Allan "Floyd" Newsome, Jeff "Howard" Branch, Tim "Goober" Pettigrew and  Phil "Ernest T." Fox. Details TBA.
* Oct. 12-14:  Darlings boy Dean Webb and his Missouri Boatride band perform at the Wooley Creek Bluegrass Festival in Cape Fair, Mo.
* Oct. 29-Nov. 3: Halloween Cruise to Mayberry 7.  Five Days aboard Carnival Cruise Line's Destiny, leaving from Miami with ports of call in Nassau, Half Moon Cay, and Grand Turk, plus a fun day at sea. Seven Mayberry tribute artists, an Elvis tribute artist and the VW Boys are among the entertainment provided exclusive to Mayberry Cruise participants. For more info, visit the All About Cruises website at www.allaboutcruisesnc.net/.
* Nov. 30: Rodney Dillard and the Dillard Band perform at 7 p.m. at Grace Fellowship Church in West Palm Beach, Fla.  David Browning also appears. Tickets are $12. For more info, call (561) 333-4222, Ext. 232.
2013
* Feb. 9: Rodney Dillard and the Dillard Band perform at the Historic Jonesborough Bluegrass Series at 7 p.m. at the Historic Jonesborough Visitor Center Auditorium. Tickets are $20 for adults and $10 for kids under 12. For more info, visit http://www.jonesboroughbluegrass.com/.
 **** Mayberry on the Web ****
The iMayberry Community
We're really excited about the launch earlier this year of a wonderful Web activity hosted by TAGSRWC and organized and overseen by webmaster Allan "Floyd" Newsome.  It's called iMayberry Community.  You can check it out and sign up for free at: http://imayberrycommunity.com/.
The hope is that the iMayberry Community will complement our other online activities, including our main www.imayberry.com page, podcasts, Facebook page, online newsletters (such as The eBullet!), weaversdepartmentstore.com and chat rooms.  Combined with TAGSRWC chapters and the various Mayberry events for all fans (from Mayberry Days to ocean cruises), not to mention enjoying the sites of Mount Airy year-round, the world of Mayberry fun keeps expanding.
And best of all, it's all rooted in watching the show itself.  Whether through DVDs, local stations or TV Land, loving to watch the show continues to be the energy that feeds all the other Mayberry fun and activities that we enjoy.  What a wonderful thing Andy Griffith and his talented team of actors, musicians, writers and crew people created 52 years ago–for us and generations to come!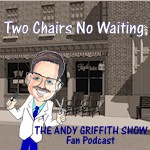 Two Chairs, No Waiting is our weekly podcast of TAGS has news, interviews and pretty much whatever happens to be going on in and around Mayberry. It's hosted by our Allan Newsome. There's a new episode every Tuesday (and you can watch and listen live during tapings on Monday evenings). Past episodes are in an online Archives in case you want to listen to episodes you've missed. (There have been about 200 episodes since 2008!)
There's a lot of info and discussions that you simply won't find anywhere else, including rare interviews (vintage and new) with cast and crew members of TAGS. If you've got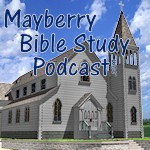 sound on your computer or have an iPod or similar device, you can easily tune in or download these podcasts.
Also, check out the podcast area of our www.imayberry.com site for info about a Mayberry Bible Study Podcast, also hosted by Allan.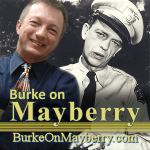 And there's a Brother Figure podcast to Two Chairs, No Waiting. It's hosted by longtime TAGSRWC member Kevin Burke, who does a great job of describing and discussing individual episodes. It's called Burke on Mayberry. Check it out.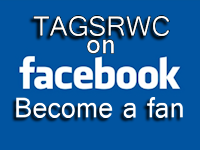 TAGSRWC's official page on Facebook now has 32,000 friends!  (Shazam!) You can find us at www.facebook.com/tagsrwc. There's a variety of comments about Mayberry, and a lively stream of fans' favorite TAGS lines. And our Facebook page is also one of the first places we post announcements and breaking news about TAGS. If you haven't already dropped by the page, we hope you'll check it out sometime when you have the chance. We invite you to become a TAGSRWC Facebook Friend!
**** POST NOTE ****
Between issues of Weaver's Newsletter, keep up with the happenings in Mayberry with the daily "Who's Been Messin' Up the Bulletin Board?" Digest. It's a free subscriber list that consists entirely of comments, news flashes, and questions and answers from subscribers. You can sign up for that list by going to the "Mailing Lists" link at www.tagsrwc.com.
TAGSRWC also publishes The eBullet in more or less alternate months to Weaver's Newsletter. The eBullet is the online successor to our longtime printed newsletter, The Bullet. Like Weaver's Newsletter, The eBullet is free. It includes some of the same news as Weaver's Newsletter, but with more features and depth and a little less emphasis on merchandise news. To sign up, go to: http://www.tagsrwc.com/ebullet/joinebullet.htm.
TAGSRWC's other main vehicle for Mayberry information is simply our website at www.tagsrwc.com (and its sister site www.iMayberry.com). Both sites have extensive content and links for just about everything a Mayberry fan might be looking for.
The next issue of Weaver's Newsletter is scheduled for October, with the next eBullet planned for late August or early September.
Printer Friendly Version