Weaver's Newsletter: February/March 2012
Weaver's Newsletter
An Online newsletter of
"The Andy Griffith Show" Rerun Watchers Club (TAGSRWC)
Welcome to our first Weaver's Newsletter of 2012!  Our merchandise features are up first, then our calendar of events and then some news updates from the cast and crew, and concluding with some info about our Mayberry communities on the Web, including a brand new one!
**** Merchandise Update ****
Ben Weaver (or rather his ace salesman Bert Miller) has almost fully restocked his shelves after they were virtually cleaned out during the holidays.  If you're looking for a particular Mayberry item, we should have it back on our shelves now…or very soon.
Check out the full selection of books, apparel (get that new T-shirt for Spring and Summer!), DVDs, artwork, collectibles and much more online at  Weaver's (www.weaversdepartmentstore.com).  There are lots of great vintage and rare things, too.  First one thing and then another.  Plus bunches ("bunches, bunches") of things on sale or at permanently lower prices.
We appreciate your shopping at Weaver's, especially because Weaver's sales are what helps TAGSRWC be able to support Mayberry Days and other Mayberry-connected events and charitable efforts throughout the year.
Here's a special group of items we're featuring this month as a fundraiser leading up to the 15th Annual George Lindsey UNA Film Festival, Mar. 1-3:
Goober's Golf Gear at Weaver's
$195.00
These items have been provided to us by George Lindsey as a way to help raise funds for our support of his film festival. All of the items are from George's personal collection.
Here's what this special set includes:
*Matzie Velvet Touch Putter with George Lindsey Celebrity Golf Tournament logo
* A sleeve of 3 brand new (or rather, unused) golf balls with the George Lindsey logo. (They're from the 1980s, so we wouldn't recommend playing golf with them unless you don't care about distance or breaking your hands.  Ernest T. might like 'em for throwin', though!)
* A T-shirt with the logo of the 13th edition of the tournament.  The shirt is size XL, but it's from the 1980s, so that' more like a size Large with today's sizing.
* Color photo of Goober autographed by George (it can be personalized, if desired)
All proceeds–the full $195– go toward our support of the George Lindsey UNA Film Festival.
Complete Season 7 of Matlock on DVD
$50.00
$39.00
Just released in February, this Complete Seventh Season (1992-93) of "Matlock" has 18 episodes (including four 2-parters) on five discs.The list price for this set is $50, but we've got it for just $39.00.Here are the episodes:Season 7 (1992-1993)1."The Vacation: Part 1″
2."The Vacation: Part 2″
3."The Legacy: Part 1″
4."The Legacy: Part 2″
5."The Ghost"
6."The Class"
7."The Singer"
8."The Mark"
9."The Juror"
10."The Fortune: Part 1″
11."The Fortune: Part 2″
12."The Debt"
13."The Revenge"
14."The Obsession"
15."The Divorce"
16."The Final Affair: Part 1″
17."The Final Affair: Part 2″
18."The Competition"We also have all six of the previous seasons of "Matlock" at discounted prices!
Beloved Novel Now Available on CD!
$25.00
Dillards/Darlings bass player Mitch Jayne's Old Fish Hawk is a 4 1/2-hour novel on CD. This engaging novel, written and narrated by Mitch (with musical accompaniment), tells the story and adventures of an Osage Indian and the young boy he befriends and shares his wisdom with. The book is so compelling that the folks in Hollywood even made a movie of it. But hearing Mitch tell the story is even better because nobody can paint a better picture with words than Mitch.
We sadly lost Mitch Jayne in 2010.  He left a tremendous legacy. To still be able to hear his wonderful storytelling is just one of many blessings he left us.
Don't Wait for the Hearse to Take You to Church CD
by Rodney Dillard
$14.00
NEW ITEM!!!
This CD is brand new this fall from Rodney Dillard & The Dillard Band (featuring Beverly Dillard) singing Gospel favorites and some newer songs that are sure to become favorites.
Includes 10 tracks and four Bonus tracks from Rodney's "Mayberry Values" radio show.
TRACKS:
1 The Devil Just Can't Knock Me off My Knees
2 Leaning on the Everlasting Arms
3 River of Jordan
4 Somebody Touched Me
5 Gospel Ship
6 Hear Them Thunders Roaring
7 Heaven
8 Softly and Tenderly
9 When My Time Comes to Go
10 Don't Wait for the Hearse to Take You to Church
BONUS MATERIAL
1 New Minister
2 Church Inheritance
3 Man in a Hurry
4 Choirboy Barney
Uplifting music and inspirational words–all for a great price of only $14.00…giving everybody a little extra in their pockets when that offering plate comes around on Sunday!
**** Cool Mayberry Caps for Hip Mayberry Cats ****
Embroidered Show Logo and Security by Fife Caps


$17.00 each
These officially licensed, cool canvas hats (in Mayberry Sheriff Dept. tan!) are finely embroidered with a choice of the official "Andy Griffith Show" logo or Security by Fife. Or why not get both? That way you're covered for all occasions, except when you want to be just a Goober! Adjustable for just the right fit for any occasion.
T-Shirts Galore!!!
$18.00 each
Weaver's has more than two dozen officially licensed Mayberry T-shirt designs. Some are vintage designs that are no longer in production and hard to find anywhere else. We also have a handful of shirts of other TV classics and some vintage embroidered Mayberry logo sport shirts and even a few Snappy Lunch sports shirts.
Despite the recent spike in cotton prices, we're holding the line on our T-shirt prices. All of our heavyweight cotton T-shirts are still just $18.00. And the sport shirts are nicely priced, too. Most of the T-shirts are available in Sizes Medium, Large, XL and 2X. Several also come in small. (The size selection is not as large for the out-of-production vintage shirts.)
Have fun showing your Mayberry spirit with one of these fun-tastic shirts today!
Just a few of our many Mayberry T-shirt designs.
Miss Crump's Mayberry Book Mobile
And T-shirts aren't the only thing that we have dozens of! We carry most of the Mayberry and Mayberry-related books that have been published. Some have been out of print for years, but we still have some copies. Whether your interest is history or trivia, biography or cooking, we've got the Mayberry book for you or a friend. Here's a sampling of what we have:
In the mood to watch Mayberry instead of read about it? Then we've got your covered there, too!
"The Andy Griffith Show 50th Anniversary—The Best of Mayberry" DVD
This is a really exciting item that was released at the end of last year. (Ben's not so subtle hint: It was released too close to Christmas last year for a lot of folks to give as gifts, so it can instead be a great gift this year.) It's an item that we had long been hoping for. In addition to a bunch of the very best episodes, this 3-disc set includes uncut versions of the "Danny Thomas" pilot for "The Andy Griffith Show" and the 1986 Return to Mayberry movie. And all at a phenomenally low price, even before Ben Weaver's additional discount. Here are some of the highlights of what's on it:
* 17 Favorite Episodes:
"Christmas Story"
"The Pickle Story"
"Barney and the Choir"
"Mr. McBeevee"
"Convicts-at-Large"
"Man in a Hurry"
"Class Reunion"
"The Darlings Are Coming"
"Barney's First Car"
"Dogs, Dogs, Dogs"
"Mountain Wedding"
"Opie the Birdman"
"The Sermon for Today"
"Citizen's Arrest"
"Fun Girls"
"Barney's Sidecar"
"Goober and the Art of Love"
* "Danny Meets Andy Griffith" (the "Danny Thomas" pilot for TAGS)
* Clips from Season Premiere nights for the 1962-63 and 1963-64 seasons
* The 1986 Return to Mayberry reunion movie
* Original sponsor commercials featuring cast members
This collection is chockfull of great Mayberry moments. And the price makes for a truly unbeatable combination of quantity, quality and value. We think it's a dream come true.
Or why not get the whole Mayberry video shebang all in one package, at a super-Goober price?
SUPER NEW PRICE ON COMPLETE SERIES ON DVD!!!
Don't miss this one.  If you've been waiting to take the plunge, there has never been a better time.  All 249 TAGS episodes on DVD, plus the "Danny Thomas" pilot, Return to Mayberry movie, bunches of original commercials and more–now only $159 (originally $249!).
 **** Phone Orders ****
In addition to accepting orders online or by mail, our Weaver's Dept. Store has a phone number FOR ORDERS ONLY (615) 604-1298. The phone number is generally in operation from 9 a.m. to 6 p.m. CT Monday through Saturday. (They sneak out a lot to go fishin' for carp and pike and such, so if you miss them during business hours, just leave a message with a number where they can call you back.)
Please call this number only for ordering or for inquiring about orders placed by phone. All inquiries about online orders and mail orders should be made online to weavershop@aol.com.
---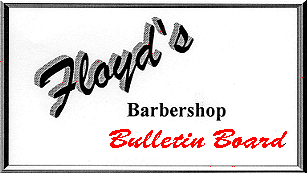 The Andy Griffith Museum, featuring Emmett Forrest's amazing collection of Andy Griffith memorabilia, is open daily in Mount Airy, N.C. For info, visit the website at www.andygriffithmuseum.org/ or call (336) 786-1604.
The following information is from "The eBullet": Official E-mail Newsletter of "The Andy Griffith Show" Rerun Watchers Club (TAGSRWC).
Here are some upcoming events in Mayberry that folks have thumbtacked to Floyd's bulletin board.
* Mar. 10 and 11: Peggy McCay (Andy's high school girlfriend Sharon DeSpain in "Class Reunion") greets fans at a Dogs (Dogs, Dogs) Days of Our Lives fundraiser (Peggy has played Caroline Brady on "Days of Our Lives" for decades) at Loews Vanderbilt Plaza in Nashville, Tenn., for Proverbs 12:10 Animal Rescues.
A Meet & Greet with fans will be held Mar. 10 from  2 to 4 p.m. (admission $20), and a special VIP Breakfast (limited to 40 people) will be held at 8:00 a.m. on Mar. 11 (admission $50).  Details available at http://proverbs1210.rescuegroups.org, or call Peggy Josef at 931-994-7615.
* Mar. 10: Neal Brower, author of Mayberry 101, makes the first of two special appearances at the Andy Griffith Museum this spring. Each session will feature an episode of "The Andy Griffith Show" followed by a detailed lecture and Q&A. Lectures will take place in the lower level of the Museum at 2 p.m. Admission is $10. The episode featured for this lecture is "Big Fish in a Small Town."  Go ahead….take the bait and get hooked on learning neat stuff!
* Mar. 16: Betty Lynn (Thelma Lou) will greet fans at the Andy Griffith Museum in Mount Airy, N.C. from 12:30 to 3:30 p.m. She will have autographed 8×10 photos available ($10) and would love to visit with you! For more info, visit www.andygriffithmuseum.org.
* Mar. 16-18: Margaret Kerry ("Chistmas Story and "Andy Forecloses") appears Wondercon (a major comics and pop culture convention) at the Anaheim Convention Center in Anaheim, Calif.  For more info, visit: www.comic-con.org/wc/.
* Mar. 23: Karen Knotts performs her "Tied Up in Knotts" show at 7:30 p.m. at the Metropolitan Theatre in Morgantown, W.V., as a fundraiser for the Don Knotts Memorial Park, which will include a statue of her father. Advance tickets $20 (plus $5 per order for shipping and handling) and are available from John Pyles, 2201 Surrey Drive, Morgantown, W.V.  26505.  And for general booking info about Karen's show, visit www.karenknotts.com.
* Mar. 23: Rodney Dillard and the Dillard Band perform at the South Florida Music Festival in Jupiter, Fla.  Visit www.southfloridamusicfest.info for show times and updates.
* Mar. 23-25: Julie Adams (Mayberry's Nurse Mary) appears as one of the Women in Horror at the Horror Hound Weekend festival in Columbus, Ohio.  For more info visit www.horrorhoundweekend.com.
* Mar. 31: Rodney Dillard and The Dillard Band perform at 7 p.m. at Kosicuisko Junior High Auditorium in Koscuisko, Miss.  For more info, call 662-289-2981.
* Apr. 13-15: Julie Adams is a scream at Monsterpalooza in Burbank, Calif.  For more info, visit www.monsterpalooza.com.
* Apr. 14: Neal Brower, author of Mayberry 101, makes the second of two special appearances at the Andy Griffith Museum this spring. The "Fun Girls" episode will be shown today and will be followed by a detailed lecture and Q&A. Lectures will take place in the lower level of the Museum at 2 p.m. Admission is $10. Neal's lectures are always fun, girls and boys!
* Apr. 20 and 21: Second Annual Mayberry Comes to Westminster in Westminster, S.C.  Rodney Dillard and the Dillard Band are confirmed guests.  Other details TBA.
* May 3 and 4: Ronnie Schell (two episodes and Duke Slater on "Gomer Pyle, U.S.M.C.") headlines the Eagles' Wings Fundraiser in Tuscaloosa, Ala.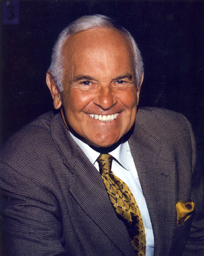 There's a golf tourney on Thursday the 3rd at the Indian Hills Country Club.   The Silent Auction and Banquet (including The Ronnie Schell Show) are on Fri. the 4th at the Bryant Conference Center.  (Doors open for the Auction preview at 5 p.m.)  Reserved tables and individual tickets will be available soon; prices and Banquet time TBA.  Mayberry Tribute Artists David "Mayberry Deputy" Browning, Allan "Floyd" Newsome, Kenneth "Otis" Junkin, Tim "Goober" Pettigrew, Phil "Ernest T." Fox, Jeff "Howard" Branch, Bob "Briscoe" Mundy, and Eric "Mayor Pike" Lowry will also entertain.  For more info, visit http//:eagleswingsoftuscaloosa.org
* June 1 and 2: 25th Annual Mule Days in Gordo, Ala. (near Tuscaloosa).  Mayberry Tribute Artists David "Mayberry Deputy" Browning, Allan "Floyd" Newsome, and Kenneth "Otis" Junkin will be among the entertainers.  The headline guest star this year is Donna Douglas (Elly May Clampett on "The Beverly Hillbillies.)  More details TBA.
* June 2: James Best greets fans and shows his artwork at the Greg's Core Supply event in Felts Park in Galax, Va.
* June 30: 12th Annual Mayberry Squad Car Nationals at Oak Mountain State Park, in Pelham, Ala. (just south of Birmingham).  Note: This is a new location.  Check back for more details and guest stars.
* July 11-14: Julie Adams appears at the Western Film Fair in Winston-Salem, N.C.  (Nancy Stafford of "Matlock" is also among the stars with an Andy Griffith connection attending.)  For more info, visit http://westernfilmfair.tripod.com.
* Aug. 24 and 25: Rodney Dillard and Maggie Peterson are joined by several of the Mayberry tribute artists (including David "Mayberry Deputy" Browning, Kenneth "Otis" Junkin and Jeff "Howard" Branch) for a Cruise-In on Fri. and then concert benefiting the Montgomery County DARE program on Sat. The evening concert will be at the James H. Garner Center in Troy, N.C. Details TBA. For more info, visit www.bluegrassintroy.com/.
* Sept. 25-27: Life Lessons From Mayberry: It's All There in Black and White in Ridgecrest, N.C. (outside Asheville).  This event is a celebration of "The Andy Griffith Show" and the biblical truths and life applications found in the beloved TV classic. It includes fun-filled Bible study based on some of favorite episodes, inspiring preaching and worship, and bluegrass music.  More info at www.lifeway.com/mayberry.
* Sept. 27-30: 23rd Annual Mayberry Days in Mount Airy, N.C.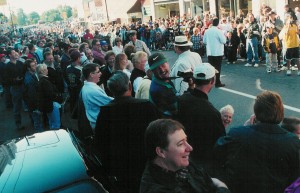 Stars confirmed so far are Betty Lynn (Thelma Lou), Doug Dillard (Darling banjo player), James Best (Jim Lindsey), LeRoy McNees (of the Country Boys), and Karen Knotts (daughter of Don Knotts). Further details and more stars TBA.  Tickets are now available to order for several parts of the festival.  (And it's already not too early to book a hotel room.)  For updates, visit www.mayberrydays.org.  It's big!!!
* Oct. 6: A Mayberry Afternoon in Salisbury, N.C., featuring Mayberry music and Mayberry tribute artists, including David "Mayberry Deputy" Browning, Allan "Floyd" Newsome, Jeff "Howard" Branch, Tim "Goober" Pettigrew and  Phil "Ernest T." Fox. Details TBA.
* Oct. 29-Nov. 3: Halloween Cruise to Mayberry 7.  Five Days aboard Carnival Cruise Line's Destiny, leaving from Miami with ports of call in Nassau, Half Moon Cay, and Grand Turk, plus a fun day at sea. Seven Mayberry tribute artists, an Elvis tribute artist, and the VW Boys are among the entertainment provided exclusive to Mayberry Cruise participants. For more info, visit the All About Cruises website at www.allaboutcruisesnc.net/.
 **** News of Cast & Crew ****
Andy Griffith, like a wily ol' groundhog, has been lying low and staying close to home in North Carolina this winter. He knows enough to know that winter's not over for a while yet.
Ron Howard is executive-producing the re-ignition of Arrested Development with new episodes for TV (well, sort of…they'll be exclusive to Netflix) and possibly a feature film coming to theaters.  Ron has also said that he'll be back as the narrator.
Ron is in pre-production (as producer and director) for the feature film Rush about Formula I racing legend Niki Lauda.  And Ron still has plans and hopes for the ambitious and complex project of bringing Stephen King's Dark Towers to TV and theaters.  Meanwhile, he is scheduled to direct the pilot for a new HBO series about Doc Holliday, and he is executive producer for a Sarah Silverman pilot requested by NBC.
And Ron is among the executive producers for TNT's first reality show, "The Great Escape," which will begin a 10-episode run this summer. Ron's Imagine Entertainment has also optioned the rights for The Tale of the Body Thief, the fourth book in author Anne Rice's Vampire Chronicles series.
When You Find Me, a short film based on eight photos Ron selected in a contest called Project Imagin8ion (sponsored by Canon) and directed and co-written by Ron's oldest daughter, Bryce Dallas Howard, has been receiving good reviews.
Ron has been making the rounds at various film festivals and awards shows, including Sundance.  He's also a judge for the Greenwich (Conn.) Youth Film Festival this winter.
And the really big Howard family news is that daughter Bryce had a baby girl on Jan. 19.  Her name is Beatrice Jean Howard-Gabel.  (Ron's late mother's name was Jean.  As for Beatrice, we don't yet know the inspiration for that, but some of us will have to be excused if we presumptively nickname her Bee.)
Jim Nabors performed at the Fourth annual Na Mele o na Keiki (Music for the Children) Holiday Concert in Honolulu in December.  He's still enjoying the good life and weather of Hawaii.
George Lindsey has just returned from his 15th Annual George Lindsey UNA Film Festival in Florence, Ala.  A highlight of this year's festival was the dedication of the George Lindsey Theatre on March 2.
George's longtime pal Ernest Borgnine was on hand for the theater dedication.  Actor Michael Rooker was the special guest for the film festival, which had filmmakers attending from across the country and as far away as Spain.  Goober says ¡hola.
Meanwhile, viewers in the Nashville area were treated to a week of Goober episodes at the end of January and early February when local station WUXP did "Goober Gone Wild" Week.  Did George like that?  "Yo!"
Maggie Peterson and Betty Lynn headlined a successful Mayberry-themed musical fundraiser for Alzheimer's care and research in Roanoke,Va., in November.  Betty is also participating in the Arts Ball fundraiser for the Surry Arts Council in Mount Airy this weekend.
Dean Webb, Dillards and Darlings mandolin player, is featured in "Sounds of Home—Music from the Ozarks" for Ozarks Public Television.  Dean is interviewed and performs some music with his current band, Missouri Boatride.  The show has aired a couple of times.  Viewers in the Ozarks, check your local listings for future airdates  Dean and the band are also performing every other Saturday during the winter season in their home base of Kimberling City, Mo.  (They'll also be doing a summer series.)  For complete details, visit www.missouriboatride.com.
Rodney Dillard and wife Beverly are proud new grandparents to Madelyn Grace Davis, daughter of their daughter, Rachel, and her husband, Cory.  Congratulations to all!  (Rodney also officiated at Rachel and Cory's "mountain wedding" last year.  Fortunately, Ernest T. didn't disrupt the ceremony!)
Rodney and his Dillard Band have been busy touring this year, including for a taping in Marion, Va., of the "Songs of the Mountains" TV show that will eventually air on PBS stations nationwide.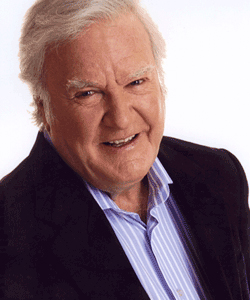 James Best is well into the editing process for Return of the Killer Shrews.  The expected to be in theaters this summer. To stay current on the latest Shrews news (including the movie's first trailer), visit www.killershrewsmovie.com.
The multi-talented James was also on hand for an art show featuring his work in Mount Dora, Fla., on Super Bowl weekend, and he was in Gray, Ga., for a "Dukes of Hazzard"-focused appearance the first. You can find James at www.jamesbest.com.
Bernard Fox says that he's doing well and sends all his best to his Mayberry friends.  He's largely retired from acting, but never say never.  He enjoys doing the occasional autograph show in Burbank near his home.
 Julie Adams (Nurse Mary in "The County Nurse," Episode 56) is getting a good response to her autobiography, The Lucky Southern Star—Reflections From the Black Lagoon, published last fall  For more info about the book and Julie's schedule, check out her website at www.julieadams.biz.
Also on the literary front, Margaret Kerry ("Christmas Story" and "Andy Forecloses" episodes) is progressing well with writing for Tinker Bell Talks—Tales of a Pixie Dusted Life, her autobiography.  At last update, she was up to more than 60 chapters!
We're sad to report the passing on the same day in December of two actors with featured roles in Mayberry.
Dan Frazer, who played movie producer Mr. Harmon in "Mayberry Goes Hollywood" (Episode 13), died of cardiac arrest at his home in Manhattan on Dec. 16.  He was 90.
He had a long career of steady work, but he's probably best known for his role as Capt. Frank McNeil on TV's "Kojak."  As for us TAGS fans, we'll always appreciate his character's keen eye for what was special and worth protecting about Mayberry.
You can read more about Dan Frazer and his life and career here: Dan FrazerNYTimes.
We're also sad to have the news that Robert Easton died of natural causes at his home in Toluca Lake, Calif., on Dec. 16.  He was 81.  Robert played be-eyelashed Pete Johnson in "Irresistible Andy" (Episode 5).
He was known as the dean of dialect coaches in Hollywood and respected throughout the acting profession for his knowledge and expertise.  Read more about his remarkable life at: RobertEastonLATimes.
Also, actor Laurie Main, who played enthusiastic book designer Robling Flask in "Helen the Authoress" (Episode 213) and also Thornton Avery in "Millie the Model" (Episode 29 of "Mayberry R.F.D."), died on February 8 in Los Angeles.
According to most sources, Laurie Main was born in Australia in 1922.  He moved to London, England at age 16.  He appeared in numerous TV shows (ranging from "Hogan's Heroes" and "Bewitched" to "Murder She Wrote" and "Punky Brewster") and movies (including Herbie Goes to Monte Carlo (with Don Knotts and Bernard Fox).  He did voiceovers and other work for many Disney productions, most notably "Welcome to Pooh Corner."  Here's a link to the obituary in The Hollywood Reporter: hollywoodreporter.com/lauriemain/
***
And this is not really News of Cast & Crew, but it is about one of Mount Airy's best-known characters. We received the sad news that  Griggs Hampton (affectionately known simply as "Griggs" to most folks around Mount Airy) died on Dec. 21.  He had been convalescing from surgery earlier in the year.
Griggs was a fixture on the streets of Mount Airy and was ever ready with a smile and a nod in much the way that Mr. Schwamp seems ever present in Mayberry.  His friendliness and generosity were instant with everyone he met.  He was widely known as one of Mount Airy's most enthusiastic and successful fundraisers for charity.  (TAGSRWC has made a donation in memory of Griggs on behalf of our organization as a whole to the Surry Arts Council in Mount Airy.) Read more about Griggs, his good works and legacy here: Remembering Griggs.
 **** Mayberry on the Web ****
New iMayberry Community
We're excited to announce a really great new online feature hosted by TAGSRWC and organized and overseen by webmaster Allan "Floyd" Newsome.  It's called iMayberry Community.  You can check it out and sign up for free at: http://imayberrycommunity.com/
Here's what Allan says about it:
"Mayberry related websites, forums, podcasts, mailing lists, newsletters and more have been on the Internet for more than 20 years.  I'm always amazed when folks say they never knew all this stuff about The Andy Griffith Show existed.  Some knew of a few Mayberry things but didn't realize the volume of material that is on the Web.

The iMayberry Community's goal is to help fans of The Andy Griffith Show connect with one another to share their knowledge and love of Mayberry.

"We're just beginning this community, but with your help we should see our Mayberry friendships grow and develop relationships that are stronger.

"Community, friends, relationships, family–those are the things that we love about Mayberry and those are the things we want to nurture here."
The hope is that the iMayberry Community will complement our other online activities, including our main www.imayberry.com page, podcasts, Facebook page, online newsletters (such as The eBullet!), weaversdepartmentstore.com and chat rooms.  Combined with TAGSRWC chapters and the various Mayberry events for all fans (from Mayberry Days to ocean cruises), not to mention enjoying the sites of Mount Airy year-round, the world of Mayberry fun keeps expanding.
And best of all, it's all rooted in watching the show itself.  Whether through DVDs, local stations or TV Land, loving to watch the show continues to be the energy that feeds all the other Mayberry fun and activities that we enjoy.  What a wonderful thing Andy Griffith and his talented team of actors, musicians, writers and crew people created 52 years ago–for us and generations to come!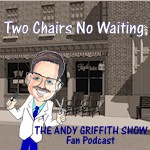 Two Chairs, No Waiting is our weekly podcast of TAGS has news, interviews and pretty much whatever happens to be going on in and around Mayberry. It's hosted by our Allan Newsome. There's a new episode every Tuesday (and you can watch and listen live during tapings on Monday evenings). Past episodes are in an online Archives in case you want to listen to episodes you've missed. (There are about 174 episodes so far!)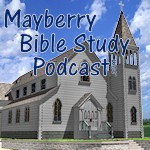 There's a lot of info and discussions that you simply won't find anywhere else, including rare interviews (vintage and new) with cast and crew members of TAGS. If you've got sound on your computer or have an iPod or similar device, you can easily tune in or download these podcasts.
Also, check out the podcast area of our www.imayberry.com site for info about a Mayberry Bible Study Podcast , also hosted by Allan.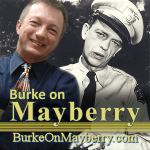 And there's a Brother Figure podcast to Two Chairs, No Waiting. It's hosted by longtime TAGSRWC member Kevin Burke, who does a great job of describing and discussing individual episodes. It's called Burke on Mayberry. Check it out.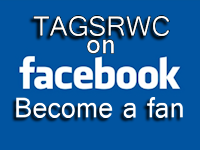 TAGSRWC's official page on Facebook now has more than 8,000 friends! You can find us at www.facebook.com/tagsrwc. There's a variety of comments about Mayberry, and a lively stream of fans' favorite TAGS lines.And our Facebook page is also one of the first places we post announcements and breaking news about TAGS. If you haven't already dropped by the page, we hope you'll check it out sometime when you have the chance. We invite you to become a TAGSRWC Facebook Friend!
**** POST NOTE ****
Between issues of Weaver's Newsletter, keep up with the happenings in Mayberry with the daily "Who's Been Messin' Up the Bulletin Board?" Digest. It's a free subscriber list that consists entirely of comments, news flashes, and questions and answers from subscribers. You can sign up for that list by going to the "Mailing Lists" link at www.tagsrwc.com.
TAGSRWC also publishes The eBullet in more or less alternate months to Weaver's Newsletter. The eBullet is the online successor to our longtime printed newsletter, The Bullet. Like Weaver's Newsletter, The eBullet is free. It includes some of the same news as Weaver's Newsletter, but with more features and depth and a little less emphasis on merchandise news. To sign up, go to: http://www.tagsrwc.com/ebullet/joinebullet.htm.
TAGSRWC's other main vehicle for Mayberry information is simply our website at www.tagsrwc.com (and its sister site www.iMayberry.com). Both sites have extensive content and links for just about everything a Mayberry fan might be looking for.
The next issue of Weaver's Newsletter is scheduled for April, with the next eBullet planned for late mid-March.
Printer Friendly Version