Weaver's Newsletter: December 2011
Weaver's Newsletter
An Online newsletter of
"The Andy Griffith Show" Rerun Watchers Club (TAGSRWC)
We've got just a quick pre-Christmas issue this time.  Our merchandise features are up first, then our calendar of events and then some news updates from the cast and crew.
**** Merchandise Update ****
2010 Mayberry Days DVD
New!!!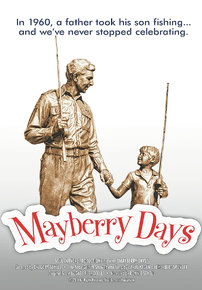 $20.00
This brand new documentary of last year's Mayberry Days festival in Mount Airy was filmed and produced by director Gregory Schell, son of Mayberry and Gomer Pyle actor Ronnie Schell.  The 47-minute film captures all the excitement and fun of Mayberry and also includes interviews with all of the TAGS stars and several other participants in the 2010 Mayberry Days, which was extra special because it celebrated the 50th Anniversary of "The Andy Griffith Show."
Only a limited number of these DVDs is being made available.  It's rare that a public Mayberry event receives such extensive and professional documentary coverage.  Whether you're a regular at Mayberry Days or want to get an idea of what it's all about, this DVD is an outstanding keepsake.  And it just so happens…it's a super stocking stuffer, too!  Get 'em while you can.
Christmas Is Here Again DVD
$15.00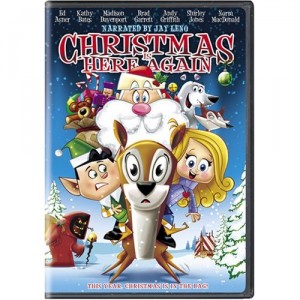 Even Scrooge-like Ben Weaver is excited to offer this charming Christmas DVD featuring Andy Griffith as Santa Claus! The all-star cast of voices in this 75-minute animated production includes Ed Asner, Kathy Bates, Shirley Jones, Norm MacDonald and Jay Leno as the narrator.
Enjoy watching and starting a new family Christmas tradition!
Beloved Novel Now Available on CD!
$25.00
Dillards/Darlings bass player Mitch Jayne's Old Fish Hawk is a 4 1/2-hour novel on CD. This engaging novel, written and narrated by Mitch (with musical accompaniment), tells the story and adventures of an Osage Indian and the young boy he befriends and shares his wisdom with. The book is so compelling that the folks in Hollywood even made a movie of it. But hearing Mitch tell the story is even better because nobody can paint a better picture with words than Mitch.
We sadly lost Mitch Jayne August 2, 2010, at the age of 82. But he left a tremendous legacy. To still be able to hear his wonderful storytelling is just one of many blessings he left us.
"A Mayberry Christmas" Color Print by Dave Barnhouse
Was $60…Now on Special Sale for Just $25.00!!
(Ol' Ben Weaver's just trying to merry up Christmas!)
Released in 2010, this is the third print in the initial release of three prints in the officially licensed series of Mayberry artwork by acclaimed artist Dave Barnhouse. (The first two in the series are called "Together Forever" and "Mayberry, My Hometown" and are also still available–in fact, they're currently on sale, too!)
Dave Barnhouse has captured the sentiment of the touching Courthouse scene in the "Christmas Story" episode when Ben Weaver generously expresses the spirit of Christmas. It's one of the all-time classic moments of the series, and one that is sure to instantly cause feelings of holiday joy for anyone who sees it.
The image size of the full-color paper print measures 18 in. x 24 in. (the image itself is 16 in. x 20 in.). Dave Barnhouse has signed each print in this open-edition work.
Apparently already feeling good with the Christmas spirits, Ol' Ben Weaver has trimmed the price of this outstanding print from $60 to an unbelievable $25. Yes, that's right…more than half off! We think Ben's feeling so generous just because he's depicted in the painting, but we'll take whatever price break he gives us! That 58% savings will definitely "merry up Christmas" for the rest us…all year long! Thanks, ol' Ben!
Bring a little Mayberry cheer into your home and the homes of friends…even if you don't have a skinny Santa Claus to deliver it!
Trading Card Series 2 Complete Set for Joplin Relief
$20.00 $12.00
(Great stocking stuffer!)
This Series 2 Set of "The Andy Griffith Show" Trading Cards (#111-220) consists entirely of black-and-white photos, but the photos used depict scenes from all eight seasons of the show. All proceeds (not just the profits, but all funds) from our sales of these Sets go toward ongoing relief efforts for victims of the Joplin Tornado Disaster. We acquired these Sets from Mayberry fan and collector Paul Mulik, who sadly lost his home in the tornado, for the sole purpose of raising funds to help Paul help other victims of the disaster. Much of Paul's Mayberry collection, including these sets of cards, was stored safely away from his home and was undamaged.
Series 2 cards were manufactured in the early 1990s, and have long been out of print and are now scarce. We think our price for this collectible is still so good that it might even make sense for many collectors to buy two sets–one set to open and enjoy and one set to Set back for posterity, when a Set likely will be even more rare and potentially valuable. Sort of like Barney's nest egg he that used to buy his car from Mrs. Lesch, who happens to be among those pictured on a card in this set. This Set of cards is full of wonderful Mayberry memories in a nostalgic format…and helping a good cause at the same time.
Don't Wait for the Hearse to Take You to Church CD
by Rodney Dillard
$14.00
NEW ITEM!!!
This CD is brand new this fall from Rodney Dillard & The Dillard Band (featuring Beverly Dillard) singing Gospel favorites and some newer songs that are sure to become favorites.
Includes 10 tracks and four Bonus tracks from Rodney's "Mayberry Values" radio show.
TRACKS:
1 The Devil Just Can't Knock Me off My Knees
2 Leaning on the Everlasting Arms
3 River of Jordan
4 Somebody Touched Me
5 Gospel Ship
6 Hear Them Thunders Roaring
7 Heaven
8 Softly and Tenderly
9 When My Time Comes to Go
10 Don't Wait for the Hearse to Take You to Church
BONUS MATERIAL
1 New Minister
2 Church Inheritance
3 Man in a Hurry
4 Choirboy Barney
Uplifting music and inspirational words–all for a great price of only $14.00…giving everybody a little extra in their pockets when that offering plate comes around on Sunday!
**** Cool Mayberry Caps for Hip Mayberry Cats ****
Embroidered Show Logo and Security by Fife Caps


$17.00 each
These officially licensed, cool canvas hats (in Mayberry Sheriff Dept. tan!) are finely embroidered with a choice of the official "Andy Griffith Show" logo or Security by Fife. Or why not get both? That way you're covered for all occasions, except when you want to be just a Goober! Adjustable for just the right fit for any occasion.
T-Shirts Galore!!!
$18.00 each
Weaver's has more than two dozen officially licensed Mayberry T-shirt designs. Some are vintage designs that are no longer in production and hard to find anywhere else. We also have a handful of shirts of other TV classics and some vintage embroidered Mayberry logo sport shirts and even a few Snappy Lunch sports shirts.
Despite this year's spike in cotton prices, we're holding the line on our T-shirt prices. All of our heavyweight cotton T-shirts are still just $18.00. And the sport shirts are nicely priced, too. Most of the T-shirts are available in Sizes Medium, Large, XL and 2X. Several also come in small. (The size selection is not as large for the out-of-production vintage shirts.)
Have fun showing your Mayberry spirit with one of these fun-tastic shirts today!
Just a few of our many Mayberry T-shirt designs.
Miss Crump's Mayberry Book Mobile
And T-shirts aren't the only thing that we have dozens of! We carry most of the Mayberry and Mayberry-related books that have been published. Some have been out of print for years, but we still have some copies. Whether your interest is history or trivia, biography or cooking, we've got the Mayberry book for you or a friend. Here's a sampling of what we have:
In the mood to watch Mayberry instead of read about it? Then we've got your covered there, too!
"The Andy Griffith Show 50th Anniversary—The Best of Mayberry" DVD
This is a really exciting item that was released at the end of last year. (Ben's not so subtle hint: It was released too close to Christmas last year for a lot of folks to give as gifts, so it can instead be a great gift this year.) It's an item that we had long been hoping for. In addition to a bunch of the very best episodes, this 3-disc set includes uncut versions of the "Danny Thomas" pilot for "The Andy Griffith Show" and the 1986 Return to Mayberry movie. And all at a phenomenally low price, even before Ben Weaver's additional discount. Here are some of the highlights of what's on it:
* 17 Favorite Episodes:
"Christmas Story"
"The Pickle Story"
"Barney and the Choir"
"Mr. McBeevee"
"Convicts-at-Large"
"Man in a Hurry"
"Class Reunion"
"The Darlings Are Coming"
"Barney's First Car"
"Dogs, Dogs, Dogs"
"Mountain Wedding"
"Opie the Birdman"
"The Sermon for Today"
"Citizen's Arrest"
"Fun Girls"
"Barney's Sidecar"
"Goober and the Art of Love"
* "Danny Meets Andy Griffith" (the "Danny Thomas" pilot for TAGS)
* Clips from Season Premiere nights for the 1962-63 and 1963-64 seasons
* The 1986 Return to Mayberry reunion movie
* Original sponsor commercials featuring cast members
This collection is chockfull of great Mayberry moments. And the price makes for a truly unbeatable combination of quantity, quality and value. We think it's a dream come true.
Or why not get the whole Mayberry video shebang all in one package, at a super-Goober price?
All 249 TAGS episodes on DVD, plus the "Danny Thomas" pilot, Return to Mayberry movie, bunches of original commercials and more–now only $172 (originally $249!).
**** Phone Orders ****
In addition to accepting orders online or by mail, our Weaver's Dept. Store has a phone number FOR ORDERS ONLY (615) 604-1298. The phone number is generally in operation from 9 a.m. to 6 p.m. CT Monday through Saturday. (They sneak out a lot to go fishin' for carp and pike and such, so if you miss them during business hours, just leave a message with a number where they can call you back.)
Please call this number only for ordering or for inquiring about orders placed by phone. All inquiries about online orders and mail orders should be made online to weavershop@aol.com.
Holiday Shipping Notice
We'll be accepting orders for Christmas delivery as late as Noon CT on Dec. 22. But by that point, it'll require FedEx overnight delivery to most places, which will be very expensive. In fact, any orders we receive after Noon CT on Dec. 20 will likely need express delivery of some sort, such as FedEx 2-Day, but maybe not the extreme expense of overnight delivery.
Anyway, it's way cheaper (just our flat-rate $5 to any U.S. address) and less stressful for you and our Goober elves to get your orders in by Noon CT on Dec. 19. The closer the shipment's delivery address is to Nashville, the more you can squeeze out an extra day or so past that deadline, but why take the chance and push it?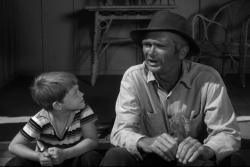 Tomorrow may be the most perfect day for a hobo to trim the Taylors' hedge, but today's the best day for placing your order at Weaver's!
---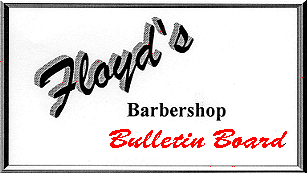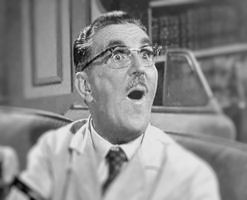 The Andy Griffith Museum, featuring Emmett Forrest's amazing collection of Andy Griffith memorabilia, is open daily in Mount Airy, N.C. You'll usually find Emmett himself there on Thursdays (and often other times), and Betty Lynn generally greets fans there during the afternoon of the third Friday each month. For info, visit the website at http://www.andygriffithmuseum.org or call (336) 786-1604.  Mount Airy is an especially fun place to visit during travels in the holiday season!
* Dec. 6-11: Ronnie Schell performs in Harrah's Comedy Room in Las Vegas. More info at http://www.harrahslasvegas.com.
* Dec. 8: Neal Brower, author of Mayberry 101, makes the second of two special appearances at the Andy Griffith Museum this fall. This installment features the classic "Christmas Story" episode of "The Andy Griffith Show" followed by a detailed lecture and Q&A. The lecture starts in the lower level of the Museum at 2 p.m. Admission is $10. It's a great way to get in the holiday spirit!

* Dec. 16 and 17: Ronnie Schell performs in the Chinook Casino in Lincoln City, Ore. More info at www.chinookwindscasino.com.

* Dec. 19: David Browning is all aboard for the 25th Annual Morgan Shepherd Christmas Charity Train, starting in Stuart, Va. For more info, visit www.morganshepherd.com.
2012
* Feb. 18: Rodney Dillard and the Dillard Band perform at 7:00 p.m. at Lenoir Community College in Kinston, N.C.
* Feb. 20: David Browning performs "From Gettysburg to Mayberry" (as Abe Lincoln and the Mayberry Deputy), at Virginia Intermont College in Bristol, Va.

* Mar. 1-3: 15th Annual George Lindsey/UNA Film Festival in Florence, Ala. Details TBA. For updates visit http://lindseyfilmfest.com.
* Mar. 8: Neal Brower, author of Mayberry 101, makes the first of two special appearances at the Andy Griffith Museum this spring. Each session will feature an episode of "The Andy Griffith Show" followed by a detailed lecture and Q&A. Lectures will take place in the lower level of the Museum at 2 p.m. Admission is $10. The episode featured for this lecture is "Big Fish in a Small Town." Go ahead….take the bait and get hooked on learning neat stuff!

* Apr. 12: Neal Brower, author of Mayberry 101, makes the second of two special appearances at the Andy Griffith Museum this spring. The "Fun Girls" episode will be shown today and will be followed by a detailed lecture and Q&A. Lectures will take place in the lower level of the Museum at 2 p.m. Admission is $10. Neal's lectures are always fun, girls and boys!
* Apr. 20 and 21: Second Annual Mayberry Comes Westminster (S.C.) starring "Andy Griffith Show" cast members Maggie Peterson (Charlene Darling), Rodney Dillard (one of Charlene's Darling brothers) and his Dillard Band, and LeRoy "Mack" McNees (one of Mayberry's Country Boys), and assorted Mayberry tribute artists.  There's a full schedule of concerts and other activities planned.  For complete info and updates, visit http://www.jneg.org/mctw/mctw/Welcome.html.
* July 14: Tentative date for the Mayberry Comes to Mayberry and Mayberry Squad Car Nationals in Graysville, Ala. Stars and details TBA.
* Aug. 24 and 25: Rodney Dillard and Maggie Peterson are joined by several of the Mayberry tribute artists (including David "Mayberry Deputy" Browning, Kenneth "Otis" Junkin, and Jeff "Howard" Branch) for a Cruise-In on Fri. and then concert benefiting the Montgomery County DARE program on Sat. The evening concert will be at the James H. Garner Center in Troy, N.C. Details TBA. For more info, visit http://www.bluegrassintroy.com/.

* Sept. 25-27: Life Lessons From Mayberry: It's All There in Black and White in Ridgecrest, N.C. (outside Asheville).  This event is a celebration of "The Andy Griffith Show" and the biblical truths and life applications found in the beloved TV classic. The three-day event includes fun-filled Bible study based on some of favorite episodes, inspiring preaching and worship, bluegrass bands, country cooking, and lodging nestled in the North Carolina mountains. Life Lessons From Mayberry immediately precedes Mayberry Days, so start the week's fun here! More info at www.lifeway.com/mayberry.
* Sept. 27-30: 23rd Annual Mayberry Days in Mount Airy, N.C.  Details TBA.  For tickets (many available to order now!) and updates, visit www.mayberrydays.org or call 336-786-7998.  This is Mayberry's Big One!
* Oct. 6: A Mayberry Afternoon in Salisbury, N.C., featuring Mayberry music and Mayberry tribute artists, including David "Mayberry Deputy" Browning, Allan "Floyd" Newsome, Jeff "Howard" Branch, Tim "Goober" Pettigrew, and  Phil "Ernest T." Fox. Details TBA.
* Oct. 29-Nov. 3:
Halloween Cruise to Mayberry 7.  Five Days aboard Carnival Cruise Line's Destiny, leaving from Miami with ports of call in Nassau, Half Moon Cay, and Grand Turk, plus a fun day at sea. Seven Mayberry tribute artists, an Elvis tribute artist, and the VW Boys are among the entertainment provided exclusive to Mayberry Cruise participants. For more info, visit the All About Cruises website at
http://www.allaboutcruisesnc.net.
 **** News of Cast & Crew ****
Andy Griffith is looking forward to the Christmas season at home on the beautiful Outer Banks of North Carolina.
Ron Howard and Imagine Entertainment are producers for J. Edgar, in theaters nationwide now.  Ron is also executive-producing the re-ignition of Arrested Development with new episodes for TV (well, sort of…they'll be exclusive to Netflix) and possibly a feature film coming to theaters.  Ron is expected to continue his role as narrator.  Ron is also in pre-production (as producer and director) for the feature film Rush about Formula I racing legend Niki Lauda.  And Ron still has plans and hopes for the ambitious and complex project of bringing Stephen King's Dark Towers to TV and theaters.  Meanwhile, he is scheduled to direct the pilot for a new HBO series about Doc Holliday, and he is executive producer for a Sarah Silverman pilot requested by NBC.
When I Find You, a short film based on eight photos Ron selected in a contest called Project Imagin8ion (sponsored by Canon) and directed and co-written by Ron's oldest daughter, Bryce Dallas Howard, had its premiere in New York City in November and will be available to watch on YouTube starting Dec. 16.
George Lindsey was recently inducted into the Athletic Hall of Fame at the University of North Alabama in Florence, where he was quarterback "a few years back."  The University is also building a black box theater that will be named in honor of George.  Construction should be complete by early in the new year and in time for the 15th Annual George Lindsey UNA Film Festival in March.
Doug Dillard and brother Rodney Dillard performed with their respective bands at a big celebration in September marking the 100th anniversary of the birth of the Father of Bluegrass, Bill Monroe, at the International Bluegrass Hall of Fame in Owensboro, Ky.  Find all sorts of info about Doug's goin's on at www.hillbillyhollywood.com.  Rodney and his Dillard Band have a new gospel CD out, and he has a new fan site called DillardGrass.  For info, visit www.rodneydillard.tv.
Maggie Peterson and Betty Lynn headlined a successful Mayberry-themed musical fundraiser for Alzheimer's care and research in Roanoke, Va., on Nov. 12.
James Best is well into the editing process for Return of the Killer Shrews.  To stay current on the latest Shrews news (including the movie's first trailer), visit www.killershrewsmovie.com.
Even while wrestling with vicious shrews, James still found time for a successful "Dukes of Hazzard" event in Virginia in August and Mayberry Days in Mount Airy in September.  You can find out about all his adventures (including his paintings) at www.jamesbest.com.
 Roland White (one of Mayberry's Country Boys in the "Mayberry on Record" episode) is a recipient of a 2011 Distinguished Achievement Award from the International Bluegrass Music Association.  Keep tabs on Roland at www.rolandwhitemusic.com.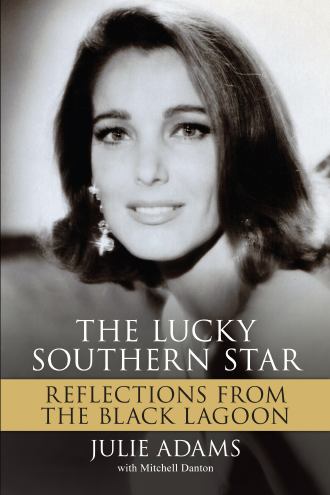 Julie Adams (Nurse Mary in "The County Nurse," Episode 56) has published her autobiography, The Lucky Southern Star—Reflections From the Black Lagoon.  For more info about the book and Julie's schedule, check out her website at www.julieadams.biz.
In Memoriam
It's with great sadness that we report that writer Jack Elinson, a legend in Mayberry and Hollywood, died in Santa Monica, Calif., on Nov. 17.  He was 89.  Jack wrote more episodes (34) of "The Andy Griffith Show" than anyone else.  Most of his episodes (29) were in the first two seasons and written with long time collaborator Charles Stewart.  Helping Mayberry stay on solid footing after the departure of Don Knotts and the dawn of color, Jack returned to write five episodes in the sixth season.  Jack's landmark episodes of TAGS would have been legacy enough for most writers, but Jack had a distinguished career before and after Mayberry.
During the 1950s, Jack wrote extensively for "All-Star Revue," "The Colgate Comedy Hour," "The Ed Wynn Show," "The Jimmy Durante Show," "Hey, Jeannie!," "The Johnny Carson Show," "The Real McCoys" and "The Danny Thomas Show," among others.
In 1961, Jack and Chuck Stewart received an Emmy nomination for their writing on
"Make Room for Daddy."  Jack was nominated for four Writers Guild Awards.  He and Chuck Stewart won the award for their writing of the "Manhunt" episode of TAGS.  A further hint to Jack's importance to TAGS is indicated in the mention of just a few of his episodes: "The New Housekeeper," "Ellie for Council," "Keeper of the Flame," "The Manicurist," "Barney and the Choir" and "Andy on Trial."  Jack's talent and versatility allowed him to write brilliantly for any Mayberry mood or theme.
Jack was a writer and producer for "Gomer Pyle, U.S.M.C.  He also wrote many episodes and was either producer or executive producer for "The Doris Day Show," "Good Times," "One Day at a Time" and "The Facts of Life," "227" and "Wait Till Your Father Gets Home."
Jack was born in New York City on April 21, 1922, and served in the Army during WWII.  After the war he followed his older brother Isidor (Iz) into show business, first writing jokes for Walter Winchell's newspaper column and then working as one of the top gag writers in radio.  (Iz Elinson also co-wrote three TAGS episodes, including one with Jack, "The Foster Lady.")
Jack was predeceased by his first wife, Katie, and is survived by his four children: Michael (Meryl), David (Barbara), Robbie (Dorothy), and Ethel (David); his second wife, Estelle, her three children: Marcy (Steve), Claudia (Brian) and Valerie (Adam); and 12 grandchildren.
A private memorial service was held in Mission Hills, Calif.  In lieu of flowers, the family has requested that donations may be made in Jack's name to OPICA Daycare and/or Skirball Hospice.  (TAGSRWC has made a donation on behalf of the fan club as a whole in Jack's memory to the Barbara and Emmett Forrest Endowment for the Surry Arts Council, sponsor of Mayberry Days in Mount Airy, which Jack and Estelle were able to attend in 2000.)
We're also sad to report the passing on November 2 of actor Sid  Melton, who appeared as press agent Pat Michaels in one episode of TAGS,  "The Hollywood Party" (Epiosde 168).  He died in Burbank, Calif., from complications from pneumonia.  He was 94.  Here's a link to his obituary in The Hollywood Reporter:  http://www.hollywoodreporter.com/news/comic-actor-sid-melton-dies-257760.
Born Sidney Meltzer on May 22, 1917, in Brooklyn, N.Y., one of five children of Isidor and Fannie Meltzer, Sid Melton is probably best remembered and beloved as handyman Alf Monroe in 26 episodes of "Green Acres."  (His sister Ralph Monroe was played by Mary Grace Canfield, who also played Mayberry's Mary Grace Gossage, Thelma Lou's Cousin.)  His connections to the larger Mayberry family also extend to 49 episodes as Charley Halper in "The Danny Thomas Show" and four episodes as lovable conman Friendly Freddy on "Gomer Pyle, U.S.M.C."
He's another of the legendary character actors–so many of whom passed through Mayberry–who were constant presences on TV and in movies for decades.  In Sid's case, six decades.
Sid was one of those people who was always eager to be around other people, whether fellow actors or fans.  Everyone was a friend. Sid was always ready to entertain.  He lived a long and full life, and he has left a body of work that will continue to delight audiences for generations to come.  Our condolences go out to his many friends. No immediate family members survive.
**** POST NOTE ****
Between issues of Weaver's Newsletter, keep up with the happenings in Mayberry with the daily "Who's Been Messin' Up the Bulletin Board?" Digest. It's a free subscriber list that consists entirely of comments, news flashes, and questions and answers from subscribers. You can sign up for that list by going to the "Mailing Lists" link at www.tagsrwc.com.
TAGSRWC also publishes The eBullet in more or less alternate months to Weaver's Newsletter. The eBullet is the online successor to our longtime printed newsletter, The Bullet. Like Weaver's Newsletter, The eBullet is free. It includes some of the same news as Weaver's Newsletter, but with more features and depth and a little less emphasis on merchandise news. To sign up, go to: http://www.tagsrwc.com/ebullet/joinebullet.htm.
TAGSRWC's other main vehicle for Mayberry information is simply our website at www.tagsrwc.com (and its sister site www.iMayberry.com). Both sites have extensive content and links for just about everything a Mayberry fan might be looking for.
The next issue of Weaver's Newsletter is scheduled for February, with the next eBullet planned for late January.
Printer Friendly Version