Weaver's Newsletter: June 2011
Weaver's Newsletter
An Online newsletter of
"The Andy Griffith Show" Rerun Watchers Club (TAGSRWC)
**** Merchandise Update ****
Ol' Ben Weaver has loaded his shelves for summer.  And in honor of Andy Griffith's birthday month (June 1) and Don Knotts' birthday month (July 21), we've got bunches of items on sale—even more than usual, including most of the Fine Art prints in our Art Gallery section.  And the summer heat and the cicadas (even worse than those ring-g-g-ing doorbells!) must be getting to Ben's star employee, Bert Miller, because Bert's gone around and put lower prices on items everywhere, especially the DVDs section.
And with Father's Day just around the corner, remember classics such as our Barney Necktie and the Act Like Somebody book about parenting in Mayberry.
In addition to some brand new items, we've also recently restocked several out-of-production and otherwise rare items that we haven't carried for a while, sometimes even for years.  We have only a small handful of some of these items (as few as just one or two), so browse our online shelves soon!  Here are some merchandise highlights:
This exciting new Mayberry-inspired bluegrass CD from the mega-award-winning Grascals features 7 tunes, including 5 from TAGS—"Dooley," "Boil Them Cabbage Down," "Ol' Joe Clark," "Stay All Night (Stay a Little Longer)" and "Leaning on the Everlasting Arms"—plus the "Mayberry's Finest Theme" and a song written just for this CD, "Boy, Giraffes Are Selfish."
You can tell The Grascals are not only world-class musicians and performers, but also true Mayberry fans.  This CD is truly a hoot!  And great music to boot.
And here's a video of The Grascals' Birthday Salute to Andy Griffith.
Beyond Mayberry's beloved Barney Fife, this Don Knotts: Tied up with Laughter! DVD shows Don in a series of wonderful, hilarious stand-up routines and skits in rare performances from the 1960s and '70s.
In this special hour-long comedy collection released just this spring, Don is joined by singer-actress Joey Heatherton, actress Jane Powell, former Dallas Cowboys player Lance Rentzel, comic (and Mayberry deputy) Jack Burns, Don's Love God movie co-star Maureen Arthur (also wife of "Andy Griffith Show" producer Aaron Ruben), and the legendary Jimmy Durante.
Bonus material includes Don with Lucille Ball and an early look at Don's comedy career and some "never before seen" special features.
This DVD is sure to be a great treat for all fans of our favorite deputy–one of the true, cherished comedy legends of our time…and of all time.  And at a great price.
**** Cool Mayberry Caps for Hip Mayberry Cats ****
These officially licensed, cool canvas hats (in Mayberry Sheriff Dept. tan!) are finely embroidered with a choice of the official "Andy Griffith Show" logo or Security by Fife.  Adjustable for just the right fit for any occasion.
This genuine Goober-Style Beanie Hat Fashioned from brown felt has the look any Goober will love.  Best of all, you get to cut your own holes in the top, just as Goober himself would do.  Get your beanie, baby, and say "Yo!"  One size fits most.
This is a really exciting item that was released at the end of last year.  It's an item that we had long been hoping for.  In addition to a bunch of the very best episodes, this 3-disc set includes uncut versions of the "Danny Thomas" pilot for "The Andy Griffith Show" and the 1986 Return to Mayberry movie.  And all at a phenomenally low price, even before Ben Weaver's additional discount.  Here are some of the highlights of what's on it:
* 17 Favorite Episodes:
"Christmas Story"
"The Pickle Story"
"Barney and the Choir"
"Mr. McBeevee"
"Convicts-at-Large"
"Man in a Hurry"
"Class Reunion"
"The Darlings Are Coming"
"Barney's First Car"
"Dogs, Dogs, Dogs"
"Mountain Wedding"
"Opie the Birdman"
"The Sermon for Today"
"Citizen's Arrest"
"Fun Girls"
"Barney's Sidecar"
"Goober and the Art of Love"
* "Danny Meets Andy Griffith" (the "Danny Thomas" pilot for TAGS)
* Clips from Season Premiere nights for the 1962-63 and 1963-64 seasons
* The 1986 Return to Mayberry reunion movie
* Original sponsor commercials featuring cast members
This collection is chockfull of great Mayberry moments.  And the price makes for a truly unbeatable combination of quantity, quality and value.  We think it's a dream come true for Mayberry fans everywhere.
This CD, released in Fall 2010, features Rodney Dillard singing lots of favorite Darlings tunes from "The Andy Griffith Show," along with other popular Dillards tunes and some later songs about the Darlings.  These are some classic bluegrass and Mayberry songs for any fan of, well, bluegrass and Mayberry.
Features 19 tracks and some bonus material.  Ol' Ben Weaver knows a toe-tappin' good deal when he sees one!
TRACKS:
1. MAYBERRY MOMENT
2. THE DARLIN' BOYS
3. THERE GOES THE NEIGHBORHOOD
4. THERE IS A TIME
5. WICKER ROCKING CHAIR
6. DOOLEY
7. DOUG'S TUNE (Instrumental)
8. SALTY DOG
9. EBO WALKER
10. THE MAYBERRY HAT
11. BANJO IN THE HOLLOW (Instrumental)
12. LEANING ON THE EVERLASTING ARMS
13. THE ANDY GRIFFITH SHOW
14. WET SHOES IN THE SUNSET SUITE
15. LEAKY BOAT
16. G-MAN BARNEY
17. PICTURES
18. GOOBER AND ROY
19. PARENTING
Bonus Material: A Tribute to Mayberry Values
From the archives of the popular radio show "Mayberry Minute," hosted by Rodney.  The radio show ran nationally for three years as Rodney took a look back at "Andy Griffith Show" episodes and the life lessons they taught.

This beautiful print has been hugely popular in the year since it was issued.  It's sure to be a cherished lifetime keepsake marking this special time in the history of TAGS.  But more than a keepsake, it's a superb work of art whose many smiling faces will bring an instant grin to the face of everyone who sees it.
Printed with premium inks on archival paper, this outstanding 12 in. x 16 in. collage pencil portrait is signed and numbered by talented Wilmington (N.C.) artist George Murray and officially licensed by CBS Consumer Products
The suggested gallery price for this commemorative print is $60, but we've got it for just $30.  That's right…half off! (That summer heat really is getting to ol' Ben Weaver.  He's going totally soft on us.)  We have only a handful left of this limited edition print.  Get yours while you can.
We have several Fundraisers for Charities, including one for the Japan Disaster.  The tornadoes and floods and fires have been coming so fast across the United States this year that, instead of targeted fundraisers for each one, we've just been donating proceeds from Weaver's directly to the American Red Cross, Mobile Medical Disaster Relief, Samaritan's Purse, etc.  We are, however, working on a special fundraiser of prime Mayberry memorabilia designated for tornado victims in Joplin.  We expect to have that in place by our next issue.  As soon as all the pieces are in place in the next few weeks, we'll also have info about it up on www.imayberry.com, www.weaversdepartmentstore.com and on http://www.facebook.com/tagsrwc.
And More…
We have the first six seasons of "Matlock" (the Sixth Season was released in January) along with all seasons of TAGS (including a Box Set with all eight seasons, the "Danny Thomas" pilot and the Return to Mayberry movie) and all five seasons of "Gomer Pyle, U.S.M.C." And we have a nice assortment of the best movies starring Andy Griffith and Don Knotts.  They're in the DVDs Section at Weaver's.
Also, be sure to check out our Collectibles & Special Items at Weaver's.  There are some unique and rare items there that could make really special gifts or additions to your own collection.  And we have a wide assortment of great licensed Mayberry products in the Cool Gifts section and throughout the Weaver's shopping area at imayberry.com.
On the Move
Ol' Ben Weaver recently closed the little Weaver's booth Bert Miller was running for us at the Main-Oak Emporium in Mount Airy, N.C., for the last 10 years.  The good folks at the Andy Griffith Museum acquired some of the items for their jam-packed gift shop, so be sure to check out their selection when you're in Mount Airy.

We've put the rest of the items back in our online store at www.imayberry.com, so we're well-stocked on many items, including some rare and discontinued items that we haven't had online in a while.

And "Trained noticers" have likely noted that our website addresses in this issue now say imayberry.com instead of just mayberry.com.  Both versions still work for getting to various areas with TAGSRWC's content on the web, but imayberry.com is the one that we're going to be primarily promoting from now on.  To make sure you can always find us, remember the saying, "E before N in Chicken and i before Mayberry in www.imayberry.com.  (i always forget that rule, but not anymore!)
**** Phone Orders ****
In addition to accepting orders online or by mail, our Weaver's Dept. Store has a phone number FOR ORDERS ONLY (615) 604-1298.  The phone number is generally in operation from 9 a.m. to 6 p.m. CT Monday through Saturday.  (They sneak out to go fishin' for carp and pike a lot, so if you miss them during business hours, just leave a message with a number where they can call you back.)
Please call this number only for ordering or for inquiring about orders placed by phone.  All inquiries about online orders and mail orders should be made online.
**** "Mayberry's Finest" Update! ****
Mayberry's Finest Brand Foods, the official food licensee of "The Andy Griffith Show," has been busy with corporate dealings that will make the brand all the stronger going forward.  But all those Man in a Hurry-types of efforts have caused a production delay in the much-anticipated Commemorative Gift Tin.
Still scheduled to be popping out of the oven sometime in the next few months, this gift tin will contain four of the most popular varieties of Mayberry's Finest baking mixes, such as Peach Cobbler and Cinnamon Toast muffins.  As a treat for fans of the show, the collectible tin will feature images of some of Mayberry's most representative memorabilia.
And as a special feast for the ears, the gift tin will include the brand new CD of Mayberry tunes by the award-winning bluegrass band The Grascals (see description at the top of Merchandise Update above).
There's still no definite production date yet for this special gift tin.  If you're among those who pre-ordered, we still have your orders ready to go (at your original pre-order price) just as soon as the tins become available.  We think they'll be worth the wait.  Meanwhile, continue to ask for Mayberry's Finest baking mixes wherever you shop for groceries.
Floyd's

Barber

shop




Bulletin

Board

&

Event

Calendar

It has already been an especially busy year for Mayberry goin's-on.  ("Such goin's-on, such goin's-on!")  Here are some of the upcoming happenings in the world of Mayberry:
* June 15: Rodney Dillard and The Dillard Band perform at 7:30 p.m. at AMSD Concerts, 4650 Mansfield Street in San Diego, Calif.  Tickets are $20; $45 for dinner package.  For more info, call (619) 303-8176.
* June 16: Rodney Dillard and The Dillard Band perform at 8:00 p.m. at Zoey's Cafe in Ventura, Calif.  Tickets are $20 in advance and $25 at the door.  For more info, call (805) 652-1137.
* June 17: Rodney Dillard and The Dillard Band perform at 8:00 p.m. at the Westwood Music Center in Los Angeles. Tickets are $25.  For more info, call (310) 478-4251.
* June 18: Rodney Dillard and The Dillard Band perform at 5:00 p.m. and 9:10 p.m. at Huck Finn's Jubilee at Mojave Narrows Regional Park in Victorville, Calif.  Tickets range from $5 to $95.  For more info, call (951) 780-8810.
* June 19: LeRoy "Mack" McNees and wife Janice host the non-denominational chapel service at California Bluegrass Association Father's Day Bluegrass Festival at 9:00 a.m. in Grass Valley, Calif.  For more info about the festival, visit www.cbaontheweb.org.
* June 25: Dean Webb and Missouri Boatride perform in the Kimberling City Summer Bluegrass Concert Series, from 7:00 to 9:00 p.m. outside at the Kimberling City Shopping Mall.  (Bring your own lawn chair.)
* June 25 and 26: Margaret Kerry (Bess Muggins and Helen Scobey in Mayberry) appears at the Dayton Plane Crazy chapter of the Disneyana Fan Club Show at the Holiday Inn Dayton-Mall, 31 Prestige Plaza Dr., Miamisburg, OH 45342.  Hotel phone: (937) 434-8030.  (Margaret's primary Disney connection is that she was the live model for Tinker Bell.)  Details TBA.
* July 9: Rodney and Beverly Dillard are special guests and performers for the 11th Annual Mayberry Squad Car Nationals and 7th Annual "Mayberry Comes to Graysville" Festival in Graysville, Ala. (near Birmingham).  The event also features many Mayberry tribute artists.  There's a morning parade down Main Street, the Mayberry Squad Car Nationals (with Mayberry Squad Car replicas racing on an obstacle course) around Noon, and then trivia and other contests and vendors throughout the afternoon, followed by a barbecue dinner and the evening concert.  A single ticket covers the entire day and the dinner.  Exact times and other details TBA.
* July 10: Rodney and Beverly Dillard present their Mayberry Values program at Graysville United Methodist Church in Graysville, Ala. at 11:00 a.m.
* July 11: Dean Webb and Missouri Boatride perform in the Kimberling City Summer Bluegrass Concert Series, from 7:00 to 9:00 p.m. outside at the Kimberling City Shopping Mall.  (Bring your own lawn chair.)

* July 23: Dean Webb and Missouri Boatride perform in the Kimberling City Summer Bluegrass Concert Series from 7:00 to 9:00 p.m. outside at the Kimberling City Shopping Mall.  (Bring your own lawn chair.)
* Aug. 6 and 23: Dean Webb and Missouri Boatride perform in the Kimberling City Summer Bluegrass Concert Series, from 7:00 to 9:00 p.m. outside at the Kimberling City Shopping Mall.  (Bring your own chair.)
* Aug. 7: Maggie Peterson and Rodney Dillard and The Dillard Band are joined by David "Mayberry Deputy" Browning for an evening of Mayberry fun at the Freedom Hall Civic Center in Johnson City, Tenn.  Show time is 8 p.m. and admission is free.  For more info, call (423) 461-4855.
* Aug. 12: Mayberry Country Boy LeRoy "Mack" McNees performs three concerts in conjunction with the New Day Community Church in Boulder, Colo.  Details TBA.
* Aug. 13 and 14: James Best appears at the Hazzard Homecoming in Sperryville, Va., with fellow "Dukes of Hazzard" stars.  For more info, visit www.cootersplace.com.
* Aug. 20 and 21: Rodney Dillard and the Dillard Band perform at a Mayberry Festival at St. John's Evangelical Protestant Church in Cullman, Ala., on the 20th, and Rodney and Beverly Dillard present their Mayberry Values program at the church on the 21st.  Details TBA.
* Aug. 27: Rodney Dillard and Maggie Peterson are joined by several of the Mayberry tribute artists (including David "Mayberry Deputy" Browning, Kenneth "Otis" Junkin, and Jeff "Howard" Branch) for a concert benefiting the Montgomery County DARE program.  The evening concert will be at the James H. Garner Center in Troy, N.C.   Details TBA.  For more info, visit www.bluegrassintroy.com.
* Sept. 3 and 17: Dean Webb and Missouri Boatride perform in the Kimberling City Summer Bluegrass Concert Series from 7:00 to 9:00 p.m. outside at the Kimberling City Shopping Mall.  (Bring your own lawn chair.)
* Sept. 12-14: The Doug Dillard Band and also Rodney Dillard and The Dillard Band are featured at the all-star 100th Birthday Celebration of Bill Monroe in Owensboro, Ky.  Details TBA.  For more info, call 270-926-7891 or visit http://www.bluegrass-museum.org/general/CentennialCelebration.php#schedule.
* Sept. 20-22: Life Lessons From Mayberry: It's All There in Black and White in Ridgecrest, N.C. (outside Asheville), is a celebration of "The Andy Griffith Show" and the biblical truths and life applications found in the show.  The three-day event includes fun-filled Bible study based on some of your favorite episodes, great preaching and worship, bluegrass bands, country cooking, and lodging nestled in the North Carolina mountains. Life Lessons From Mayberry immediately precedes Mayberry Days in Mount Airy, so start a week of Mayberry fun and inspiration here!  For more info, visit at www.lifeway.com/mayberry.
* Sept 23: Rodney Dillard and The Dillard Band perform at 8:00 p.m. at the Gram Parsons Annual Guitar Pull and Tribute Festival at Okefenokee Fairgrounds in Waycross, Ga.  Festival tickets are $35.00.  For more info, call (912) 288-3712.
"It's Big!"
* Sept. 22-25: 22nd Annual Mayberry Days in Mount Airy, N.C.  Shows already confirmed include two concerts by The Doug Dillard Band, a new one-man show with Ronnie Schell (two "Andy Griffith" episodes and Duke Slater on "Gomer Pyle, U.S.M.C."), "An Afternoon with James Best," "Tied Up in Knotts" starring Karen Knotts, Memories of Elvis with Michael Hoover, the "Salute to Mayberry" with the VW Boys, Professor Brower's Lecture with Neal Brower (featuring "Andy Griffith Show" assistant director/future Emmy-winning director Bruce Bilson for his first Mayberry Days), the Mayberry Days Golf Tournament and Banquet, and Colonel Tim's Talent Time.  Other confirmed Mayberry stars so far include favorites Betty Lynn (Thelma Lou), Maggie Peterson (Charlene Darling), Elizabeth MacRae (one "Andy Griffith" episode and Lou Ann Poovie on "Gomer Pyle, U.S.M.C.), LeRoy McNees (of Mayberry's Country Boys), and Margaret Kerry (Bess Muggins and Helen Scobey).  For info and tickets, go to http://www.mayberrydays.org.  More stars and events TBA.
* Sept. 24: George Lindsey is being inducted into the University of North Alabama Sports Hall of Fame during a ceremony on campus in Florence, Ala.  Details TBA.
* Oct. 1: Dean Webb and Missouri Boatride close out the 2011 Kimberling City Summer Bluegrass Concert Series from 7:00 to 9:00 p.m. outside at the Kimberling City Shopping Mall.  (Bring your own chair.)

* Oct. 7-9: Darling Boy Dean Webb and his Missouri Boatride band perform at the Wooley Creek Bluegrass Festival in Cape Fair, Mo.
* Nov. 6: Rodney Dillard and The Dillard Band perform at 3:00 p.m. at the Sheldon Theater in St. Louis, Mo. Tickets are $20 to $25.  For more info, call (314) 533-9900.
* Nov 12-17: A Cruise to Mayberry 6: A 5-day Western Caribbean cruise aboard Royal Caribbean's Jewel of the Seas.  Leaving from Tampa, Fla., with ports-of-call in Cozumel and Costa Maya, and 2 days at sea. For more details, contact Sharon at All About Cruises by phone (10 a.m.-5 p.m. ET) at 1-800-832-7993.  For more details, visit the Mayberry Cruise section of the All About Cruises web site. (Note: You must have booked through All About Cruises and be part of the "Mayberry Cruise" in order to attend Mayberry portions of the cruise.)
**** News of Cast & Crew ****
Andy Griffith says that he's doing O.K. this spring and early summer on the North Carolina coast.  He celebrated his birthday quietly earlier this month.  The brunt of the devastating April storms in the Southeast missed him.  But there was some sad family news.  His first cousin Lorraine Gilley of Pilot Mountain, N.C., passed away on May 2, at age 85.  She and late husband Earlie were great friends of Mayberry and were supporters of efforts, such as Mayberry Days.
Earlie Gilley is mentioned several times on TAGS.  Andy also gave a wink to both Lo and Earlie in "Opie's Fortune," when the Mayberry Gazette states that Virginia Beasley and Earlie Gilley announce their engagement.  (Her full maiden name was Virginia Lorraine Beasley.)  Our prayers and love are with Lo's family as we remember this joyful person and wonderful friend.  Here's a link to the obituary in the Mount Airy News: www.mtairynews.com/LorraineGilley

Ron Howard's productions of Stephen King's The Dark Tower (in three movies and two TV miniseries) are having a few hiccups as potential movie studios try to digest the giant budgets involved.  Stay tuned for updates.  Meanwhile, Ron has a couple of movies already in the can as producer (including this summer's Cowboys & Aliens, starring Harrison Ford), and several in the pipeline, including an Arrested Development feature.)
Ron's son, Reed, is working hard on becoming a professional golfer.  He's on the eGolf Tour now and hoping to get his PGA Tour card.  Here's a recent story: ReedHowardEsquireClub.
George Lindsey continues his recovery from a burst appendix and surgery in February.  He was pleased to be able to attend a very special "Salute to George Lindsey" at the University of North Alabama (his alma mater) on April 30 in Florence.  The Salute, in conjunction with the George Lindsey UNA Film Festival, was held just three days after the terrible tornadoes that tore through much of Alabama and other states.  Even so, a capacity crowd turned out for the gala event.
The evening featured a musical tribute from fellow "Hee Haw" star Lulu Roman and video tributes from Ron Howard, Rance Howard and Ernest Borgnine, as well as Mel Tillis and other country music stars.  It was also announced that evening that the George Lindsey Film and Digital Media Scholarship is being launched at the University.  Also, a theater arts building bearing George's name is currently under construction on campus and due to be completed in 2012.  It was announced that George will be inducted into the University's Sports Hall of Fame in September.  (George was quarterback and on the school's first football team.)  It was a big night for George all the way around.
In late May, George also participated in a "Hee Haw" reunion with a couple of dozen of his former cast mates.  The special is scheduled to be released on DVD in the next few months.
A chip off the old block, George Lindsey Jr. directed and performed in a recent production of High Noonish at the West Valley Playhouse in Canoga Park, Calif.
And while on the subject of the work of children of TAGS stars, we should mention that Karen Knotts, daughter of Don Knotts, had three highly successful performances of her one-woman Tied Up in Knotts show in Tennessee in April—one in Murfreesboro and two at the Tennessee Valley Theatre in Spring City.  She's also doing some stand-up comedy/cabaret shows in the L.A. area this month.
And one more nut from the Mayberry family tree…David Morris, son of Howard Morris, has been working on alternative rock project titled Picture an Accident. You can learn more about it and hear a track here: www.pictureanaccident.com.
We're happy to report that Darling boy Doug Dillard has recovered well from a collapsed lung he suffered in February.  He and George Lindsey recently got together for lunch in Nashville and compared medical notes while munching on cornbread and home-style vegetables.
Betty Lynn was interviewed by CNN's Tom Foreman for a story about how TAGS and Mayberry tourism have helped stabilize the Mount Airy economy during the recession and after many areas factories and mills closed.  (Andy Griffith's childhood friend Emmett Forrest was also interviewed for the story.)  CNN broadcast live from Mount Airy during its "American Morning" show on May 11th.  You missed the story, you can still see it on cnn.com.  Betty also continues to greet fans and sign autographs at the Andy Griffith Museum once a month.  (See Floyd's event calendar above.)
Maggie Peterson was a featured speaker for the Cherry Blossom Festival in Marshfield, Mo., in late April.  She was in Alabama in May for a couple of appearances.  And see the event calendar above for some of Maggie's other upcoming appearances, including some with Rodney Dillard.
James Best has just wrapped principal filming in California of Return of the Killer Shrews, a sequel to Attack of the Killer Shrews, the cult classic in which he starred in the 1950s.  The film stars John Schneider and also features fellow "Dukes of Hazzard" actor Rick Hurst, as well as Jennifer Lyons, Bruce Davison, Patty Browning and David Browning (not as the "Mayberry Deputy" this time).
This time Jimmie is shrewdly producing and acting.  Others in the cast include John Schneider and Jennifer Lyons.  To stay current on the latest Shrews news (including sneak peeks from the set, visit www.killershrewsmovie.com.  Be very afraid!
There's no graceful way to make the transition from discussing Killer Shrews to the following sad update, except to say that the kooky fun of Killer Shrews is something Barbara Stuart surely would have enjoyed.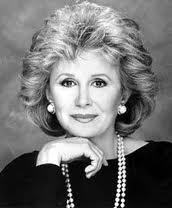 It is with tremendous sadness that we report that Barbara passed away on May 15.  She lived in Utah the last few months of her life in order to be near family members who live there.
Though remembered in Mayberry as bank robber Pat Blake in "TV or Not TV" (Episode 150) and probably even more so as Miss Bunny, Sgt. Carter's girlfriend on "Gomer Pyle, U.S.M.C.", Barbara had a long and varied career of memorable roles.
Some favorites included playing an hilarious scene as Robert Stack's wife in Airplane! and most recently the recurring role of Alice in the acclaimed Showtime series "Huff."  A testimony to her range as an actor, she also worked in Hellfighters with John Wayne and in Bachelor Party with Tom Hanks.  Beginning in the mid-1950s, Barbara's 50-year film career spanned an amazing cross-section of top dramas and comedies.  Most of her work was in TV.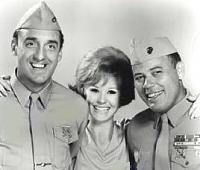 Barbara was born on January 3, 1930 in Paris, Illinois.  By her mid-20s, she was well on her way with a solid career in Hollywood.  Her characters were often feisty and never failed to please.  In roles big and small, her performances always had great energy and spirit.
Barbara was just as full of energy and fun in her personal appearances, including many Mayberry reunions and other gatherings over the years.  She was always game for doing improvised sketches with friends and fellow "Gomer Pyle" stars Ronnie Schell and Elizabeth MacRae.  The sketches were  a huge hit with audiences.
Barbara's great friend, Jackie Joseph (Mayberry's Ramona Ankrum) shared these thoughts about Barbara in a recent column she wrote for the Tolucan Times:
With sadness I need to talk about the passing of Barbara Stuart, who lived in our community for many decades.  Always beautiful, always funny and always working, Barbara will be remembered, by those who knew and loved he as a loyal friend, a generous giver of her home and her heart, and a beautiful actress. As Bunny in "Gomer Pyle," she was deeply adored by the Mayberry fans.  Give her a Google and see how Barbara Stuart entertained you in so many diverse ways.

We were strippers together in 1964 in a memorable "Dick Van Dyke Show" called "Dear Mrs. Petrie,  Your Husband Is in Jail."  She was called Maureen Core, dressed in short military glitz, with a small working canon.  I was her partner, Alberta Schweitzer, wearing a leotard and a long veiled pith helmet.  We both ended up in the clink along with Dick.  So much fun!  We were neighbors, friends and colleagues.  And I need to offer a warm recognition to Barbara Stuart's best pal, the exceptional Ruta Lee.  When the chips were down, Ruta was a great example of what a good friend really is.  Brava.  A standing "O" for all concerned.
Editor's note: Jackie's column appears regularly in The Tolucan Times.  Check it out. It's always great reading.
And here's a link to the obituary for Barbara that ran in Variety.  And a link to another: Tribute in the Canyon News.  (The latter has a few minor facts wrong, but overall is an insightful and positive remembrance of Barbara.)
That's it for this issue.
**** POST NOTE ****
Between issues of the Weaver's Newsletter, keep up with the happenings in Mayberry with the more-or-less daily "Who's Been Messin' Up the Bulletin Board?" Digest.  It's a free subscriber list that consists entirely of comments, news flashes, and questions and answers from subscribers.  You can sign up for that list by going to the "Mailing Lists" link at www.tagsrwc.com.
TAGSRWC also publishes The eBullet in more or less alternate months to the Weaver's Newsletter.  The eBullet is the online successor to our longtime printed newsletter, The Bullet.  Like the Weaver's Newsletter, The eBullet is free.  It includes some of the same news as the Weaver's Newsletter, but with more features and depth and a little less emphasis on merchandise news.  To sign up, go to www.tagsrwc.com/ebullet/joinebullet.htm.
TAGSRWC's other main vehicle for Mayberry information is simply our website at tagsrwc.com.  It has extensive content and links for just about everything a Mayberry fan might be looking for.
The next issue of Weaver's Newsletter is scheduled for early August with an issue of our main online newsletter, The eBullet, coming out in early July.
That's all for now.  We hope you have fun browsing at Weaver's and visiting imayberry.com.
Printer Friendly Version